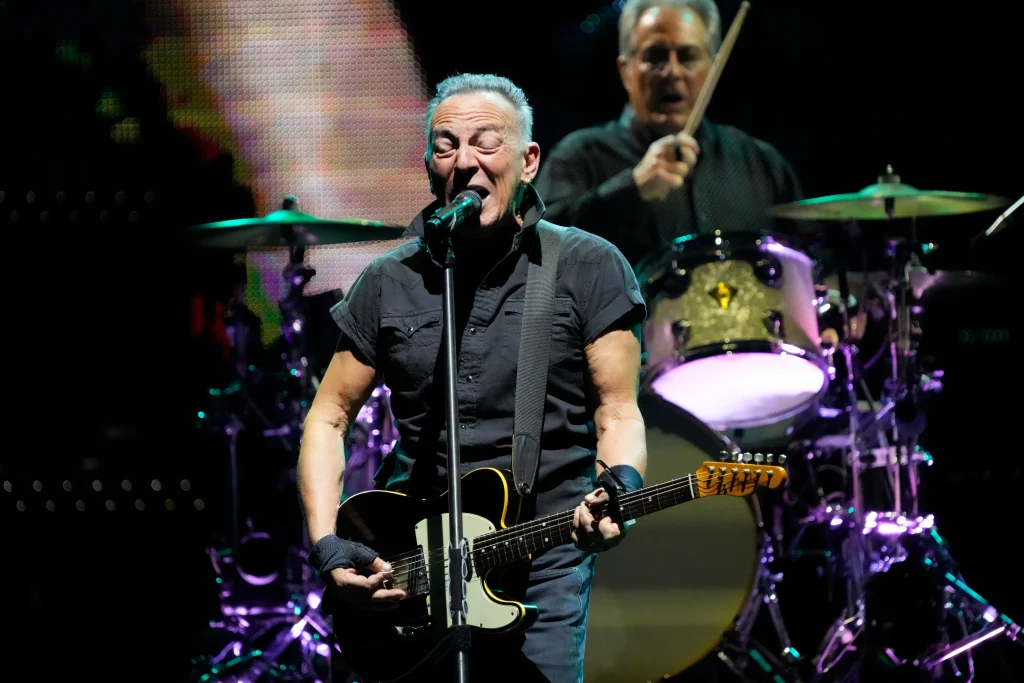 I wish I got the chance to see Springsteen last week at MetLife Stadium, but it just wasn't in the cards this time around. Though it's not the same as a concert, this reflection from an English Springsteen fan who recently saw The Boss in Hyde Park is a nice consolation prize. Here is a taste of Alex Blimes's piece at Esquire: "Bruce Springsteen, With and Without My Mother":
It was summer, and the rain was soft. At precisely 7pm on a Saturday night in July, with minimal fanfare, Bruce Springsteen and the E Street Band ambled onto the stage of the British Summer Time festival in London's Hyde Park, acknowledged the applause and the wolf whistles and got straight down to business. Standing in the crowd with my wife felt, for me, like an act of commemoration — a very public, entirely private memorial to my mum. This was my first opportunity to see Springsteen play live since her death. And since it is through his songs that I can most easily feel close to her again, since I can't even look at him without being reminded of her, I was primed for conflicting emotions. Joy, and pain. Like sunshine, and rain. Both of which heaven allowed.
Boys do cry. I'm one of them, and so is Bruce Springsteen. On this occasion I managed to survive two full songs without weeping — pretty good! — but at the opening bars of the rabble-rousing "No Surrender", the first of six songs he played from Born in the USA, the dam burst: Well, now young faces grow sad and old/ and hearts of fire grow cold/ We swore blood brothers against the wind/ Now I'm ready to grow young again. It felt overwhelming and consoling and sad and wonderful. Too much, and not enough.
The tears dried eventually, as tears do, and despite the occasional lump in my throat ("Glory Days"), the concert for most of its duration became just that: a warm, funny and raucous showcase for the talents of a band that, at 52 years young, is still in absolute control of its material, its environment, and its audience.
Looking insanely well-preserved in a black shirt, jeans and oxblood DMs, battered Fender slung over his shoulder, Springsteen capered, he clowned, he grinned and he grimaced, he posed for selfies, he wiggled his bum, he ripped open his shirt to reveal the chest of a man a third of his age, he told stories of his past, he played the rock'n'roll revivalist preacher to the hilt: everyone was welcome in the tent, and if Hyde Park had a roof, he would have blown it off.
For all the swagger, this was a show with a theme, and that theme was mortality. Springsteen and the E Street Band have, as you would expect at their ages, known grief, and they mine it unapologetically. A section of all their shows honours fallen keyboard player Danny Federici, who died in 2008, and saxophonist Clarence Clemons, who died in 2011. (These days, the sax is played, brilliantly, by Jake Clemons, Clarence's nephew.) "Last Man Standing" was dedicated to George Theiss, who, until his death in 2018, had been the only other surviving member of The Castiles, the band Springsteen joined at 15. By now, Bruce himself was weeping.
Those famous songs he wrote in his twenties and thirties, he's grown into them. And we've grown into them too. I loved them as a kid, but they mean more to me now than they did then. How could they not?
When the rain came, the intensity grew. Sporadic showers at first, but then big, fat blobs started to fall just when, as if by magic, the band launched into "Mary's Place", with its joyful refrain: "Let it rain, let it rain, let it rain…"
And there he stood, magnificent. And there we stood, transported. Also, wet. Also, alive.
Read the entire piece here.