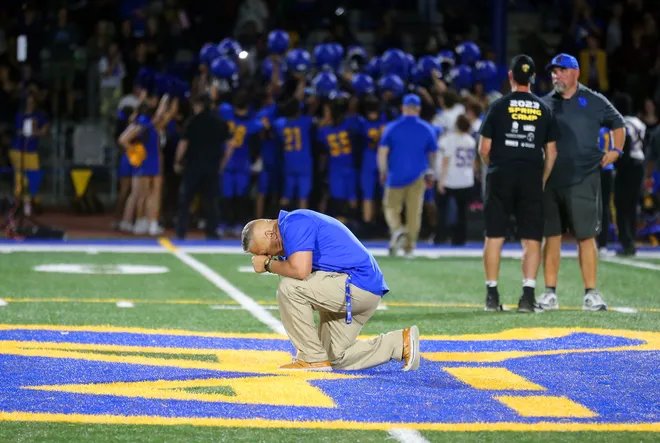 Remember Joe Kennedy, the praying football coach? He won his court case but decided to make a nation-wide right-wing media tour instead of returning to coaching football at Bremerton High School in Washington state. This year Kennedy finally returned to his old coaching job. He took a few photo-ops praying at the 50-yard line (see Matthew 6:5-8), coached a game, and then resigned.
Here is Nina Shaprio at The Seattle Times:
After winning a U.S. Supreme Court case to get his coaching job back and igniting a firestorm over praying in public schools, Joe Kennedy resigned after only one football game with Bremerton High School.
"The district has received Mr. Kennedy's resignation and it is pending board approval at tomorrow's regularly scheduled meeting," said spokesperson Karen Bevers in an email, declining further comment.
Kennedy's decision was not exactly a surprise.
He strongly hinted before last Friday's game that he might not stick around for his part-time assistant coaching gig. He said the game was a "fine bow" on top of his Supreme Court victory, and couldn't think further ahead than that.
Kennedy could not be reached immediately for comment. In a resignation letter obtained by The Seattle Times, he expressed dissatisfaction with the district. "It is apparent that the reinstatement ordered by the Supreme Court will not be fully followed after a series of actions meant to diminish my role and single me out in what I can only believe is retaliation by the school district."
He gave no indication of such feelings in an interview last week, and it isn't clear what actions he's referring to. Kennedy also said in the letter that he's returning to Florida, where he now lives, because of newly learned complications related to a family member's declining health.
Read the rest here.
Kennedy announced his resignation on his promotional website:
BREMERTON, WASHINGTON (September 6, 2023) – Coach Joe Kennedy has resigned from Bremerton High School effective immediately. He cited multiple reasons for his resignation including taking care of an ailing family member out of state. Kennedy delivered his resignation to the district earlier today.
"I believe I can best continue to advocate for constitutional freedom and religious liberty by working from outside the school system so that is what I will do. I will continue to work to help people understand and embrace the historic ruling at the heart of our case. As a result of our case, we all have more freedom, not less. That should be celebrated and not disrespected," said Kennedy.
"As I have demonstrated, we must make a stand for what we believe in. In my case, I made a stand to take a knee. I encourage all Americans to make their own stand for freedom and our right to express our faith as we see fit."
"I appreciate the people of Bremerton, the coaches, staff and especially the students and wish them all well. Bremerton will always be home," he concluded.
For updates, sign up to stay connected.
Kennedy is hoping that religious liberty will continue to be good for business.
Here is Christian Broadcasting Network reporter David Brody's take on it:
For those who don't have Twitter (X), here is the entirety of Brody's tweet:
JUST IN, BREAKING: Here is the statement from Joe Kennedy through his publicist regarding the fact that he has RESIGNED as assistant football coach at Bremerton High School. Full context: when I interviewed Coach Kennedy in Bremerton Washington a few days ago, he told me he felt like an "outsider" after returning and things were not the same. During Friday night's return, he spent long stretches of time by himself on the sidelines. He told me the school district and this lawsuit took a lot of the joy out of coaching.