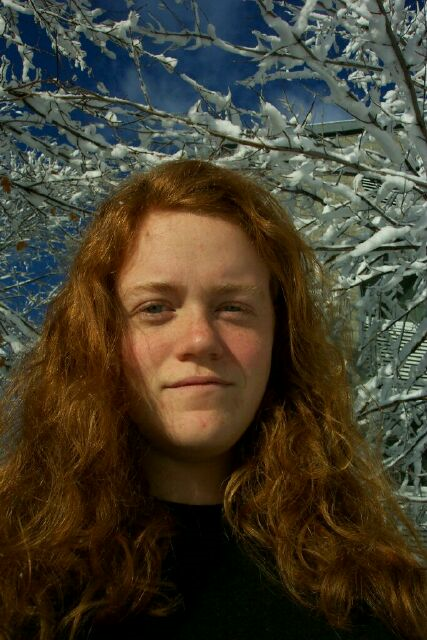 Dear Self (17),
You're weird.
Or maybe not? You're not sure yet. A lot of self-discovery lies ahead.
First of all, you'll be confused at orientation when your new friends call themselves "kids." You yourself have been grown up for some time now. But maybe you could take the time to be a college kid, just this once. The four years ahead are now your given chance to grow. To join in joy as well as seriousness.
You're really not as grown-up as you think.
Still, when you watch them drink and fawn on Friday nights, you'll know it's gross. It makes no sense — these "kids" are all so smart! It's time now for you to learn of our common humanity. And time, too, to learn how different we all are.
Right now, there are many things, in fact, that you don't understand. But you are filled with questions right up to your brim. There's that look you get in your eye, as if you're mad – but it's just a sign of your wheels turning, so to speak. A question will soon emerge from deep within.
And when you've questions, don't neglect to ask. A decade hence, it's not pink popped collars that will turn the heads. Good questions will turn better heads instead.
This year will be a study in times gone by; you'll study history, music, German, writing, poems. You'll connect Kievan Rus with Lucretius' honeyed cup.
It all just now begins to begin to make sense.
But every year will be a leap within. Each year you'll grow by bounds you cannot fathom today. By the end of it all, you'll have swum in every river within 50 miles. You'll have gone to class barefoot, in true Vermont style. You'll carry a pennywhistle in the back pocket of your jeans, and say your nightly rosary perched in a tree. Your friends, alarmed you'll fall, will beg you more than once to just come down.
But you will be all right if you refuse to come.
Deep in conversation, you'll connect. You'll pursue the betterment of self – your professors will want for you nothing else. In one you'll meet an eye that meets your grief. Another will chuckle and nod when you say, Please hide my grades this semester; they mean too much to me. Yet at the end of the class, when you finally see your well-deserved "B," he'll say, I enjoy your work. Something in it always surprises me.
You'll be proud of that B, for you worked hard and learned much, in fact. You dared to take a class away from where your talents lay, but well within the interests of your mind.
I hope you will so dare again.
But when you become friends with the local priest, don't bother daring him to eat that pickled egg. I have news for you: he's country-bred, and will swallow it whole, and one more to boot. And the dare he'll give you in return is a much harder one to meet: "I dare you to be a good Christian," he says. And then you will be stuck working at it for life.
I don't know what more to tell you, 17. Four years pass quickly, so take them for all they are worth. And then still, I see both joy and pain ahead. Just grasp them both with honesty and might; thus, when in darkness, you may find the light.
Yours faithfully,
Self (39)
Photos by author