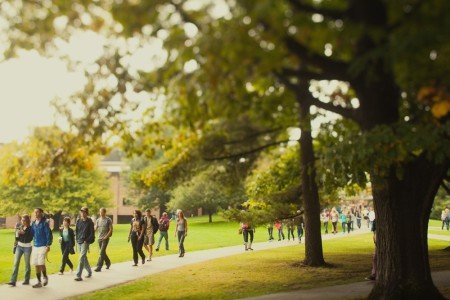 With the new semester under way, Jonathan Malesic offers some advice to college students. Here is a taste of his piece at The New York Times:
But the expectation that college will help them land a job has led too many students to approach college like a job in its own right: a series of grim tasks that, once completed, qualifies them to perform grimmer but better-paid tasks until retirement. That's a shame, because this mentality leaves no room for what college should primarily be about: not work but leisure.
College is a unique time in your life to discover just how much your mind can do. Capacities like an ear for poetry, a grasp of geometry or a keen moral imagination may not pay off financially (though you never know), but they are part of who you are. That makes them worth cultivating. Doing so requires a community of teachers and fellow learners. Above all, it requires time — time to allow your mind to branch out, grow and blossom.
The 20th-century German philosopher Josef Pieper might have said that when students see college solely in terms of work, they deny their own humanity. He pointed out in his 1948 book, "Leisure: The Basis of Culture," that the word "school" comes from the Greek "schole," which means "leisure."
Pieper borrowed his idea of leisure from Aristotle, who saw contemplation as the highest human activity and thus essential to happiness. "For we do business in order that we may have leisure," Aristotle wrote, implying that leisure must therefore be a greater thing than work.
Leisure is not the same as rest from labor. Rest, Pieper argued, is actually a part of work, keeping you in good working order. "The point and the justification of leisure," he wrote, are not that they make it possible for people to "function faultlessly and without breakdown" but rather that they make it possible for workers to remain human.
For Pieper, the question of leisure was fundamentally one of human nature. He saw, in post-World War II Europe, a burgeoning "world of total work" in which economic value is the only value. He asked, "Can a full human existence be contained within an exclusively workaday existence?" He didn't think it could.
Pieper's question is just as urgent today for people pursuing higher education. For all but the most fortunate, earning power is an inescapable concern throughout a person's life. But if it's the only value that defines a life, then students don't need a true education at all. They don't need to construct a vision of the whole world and their place in it. They don't need to address the larger questions that arise through open-ended discussion with professors and peers. They need just narrowly focused training.
Read the entire piece here.