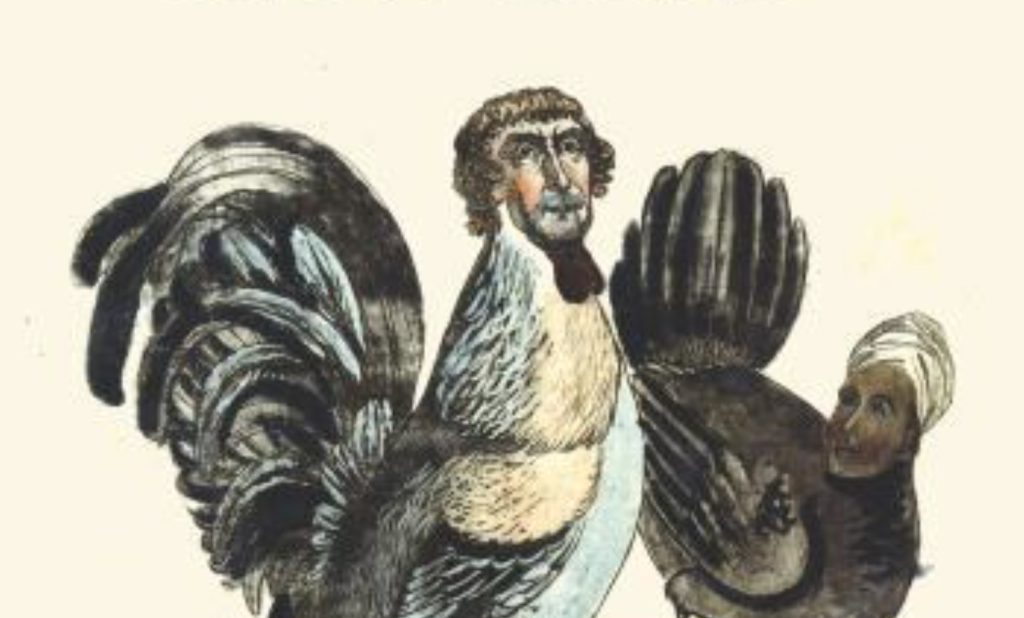 The tension between good-faith citizenship and cynical forms of satire has a long history
Prints of a New Kind: Political Caricature in the United States, 1789-1828 by Allison Stagg. Penn State University Press, 2023. 266 pp., $79.95
On social media memes are inescapable. A picture with a short amount of text aims to convey a single, basic idea. We see them and move on, but their viral nature rests in their ability to stick with us and influence us long after we've scrolled past. These can be humorous—the temptation that book buying presents to a bibliophile, for instance. But meme usage has also grown in political discourse. Comments about inflation, the Biden administration, or the upcoming election can all be found in meme form.
Political memes build on earlier forms of political imagery. They invoke, for instance, the political cartoons that graced newspapers in the Cold War era—many people came to suspect "Tricky Dick" Nixon because of the repeated images of his sharp nose and five o'clock shadow. Those cartoons grew from earlier traditions, going back to Thomas Nast in the Gilded Age. Behind even those images, though, lies another form of artistic commentary—political caricature.
The distinctive American developments of political caricature are the focus of Allison Stagg's new book. She documents the earliest images of American national life and traces the men—and the occasional woman—who created images to comment on America's early political culture.
Stagg's approach follows two key genres. First, it's an art-history approach. Stagg is interested in the prints as images, asking questions about composition, line, coloration, and visual inspirations. The study would be valuable to those interested in American art and the works of its earliest creators. Although many of the early attempts were crude, technique had to start somewhere. Second, the book functions as a study of print culture in the early republic. Stagg traces the practical elements of the production of the images, the circulation of the images, and their reception: how (and which) Americans viewed them.
Stagg has mined the archives to track down all known examples of early caricature. But since most of these images were intended to be ephemeral, they rarely survived. In fact, Stagg demonstrates the existence of many caricatures that were produced but never found their way into any permanent collection and provides a full listing of the images in the appendix. The appendix by itself is a great service and invitation to others who would want to think about the surviving images.
Through the study we learn a lot about the caricatures themselves. For instance, they were part of a transatlantic conversation. American caricatures were inspired—often directly so—by British images. British artists like James Gillray and Henry William Bunbury had established themselves as incisive social satirists. The British print market, centered in London, was much larger, more skilled, and technically more proficient than what we find in early American caricatures. In fact, the import of British prints and the lack of immigrants with printing skills hindered the development of domestic production.
Stagg carefully describes the technology behind the caricatures. Most of them developed as copperplate etchings. Line drawings were transferred onto copper plates by being etched into the metal by hand. These plates could then be inked and printed. Subsequently some were colored—often brightly—in ways that evoke present-day cartoons. That said, the caricatures are not cartoons, insists Stagg. In the 1820s, Americans began to deploy lithographic caricatures. As the name suggests, a stone was used in the printing process. An image could be crayoned onto the stone and ink then applied. Starting with prints about Andrew Jackson, lithography as a process would eventually be lifted to mass-market success by Currier and Ives.
I found Stagg's description of the social nature of caricatures fascinating. They were often exhibited by printers and booksellers, who used them to decorate their shop windows. This allowed the public to examine and comment on the caricatures from the sidewalk. Taverns would post caricatures, enabling political commentary in their "third space" setting. Most amusing to me is that barbers were frequent buyers; some would even advertise that their shops were decorated with rotating, up-to-date caricatures—an excellent way to wait one's turn in the chair. Caricatures became wall decorations in American sitting rooms.
Stagg does excellent historical detective work in tracking down America's earliest caricaturists. James Akin started his life in Charleston, South Carolina before studying caricature, printing, and basic medicine in London. He returned to the U.S. but had a hard time gaining sufficient work to justify his caricatures. He executed his earliest work in Philadelphia but seemed to find his groove in Newburyport, Massachusetts. In New England he discovered that anti-Jefferson prints appealed to Federalists. Akin produced the "Philosophical Cock" image that adorns the book's cover—it portrays Jefferson as a rooster with a hen-image of Sally Hemings behind him. Akin's career stumbled, though, and despite making a few caricatures after the War of 1812, he never established himself with his art.
Two other caricaturists followed in Akin's wake. The Scottish immigrant William Charles demonstrated the profitability of both importing British prints and producing domestic works. He was particularly able to cash in on American nationalist sentiments by creating multiple prints during the War of 1812. When American victories gave John Bull "Another Bloody Nose," Charles knew he could move product. Then, in the 1820s, David Claypoole Johnston grasped where the American print market was headed. He turned to lithography to increase production and zeroed in on the contested political debates of the Jacksonian era—a passionate and populist moment that welcomed political satire.
As to the presentation, Penn State Press deserves kudos for producing a gorgeous book documenting the prints. The pages are glossy, and the book has good heft. It carefully reproduces many of the caricatures described in the text, allowing for the reader to feel immersed in the descriptions that Stagg offers.
At the same time, I found the description of these early American prints insufficient. The reader learns much about the prints and their social setting, but there was less consideration about what the prints were trying to communicate. In 1796, for instance, a New York bookseller advertised his caricatures "To show the very age and body of the time; its form and pressure." I was hoping for more details about how the prints actually commented on their world. Almost all of them contain "word bubbles" where speakers say something revealing, and these fascinating elements—where the bite of the images often comes in—the author usually leaves undescribed.
So, space remains for further engagement with American prints. I would offer three avenues for future investigators to develop greater appreciation of these American caricatures.
[Image: https://catalog.mwa.org/vwebv/holdingsInfo?bibId=432731 ]
First, the vast majority of the prints deal with political themes—from the 1780s down to the War of 1812 and then the Jacksonian era. The meanings of the prints should be decoded and aligned with the formation and demarcation of political parties and opinions. How did these prints reflect political opinion, and how did they shape political perception? For example, many early Americanists know the caricature of the pro-Federalist, anti-Jacobin William Cobbett, aka Peter Porcupine, as a literal porcupine. What I hadn't grasped until reading this book is that the bird in the picture is in fact a jay bird. One might say a "John Jay Bird" with his treaty from Britain in his beak. Did this print stick with Americans in the 1790s and shape how they viewed the Federalists?
Second, a careful reader of these caricatures could elaborate on the religious themes in the prints. In particular, the devil shows up as a dark figure in a lot of these prints—even above. Their creators are suggesting that their opponents (take your pick who they are) are, quite literally, influenced by the devil. "Mad Tom," for instance, has the devil working with him to pull down the republic. Far from mere political commentary, these early caricaturists represented a world of spiritual activity—both divine and demonic. Nothing less than a "Providential Detection" was necessary to save the republic.
[Image: https://www.americanyawp.com/reader/anti-thomas-jefferson-cartoon/]
Third, it would be important to link early republic political images with late colonial and revolutionary images. Although not many, they carried important ideas and helped mobilize American resistance to the Crown and advocate for the nation's eventual independence. Paul Revere's contribution of engravings as political commentary expressed American outrage at British abuses and evoked an appeal to heaven for help.
Taking a final step back, we might consider whether political images—eighteenth-century caricatures or twenty-first internet memes—really help our political discourse. Truly foolish and ridiculous things occur in human affairs, including quite a few in our own day. These should be pointed out. Satire done well can get past other self-justifications to portray the world correctly.
But we go wrong when satire is the only medium we deploy. By dehumanizing—even demonizing—those with whom we disagree we lose a common ground of discussion. A New York paper from 1813 agreed. Its editorial denounced "base factionists"—political operatives loyal to party over country—who tried to advance the idea that "ridicule is the test of truth." In so doing "sound reason and fair arguments are abandoned." I think this newspaper was onto something. It's easier to evade good faith arguments if we're laughing dismissively at a caricature of our opponents. Instead, we need to work harder to see the imago dei in the person or group on the other side and deploy some humility to understand their position. A rebuttal delivered with respect can carry greater weight—and maybe even change a mind.
Jonathan Den Hartog is professor of history and chair of the history department at Samford University in Birmingham, Alabama. He is the author of Patriotism and Piety: Federalist Politics and Religious Struggle in the New American Nation.