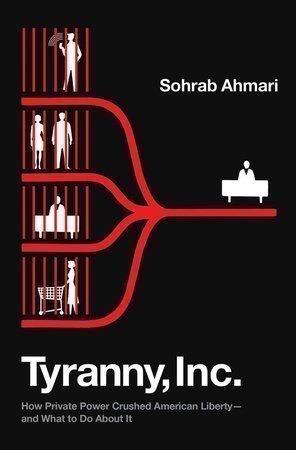 Last week I asked if one can oppose abortion and still be a democratic socialist? Or how about this: Can one be a conservative and oppose capitalism?
Today I want to call your attention to a fascinating conversation between socialist Sean Illing and Catholic conservative Sohrab Ahmari at VOX. You may recall that Ahmari is the author of Tyranny, Inc: How Private Power Crushed American Liberty–and What to Do About It. We have have a few reviews of this book coming soon at Current. Stay tuned.
Here is the audio conversation:
Here is a taste of the transcript:
Sean Illing:
A big looming question in the book is the potential for a serious left-right coalition. The sort of tyranny you're rejecting in the book is real and worth toppling, but also bodily integrity, the right to self-determine, the dignity of being who you really are. That's all essential to a free life as well, just as essential as not being tyrannized by unaccountable employers. And there is a branch of conservatism that does actually prefer the cultural hierarchies of yesterday, that does think the patriarchy was good and necessary, that does think gay and trans people don't deserve full equality under the law. I'm not ascribing all that to you, I'm just saying that it exists and I suspect the battle over these things will persist regardless of what we do in the economic sphere—
Sohrab Ahmari:
Believe me, I have this conversation on different levels and I try to convene people on the left and right together and try to think about how we propose a post-neoliberal vision or consensus despite our differences. And there are some ways and they're not neat and they probably won't satisfy you. They don't satisfy me completely, because I have my own views. But my revulsion at, say, exploitation in the workplaces is inspired from the same place that makes me recoil at something like euthanasia.
My pro-worker commitments come from a place of morality or a set of moral commitments that frankly are in tension with people on the left. That said, there are two ways to deal with this. One is to accept that we'll continue to agree or disagree about culture — that's just politics — but we can still build coalitions the way, for example, that the Nixon-Eisenhower tradition of the Republican Party came to uphold the New Deal despite having ferocious disagreements with New Dealers on other stuff. So that's just retail politics. It's consensus politics.
Sean Illing
This might just be my leftist sensibilities coming through, but I do believe that a population that isn't living under such precarity and unfairness will be much less likely to succumb to the sort of resentments and anxieties that can lead to ugly nativist politics, which is why I'm very happy to join you in this fight!
Sohrab Ahmari
I agree with that. I'm just going to echo what you said in my own words, so forgive me, but a lot of these different identitarian resentments — and I have to say I'm really terrified of what's happening in the online right. A lot of my friends tell me, 'Oh, it's just shitposting.' But there's racist-y right that gets under my skin in such a profound way. But I do think that a lot of it is precisely because we don't have avenues for living a relatively less precarious life, a more decent life, and this has a way of raising up the identitarian fortresses on the left and right.
I think if we have a society in which even if you don't have a college degree, you can make ends meet relatively well, and retire in dignity, and take care of your elderly parents, and raise children without being worried that if they get sick, you're going to go bankrupt. If we have that, I think the temperature of the culture war will come down. It's not going to resolve everything. There's some real profound disagreements, but it could turn down the temperature a little bit, and I think we'll be a little bit less at each other's throat on cultural issues.
Read the rest of the transcript here.