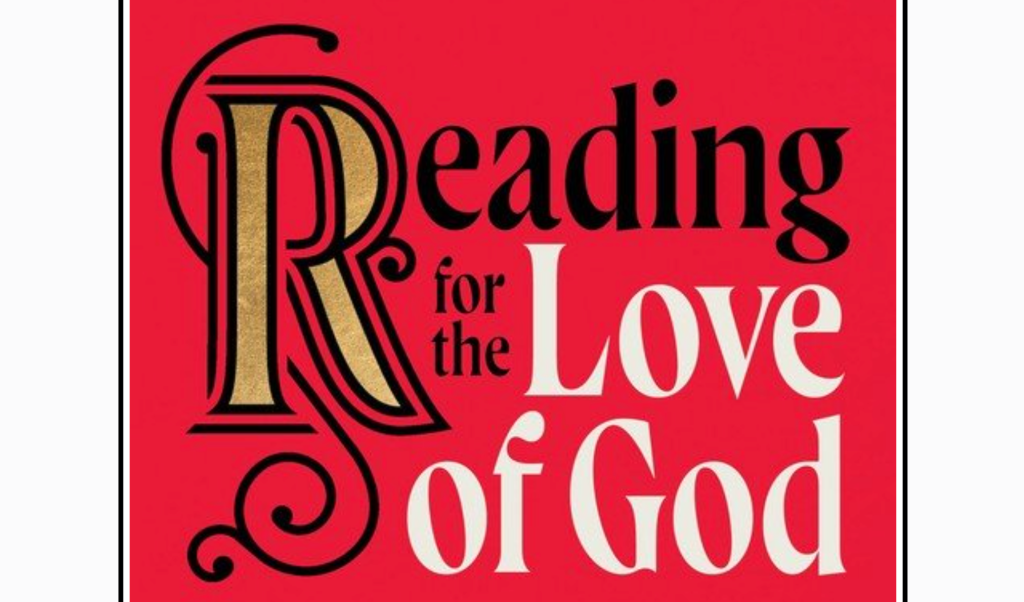 Nurturing the spirit (and your inner weirdo) through the written word
Reading for the Love of God: How to Read as a Spiritual Practice by Jessica Hooten Wilson. Brazos Press, 2023. 204 pp., $24.99
Growing up, I was an avid reader, from Highlights magazine to Stephen King to Anne of Green Gables. It didn't matter to me what I was reading, only that I was reading. In the seventh grade I distinctly recall another student—a cheerleader and the type of girl I most definitely was not—looking over at me one day in science class. She said, "You read because your life is sad, don't you? You love pretending you're in another world because this one is so bad for you."
I share this story not simply to lament a decades-old, middle school wound but because it truly was the first time in my life that I had considered why I read so much. I had no answer for her then—though you can imagine I came up with many in my head later that night.
Reading for the Love of God, as Jessica Hooten Wilson titles her new book, was never a response I considered—even if I wish I could claim now that it were. Hooten Wilson begins her book with two simple questions: "What kind of reader are you? How do you read now?" She suggests that how and why we read matters to our spiritual formation. No less important is how we define our reader-selves.
Speaking from a Christian perspective, Hooten Wilson exhorts her audiences to choose what they're reading wisely and to contemplate their responses to said reading. Given this framework, she likely would have considered—and rightly so—that my seventh-grade self was ill-formed for not having a ready answer about my readerly personhood, either in what I was choosing to read or why I was reading it. Of course, I suspect she'd give me a pass here because of my youth; whether she'd give a pass on my gigantic, purple glasses and New Kids on the Block sleeping bag, I'd have to ask in person.
Unlike my middle school fashion and music sensibilities, the schemas Hooten Wilson provides are serious. They apply both for those who already consider themselves avid readers and those who are more reticent about the merits of the practice.
According to Hooten Wilson, reading for moral formation in contemporary America requires a transgressive stance: Rather than culling out what we like and dislike from a text, we must be fully open to its ideas and allow its whole narrative to seep into—and potentially transform—our souls. The Bible, for instance, cannot be reduced to one verse we like to quote. Rather, it is an emotive, intellectual, and spiritual foundation of a multivalent tradition. This tradition relies on the composite whole of the books within the Bible, not a cherry-picked version of that whole.
Hooten Wilson provides the example of Thomas Jefferson as a reader to make her case. Informed by the Enlightenment, which sought to separate reason from faith, Jefferson created his own version of the Bible. He extracted any miraculous elements from the original in an attempt to parse out what he judged to be Christianity's reasonable, philosophical doctrines. As a deist, he chose the elements of the text that aligned with his worldview and denied those parts that didn't. He made the Bible serve his own purposes, instead of allowing it to teach him God's purposes for his life.
This individualistic, consumerist approach is how Hooten Wilson believes most people approach reading today: What can I (selfishly) gain from reading? How can I be served? As a counter, she suggests that "The reader should approach the book in the way a student draws near a teacher, with a willingness to learn, to receive, from the book." Going a step beyond seeing books as informing who we are already, Hooten Wilson sees them as potentially changing us for the better. The outcome of this process all comes down to how we read a text.
Hooten Wilson argues that we ought to read with a devotional heart, seeking to rekindle reading methods found within the Christian tradition. She recommends notable readers who can serve as models for us. In one of her book's most insightful moments, Hooten Wilson holds up Mary as a model, noting that "When Mary the mother of God accepted the privilege of carrying the Messiah, she responded with words from the Old Testament." Mary, who carried "the Word within her womb, first carried it into her heart." In this interpretation, Mary does not make words work for her own gain but is transformed by them. The juxtaposition of Mary's reading practices, grounded in love, with Thomas Jefferson's, grounded in his own worldview, is acute.
Much of Hooten Wilsons' work details other individuals who offer models for her audience to imitate: "For Dante it was Virgil, Beatrice, and St. Bernard. For me it was initially Flannery O'Connor. My guides have also included Homer, Boethius, Christine de Pizan, Fyodor Dostoyevsky, and others."
Her book is organized into four sections, titled "bookmarks," each focusing on the reading practices of historical readers that we can turn to for guidance today. These model-readers include Augustine of Hippo, Julian of Norwich, Frederick Douglass, and Dorothy Sayers. Among other lessons, Augustine models reading with purpose.
While at one point in his Confessions Augustine reveals that he read Virgil's Aeneid purely for enjoyment, he realizes that he should have read it to increase his spiritual virtue. Rather than being so overcome by the emotions in the poem that he finds himself unable see the world clearly, the reader, in Augustine's view, should acknowledge those fervent emotions and then consider their "rightful end." In the case of Virgil's epic, to which Augustine alludes throughout his spiritual autobiography, his reaction to the text teaches him upon reflection to be "penitent before God." As a model-reader, Augustine teaches future readers how to read with a figurative, spiritual lens, rather than being swept up in a story to the point of forgetting one's human purpose of loving and praising God.
Beyond following famous historical guides like Augustine, Hooten Wilson also discusses medieval modes of reading scripture. She suggests contemporary readers can find value in applying classical interpretive frames because they move beyond the self-oriented, historical positioning that encumbers many of today's analyses.
These frames, which were based on Jesus' reading practices, include the figurative, moral, and analogical. The literal mode focuses on the surface meaning, considering the words and events in a straightforward manner. The figurative mode explores symbolism and metaphorical language to uncover deeper truths. The moral mode examines the ethical implications and practical application of the text. Finally, the anagogical mode looks beyond the immediate context to discern the spiritual and eternal significance of a piece.
According to Hooten Wilson, "these are not layered readings experienced one at a time in a specific order; rather all four ways of perceiving the meaning of Jerusalem are always within it. When we read, we consider all four senses of its reality." Readers are asked to look beneath the surface of a text, applying spiritual knowledge to the literature with which they're engaging and thereby infusing their reading life with a deeper and higher purpose. Reading becomes a form of contemplative practice wherein all four senses are engaged.
In addition to describing time-tested ways of reading, Hooten Wilson introduces her own structure for analysis, for which she coins the acronym "ART." ART stands for author, reader, and text, all three depending on each other for meaning. Just as medieval modes of reading should not be done in sequential order, analyzing with ART is likewise interdependent.
Hooten Wilson describes this relationship as trinitarian. The Father, the Son, and the Holy Spirit are perfectly united in their essence and purpose; so, too, should we treat the author, reader, and text. That is, we ought not pretend that authorial intent driving a text matters more than the reader's interpretation. Nor ought we assume that the text itself can't lead us to a higher truth. Hooten Wilson writes that we should envision an "equilateral triangle" of author, reader, and text: "Instead of leaning toward one part of the triangle unevenly, if we keep these points in perpetual tension, we will experience a more balanced interpretation of the text, interact with the author's intention, and reflect on our emotional responses."
The book concludes with a section about how we should strive to remember what we have read, once again hearkening to the early Church exegetes as guides. She relays that "Medieval readers went about memorizing in several ways: liturgy, copying, reciting, illustrating, and mapping. Within the monastery, monks heard the Scriptures at regular hours throughout the day. In the course of a week, a monk would repeat all 150 psalms aloud." If we are to read with a higher purpose, we mustn't simply ingest information and then release it as if it is meaningless. Like Mary, Christian readers should have what they have read on their lips at any time, ready for God's call. They ought to be part of a living tradition, passing down cultural memory that they create and of which they are a part.
At the beginning of this review I mentioned that in the seventh grade I had no answer as to why I was an avid reader, flummoxed by someone else's judgment yet, more importantly, by the question itself. Reading for the Love of God provides validation to those avid readers like me, similarly lost when searching for an answer about the general benefits of their habit. The book reaches out to those readers who are members of the Christian community especially—another group often asked to justify their beliefs and daily practices. As it stands, reading in the United States is experiencing a downward trend, with "U.S. adults reading roughly two or three fewer books per year than they did in between 2001 and 2016." Not coincidentally, Christianity is likewise experiencing a "rapid pace" of decline in the United States.
Today I would be happy to answer that other young woman's question about my love of reading. I would respond not that this world is bad and that I need to escape it but rather that the heavenly one beyond offers such promise that I want to spend as much time as I can trying to access it through love-filled reading.
Reading in this world, if done as a "spiritual practice," provides a glimpse into the next. As Christians, it allows us to enjoy this present place as enchanted with God's glory and to celebrate it with those in the past who have written their stories. Reading allows us to create community with those now who are collectively reading with us, and those in the future with whom we will share our lives via the written word and as part of the coming Kingdom. Hooten Wilson writes that "Since the early Church, Christians have prized words. We should continue to be those weirdos who spend . . . time . . . in stories, poetry, and drama." This "weirdo" is happy to count herself part of such a lot.
LuElla D'Amico is Associate Professor of English and the Women's and Gender Studies Coordinator at the University of the Incarnate Word. She is the editor of Girls' Series Fiction and American Popular Culture and co-editor of Reading Transatlantic Girlhood in the Long Nineteenth Century.