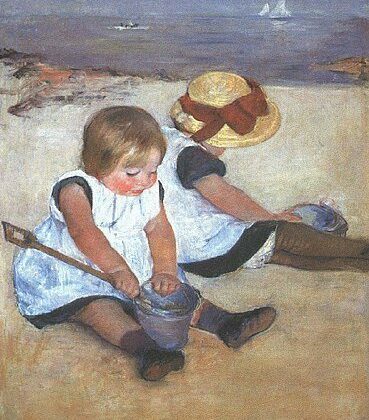 Behold, children are a heritage from the Lord,
The fruit of the womb is a reward.
Like arrows in the hand of a warrior,
So are the children of one's youth.
Happy is the man who has his quiver full of them;
They shall not be ashamed,
But shall speak with their enemies in the gate.
One of my favorite 80s pop songs is Howard Jones's No One Is To Blame. When college professors encounter students who are underprepared for college-level work, they sometimes blame the students' high school teachers. High school teachers in a similar position blame the middle school teachers. Middle school teachers blame elementary school teachers. Who is left for the elementary teachers to blame? Parents of course.
The above is meant somewhat tongue in cheek, although I was informed of this phenomenon by K-12 teachers. I bring it up as a means to talk about the phenomenon of being a homeschooling parent. When you homeschool, you are both the parent and the teacher, which means that if your kids aren't up to snuff there is no one to blame but yourself (or, of course, the kids!).
My wife and I decided before we even had children that we would likely homeschool when kids came along, and we did. We did so for a number of reasons. One reason is we wanted to include a religious dimension to our kids' education. Naturally, that can't happen in public schools. We do have in our little prairie town a small number of religious school options. For various reasons we decided against these as well, even the Catholic school which would presumably be right this papist's alley (though my wife is not a member of that particular tribe). We were attracted to a more classical curriculum for our kids, which we cannot find locally. Plus we have certain convictions against what I can only call the industrial mindset of "normal" education. We are at least "unschooling" friendly, and certainly reject the notion that education is something that happens in a building designed on the same concept as a prison, occurring between the hours of 8:00am and 3:00pm, and in discreet segments dedicated to specific subjects.
There are many advantages to homeschooling, such as choosing your own curriculum, the rhythm of the school day, what activities count as "education." We benefit as a family by not being slaves to the school schedule. If we want to educate at an odd hour, we can. If we want to take a day off in October or add a day in July, we can.
But homeschooling comes with its downside, which is why I bring up the subject of blame. Homeschooling parents are aware that there is no one out there that they can blame for inadequately schooling their kids. It's all on you. Most homeschooling parents realize at a certain point that they can't do it all. There is some aspect of their kids' education that they will have to neglect to some extent. Of course, that's true of conventional schooling as well, but in that case parents and teachers can blame each other, or blame the principal, or the school board, or ambiguous "policy." Not so with homeschoolers.
I'd like to tell you that my kids are perfect, that they excel in all subjects, and will leave school (perhaps off to college) completely prepared. That is not the case. They do well on some things, not as well on others. Sometimes they goof off, neglect their studies, engage in that age-old student practice of devoting so much time plotting how to evade their school work that if they just directed that energy to actually doing that work they'd be just fine. Having home and school in the same space has its advantages, but also leads to distraction.
The homeschooling parent thus has to be teacher and parent. Your job is to keep your kids/students on task. That requires being the "baddie" on a regular basis. It takes a bit of nuance to avoid building resentment over "Have you done your reading yet?" or "You need to redo your math until you get it right" or "Quit bugging your brother." Again, there is nowhere to which you can redirect your kids' dissatisfaction. The hardest part of being a homeschooling parent is dealing with the fear: "Am I ruining my kids?"
My wife is a hero. We have decided to be a single income family. I make the money, she teaches the kids. She has almost single-handedly started a homeschooling co-op, teaches the kids there Shakespeare and Latin (which she is learning along with them), and takes the lead with our own kids. I mostly just pay the bills. As the kids get older and more into my educational wheelhouse, that may change. My wife's fear is that she's doing it wrong. Mine is that I am not doing enough. If it goes wrong, we know who to blame.
The stereotype of homeschoolers is that they are awkward nerds. I have known dozens of homeschooled kids. I have found that the stereotype could not be further than the truth. We have all seen the data regarding anxiety, depression, and loneliness among this generation's children. Classroom disturbances and even violence are becoming big issues in many schools. I have recently talked to a couple of people who work in schools. The difficulty in maintaining basic discipline is alarming.
I am sure such pathologies exist amongst homeschoolers, but my observation tells me they are likely far below that of kids who go through standard education. The old complaint regarding homeschooling, "but what about socialization?" is easily dismissed. First, it is easy to get kids involved in all kinds of activities outside of school. Also, almost by definition homeschooling families are remarkably resourceful. Their ability to plan a playdate is second to none. Finally, as a college teacher I see the outcome of industrial education every day. If the mental health issues and lack of basic cultural literacy of today's young people are what counts as socialization, count me out.
The vast majority of homeschooled kids I have met are kind, thoughtful, mature, remarkably well-spoken and personable. I don't know how they score on standardized tests or if they will grow up to be highly financially successful. But they seem to be happy, pleasant, caring people. And for that, I know who to blame.