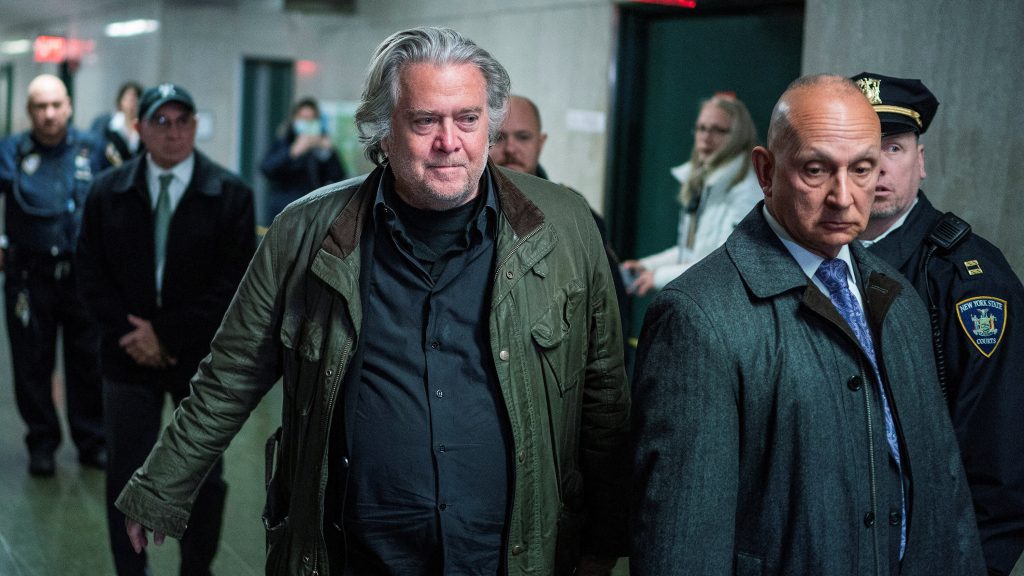 In episode 2915 of Steve Bannon's "War Room," the Alt-right pundit, former Trump adviser, and convicted felon has some choice words for Christianity Today editor and evangelical anti-Trumper Russell Moore. Watch:
Several things strike me about this video.
First: Bannon and Moore both believe that revival is the answer to America's problems. (I haven't read Moore's new book, but see his piece in The Atlantic). Bannon believes that a spiritual revival will restore the country to its Judeo-Christian roots and make the United States a Christian nation. Moore wants a revival that will rid evangelicalism of its obsession with the MAGA movement and bring spiritual vitality to the church. It leads me to wonder: Is revival the only answer to America's woes?
Second: Bannon once again reveals just how much William Strauss's and Neil Howe's book The Fouth Turning has on his thinking. Strauss and Howe argue that history moves through periods of (1) stability, (2) awakening, (3) unraveling, and (4) crisis. Each cycle usually take place over a span of 80-100 years. In this view of American history, eighteenth-century colonists challenged the moral complaceny of their parents and grandparents through the "spiritual firestorm" known by historians as the First Great Awakening. This colonial-wide revival brought spiritual renewal and changes in personal values that led to an "unraveling" of colonial ties to the British empire and a "Promethan burst of civic effort" that resulted in the "crisis"–the so-called "fourth tunring"–which was the American Revolution. According to Strauss and Howe, American independence was followed by a period of "stability" in which "our institutional life" was "reconstructed from the ground up." But such stability eventually gave way to the next "unraveling"–the Civil War.
Bannon's commitment to a kind of Hegelian dialectic is evident throughout this War Room episode. Out of crisis, Bannon argues, something new is formed. This is why Bannon has little patience for Moore's calls for unity and civility. "This is a season for fighting," Bannon says, "you're not going to bring the country together right now….One side is going to win and the side is going to lose…." Conflict, according to Bannon, is the only way the nation is going to get to the next period of stability. We will re-emerge as a more free and Christian country.
Third: Bannon is no New Apostolic Reformation prophet, but like his fellow Christian Trumpers he seems to be quite certain about the will of God. Bannon chides Russell Moore because Moore does not seem to recognize that Trump is an "instrument of divine providence" who God is using to bring a new great awakening.
Fourth: Bannon likes to talk about the American socialists who are trying to lead a "long march through the institutions" that will ultimately result in something akin to the Soviet Union. But Bannon seems to have embraced his own "long march." At one point in this episode of the War Room, Bannon says that it will "take decades" to reclaim America from liberals, socialists, and "Marxists." Isn't this another "long march through the institutions?" Academia is one of these "institutions." Bannon's words about the long march to reclaim Christian America is not unlike what Christopher Rufo is trying to do at New College-Florida.
As I listened to Bannon, I wondered if he might be right, sadly, about the coming conflict. In the end, one side or the other is going to have to win. Either we have a republic informed by truth, facts, and a commitment to the common good or we don't. Or perhaps no one wins, and we lose our democratic republic. It seems like something has to give. I appreciate the reconcilers and the peacemakers, but how does one make peace and reconciliation with people who believe the 2020 election was stolen, embrace the lies of Donald Trump and his followers, seem to really care less about the greater good of the country, and claim that God is on their side?
These are difficult times.