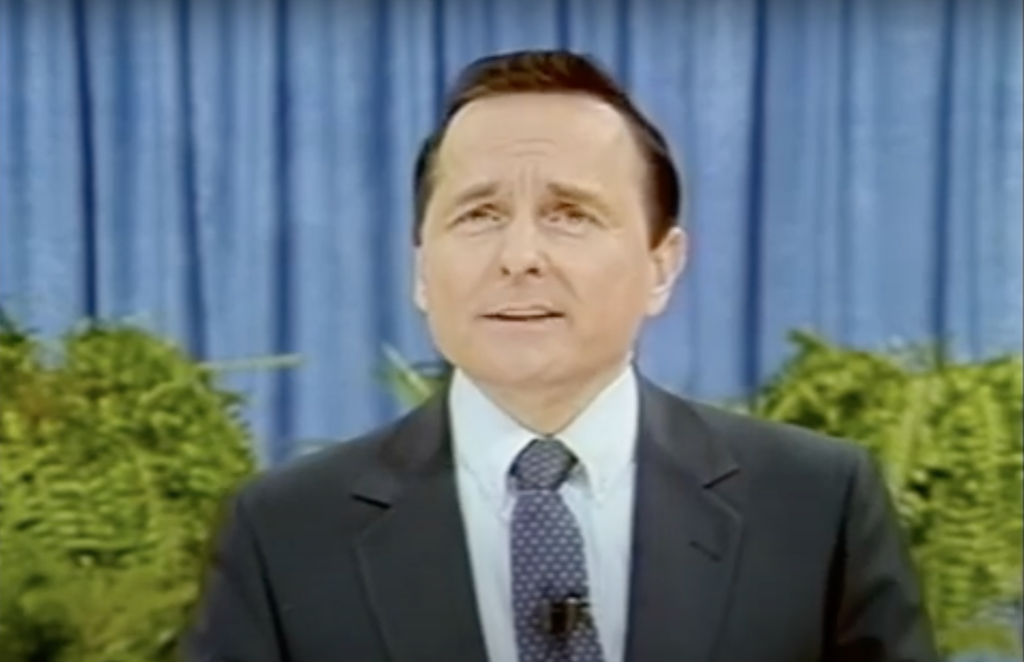 The pathos—and consequences—of our longing to be shiny happy people
When I was a little girl I attended a Children's Institute week, a kind of fundamentalist Vacation Bible School that ran concurrently with Bill Gothard's now-infamous Institute in Basic Life Principles seminars (IBLP). Monday evening through Friday evening kids would be dropped off in a big room and divided into groups of a dozen or so while our parents and older siblings would proceed to the adult seminar. My group was taught by two "team leaders" who in my seven-year-old mind were very grown-up, responsible people but whom I've realized in retrospect were probably teenage volunteers. We wore bright red sashes to hold the "character badges" we could earn through good behavior: a badge for "diligence," a badge for "attentiveness," "obedience," "joyfulness," and so on. We learned songs from the Children's Institute Songbook, singing about "sweetly submitting to authority, leaving to God the rest."
But the major event came at the end of conference week, when we would get to go on the big stage and sing two selections from the repertoire we'd learned. On the big day the other kids and I marched quietly and in single file, just like we'd practiced, and faced the crowd. I think that was the moment when my childhood stage fright was born: I'd never seen so many faces together in my short life, and I don't know that I've seen a bigger crowd since. I glanced to the right, and I could see the man himself—Bill Gothard!—beaming down on us with grandfatherly pride.
When I was young I thought everyone knew who Bill Gothard was. He was the first celebrity I ever heard of. From my earliest years, my family went to his conferences, used his homeschooling materials, and walked the walk of his "full quiver" approach to family—I was the sixth of ten children. Gothard may not have been as famous as I thought he was, but was a household name in a very particular type of household, one that was exemplified on national television when TLC cast the Duggars—whose adherence to Gothard's no-birth-control policy had resulted in sixteen children—in a reality show called 16 Kids and Counting (later 17 Kids and Counting, 18 Kids and Counting, and finally 19 Kids and Counting). The country was (morbidly?) fascinated by this eccentric but seemingly harmless family where girls wore ankle-length jumpers and wide old-fashioned pilgrim collars; where children spouted Bible verses and played hymns on classical instruments; where teenagers didn't date but instead carried on a "courtship" that was superintended by parents and chaperoned by younger siblings.
The Duggars were IBLP-anointed emissaries who were supposed to shed the gospel of Gothard abroad through the vehicle of reality television, but they ultimately became a key part of their leader's downfall. In 2015 a bombshell report that a teenaged Josh Duggar had molested five minors (including two of his sisters) resulted in the sudden cancellation of 19 and Counting, followed by a hastily-thrown-together spin-off show featuring the family's married daughters (Counting On). The Duggars' troubles weren't over, though: A 2019 homeland security raid on Josh's used car business ended in his twelve-year sentence for possession of child pornography.
But Josh Duggar can't be blamed for all IBLP's bad press. A flood of stories came out between 2013 and 2014 in which over thirty women accused Gothard of sexually abusing them while they lived and worked at IBLP's headquarters. Most of his accusers were minors at the time Gothard selected them to come work for him; some were minors at the time the alleged abuse occurred.
Gothard, the Institute of Basic Life Principles, the Advanced Training Institute (ATI, the ministry's homeschooling arm), have been thrust back into the limelight again in 2023. In January there was the release of Jinger Duggar Vuolo's "theological memoir," Becoming Free Indeed, which counters Gothard's fundamentalist teaching in minute detail. In June came the airing of Amazon's four-part documentary Shiny Happy People: Duggar Family Secrets, which digs behind the scenes of 19 Kids and Counting and investigates the parachurch organization that shaped them. Jinger Duggar's book is a cautious, restrained critique by a young woman still committed to the Christian faith and clearly trying to maintain a relationship with her parents; Shiny, Happy People is a no-holds-barred exposé produced by a secular media company with no vested interest in playing down the shock factor. According to Amazon, it has become the most-watched documentary Prime Video has ever produced.
In the wake of the documentary many people are wondering, "How could this happen? How could people buy into something like this?" These are questions I'm very familiar with, because I've been asking them for the last nine years of my life. And these questions are what led me to the hare-brained idea of following up the documentary by listening to an entire twenty-four hour "Basic Seminar" by Bill Gothard (which IBLP has made available for free here).
What is the Basic Seminar, you ask? The Basic Seminar and its follow-up, the Advanced Seminar, were the main vehicle by which Bill Gothard shared his message with the Christian world. Gothard (who has never been an ordained pastor) amassed an impressive "flock" of devoted followers through week-long conferences that came to major cities all throughout the country. There was no advertising for the seminars beyond word of mouth (Gothard wanted to avoid "curiosity seekers"), and yet in the seventies and eighties they were drawing crowds in the tens of thousands, selling out venues that regularly hosted rock stars and sporting events. To Gothard, it was obvious that God's blessing was on his ministry, if he was drawing such crowds.
As legend has it, Gothard began touring the country "with nothing but a Bible and a slide projector" in the sixties. With an initial focus on ministering to teens and college students, Gothard's seminars were first run under the name Campus Teams, and then The Institute in Basic Youth Conflicts, In 1989 the name was changed to Institute in Basic Life Principles to reflect Gothard's expanded focus. While Gothard never abandoned his unassuming presentation style, the seminar was no fly-by-night operation. Conference-goers in 1977 were paying $45 per person, roughly equivalent to $225 today, and that added up quickly when multiplied by twenty or thirty thousand attendees in a single seminar, with new bookings as often as every week. Another factor in this rapid multiplication process is that Gothard's most devoted followers were taking his advice to heart and having "as many children as God willed." With IBLP families routinely having eight, nine, ten children or even more, a single family might easily pay in the thousands to attend the conference. Overhead was minimal: Gothard was the only speaker for the adult seminars (although in later years "success story" families like the Duggars might also be featured), and the children's seminars were run by volunteers who might be as young as fourteen. One former Children's Institute team leader told me that as a teen she had to raise her own money selling homemade bread in order to be able to work at the conference, because not even housing for out-of-town volunteers would be paid for by IBLP.
In 1984, IBLP added another lucrative ministry: the Advanced Training Institute (ATI), which tapped into the market the seminar had helped to create: Christian homeschooling families. ATI sold Gothard-approved curricula that empowered concerned parents to take their children out of public schools and teach them "according to God's principles." By the late eighties IBLP and ATI were drawing enough money that the ministry was able to buy a private jet to escort Gothard and other staff to seminar locations, as well as invest in a 223-acre property in a well-heeled suburb of Chicago. The latter was used as the IBLP and ATI headquarters, where the organization set to work building a lavish set of office buildings and dormitories (a feature that over the years allowed Gothard to invite hundreds of teenagers to move away from their families to work for him). Gothard expanded his empire overseas, building training centers in nine countries and taking conspicuous trips to the former Soviet Union after the fall of the Iron Curtain. As he frequently made mention, he even met with Boris Yeltsin to discuss how to integrate IBLP-based "character training" in Russian schools.
But what, precisely, did Gothard actually teach at the seminars? The nature of a documentary like Shiny, Happy, People is to condense what may be a very long, complex story into a short, digestible form that is, among other things, high on drama. This can create the false impression that everything Bill Gothard ever taught was openly misogynistic, Christian nationalist cult-speak. This is, of course, not the reality. Some of the things that Gothard said during his seminars were in line with orthodox Christian teaching, or just plain common sense. But the question is, what were people actually coming to hear? Frankly, Bill Gothard wasn't selling out stadiums because people wanted to hear about eternal salvation, which is preached in faithful, work-a-day Christian churches every Sunday. He was selling out stadiums because he offered people a vision of the Christian life in the here and now that could be better than ordinary. Following in the footsteps of nineteenth-century "Higher Life" teachers like Charles Finney and William Boardman, Gothard taught that there was a second level of Christian experience, beyond salvation.
In the documentary, alumni remembered being afraid that they would suffer eternal torment if they didn't follow Gothard's rules. Things very well may have been taught in the "inner circles" (the seminar was the most general-audience-friendly side of IBLP) to that effect, but at least in the Basic Seminar recordings that I watched, this was carefully avoided. In an unusual theological move, Gothard made a distinction between losing the salvation of your spirit (i.e. going to hell) and losing the salvation of your soul, which he defined as "the mind, will, and emotions." A Christian who had lost their soul by failing to submit to God's principles would still go to heaven, but in this life they would be exposed to "the realm of Satan's power." On the other hand, the Christian who didn't stop at the salvation of their spirit but instead went on to give the Holy Spirit control of their mind, will, and emotions ("soul"), would enjoy the special protection and blessing of God in this life.
What could a person do to enjoy God's blessings on earth, and avoid falling into Satan's clutches? In Gothard's teaching there were the seven "basic principles": design, authority, responsibility, suffering, ownership, freedom, and success. But the principle that enjoyed pride of place at the seminar, and in all Gothard's teaching, was authority. Anyone even slightly familiar with Gothard's teachings will know about the "umbrella of authority": a visual illustration of the way that earthly authorities would provide spiritual and material protection to the people who willingly place themselves under them. It's easy to imagine that it was predominantly husbands and fathers who were attracted to Gothard's "umbrella theology," but the umbrella had an undeniable appeal for those who were on the lower end of his "chain of command": women.
If you were a wife or a daughter, Gothard all but guaranteed that you would be safe, happy and provided for if you simply embraced your submissive role. Authorities were God's way of communicating His will on matters that the Bible didn't address, like who to marry, where to move, and what kind of church to attend. If you wanted to remain in God's will and experience God's blessing, you had to follow the direction of the ones He put over you. And, like many purveyors of Christian patriarchy, Gothard also taught a dubious version of female empowerment. According to Gothard, there were two kinds of power: authority and influence, with the latter being the superior of the two. He claimed that a subordinate person with influence actually had more power than those with authority. But if you wanted to access that power, you had to discipline yourself in four attitudes: a reverent spirit, a grateful spirit, a servant spirit, and a quiet spirit. If you demonstrated those attitudes, you were sure to be successful when you approached a husband, a father, or an employer with "a godly appeal."
When you hear a few clips of Gothard's most alarming statements out of context, it's hard to imagine that anyone could take him seriously. But what is hard to capture in a three-hour documentary is the accumulated effect of listening to literally hundreds of stories that reinforce Gothard's claims over the course of six days. In an interview for the Detroit Free Press in 1977, Gothard was quoted as saying that "the seminars teach people how to see life from a new perspective, and I've found that that takes about thirty-two hours." But Gothard didn't need thirty-two hours to explain the seven basic principles: He needed thirty-two hours to create an alternate reality in which he controlled the stories people heard, the outcomes they were allowed to see, and how to interpret those outcomes.
Some of these stories positively reinforced the basic principles. For instance, in the session on the principle of success Gothard shared how in high school, practicing daily meditation on scripture had caused him to go from a student who could barely advance to the next grade to a straight-A scholar. In the session on the principle of design, a girl with a crooked jaw followed Gothard's advice to begin thanking God for her deformity, and not long after she broke her jaw in a minor car accident and had it surgically corrected. At a Seattle seminar (as Gothard tells it) a young man claiming to be an agent of Satan stormed the stage and tried to attack him. But backstage Gothard was able to show him that he had allowed bitterness to grow in his heart. He then led him through a three-point prayer and presented him to the cheering audience joyful and free. From fingernail biting to suicidal ideations, no problem was too big or small to be solved by the basic principles.
But not all of Gothard's stories relied on positive reinforcement. Gothard was at the height of his popularity during the "Satanic Panic" of the 1980s, when lurid—though largely unsubstantiated—tales of ritual child abuse by Satanists were sweeping the United States, feeding a media frenzy and sending Christian parents into mass hysteria over anything related to (or, that they thought was related to) the occult. Many of Gothard's stories revolve around the belief that Satan could gain control over a person through physical objects in their home: Ouija boards, decorative buddhas, alcohol, television, romance novels, and rock-and-roll records were among the evil objects that must be purged.
In one story a man and his wife brought back a voodoo mask from Jamaica and immediately began experiencing "destructive forces": marital problems, rebellion in their children, financial troubles, even an eye infection. As Gothard tells it, after the couple attended a Basic Seminar they went home and burned the mask; the problems immediately went away. Another story involves a young marine who came to Gothard for help because he was experiencing violent convulsions that couldn't be medically explained. The man was possessed by demons that refused to leave (despite Gothard's initial efforts at exorcizing them) because the man had occult books in his home that his mother had given him.
Stories about the demonic influence of rock music formed a whole genre in the Basic Seminar corpus. A youth minister, seeking to demonstrate the danger of rock and roll, plays a record backwards in front of his youth group, causing one of the teens to writhe, bash his head against a brick wall, and shout "Kill, kill, kill!" In another story, a couple experiencing infertility was able to have a child after they got rid of their rock-and-roll records. Gothard's "scientific" explanation for this was that syncopated rhythm "ran counter to the human heartbeat," disrupting blood flow and causing, among other medical issues, infertility. Once you became a part of his audience, the only way to escape the power of Gothard's storytelling was to decide that he was either delusional or a pathological liar—not something conservative evangelicals were quick to believe about a self-professed "man of God."
None of these stories could be confirmed or falsified because all the characters in them except Bill Gothard were anonymous. Anonymous, too, was the great cloud of witnesses composed of doctors, dentists, educators, and psychologists who backed up Gothard's claims about how following the basic principles—or not following them—could affect a person's physical wellness, emotional health, and intellectual aptitude. "Doctors inform us that most illnesses today are the result of bitterness, guilt, lack of love," Gothard confidently asserts in one typical example. Aching teeth were a direct result of bitterness and anger, as was the hardening of the face: a condition women particularly needed to guard against, since "hard facial features are not very becoming to a woman."
Education was another area where Gothard made pretensions to expertise that he did not have. According to Gothard, the best educational philosophy was the one in which facts and critical thinking would take a back seat to character development. Right and wrong were determined in the "spirit," not in the rational mind, so the spiritual should be given first priority in education; mental development would naturally follow. Gothard claimed that spending copious amounts of time memorizing and meditating on scripture would inevitably translate into academic success. This is why Gothard's set of "Wisdom Booklets" designed for homeschool use were structured around Jesus' Sermon on the Mount. And as always, Gothard's promises got more incredible the longer you listened. Simply by studying the Bible's parables mere children, he said, were passing tests designed for Ph.D. candidates.
Even though Gothard condemns a "temporal value system" at many points in the Basic Seminar, even a casual look at what he teaches quickly reveals that temporal benefits were exactly what he was offering to his audience. The premise of the seminar can be summed up in this quote from the opening session: "To the degree that an individual, or a couple, or a family, or a business, or a nation follows God's principles—principles of Christianity—to that degree they experience wealth, health, and wisdom. To the degree they don't, they experience traceable conflicts." On the one hand, this is about as clear-cut an articulation of a prosperity gospel as one could ask for. But on the other, we shouldn't misunderstand Gothard as a stereotypical televangelist type, telling people that God wants them to be millionaires. There is a reason the corollary opposite of "success" in Gothard's paradigm is "conflicts": The success that he offered was primarily in the area of relationships, and in particular family relationships. Many of the rosy outcomes that Gothard promised had to do with rehabilitated marriages, reconnection with alienated children, and peace and harmony in the home.
And this is where the teachings of Gothard become uncomfortably familiar, even to those who never attended a seminar or opened a Wisdom Booklet: Gothard taught a prosperity gospel of "family values" that gained a strong foothold within a Christian culture that was (and still is) in a panic over modern threats to the nuclear family. When I look out at American religious culture today, I see the same dynamics that were in play when IBLP first rose to prominence. People like Gothard are always able to turn moral panic into opportunity; to "make merchandise," as the King James Bible puts it, of fearful people looking for guarantees of security, eternal or otherwise.
Today, Bill Gothard is an old man who has been removed from power even in the organization that he built, which has been in decline for decades. He has descended into an infamy that he's run out of time to dig himself out of. His day is over. But we would do well to ask ourselves: Who are the Bill Gothards today? Because they are there, as time will surely tell.
Rachel Darnall is a freelance writer and student pursuing a Masters in Theological Studies at Westminster Theological Seminary. She frequently writes about gender, authoritarianism, and Christian freedom. She lives in the Boise, ID area with her husband Micah, their two daughters, and a border collie named after Dmitri Shostakavich.
Image of Bill Gothard from youtube.com