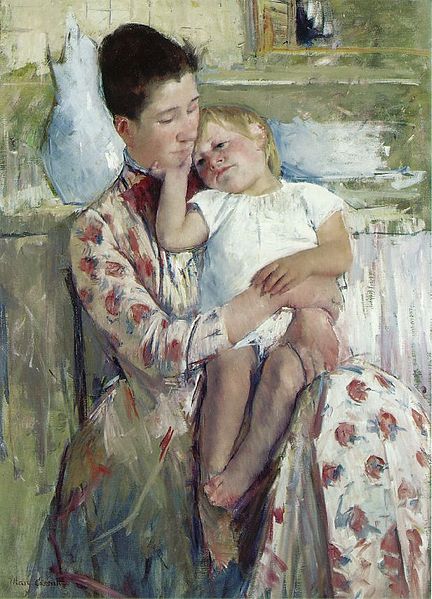 Summer is the season for reading, whether re-reading old favorites or finding new ones—on your porch, in a cabin in the woods (bears optional), or at the playground or the beach. Because there have been so many wonderful essays on this blog about books—the what, why, and how of reading—we are taking this week to re-run some of this content for your enjoyment.
***
My first year of parenting was terrifically hard. It was not just because I had had a difficult pregnancy (though I had) and a colicky, sleepless dear little baby (though I did), but because I thought that the hard parts were all my fault.
The reason I thought it was my fault was that I read too many parenting books.
Pregnancy and parenting books are just, by and large, so absurdly vehement. They're so irresponsibly black-and-white! Mostly, they just make young mothers and fathers feel awful about themselves as they and their children fail to live up to expectations. Attachment parenting books, for example, told me that if I just held my miserable baby constantly, she would not cry. Sleep training books told me that if I just left her in her crib for long enough, she would sleep.
Liars.
So these days, twelve years into parenting, I am wary of any book that claims to tell me how to do this mothering thing. There are two or three books I have collected over the years that have been truly helpful and non-judgmental – Gordon Neufeld's Hold Onto Your Kids: Why Parents Need to Matter More Than Peers is my favorite – but I try not to spend too much time reading advertisements from those who want me to "try this one weird trick" to get perfect children.
As an alternative, though, for a while I spent some time down the rabbit-hole of homemaking books. Maybe if I just became the perfect homemaker, then maybe my children would feel more orderly interiorly and then they would behave perfectly and then…
Whoops. There's that "perfect" word again. As if there were any such thing as a perfect child or a perfect parent, anyway! I like my little pack of wonderful crazies just the way they are.
But lately, I've found my reading niche as relates to parenting, family, and home. It began when I ordered a homemaking book with a hopeful title and a gorgeous and inviting cover, Sally Clarkson's The Lifegiving Table: Nurturing Faith through Feasting, One Meal at a Time. In fact, since I had already blown that month's book budget and they can only hang me once, I went ahead and bought her (co-authored with daughter Sarah Clarkson) The Lifegiving Home: Creating a Place of Belonging and Becoming, too.
At first I found both books overwhelming. Both cheerfully take the reader through the year in family traditions and foodways, describing beautiful feasts and traditions of blessing and so, so, many lovely things. I came away from my reading feeling as though I had touched something beautiful that I could, however, never, ever achieve myself.
But then, puttering around on Clarkson's website, I came across a story about a comment Sally once received in error after writing those books. Meaning to send the comment to a friend, a reader had hit the wrong button and instead sent the message to the author herself: "This Clarkson woman makes me tired!"
So it occurred to me that if Clarkson can appreciate comments like this, as she clearly did, she might actually be more like me than I had initially thought. Perhaps these "lifegiving" books were just meant to give us beautiful ideas, not to ignore the nitty-gritty.
And so, since they can still only hang me once, I immediately ordered two of Clarkson's nittier-and-grittier books to try next: Different: The Story of an Outside-the-Box Kid and the Mom Who Loved Him and Help, I'm Drowning: Weathering the Storms of Life with Grace and Hope. Those sounded more like my life.
Both books blew me away. Different, co-authored with Sally's son, filmmaker Nathan Clarkson, tells the story of Nathan's "outside-the-box" childhood and the ways that Sally, too, was affected by his various gifts and diagnoses. Alternating between perspectives, Nathan and Sally each write with raw honesty but also gratitude and hope, and the book glows with ther friendship.
Help, I'm Drowning is exactly what it sounds like. The title itself cuts right to the heart of being a mother in our unsettled, underappreciative culture. Here, Clarkson comforts and encourages mothers who may have uttered this phrase or the like – and what mother hasn't? – with words of solidarity, love, and gentleness. The book is about meeting hardship with both strength and compassion. It is about stopping in the midst of your hardship to enjoy hot coffee and watercolor sunsets because they were made to teach us about our belovedness.
My next read and my favorite Clarkson book so far, Own Your Life: Living with Deep Intention, Bold Faith, and Generous Love, elaborated on and solidified this message: you need to take responsibility for caring for yourself in ways that enable you to extend love to others.
As I came better to understand Clarkson's words, I saw that the "lifegiving" books presented just one part of the story and are intended to nourish, inform, and encourage, not overwhelm. For Clarkson, high ideals and traditions and little pleasures are the flame that lights the way in the darkness. They restore and refresh and feed us and help the bone-weary understand that they are personally cherished by God. They are there not in place of hardship, but in response to it. It is the opposite of the fluffy marketing concept of self-care: it is a quite sensitive, realistic, and indeed, lifegiving approach to sustaining yourself through the storms of life.
When I read Clarkson, I'm reminded that no one's worth – parent or child or anyone else — is defined by his or her performance. In terms of performance, Clarkson's books neither condemn nor excuse. They don't make promises they can't keep, as the parenting books so often do. But they do make you feel like a beloved and worthy person who really can do the task set before you: namely, that of loving the other imperfect people in your life.
So now I am engaged in reading through the rest of the Clarkson canon, even down to her daily non-denominational devotional for mothers, Mom Heart Moments: Daily Devotions for Lifegiving Motherhood. And I although I am not an expert in either theology or philosophy, I don't know that I've ever encountered a more truthful understanding of the connections between faith, body, and mind than in her works—except, perhaps, for the highly insightful chapter on the body in her daughter Joy Marie Clarkson's book, Aggressively Happy: A Realist's Guide to Believing in the Goodness of Life.
Sally neither blames mothers for their weaknesses nor dismisses their important duties. Instead, she encourages them by connecting small gestures of physical care and emotional welcome to the opening of hearts and the restoration of souls – what she calls teatime discipleship. Where some might consider regular enjoyment of coffee, dark chocolate, and scented candles wasteful and unnecessary, Clarkson argues that in giving yourself comfort, enjoyment, and restoration in consistent ways, you fortify yourself to better love and serve the people around you.
I want to be more like that. And these books make me feel that I actually could be.
If I eat enough dark chocolate.
Dixie Dillon Lane is an American historian, teacher, and essayist who writes frequently for Hearth & Field and Front Porch Republic as well as other publications, including her website, TheHollow.Substack.com. She holds a Ph.D. from the University of Notre Dame.