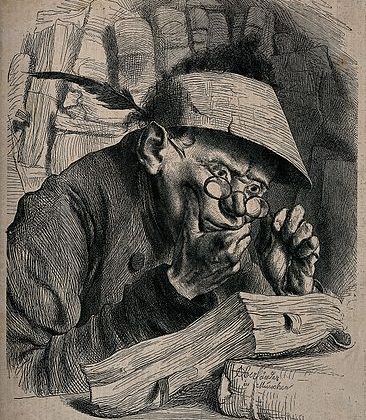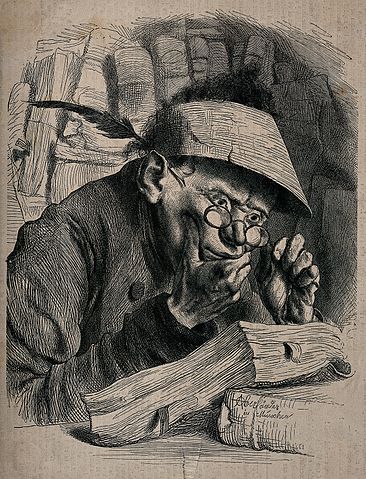 Summer is the season for reading, whether re-reading old favorites or finding new ones—on your porch, in a cabin in the woods (bears optional), or at the playground or the beach. Because there have been so many wonderful essays on this blog about books—the what, why, and how of reading—we are taking this week to re-run some of this content for your enjoyment.
***
How did I become a quirky reader? In large part, I blame it on the World Book Encyclopedia.
I can only imagine how many hours I joyfully wasted on my guilty pleasure. This probably tells you something about the social life I had growing up. I wasn't alone in overindulging myself. My twin brother Brad did the same.
I believe that we had the 1970 edition of the World Book. I can easily picture the slanted, wooden book rack on which the set rested. Only the memories of those well-worn books remain. (Do any of you fellow readers still have yours?)
So what exactly is the World Book? "Published since 1917, the World Book Encyclopedia is a general reference work. The encyclopedia deliberately uses nontechnical language and abundant graphics to make it especially accessible to students and general readers without sacrificing depth and accuracy. The editors of the first edition emphasized the use of 'everyday, simple language' in the eight-volume set."
Furthermore, "In 1919, World Book began the practice of printing annual revisions of its encyclopedia, which has been followed every year since except for 1920, 1924, and 1932. World Book's first major revision took place in 1929, when the set was expanded to thirteen volumes. In 1931, World Book adopted the unit-letter system of arrangement, in which each volume was a different-sized book that contained all the entries for one or more letters of the alphabet. The set was expanded to nineteen volumes in 1933, to twenty volumes in 1960, and to twenty-two volumes in 1972. The final volume in the set is a research guide and an index."
Finally, "By 1995 World Book had become available in two CD-ROM versions, and by 1999 it was available online. World Book, Inc., subsequently released numerous digital products while continuing to publish its print edition."
That history and context was fun to look up. But as much as I appreciate the ability to Google for information, I miss the good ole days of having to go to the book rack to pull out a volume of World Book. Even though it's been decades since I picked up one, I distinctly recall the rubbery feel of each cover, and the glossy touch to its pages.
I like to say that I had two educations growing up in rural Iowa; one provided by the Maple Valley School District, the other by my parents' purchase.
I have never asked my mom or dad why they bought the set. Perhaps, a traveling salesman convinced them to, or maybe they heard a neighbor talking about it. This much I now know:
"At one time, company president Donald Keller says, World Book employed more than 40,000 salespeople, who sold sets of encyclopedias door-to-door to families all over the U.S. As more women entered the workforce in the 1970s, and computers became more accessible to consumers in the 1980s, direct sales of encyclopedia sets to families declined. In a bid to retain market share, World Book evolved into an institutional publisher with a sales force of 95, primarily serving the school and library markets."
While there were certainly instances when I went to World Book looking up a specific topic, more often than not, I randomly pulled out a volume, sat down in my favorite rocking chair, and whiled away the time scanning the pages until an entry caught my eye. As a result, I can safely say that much of my knowledge is a mile wide, but an inch deep. Wilkie Collins is a prime example of this. Virtually all I know about him is what I happened upon in the encyclopedia a half century ago. He was the author of The Moonstone and a pioneer in the detective novel genre.
Our passions are often found quite early in life, and that was the case for me when diving into the World Book. For the most part, I avoided the science entries; instead, I was drawn to the historical ones. Our edition of the encyclopedia included multi-page features on each president. Lincoln's featured a full-page portrait. So vivid was this illustration that whenever I think of the Rail Splitter, the World Book painting soon comes to mind. As does one line by the author who wrote about the qualities that made Lincoln great, including his iron will and determination.
Growing up, I was never interested in poetry. It would have been a toss-up if I were given the choice between having to read a poetry book or having a cavity filled. I might just have chosen the latter. Still, thanks to the World Book, these lines stuck to me like an Iowa cocklebur:
I must go down to the seas again, to the lonely sea and the sky,
And all I ask is a tall ship and a star to steer her by;
Masefield's poem didn't give me sea-fever, but World Book certainly played a huge role in my becoming a lifelong arm-chair adventurer. Decades before I picked up Zena Hitz's wonderful Lost in Thought: The Hidden Pleasures of an Intellectual Life, I was captivated hook, line, and sinker by World Book.
World Book was a gift that kept on giving. Each year we received a new volume, appropriately entitled Year Book. For some reason, I was drawn to the obituaries. It turned out to be a harbinger of things to come. I have since purchased multiple volumes written by professional obituary writers. Maybe I can also blame the Year Book, at least in small part, for my ongoing obsession with Ecclesiastes. (Playing in the Mount Hope Cemetery for hours and hours probably had a larger role in this, but that story will have to wait for another time.)
How did I become a quirky reader? Ultimately, I can't blame it solely on World Book, but I don't have time to tell you about The Hardy Boys, Pippi Longstocking, Jim Kjelgaard (Snow Dog, Big Red) and Harold Lamb (Genghis Khan, Hannibal, Alexander of Macedon). After all, a preacher worth his salt should know when to quit.
Brian Scoles can be found most Sundays at Our Saviour's Lutheran Church (LCMS) in St. Paul, Minnesota, where he has served as a pastor since 2006. He is thankful to live next door in the parsonage; this greatly reduces his commute time to work.