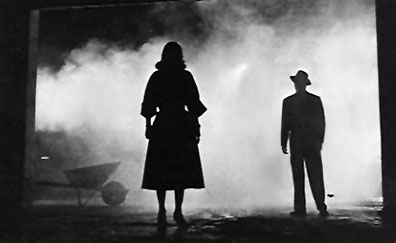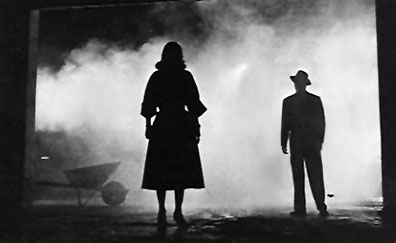 Summer is the season for reading, whether re-reading old favorites or finding new ones—on your porch, in a cabin in the woods (bears optional), or at the playground or the beach. Because there have been so many wonderful essays on this blog about books—the what, why, and how of reading—we are taking this week to re-run some of this content for your enjoyment.
***
I am working on a book on America's Revolutionary War, so most of my reading of late has focused on that conflict. But I am a voracious and omnivorous reader and I break away from the eighteenth century when possible, something I have recently succeeded in doing.
Through "Noir Alley" on TCM, which I watch every weekend, I discovered that there is such a thing as "noir novels." I am a fan of both mysteries and noir films, but was unaware of a noir novel genre. I learned from Eddie Muller, the host of "Noir Alley," that David Goodis not only wrote several noir film scripts, he left Hollywood and became perhaps the premier noir novelist in the 1940s and 1950s. I couldn't wait to read a Goodis noir novel, and recently I devoured two of them.
Black Friday is the story of a man on the run from the law in New Orleans who lands in Philadelphia and becomes part of a gang planning to rob a mansion on the Main Line. It won't be a spoiler for me to say that the burglary doesn't go well. This is noir and ultimately things never go well for the main character in noir films and stories.
In Nightfall, an innocent man is pursued both by the police, who want him for a bank robbery, and the robbers, who think he somehow got their money and stashed it.
Goodis wasn't a writer in the class of Raymond Chandler, Michael Connelly, or Robert Parker – all great writers of detective fiction — but I found his noir novels to be suspenseful page turners.
I am a historian and reading history is almost always a pleasant experience for me. This autumn two new books on John F. Kennedy were published, Stephen Knott's Coming to Terms with John F. Kennedy and Fredrik Logevall's JFK: Coming of Age in the American Century, 1917-1956. While I remember bits and pieces of the Truman and Eisenhower presidencies, John F. Kennedy's presidential campaign in 1960 was the first that I was really caught up in.
I was a senior in college that year and, as a member of the campus Young Democrats, did some very insignificant work – things like knocking on doors and handing out leaflets — in the hope that he would be elected. I was mesmerized by Kennedy the candidate and endlessly intrigued by his presidency. He seemed unlike other political figures. His speeches were often cerebral and lyrical, and his most important addresses were thought provoking. Kennedy was an author of a couple works of history and my ambition was to become a historian and writer. I thought JFK was a wonderfully inspiring leader and looked forward to his second term, but tragically his life and presidency were cut short by his assassination in November 1963.
Over the years I read just enough about Kennedy's presidency to cope with the U.S. History Since 1865 courses that I taught, but aside from several books on the assassination, I hadn't read anything about him in recent years. When I became aware of the books by Knott and Logevall, both professional historians, I immediately wanted to read them. Logevall is a Pulitzer Prize winning historian at Harvard. Knott teaches at the US Naval War College and, like me, has written about early American history. What Knott might have to say especially intrigued me, as he had once been a JFK fan who soured on him over the years, became a Reagan Democrat for a spell, and as he grew older began to reconsider Kennedy as a man and leader.
Logevall's work is a biography, the first of two volumes, and it carries the story down to 1956, four years before JFK's election as president. It is filled with insights concerning what shaped JFK. His family's wealth and influence were of paramount importance, as was his privileged education. However, Logevall persuasively demonstrates how a series of health crises and JFK's World War II experiences of violence and death transformed his thinking.
Knott examines JFK's thinking about the presidency before focusing on the key issues during his White House years – the Civil Rights struggles, the Cold War, Cuba, Vietnam, and the space program. He ultimately concludes that despite serving less than three years, JFK was a "near great" president.
For me, Logevall's biography was a learning experience, as I knew little about JFK's life outside of politics. Knott's study brought back memories and led me to recall why in my youth I had found JFK to be so inspirational. Like Knott, I went through a phase when I grew jaded toward Kennedy, although my disenchantment occurred while JFK was still alive. It stemmed from his seeming indifference toward progressive legislation, initially lukewarm commitment to the struggle for civil rights, and drift toward disaster in Vietnam.
As with Knott, my perspective changed over the years, in some measure because none of JFK's successors in the White House matched his intellectual vigor. Furthermore, JFK was not intransigent in his thinking. It seemed apparent to me that his outlook on civil rights and to some degree on foreign policy underwent changes during his brief presidency. Not everyone will find Knott's revisionist arguments convincing, but I've almost always found revisionism to be provocative, even when I disagreed with the author's conclusions. In this instance, I think Knott's approach will enable readers to see the Kennedy presidency more clearly.
John Ferling taught for forty years, mostly at the University of West Georgia. His recent book, Winning Independence: The Decisive Years of the Revolutionary War, 1778-1781, was published in 2021. He is currently writing an international history of America's Revolutions War. See johnferling.com for additional information.