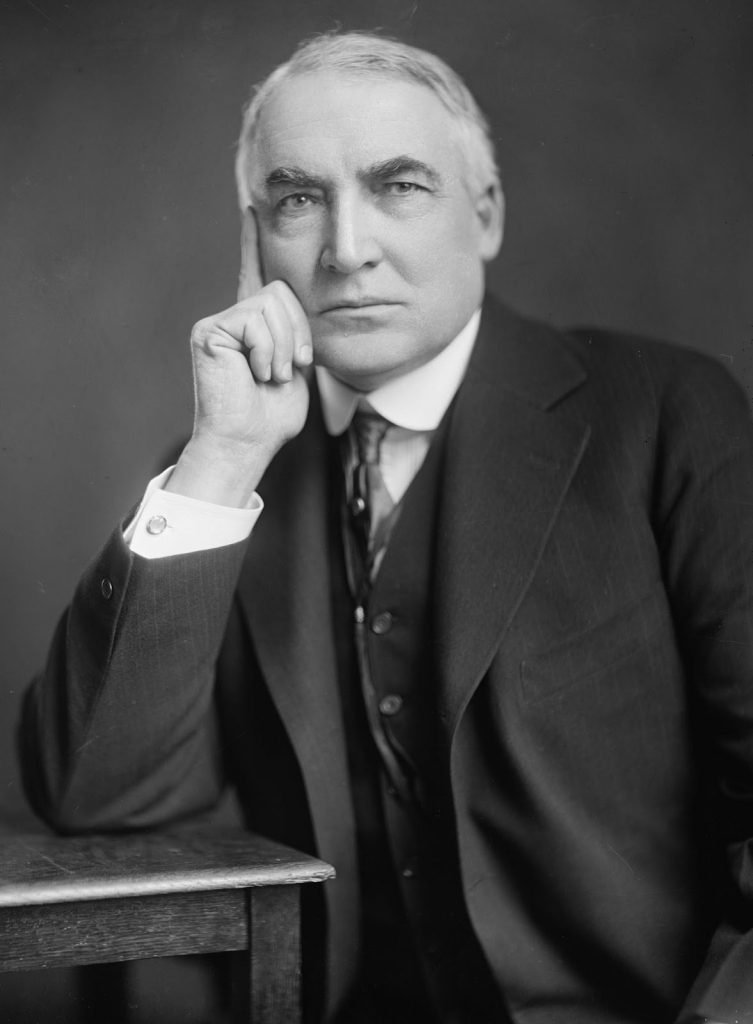 Years ago, a former colleague of mine and Dan's at the University of West Georgia said something nice about President Warren Harding in a lecture that inspired students and colleagues to troll him for years thereafter. A President Harding bobblehead appeared in his mailbox one day. On another occasion, he received a delivery of a potato with Harding's face carved out on it. The potato didn't last, although the bobblehead is still on his desk, as far as I know. The culprit(s) were never discovered.
I thought of these incidents in connection with Dan's Anxious Bench post today on "President Warren Harding's Liberal Baptist Faith." A taste:
Next week marks the 100-year anniversary of the death of the first Baptist president of the United States.
But if "Baptist" wasn't the first word that came to mind when thinking of Warren Harding, who died in office on August 2, 1923, you're probably not alone. Even if he was a member of a Baptist church, Harding was one of the nation's least overtly devout presidents. Those of you who have read Barry Hankins's Jesus and Gin know that Harding is remembered much more for his poker playing, cigar smoking, Prohibition-era liquor drinking, and – above all – his extramarital trysts than for any semblance of piety…
But personal piety is not the only way to measure the influence of a religious tradition on a president's thinking. In the case of Harding, the twenty-ninth president's Baptist affiliation may tell us more about the history of both Baptists and Harding than we might initially assume. Most of all, it may tell us something fascinating about a particular moment in the history of the intersection of religion and politics in the United States...
Harding is probably not someone that many Baptists today would consider a worthy exemplar of the faith, but when understood in its historical context, his life shows that whatever else Harding was, he was not a secular person for whom religion was irrelevant. Contrary to popular stereotypes, the era in which Harding was elected was not primarily an era of secularization but rather the heyday of liberal Protestantism. And Harding, despite all of his vices, was likely a genuine believer in the fundamental assumptions of liberal Protestantism and the Social Gospel, which were widely shared among many theologically liberal Northern Baptists.
Harding's White House may have been filled with whiskey and cigar smoke, but it was also a place where the tenets of liberal Christianity continued to reign, with a churchgoing Baptist president at the helm.
Read the full essay here.