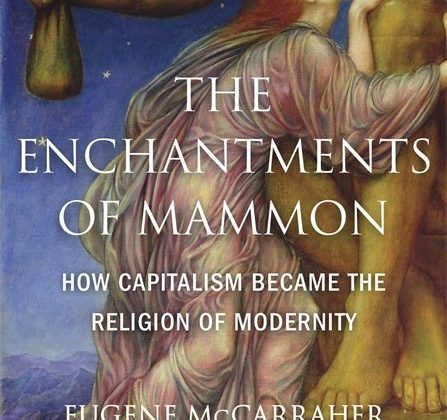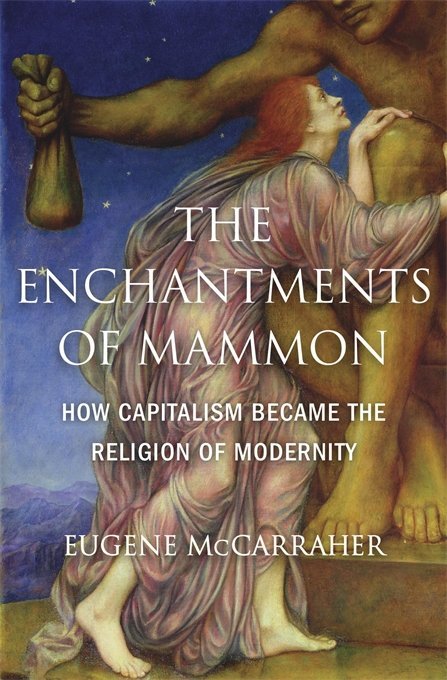 Eugene McCarraher, the author of The Enchantments of Mammon: How Capitalism Became the Religion of Modernity, does not think so. He discusses his 2019 book with Peter Mommsen at the Plough podcast:
Listen here.
A taste of the transcript:
Capitalism, as most people think of it, apart from just being a fact of life, is frequently presented as a neutral social technology to enable maximum human flourishing. Could you walk us through the reasons why you disagree with that claim?
First of all, I don't think technology, social or otherwise, is ever neutral. And the reason I think this is that technology is made by human beings, and therefore technology always embodies some kind of human interest. So, just on the level of definition, I find the idea that technology is occupying some kind of Archimedean point of complete objectivity unpersuasive.
I guess the other thing – and something I take issue with in The Enchantments of Mammon – is the idea that capitalism has taken us out of poverty and misery and oppression and destitution. That's one of the arguments often made for it: that it's brought us this great material progress. And I think the story is more complicated than that.
I don't deny that we are materially better off than we were in the Middle Ages. We are, by and large, healthier; we live longer; we are better educated. I don't deny any of that. But I think a lot of the material progress that we've made is only distributed with any degree of equitability thanks to political movements. It was because we had things like labor unions and political parties that we were able to organize society in a more humane way. It's not something that capitalism does naturally at all.
Fixating on material progress evidences a failure of moral imagination. The way we evaluate the economy is asking, "How much stuff did we produce last year?" We don't ask whether any of the stuff that we produced actually contributed to human flourishing. We don't distinguish things like fruit and vegetables from cigarettes and nuclear weapons. It's all economic growth. There's no kind of moral evaluation involved.
Not to mention that we're talking about a system that requires infinite growth operating on a planet with finite resources. We're only beginning to reckon with the environmental price that we've had to pay for that.
I think we know, as a society, that all of this is bad, and yet we don't seem to be able to act any differently. I think a major reason for that is that we don't know what we want. Even though capitalism isn't ideologically invulnerable to the same degree that it was, we don't have any conception of what an alternative way of life would be. So we default to the status quo.
I'd like to talk about this word enchantment, which is so key in your book. Capitalism, even by its critics, is usually thought of as fundamentally secular – as disenchanted. Karl Marx, for example, said, "Capitalism drowns the most heavenly ecstasies of religious fervor in the icy water of egotistical calculation." And Max Weber famously popularized the thesis that capitalist modernity is this process of disenchantment. You take issue with this view and argue that capitalism is no less enchanted than the worldviews it supplanted. What does it mean that capitalism is enchanted – and why does that matter?
I think capitalism is fundamentally enchanted because we treat it with this sacred awe and veneration. We tell ourselves, no, we don't really revere the dollar, we don't really consider it sacred – well, in practical terms, we do. The reason we do that is because, under capitalism, money actually does become an arbiter of what's good – or even what's real.
When I get business students in my college classes, I'll say, "Look, you guys in standard economics, you have this notion called effective demand, right?" They'll say, "Yes." I say, "Effective demand says that if I'm thirsty, but I don't have any money to pay for, say, a bottle of water, my thirst, as far as the market is concerned, does not exist. Am I right?" And they'll say, "Yeah, that's true. Your thirst has no effective demand."
Now, you and I both know that I'm still thirsty even if I can't afford to quench it. But in the eyes of the market, my thirst is nonexistent. And, as I point out to my students, that economic fact is also a moral statement, an ontological assertion. The market is an ontology, a way of deciding not only what is right and wrong, but what is real and what is unreal. And that's exactly the kind of power we used to attribute to God.
In the past, humans generally believed that the metaphysical structure of the world was determined by God. In a capitalist society, money plays that role: without money, you, or at least your needs as a human being, don't exist. Right at the heart of disenchantment, we find this clearly theological dynamic. And this was noticed by none other than Karl Marx.
Marx was of two minds about disenchantment because he did say, as you quoted him from The Communist Manifesto, that capitalism is this secularizing, disenchanting force that reduces everything to calculation. He's also the guy who, in the very first volume of Das Kapital, introduces what he calls "commodity fetishism" by describing the fungible products of capitalism, what he calls "commodities," as "abounding in metaphysical subtleties and theological niceties."
Read the rest here.