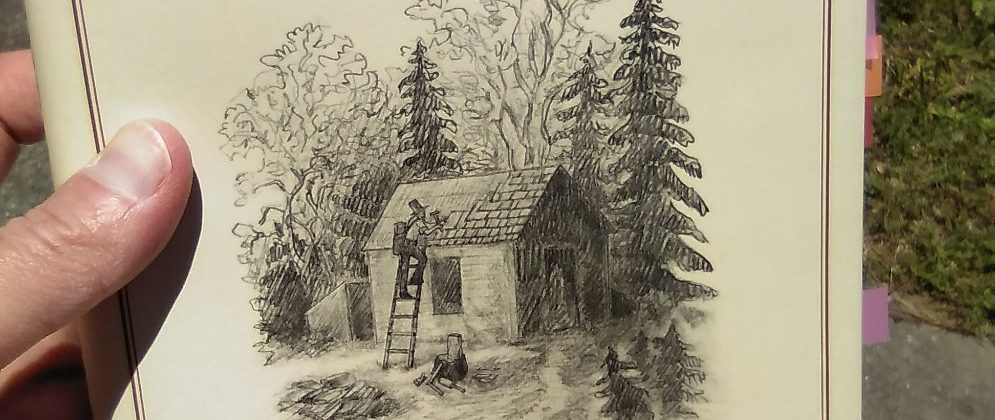 Review: Henry at Work: Thoreau on Making a Living by John Kaag and Jonathan van Belle. Princeton University Press, 2023. 232 pp., $27.95
For three years in the 1920s, students and faculty at the University of Mississippi who needed to utilize the campus post office to, say, mail a letter or pick up a package, were in for a trial. Depending on his mood that day, the postman would or would not assist. More often, it was the latter. Legendary for his incompetence around campus, the postman in question earned the following review from the writer Eudora Welty:
Faulkner would open and close the office whenever he felt like it, he would read other people's magazines, he would throw out any mail he thought unimportant, he would play cards with his friends or write in the back while patrons waited out front. A comic in the student publication Ole Miss in 1922 showed a picture of Faulkner and the post office, calling it the "Postgraduate Club. Hours: 11:30 to 12:30 every Wednesday. Motto: Never put the mail up on time. Aim: Develop postmasters out of fifty students every year."
If you are wondering about the name, this postman from nightmares was indeed the Faulkner—the novelist, except he wasn't yet known for his writing. Instead, for three years he languished at a job he hated, making everyone who needed his services miserable as well. Finally, when a regional superior gave him a very harsh review, enumerating his failures on the job and asking for a response, Faulkner obliged–albeit a full month after the deadline that was set for this response:
As long as I live under the capitalistic system, I expect to have my life influenced by the demands of moneyed people. But I will be damned if I propose to be at the beck and call of every itinerant scoundrel who has two cents to invest in a postage stamp.
This, sir, is my resignation.
It sounds like Faulkner was a terrible worker, at least at this particular job. But the thing is, a man has got to pay his bills somehow, and that basic reality is what drove him to this job, which was clearly a terrible fit for him. And this is what kept him at this job that he so dearly hated for three years, until he finally felt like he had no choice but resign.
We can lament his plight or laugh over the absurdity of the whole thing. Faulkner could surely have had a kinder attitude about this. Or we might wish we could borrow his resignation letter to use ourselves. The thing is, it seems that more and more people over the past few years are dissatisfied with their work life, and fewer and fewer are happy to wake up and go to work every morning. Indeed, the COVID-19 pandemic has encouraged many people to re-examine their work lives, leading them to shift careers, retire early, or simply quit to stay at home with the kids, or shift to working from home.
John Kaag and Jonathan van Belle have written this book for all these workers who do not feel satisfied with their work lives, are wondering how to find greater (or any!) meaning in their work, or are simply looking for new and ethical ways to think about work and creative endeavors. In this little book that packs a big punch, they propose an unexpected companion—counselor, even—for our work journeys: the nineteenth-century writer Henry David Thoreau.
You might wonder: Thoreau?! Isn't this just a step removed from writing a book about Faulkner and work? What seems like an unlikely matchup at first, though, turns out to make perfect sense as Kaag and van Belle's argument unfolds. It is precisely because of Thoreau's unorthodox work life—exceptional in his own time, but just as unusual in our own—that his reflections on work as a part of life resonate so well.
Kaag and van Belle did their research; there is no question about it. But they are also determined to make this book one that is more practical than academic. So, what are some of their key takeaways for their readers, based on Thoreau's writings?
First, your career/job and your calling/vocation are not the same thing—a topic about which I had much to say in my own "Great Resignation" essay last month. The jobs that Thoreau held over the course of his short life—teacher and private tutor, businessman in his family's pencil-making factory, and land surveyor—were means to make money. But he didn't love them and resigned from several of them. Rather, his calling was writing. He only did other work to be able to afford to survive and do what he truly loved. And, as it turns out, his writing is what had long-lasting power, continuing to influence readers today. Still, he did all his other work as well as possible, unlike Faulkner the postman. Taking pride in doing good work is, after all, one way of serving others and being a kind and ethical citizen in an unkind world.
Second, Kaag and van Belle bemoan, as did Thoreau, the industrialization of labor and its impact on making an unkind world significantly less kind to our minds and souls, not to mention our bodies. The industrialization process reduced work to something less creative, less meaningful, and driven more than ever by the pressure of profit. This raises difficult questions that should bother us no less than they did Thoreau: "What is the price of a human life? The clocks in the factories of the industrial revolution were used to calculate it to the penny. And this, in the end, was the problem."
True, the authors acknowledge, complaints about the hardships of work, including agricultural labor, have been around since the dawn of agriculture, as glimpses in some of the earliest literature readily offer. Still, we see something new and more insidious cropping up with the industrial approach to squeezing as much work and profit out of everyone and everything—land, time, people. The work we do shapes us, and this has key implications: "Machine work meant machinelike lives. The machine needs no rest, no leisure time, no life outside of work. The machine is the ideal worker; all merely human workers fall short of its perfect productivity." Sound familiar? So many of us feel like we've been living life on a treadmill that keeps speeding up and never slowing down. One obvious solution is to jump off, but how?
One way to resist this industrial economy and its treadmill-like pressures is the third important takeaway from this book: we can deliberately choose to live more simply. This, Kaag and van Belle note, was the beauty of Thoreau's experiment in living at Walden Pond for two years, two months, and two days. During that time, living on the most meager of budgets, he grew much of his own food and cut every corner he possibly could in order to avoid having to take on a paid job he would not have enjoyed.
There is a useful reminder here to reevaluate needs vs. wants. I am reminded of many friends and colleagues who have painted themselves into a corner, creating a family lifestyle that requires both spouses to work full-time, and still having no financial margin. With rising costs of living, this seems to be an all-too-common scenario these days, especially for those living in expensive cities. Thoreau was eager to avoid such stresses that luxury or living in a more expensive locale would have brought into his life. But this also means making different choices possibly not only on what work to do, but where to do it.
Stress over making money, however, is not the only thing that Thoreau avoided by repeatedly opting for the somewhat simpler things in life—with the obvious proviso that he was still part of the privileged class. Throughout the book, Kaag and van Belle highlight Thoreau's ethical compass. Deeply devoted to acting ethically towards others and himself, Thoreau was actively involved in the Underground Railroad, a project that can be seen as yet another act of promoting meaningful work in the world.
Overall, as we meet Thoreau the worker, we meet someone surprisingly insightful on this topic. His life was not easy—he lost his brother shortly after college and lived with tuberculosis for the entirety of his adult life before finally succumbing to this disease at the age of forty-four. In other words, this is a man who lived and worked with chronic illness. He never married. And yet, he consistently displayed a conscious commitment to human flourishing—his own and that of others.
Perhaps you are able to combine work with the most powerful calling that you feel. More likely, however, as Thoreau's example reminds us, you won't. But this doesn't mean that your life can't have beauty and meaning and so much promise, even amidst the ashes of burned down dreams. And so, I suspect that if Thoreau had met Faulkner the lousy postman, he would have simply advised him: sell those postage stamps.