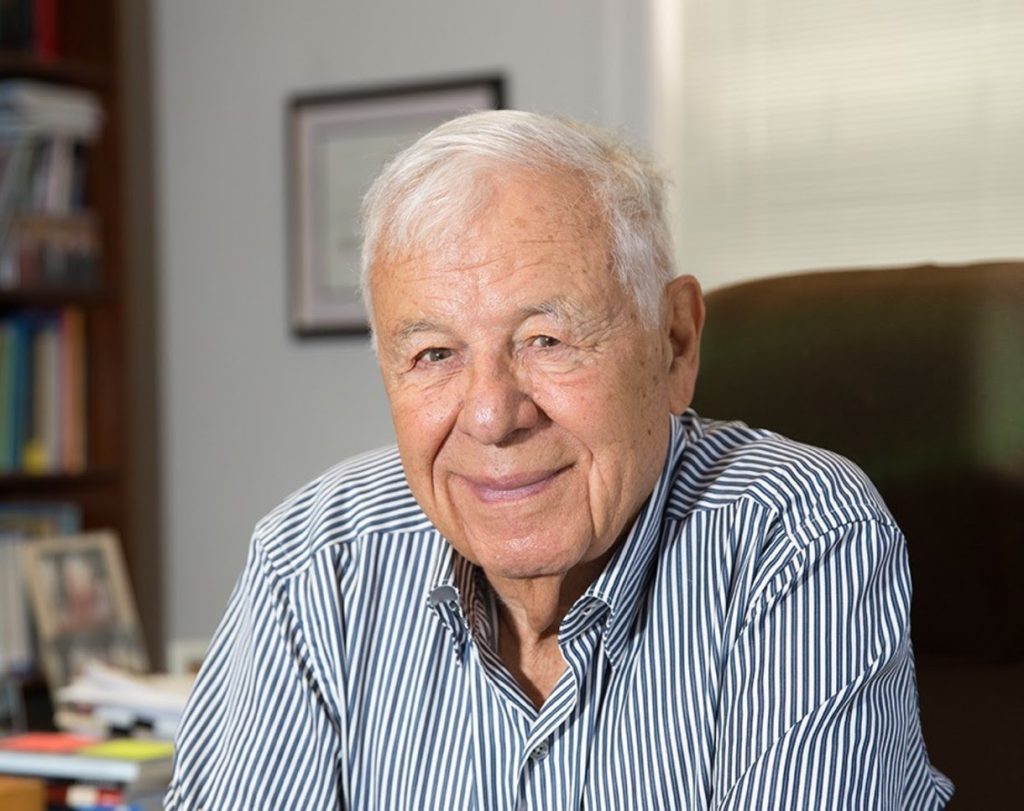 In 2018 I got an e-mail from Amitai Etzioni. He invited me to participate in a "civil dialogue" at The Arena Theater in Washington D.C. titled "There Are No Deplorables Here: A Dialogue Between Trump Supporters and Opponents." Needless to say I was flattered that such a prominent public intellectual was familiar with my book Believe Me: The Evangelical Road to Donald Trump and wanted me to participate in such a conversation. I responded with these words:
Dear Professor Etzioni,
Thanks you for this kind invitation.  Before I accept, I just wanted to make sure you know what you are getting in me.
I write and speak as a Christian and an American historian.  If you are familiar with my book *Believe Me: The Evangelical Road to Donald Trump*, I am critical of both Trump and my faith community–American evangelicals–for throwing their support behind him.  I just wanted to be clear about this.  I have been booked on television and radio programs by producers who think I am a Trump supporter because I identify as an evangelical Christian and teach at a school called Messiah College (which most people don't realize is rooted in the Anabaptist tradition).
Of course I am always open to civil dialogue in the way you describe in your invitation e-mail.
If I am still the person you want, I am happy to accept your invitation.
It turns out my hunch was correct. Etzioni responded:
Thanks you very much for your principled, faith based positions. And for your candor. This means, I much regret to say, we shall have to do without you this time, because we need people who strongly support Trump to make for a balanced panel. I very much  hope to find a way to include you in our future dialogues. Best Amitai Etzioni.
It looks like Etzioni found some "deplorables" for the event:
Today I learned Etzioni passed away. Here is The New York Times:
Amitai Etzioni, the Israeli-American sociologist who drew wide attention and storms of derision by fathering the Communitarian movement, a vision of society in which people are asked to care less about their own rights than about one another and the common good, died on Wednesday at his home in Washington. He was 94.
The death was confirmed by his son David.
Born to German-Jewish parents who fled from Hitler to Palestine, Mr. Etzioni fought for Israeli independence, moved to the United States in 1957 and became an influential academic and political figure. He wrote prodigiously, taught at George Washington University, testified before Congress and advised presidents, prime ministers and other Western leaders on foreign and national policies.
Barely a decade after landing in America, Mr. Etzioni was famous, writing books and articles far afield from the turgid corners of sociology — provocative commentaries on the nuclear arms race, European security, the Vietnam War, America's racial and educational problems, energy and inflation policies and popular worries over pornography, student unrest and topics ranging from sex therapy to Hollywood hoopla.
"Sometimes Amitai Etzioni seems to be a one-man profession," Time magazine said.
He was appointed to commissions and advisory panels, invited to join editorial boards and television debates and showered with fellowships, awards and honorary degrees. He argued with Wernher von Braun on the Soviet-American space race, helped Betty Friedan in 1974 start an Economic Think Tank for Women, as it was called, to consider women's "hidden economic power," and was invited to lead a state investigation of a nursing home scandal in New York involving substandard conditions.
But of all Mr. Etzioni's pursuits, none hit home with greater force than "communitarianism," which he named, interpreted and promoted for two decades, starting in the early 1990s. It was not novel — liberals and conservatives had debated an unnamed middle ground for decades — but it captured imaginations with its sermonizing, political rhetoric and dashes of old-fashioned needlepoint virtues.
Communitarianism, with its emphasis on community, not the individual, staked out ground between liberal advocates of civil liberties and welfare rights on one hand, and conservative champions of laissez-faire economics and traditional values on the other. It never became a mainstream political movement, but it won significant followings in America and Europe.
Though the idea seemed simple, its implications spread out in all directions. Individual liberty and equality were the foundations, he said, but these depended on the good character of people who willingly embraced the responsibilities of citizenship. These, in turn, depended on healthy communities and institutions like the family, schools, neighborhoods, unions, local governments and religious and ethnic groups.
And its principles could be applied to larger national and international issues — a "communitarian" view of military and defense postures, federal spending priorities, educational goals, even East-West nuclear arms controls. After all, the North Atlantic Treaty Organization and the Soviet bloc were "communities," and it all came down to people being good citizens.
"Strong rights presume strong responsibilities," Mr. Etzioni told The New York Times in 1992, not long after issuing a "Communitarian Platform" signed by educators, economists, political leaders and feminists. "We hold that law and order can be restored without turning this country of the free into a police state," the platform declared.
It called the family a "moral anchor" of society, and suggested extended child-care and parental leave benefits, flexible working hours and tougher divorce laws. It proposed more self-discipline and checks on misbehavior; national service for young people, wider participation in jury duty and military service; and an emphasis on orderly conduct enforced by the police.
In "The Limits of Privacy" (1999), Mr. Etzioni argued that infants should be tested for H.I.V. because their health was more important than a mother's privacy; that governments should be allowed to break encryption codes to expose terrorists and pedophiles; and that a universal identity system would help catch illegal immigrants, tax evaders and deadbeat dads.
Controversies quickly arose. Communitarians criticized liberals, saying they ignored the importance of personal responsibility and reflexively blamed economic and political forces for poverty, drug abuse, crime and urban blight. Similarly, they criticized conservatives, saying they ignored corrosive economic pressures on families and communities and reflexively exalted free markets and self-interest as remedies for social problems.
Read the rest here.