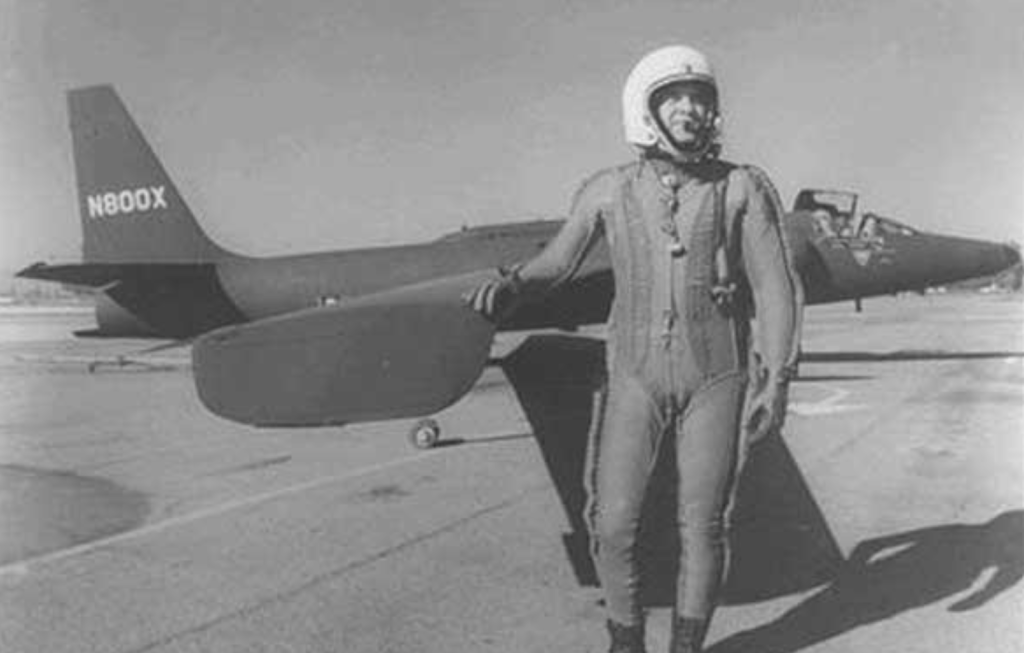 The son of CIA pilot Gary Powers has a story to tell—and a history to preserve
Your father was a legendary Cold War figure for the U.S.—an honor he did not seek. What was it like to grow up with him? Do you have any special memories about him as your dad?
As the son of a famous Cold War figure, I grew up with the Cold War. But at the time I didn't know my dad was different from other fathers. To me he was just dad. As a child, my perception was that everybody's dad went through something like mine did. That perception changed in 1977 when my father died in a helicopter accident while working for KNBC News in Los Angeles. As a result of his untimely death in 1977, he was buried in Arlington National Cemetery with a twenty-one gun salute. This is when I started to realize that not everyone's dad gets shot down, imprisoned, or exchanged.
The most vivid memory I have of my father is the scruff of his five o'clock shadow as he would tuck me into bed and kiss me good night. I also have very fond memories of hiking, biking, fishing, playing chess, and collecting coins with him. One of my favorite memories is flying with my father when he was flying for KGIL radio station in LA. I also remember flying with him when he was training to fly helicopters in 1975.
When did you learn about your father's Cold War experience? Did this surprise you? In what ways did this shape your life?
I was always aware that my father had been shot down and exchanged but I thought it was normal. After his death I began to learn more about his role in history, and my interest in knowing my father took on a greater life and purpose. In high school, people would ask me questions after finding out that I was Powers' son. They would ask, "Why did he do this?" or "Why didn't he do that?" But as a child, I did not know the answers, so I did not want to talk about it.
I was also aware that my father was controversial and that conspiracy theories surrounded him and the U-2 incident. This is another reason I did not want to talk about it while in high school. In college, I came out of my shell and wanted to find out the truth about the U-2 incident and what happened to my father. This is when I started to do research into it. As a result of my research, the U.S. government posthumously awarded my father the POW Medal in 2000 and the Silver Star in 2012. In addition, based on this research, I also published three books on my father and the U-2 Incident and founded The Cold War Museum to honor Cold War veterans, preserve Cold War history, and educate future generations about this time period. More info on my efforts can be found online at www.ColdWar.org and www.GaryPowers.com.
There is quite a bit of misinformation around your father's story that is still standard narrative. Could you tell us more about it?
My father was on a mission, flying over Sverdlovsk, Russia, where the CIA suspected there was a bioweapons lab. He was at his assigned altitude of 70,500 feet when the near miss of one of eight SA-2 missiles exploded behind the tail section of the plane. At first the CIA could not bring themselves to believe that the Soviets could shoot down the plane above 70,000. It was easier to blame the pilot and theorize that he had descended prior to being shot down.
My father was caught and interrogated by the KGB for three months before being tried for espionage in a show trial that resulted in a ten-year sentence. As depicted in Steven Spielberg's movie Bridge of Spies, my father was exchanged for Soviet spy Rudolph Abel on February 10, 1962 at the Glienicker Bridge in Potsdam, Germany.
This link will take readers to the declassified 1998 files that helped to clear up the misinformation and fake news about the U-2 Incident.
You are a professionally trained historian and have spent your life not just working in museums but actually founding The Cold War Museum near D.C. Can you tell us more about this work?
I founded The Cold War Museum in 1996 not only to honor my father but also to honor all Cold War veterans, preserve Cold War history, and educate future generations about this period.
This museum is dedicated to those whose deeds and sacrifices furthered democracy, but it also strives for an international understanding of one of the most intense periods and some of the most dangerous years in human history.
There has been insufficient recognition of the Cold War. It is virtually unknown to the current generation. It seems impossible to imagine that a war that lasted for forty-six years and changed the course of history could be forgotten—perhaps because it was a clandestine war, fought in secrecy and silence and not on the usual battlefield.
Even our former Secretary of State Colin Powell recognized this. During a lecture he gave many years ago, he said his own grandchildren didn't even want to hear about the Cold War. He said he would tell his grandchildren, "Come here. Let Grandaddy tell you about the Cold War," and they'd say, "Here he goes again!" I hope by the time I have grandchildren (what a thought!) that they will know about the Cold War very well.
One lesson that I hope The Cold War Museum will teach visitors is that although certain countries wage war from time to time, the majority of countries in the world are true partners from the heart. We share our most basic principles: a common experience of prevailing against foes and a common love of life, liberty, and history.
One of the most important projects the museum oversees is documenting this pivotal time of world history. Locating and interviewing Cold War veterans and others who have a Cold War story to tell is critical. We must preserve their stories for future generations before their voices are silent.
The Cold War was not confined to one city or country. It was a world war that affected every county. It is no surprise, therefore, that there is a Cold War era museum or memorial in the capital of almost every former Eastern Bloc country: Prague, Bucharest, Sofia, Riga, and many others. There need to be Cold War museums in every country. I have a dream of seeing a whole network of Cold War museums, memorials, and institutes around the world working together to keep this incredible period in history alive.
There is so much we could do to educate people on the many aspects of the Cold War. I would like to see a central home page on the internet that would give easy access to information about all the museums, memorials, and facilities that document Cold War history. We could share our mobile displays and resources to make sure that future generations never forget this important period of world history. As a final goal, we would all eventually partner together and form an International Association of Cold War Museums and Memorials. I know this is a big dream, but dreams should be grand.
Nadya Williams is Professor of Ancient History at the University of West Georgia. She is a monthly contributor to the Anxious Bench, and her essays have also appeared in Plough, Front Porch Republic, and Church Life Journal. Her book, Cultural Christians in the Early Church, is forthcoming in October 2023 from Zondervan Academic. She is the Book Review Editor for Current.