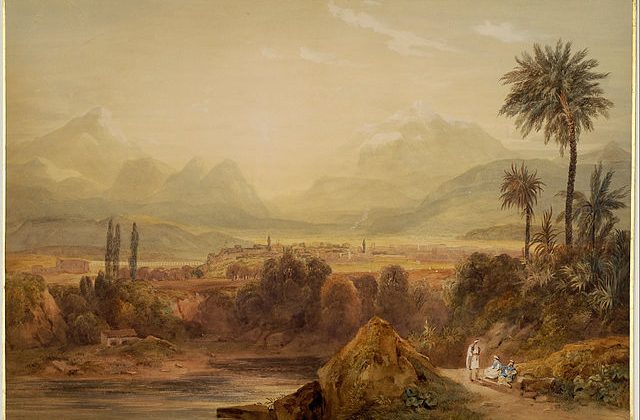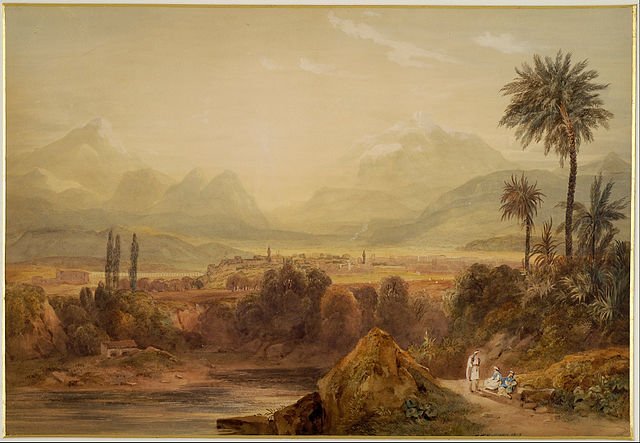 Early in Sophocles's tragedy Antigone (ca. 441 BCE), the chorus of Theban elders, men well acquainted with the sorrowful history of the city and its divinely cursed royal house, take a brief breather from talking doom and gloom—this is, after all, tragedy, plus this is Thebes, so you know just about everyone will be dead by the time the play is done. But in this scene, the chorus delivers what is probably the most famous choral ode in the play, and one of the best known in all of Greek tragedy. This "Ode to Man" is a poetic list of all the accomplishments and inventions of humanity from time immemorial:
Numberless wonders
terrible wonders walk the world but none the match for man—
that great wonder crossing the heaving dark sea,
driven on by the blasts of winter
on through breakers crashing left and right,
holds his steady course
and the oldest of the gods he wears away—
the Earth, the immortal, the inexhaustible—
as his plows go back and forth, year in, year out
with the breed of stallions turning up the furrows…
And speech and thought, quick as the wind
and the mood and mind for law that rules the city—
all these he has taught himself
and shelter from the arrows of the frost
when there's rough lodging under the cold clear sky
and the shafts of lashing rain
—ready, resourceful man!
Never without resources
never an impasse as he marches on the future—
only Death, from Death alone he will find no rescue
but from desperate plagues he has plotted his escapes (vv. 377-385 and 395-405, Robert Fagles translation)
The "Ode to Man" encompasses in some ways my own approach to writing history. People of both the past and the present are amazing in so many ways—great and awful and surprising, sometimes all of these at once. People keep aiming—and achieving—so much, both good and evil. Resourceful always, people are only bounded by death, Sophocles states matter-of-factly.
Humanity's tragic flaw, as this choral ode reminds, though, is every human being's desire to fashion oneself as one's own god. This was true as much for the pre-Christian pagans as it continues to be the driving desire for many of us, the children of (post)modernity. But unlike the pre-Christian world, Christians have a hope that defeats death. This hope defines the stories of those who find it, and it also affects how we perceive tragedies—whether they be literary, historical, or even personal. As someone who had come to discover that hope in Christ at the age of thirty, I find myself needing it no less in my historical writing than in my own daily life.
As I think about fictional and historical people from the ancient world, I am repeatedly reminded that no one's story is truly insignificant. After all, God made each and every one of us, including the many people of the past who had spiritual longings but never knew Christ. As a historian of the ancient world, I get to tell their stories of struggles, failures, and successes—some ordinary and others extraordinary. These are stories that fit into larger patterns, for not even the most isolated recluse ever lives in a vacuum. These larger patterns, I believe, extend from antiquity to the present.
As the well-worn cliché goes, the past is a foreign country and all that. What I don't like is that so often, this is used to justify focusing more on studying more recent history at the expense of the past. But human beings have not changed so much in their wiring that we have nothing to learn from our predecessors who are two millennia removed. In fact, sometimes it is looking at a problem in the past that provides the best language for discussing a similar problem in the present. And that is how I use the ancient world in my writing. Sure, the correlation is not one-to-one (an important caveat to emphasize!), but it can get uncomfortably close in a productive way.
And so, in my first book, I tell stories of early Christians and the surprising ways in which we are similar to them. I have long been fascinated by stories of churches, ancient and modern, and was trying to imagine as I was writing: what was it like to be a member of this or that congregation? And what were particular bishops like as pastors? What were particular people like as friends and neighbors? Thinking about such questions helps me to relate and try to understand better the people I study.
My argument in this book initially was quite simple: early churches were filled with sinners! At one level, we all know this—after all, this is the subject of all of Paul's letters, for instance. And yet, from conversations with my students and fellow church-goers over the years, I have been struck by how much people want to idealize and even idolize the earliest converts. These were people who, unlike us, were more likely to willingly suffer for their faith. Surely, they were more devoted to Christ than we will ever be, right?
The turning point in writing this book for me was realizing that all of the sins that I was looking at were specifically cultural sins. And so, the book's final title, Cultural Christians in the Early Church, reflects this point. My main argument, looking at nine different cultural sins (including misuse of finances; sins surrounding food; apostasy; sinful self-care; and religious nationalism) is that just as the early Christians were prone to cultural Christianity, so are we. Following Christ counter-culturally has not come easily to anyone. Ever. Not even to those who left the world and went to live in isolation in the desert—yes, running away from the church is one of the cultural sins I consider.
I am now dwelling in that strange no-man's-land between this book's completion and official release date (coming November 14th from Zondervan Academic!). In the meantime, I am at work on my next book. In this project, I consider similarities between the post-Christian devaluing of children and motherhood in our society and the pre-Christian devaluing of human life in the ancient Mediterranean. When it comes to valuing life, and especially the lives of mothers and children and all other categories of people who were sometimes dubbed the "useless ones" in the ancient world, I argue that the early church was revolutionary. This has direct applications for us today.
The idea of the imago Dei—this beautiful truth that every single human being, regardless of health or status or abilities or disabilities, is made in God's image—is a game-changer in thinking about why we should value anyone's life. Without the imago Dei, as I argued in this essay that gave me the starting point for one of this book's chapters, any human life's worth is up for debate. This affects, especially, how we view the work (and worth) of mothers, as I argued more recently in this essay on a topic that comes up in the book as well: scientific misogyny.
The ancient world was comfortable with violence and suffering, and this comes across in the hopeless stories people told and lived. The world Sophocles describes is dark and hopeless. There is no escape from the bitter curses that are dealt to some people, fictional or real, for no fault of their own. But the gospel offered–continues to offer–a hope that is revolutionary and countercultural. The beauty of that hope continues to enthrall me as a believer and a historian.