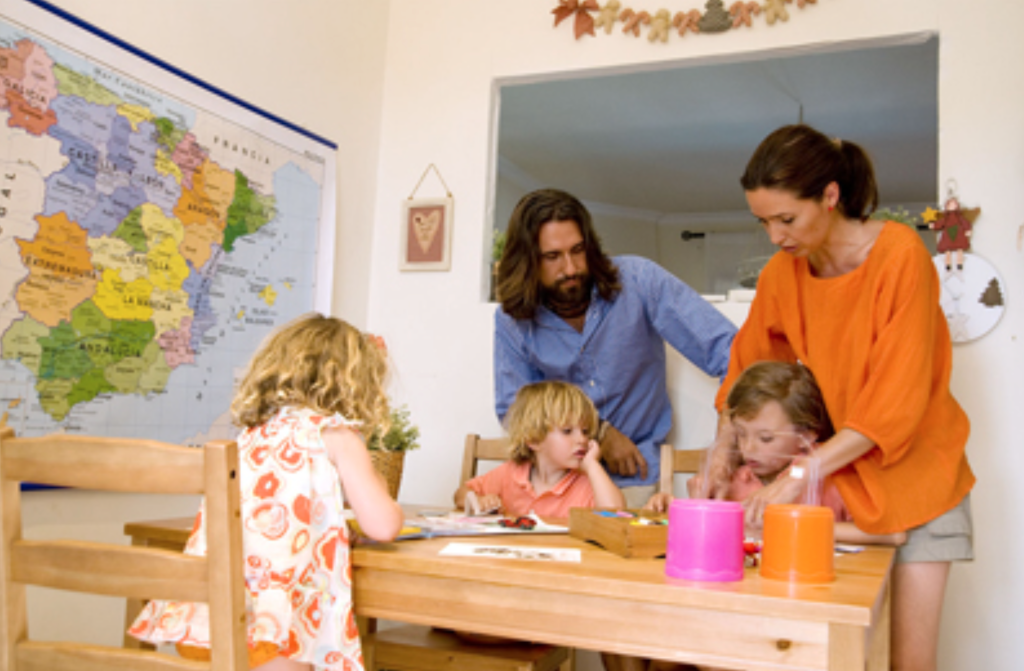 Post-pandemic, educating children at home is suddenly mainstream
For most of the past eighty years, homeschooling has been strongly countercultural. Normal people did not homeschool. Even as homeschooling numbers grew, levelling out at a high point of about one in twenty-five (around two million) American schoolchildren in 2010, homeschooling still represented a small alternative stream of education. You might have known a homeschooler in 1990, for example, but you mostly only noticed them in order to glance at them suspiciously. And if you were yourself a homeschooler that year, you probably did not interact much with mainstream American culture, belonging to a counter-cultural family to begin with.
This is no longer the case. Since 2020, homeschooling has increasingly been embraced by otherwise culturally mainstream families, and the number of American homeschoolers overall has not just grown dramatically—it's exploded.
In the summer of 2020, between the spring COVID-19 lockdowns and the beginning of the academic year in the fall, homeschooling more than doubled to around 11.1% of American schoolchildren, more than one in ten American schoolchildren. Moreover, in the years since these numbers have experienced only a partial decline, remaining significantly above early 2020 levels, with around 9% of students engaging in some sort of homeschooling other than pandemic-style distance learning (the exact data vary depending on the definition, but all numbers remain high). As Thomas Dee wrote in Education Week in November of 2022, "A broad return to public schools simply did not happen." For example, my home state of Virginia saw a decrease in homeschooling of only 3889 students over the summer of 2021. Although we do not know for sure the reasons for this growth, strong correlations allow us to hypothesize that pandemic school, social, and workplace policies influenced their choice to homeschool. This is a change from the religious motivations cited by a majority of twentieth-century homeschoolers.
In other words, according to numbers and self-professed motivations, these homeschoolers are neither anti-institutional nor countercultural in the usual sense. Instead, these families were overwhelmingly part of the cultural mainstream to begin with, and now they are part of the expansion of homeschooling to a wide section of American lower education. This new cadre of homeschoolers is diverse and surprising, drawing from other unexpected groups as well: African American homeschooling, for example, historically very small, increased five-fold over the summer of 2020.
Homeschooling is no longer outside the norm.
What does this mean for educators, policymakers, and, more urgently, families? As homeschooling grows more prominent in the American schooling landscape, it is time for Americans in general to reconsider homeschooling socially, educationally, and personally. Thoughtful Americans would do well to familiarize themselves with the practice and the challenges and benefits that characterize it. What would it mean for an ordinary, "mainstream" family to consider homeschooling?
In next week's essay, I will discuss the obstacles and concerns that families face when beginning to homeschool in the post-pandemic context and ways these might be addressed. This week, however, I would like to briefly discuss some of the potential benefits of homeschooling for families. For while homeschooling asks much of parents, many find that its benefits are both significant and wide-ranging.
To begin, although it is difficult to study homeschoolers' academic performance, research suggests that homeschooled children perform at or above average academically and that on average they also develop normally socially and emotionally, sometimes outstripping many of their peers.
Other benefits vary by family but commonly touch on many different areas. Consider these observations from homeschooling parents, collected during oral history interviews in the 2010s, as representative of many other families I have encountered in my research:
Time together can lead to more family closeness and more skill-building. "I have found that we are much closer as a family [since beginning homeschooling]. There's more openness and more communication, warmth within the family." Parents can meet the needs of several children at a time, and still have time for other important things: "I would tell the stories while I nursed the baby. . . . it was only an hour or two, three or four days a week in the beginning." Generally, lower-grade academics take little time with a small homeschooling "class." That means there's extra time for large-motor movement, stories, play, and life-skills training.
Socially, children can benefit from mixed-age interactions that do not happen in schools. "[In school all your] third graders have to be together . . . and you can only have friends that are third graders. With homeschooling, the babies through the high school students are all together. . . . My children have friends who are little children and grown children. All the way up they've had that. And I think that's been very healthy for them. My children can talk to adults, my children can talk to children."
Children can develop according to their own talents and interests, not according to stereotypes. "My older son [was willing to play with his little sister]; he didn't have a problem with thinking, "I'm not going to be a strong man if I do this." [And] she doesn't have any problem doing all kind of things. . . . there's not the gender stereotypical thing. She loves science; she loves math. He loves English and history."
You can take your own children's developmental level and learning styles into account. "[The local schools were] far too academic . . . at five years old you should be playing and drawing, not learning to read already and learning basic math."
Children with special challenges such as ADHD, dyslexia, or other neurodiversity can learn without the burden of comparing themselves to their peers. As one adult who was homeschooled wrote of learning self-discipline in spite of her ADHD, "[I] was able to understand that . . . what I'm interested in and what needs to be done can be two separate things, but they can lead to the overall goal. . . . I don't think I would have had that [understanding] had I been in a [normative] classroom."
Homeschooling parents tend to comment, when asked how they like homeschooling, that it is both "wonderful" and "rotten," or some synonyms of these. The "rotten" is because it's hard and it requires work and intention and sacrifice to make it happen. But the "wonderful" is because they get to know their children better and the kids tend to do well overall. The fact that such a high percentage of pandemic homeschoolers continued on in the practice after schools re-opened in 2021 and 2022 suggests that the benefits tend to outweigh the challenges for most new homeschooling families.
In short, research suggests that homeschooling can be both reasonable and effective as an educational choice. This does not mean that every family or even most families should homeschool; far from it. Each family needs to make its own calculus of benefits and drawbacks that takes into account unique personal and financial needs. Homeschooling is not a magic fix to our educational problems, and public and private schools remain of essential importance in our society. Going forward, however, the data suggest that we should continue to move our educational systems toward recognizing and supporting alternative approaches alongside and perhaps even within our traditional school systems.
Next week we will consider some of the challenges that new homeschoolers may face in this changing landscape.
Dixie Dillon Lane is an American historian, teacher, and essayist who writes frequently for Hearth & Field and Front Porch Republic as well as other publications, including her website, TheHollow.Substack.com. She holds a Ph.D. from the University of Notre Dame.