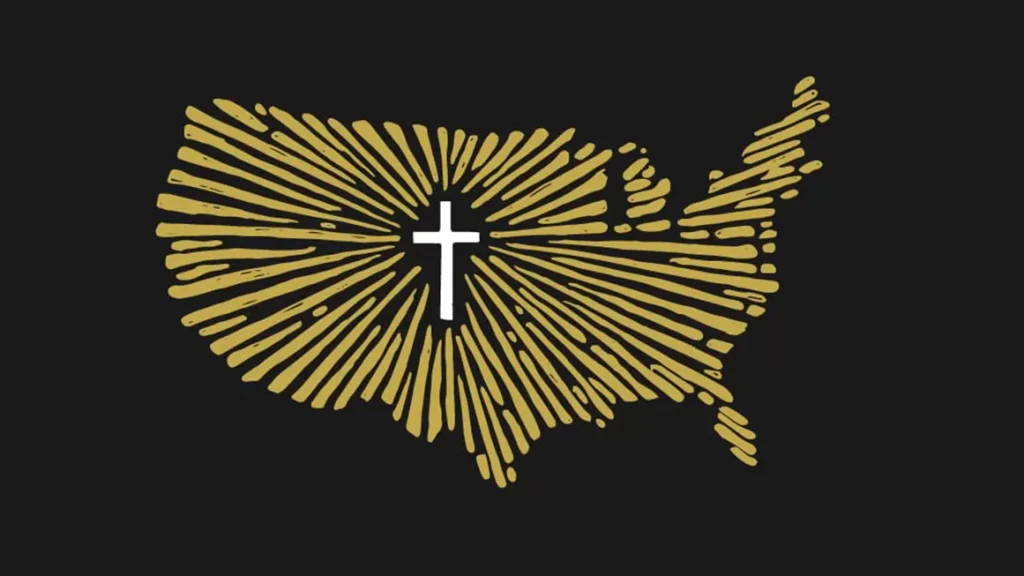 Recently the Christian nationalist historian Stephen Wolfe tweeted several passages from my book Was America Founded as a Christian Nation?: A Historical Introduction. Here is the tweet:
Here is the entire tweet: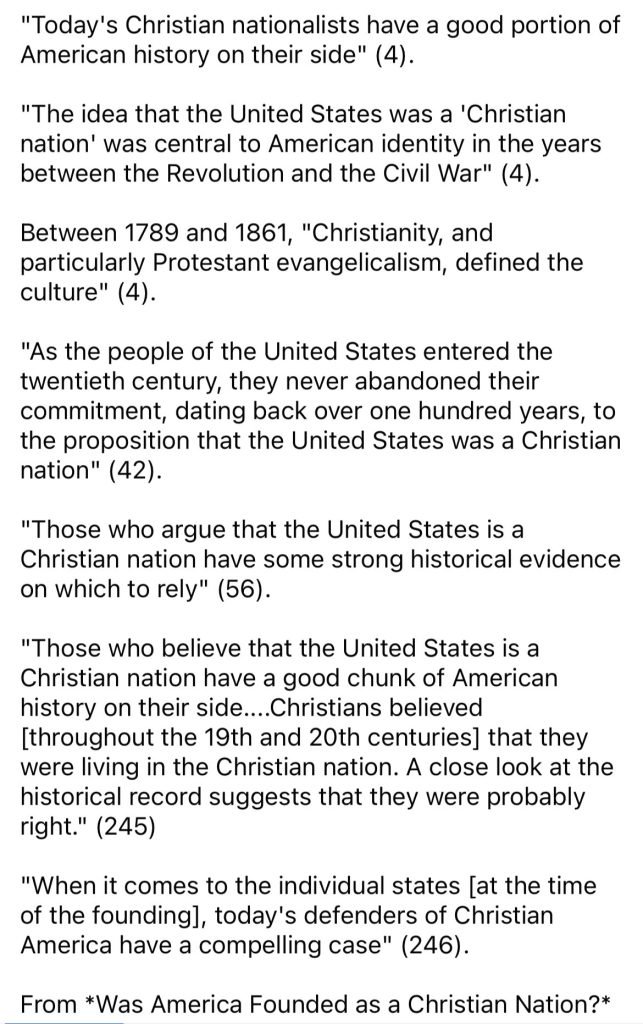 I don't have the time or inclination to respond to all of these quotes, but I stand by all of them. I would also encourage you to read my book in order to place them in context and to gain a better understanding of my argument. I think you will find that the central thesis of Was America Founded as a Christian Nation? is much more complex than a few cherry-picked quotes. My book is a work of history. As a result I do not take sides in this debate. In fact, there were several anti-Christian nationalist writers who would not endorse the book because I did not take sides. One denomination was preparing to buy thousands of copies of the book to distribute at its annual meeting until they read the manuscript and realized that it was not framed as a takedown of David Barton. Thankfully, the historical community knew what I was doing in Was America Founded as a Christian Nation?. The book was one of three finalists for the $50,000 George Washington Book Prize in 2012.
But as I have argued elsewhere, the belief that the United States was a Christian nation has often resulted in some of our country's darker moments, including slavery, racism, nativism, and Donald Trump. I am guessing Stephen Wolfe would agree with much of this, although I am not sure he would see these historical developments as "darker moments."
I haven't read Wolfe's book, so for now I will direct your attention to libertarian historian Paul Matzko's scathing takedown of it at Reason magazine. It is excellent.
A taste:
Wolfe veers chapter by chapter between close readings of often obscure Reformation theologians and mostly unsourced screeds against the dangers of feminist "gynocracy" and immigrant invasion. The book is obtusely argued, poorly written, and worth a read only in the same sense that rubbernecking at a car crash counts as sightseeing. But the ways that Wolfe is wrong are instructive.
For Wolfe, the nationalism part of Christian nationalism is synonymous with ethnicity, which he defines as any self-conscious group of people possessing "the right to be for itself." Wolfe does not grapple with the vast literature on how ethnicity is socially constructed, preferring instead what he calls a "phenomenological" explanation based on his personal experience and reasoning.
Wolfe's view of national ethnicity results from his belief in the importance of "particularity," which he defines as the differences among groups that arise from our "natural inclination to dwell among similar people." He argues that if something is natural it must be good, because natural things were part of the created order prior to the sinful fall of humanity.
That leads Wolfe to speculate about which human institutions and intuitions are natural and thus good. The category turns out to include civil government, patriarchy, and, bizarrely, hunting. Conveniently, the category of natural things includes whatever Wolfe feels most strongly about. He sacralizes his personal preferences without any reflection on the long history of Christians reading their culturally informed beliefs and practices back into holy writ.
As a result, Wolfe has composed a segregationist political theology. If ethnic differences are the natural order of things and if the natural order is good, he reasons, then those differences should dictate the bounds of an ethnically homogenous Christian nation. Wolfe denies that he is making a white nationalist argument, partly on the grounds that he has nonwhite friends and partly because "the designation 'white' is tactically unuseful." But black friends or not, if you wanted to inject a sacralized white supremacy into the conservative mainstream, this book would be a primer on dog whistling past that particular graveyard.
Other reviewers have highlighted Wolfe's racist associations. The book's publisher began as a vanity label for a self-described "paleo-Confederate." Wolfe co-hosted a politics podcast with a closeted white supremacist named Thomas Achord, who once called black men "chimps."
But the problem here runs deeper than mere associations. Wolfe repeatedly incorporates notorious white supremacists into his argument, including the neo-Nazi William Gayley Simpson, the antisemite Ernest Renan, and the virulent racist Enoch Powell. His first chapter opens with a quote affirming "tribal behavior" from Samuel Francis, whom the racist writer Jared Taylor once praised as the "premier philosopher of white racial consciousness of our time." Wolfe's fascination with such ideas predates this book: He has also written an essay linking Francis' idea of "anarcho-tyranny" to black people's allegedly innate criminality.
Fear permeates The Case for Christian Nationalism, especially in Wolfe's list of 38 aphorisms summarizing his grievances against a changing culture. Not only is feminism assumed to be bad, but we supposedly "live under a gynocracy—a rule by women" who emasculate men by enforcing "feminine virtues, such as empathy, fairness, and equality." Racism only comes up when Wolfe calls on Christians to ignore accusations of bigotry. And he argues that the future of America depends on keeping children at home into their 20s, growing your own food, weightlifting to keep testosterone levels high, and avoiding vegetable oil.
When fear propels one's political project, it generates paranoid delusions. It is delusional to propose that the pathway forward for conservative Christians—living in a society in which religious "nones" outnumber any other single religious group—is violent revolution on behalf of a Presbyterian prince who will punish blasphemers. While there are still challenges to religious freedom in America, there has never before been a society in human history where Christians have been so free to worship, speak, and live out their faith.
Read the entire review here.