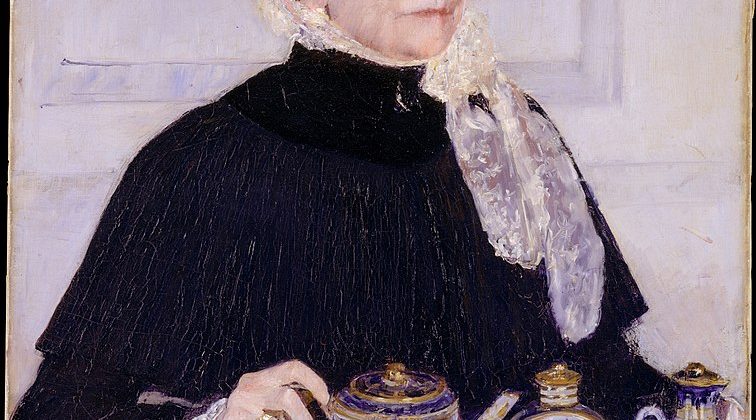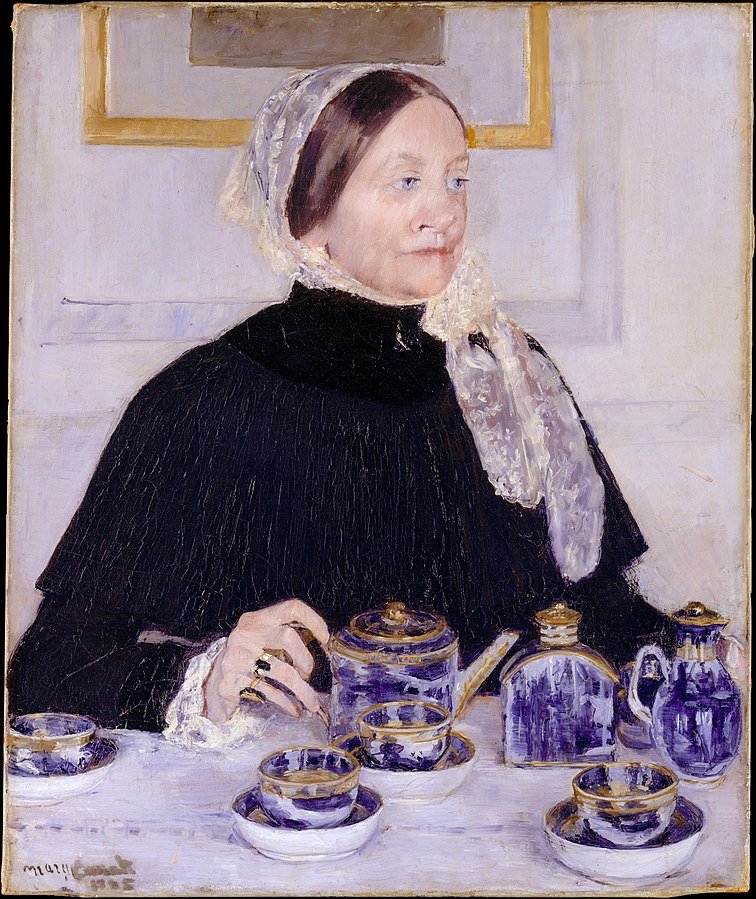 Can looking with love change how we see others . . . and ourselves?
The work of Paris-based, Philadelphia-born painter Mary Cassatt tends to make its way around the internet each Mother's Day. Cassatt, who exhibited with the Impressionists in the late nineteenth century, is perhaps best known for her intimate paintings of women and children. Lady at the Tea Table (1883-1885), however, is not one of those works. Instead of chubby toddlers and tender ladies, Lady at the Tea Table depicts Cassatt's middle-aged cousin once-removed—Mary Dickinson Riddle—dressed in black and gazing at an unseen guest as she prepares to pour tea.
The first time I saw this painting at the Metropolitan Museum of Art I was in my twenties and I was sure I didn't like Mrs. Riddle. Perhaps even more importantly, I was sure Mrs. Riddle didn't like me.
Everything about her seemed severe. Her black capelet transformed her body into a crisp, flat triangle that contrasted starkly with the white wall behind her. Her smooth brown hair was parted neatly in the middle and topped with a lace cap. Her mouth pressed into a firm, straight line; her nostrils flared as if slowly releasing a controlled sigh. And her eyes—icy blue, half hooded, with a sharp line of lashes—seemed cool enough to freeze whoever was unfortunate enough to be on the receiving end of her look. I straightened my back and lifted my chin, as if Mrs. Riddle might, at any moment, set her sights on me.
When I learned that Mary Riddle and her daughters had rejected Cassatt's offer of this portrait as a gift, I laughed with perverse pleasure. I imagined Mrs. Riddle haughtily dismissing a painting that was too truthful, too incisive, and too telling of her obviously critical nature.
I looked to judge, and I imagined myself judged by Mary Riddle in return.
But what would happen if, instead, I looked to love?
If I approach Mrs. Riddle's portrait with curiosity and compassion, how might I see it—and her—differently?
The apparent clarity of Cassatt's painting softens under closer inspection. I see the wobbling edges of the architectural molding and the delicate blue-violet hue mixed into the white of the wall. I trace the golden ochre paint that threads through the composition: from the gilt frame to a warm shadow to Mary Riddle's gold rings and the edges of the teacups and teapot. I notice the softness of her jawline, the slight sag in her cheek, and the fleshy swell under her chin. I find the quiet blue shadow under her eyes.
I begin to pay more attention to the loose, gestural quality of Cassatt's brushwork. Cassatt renders the long lappets of Mrs. Riddle's lace cap with quick strokes that suggest but do not detail what was likely an expensive accessory. Likewise, the blue and white china pattern is a dense tapestry of cobalt, gray, lavender, and ochre marks. If we squint, perhaps we can imagine the pine trees, birds, pagodas, and clouds typical of late-nineteenth-century porcelain made for export from Japan and China. But really, we're seeing paint expertly layered and built up like thick frosting. The austere geometry of the work can't quite tame the exuberant tangle of brushstrokes and the insistent presence of Cassatt's own hand.
When I look with curiosity, I begin to recognize something of my own body, and the bodies of women I love, echoed in Mrs. Riddle's form and Cassatt's gestures. I wonder, more gently, what Cassatt saw when she looked at her older cousin and what Mrs. Riddle saw when she viewed the finished painting.
Cassatt painted this portrait of her mother's cousin as a thank-you gift for the very tea set she depicts. In a letter to a family member, Cassatt's mother wrote, "Mary asked Mrs. Riddle to sit for her portrait, thinking it was the only way she could repay their kindness." In addition, this painting also marks Cassatt's return to painting after the death of her beloved sister Lydia, who had supported her sister's unconventional decision to pursue art professionally. It seems that Cassatt's gratitude toward her family—not career ambition or avant-garde experimentation—served as the primary motivation for this portrait.
Yet Mrs. Riddle and her daughters refused the gift. This rejection is generally ascribed to the unflattering, even unfeminine nature of Mary Riddle's face and demeanor. On the other hand, art historian Anne Higonnet has argued that it was Cassatt's schematic, loose rendering of the tea set and lace—important status symbols for wealthy women—that likely offended her family members. How would viewers know the sitter was perfectly performing upper class womanhood if the signs of her success were obscured?
I wince a bit now, hearing the echo of my own self-criticism and tight control of my public image. How many women have complained about the way our papery necks, pillowy chins, and doughy bellies appear in photographs? How often have we adopted the pose or accessory or location others have pronounced desirable, regardless of our own preferences? And how many times have our daughters, our nieces, our friends, or our students heard us recite these scripts that slant their own vision?
I wonder if Mary Riddle and her daughters had so absorbed and anticipated a critical gaze that they could not recognize Cassatt's loving one. Cassatt, it seems, was trying to celebrate her cousin's particularity. "I did it so carefully and you may be sure it was like her—but—no one cared for it," she said years later.
Indeed, Cassatt felt the rejection acutely. She put the portrait in storage and only returned to it thirty years later, when her longtime friend Louisine W. Havemeyer saw the painting and asked to include it in a 1915 exhibition intended to support women's suffrage. Cassatt agreed, while mournfully commenting, "I wonder if anyone will care for it at the Exhibition. I doubt it."
Yet in the end, Lady at the Tea Table was one of the most beloved paintings in the show.
This painting offers us an invitation to look again and to look with love. When Cassatt returned to the portrait she was able to see it anew. Likewise, rather than gazing on Mrs. Riddle to find fault—as she herself seems to have expected us to do—we can view her with kindness. We can recognize both the softness and the control that characterize this painting and its reception. In doing so, perhaps we can also extend kindness to the same contradiction we find within ourselves.
Elissa Yukiko Weichbrodt is Associate Professor of Art and Art History at Covenant College in Lookout Mountain, Georgia, and she is the author of Redeeming Vision: A Christian Guide to Looking at and Learning from Art (Baker Academic, 2023). She is a Contributing Editor for Current.
Image: Wikimedia Commons