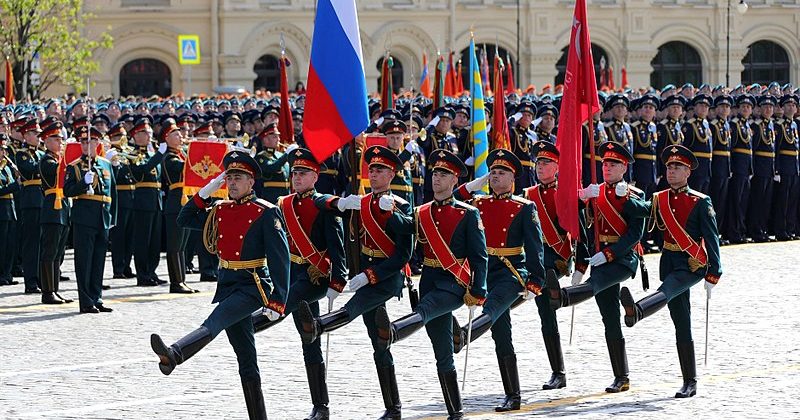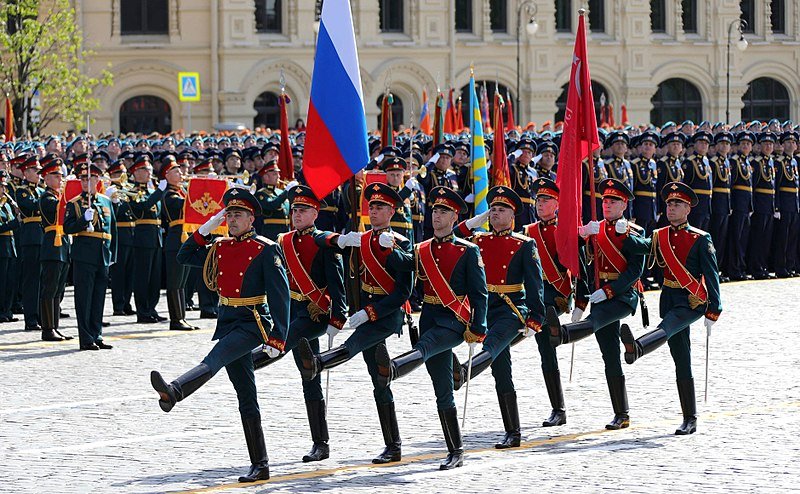 On this date seventy-eight years ago, Germany surrendered, officially ending WWII in Europe. So goes the official narrative. Textbooks and encyclopedias like to put a firm date on things like these, although in this case, historians can quibble that operations of various sorts, including in Europe, continued well after. There's also the awkward detail about time zones: United States marks VE Day on May 8th. But, you see, it was just after midnight in Moscow when Germany surrendered at last, ending the "Great Patriotic War," as WWII is known in Russia. As a result, May 8th means nothing to me; I grew up with May 9th as the national holiday. I vaguely remember seeing my grandfather, then in his sixties, wearing his parade uniform with all of his war medals and decorations.
And yet, as someone of Russian and Jewish heritage who left the Soviet Union shortly before my tenth birthday, I now have a lot of complicated feelings about May 9th and what it stands for. I wrote about this date's connection to Ukraine, the Holocaust, and my mother's family for the History News Network two years ago. But for this May 9th, I'd like to consider the anniversary from a more historical and less personal perspective.
Let's start by stating the obvious: Celebrating Victory Day means marking the end of the war. But what exactly did the end of the war mean? I am not being glib here. Indeed, Philip Jenkins provided a sobering big-picture answer to this very question in a powerful recent essay at the Anxious Bench:
If we take the number of deaths for 1945-1954 at a very rough fifteen million, that is about as many as perished during the whole First World War. For me, that arithmetic raises serious issues about the importance we attach to 1945, which in much of the world marked not an end to warfare, but at best a reconfiguration, even a rebranding. But our need for a clean narrative demands that we find a terminus for the "war years," and that by definition means imposing a vision of "peace" on the subsequent decade, which in reality was horrendously destructive. To adapt the words of Patrick Henry, historians may cry, Peace, Peace — but there was no peace.
So, in Europe and Asia, in particular, the decade after the war's official ending was deadly. But what about Russia specifically? Russia's 1940s and 1950s following the war were nightmarish by most metrics, including economic and humanitarian. This is striking, considering that this war was a victory for Russia, and Russia continues to celebrate it every year with lavish patriotic parades.
The United States also won the war, but did not have the same horrific decades afterwards. Quite the opposite. So, it makes sense to ask: why was the aftermath of the war in Russia so mournful? There is no way to address such a massive question in a short blog post, but I contend that one big-picture difference lies in the all-encompassing collective trauma that Russia suffered. That trauma—and this is key—did not begin or end with the war, although the incredible scale of Soviet casualties in the war, numbering 27 million, is certainly not insignificant. In spite even of these losses, I am willing to posit a bold claim here: had WWII not happened, the effect of this period on Russia's collective trauma would scarcely be different.
What exactly is collective trauma, and how does it manifest itself in a society? In one of the foundational studies on this subject, American sociologist Kai Erikson examined the horrifying aftermath of the 1972 Buffalo Creek flood in West Virginia. A direct consequence of exploitative mining practices, the flood was a preventable manmade environmental disaster. Its damage included a significant loss of life, the destruction of most of the buildings in the community, and long-term individual and collective trauma that made rebuilding impossible.
Erikson contends that a collective trauma is
…a blow to the basic tissues of social life that damages the bonds attaching people together and impairs the prevailing sense of communality. The collective trauma works its way slowly and even insidiously into the awareness of those who suffer from it, so it does not have the quality of suddenness normally associated with 'trauma.' But it is a form of shock all the same, a gradual realization that the community no longer exists as an effective source of support and that an important part of the self has disappeared.
Through interviews of many residents from the Buffalo Creek community about life before and after the flood, Erikson provided particular features of collective trauma. Isolation is one—the sense that one is entirely alone, and no help could be forthcoming from anyone else. Lack of trust is another defining feature.
The disintegration of bonds even within families was prevalent as well. The ties that used to bind neighbors, friends, and even flesh and blood all disappeared, leaving behind individuals who felt that they had no place or community. Instead, they felt constantly anxious, scared, suspicious of everyone, and prone to depression and substance abuse to try and drown out the pain of the losses they suffered. Without community, there is a disappearance of the self as well, and not in a good way—this is a sense of loss of all identity and meaning.
Reading Erikson's description of collective trauma bears striking parallels to the history of USSR. The traumatic trigger event in dissolving previous social bonds was the Revolution of 1917. For decades thereafter, this dissolution of previous bonds and their replacement with dysfunctional ones was a continuously on-going process: forced removals of families and individuals; regular arrests, purges and executions; mass starvation; and even such regular practices as densification of apartments, whereby previously single-family apartments in cities were "densified" to house multiple families, one to a room, sharing all communal spaces in the apartment.
In light of all of this, WWII was ironically, perhaps, a unifying force that gave people a different enemy against whom to unite for a time. Mostly, however, it was just another traumatic event in a long series that stretched up until the collapse of the Soviet Union in 1991.
So what were the results of it all? The works of two writers since 1991, Svetlana Alexievich and Eugene Vodolazkin, reflect this collective trauma and its continued effects to the present. Both writers, strikingly, were born in Ukraine (although Alexievich is Belorusian)—in Ivano-Frankivsk and Kyiv respectively. This means that in addition to all the "usual" effects of trauma, both of them, although born after the war, were surrounded by people who had a living memory of Holodomor and the Holocaust, two additional traumatic events that centered on the Ukraine and did not touch some other regions of USSR.
Alexievich, the winner of the Nobel Prize in Literature, wrote Secondhand Time: The Last of the Soviets to describe the further trauma of processing the collapse of the Soviet Union on people who had spent their lifetimes in USSR. She interviewed numerous individuals who had lived their lives feeling no trust in government and other people and having no knowledge of God or any hope beyond this world. One result, she notes, was an epidemic of suicides in 1991 and shortly after, reflecting despair and a loss of hope. What was the meaning of it all? For many, the answer was nothing.
The same collective trauma is likewise on display in the novels of Eugene Vodolazkin. Unlike Alexievich's vision of godless society, however, Vodolazkin's protagonists repeatedly seek God as their only hope of escape from the existential despair that has become a defining feature of their lives. There is death of all sorts all around, but Vodolazkin's protagonists repeatedly grasp the promise that one should not fear those who can kill the body, but only the one who can kill the soul.
On this anniversary of the Great Patriotic War, another horrific war is ongoing—Russia's vicious and genocidal war against Ukraine. This war is the will of a man born seven years after the conclusion of WWII, and who was a mere babe in arms when Stalin had died. It is a tragic reminder that the legacy of collective trauma can only be more of the same. In the meantime, in yesterday's NYT editorial, Serge Schmemann argued that Russia now is in even worse shape than it was in the final years of the Soviet Union.
At the end of Vodolazkin's most recent novel, A History of the Island, which satirizes among other things the history of modern Russia, the island is mysteriously saved from destruction—or, rather, theologically justified, as the novel's Russian title reminds us!—through the self-sacrifice of two saints. But in real life, all of the human sacrifices to the fickle human gods of the regime always were—and continue to be—unjustified and unjustifiable.