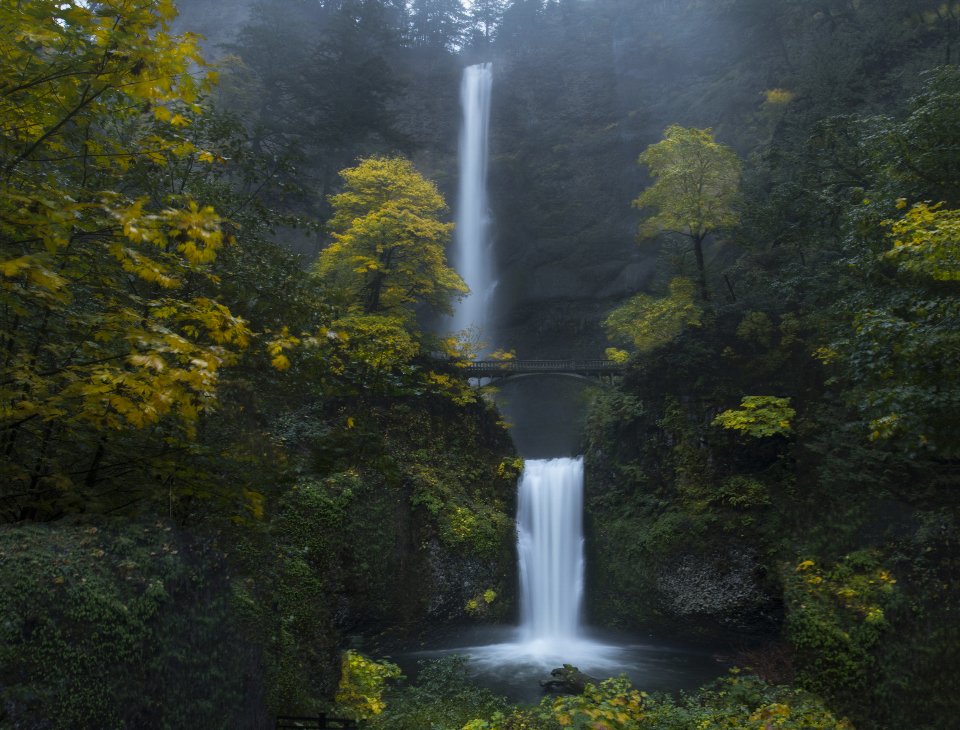 Sometimes, like Naaman, you just need to bathe in the Jordan
Long Form features spill out a little more slowly, making possible a deeper encounter with the essay's central themes—and with the author, too. Pour a cup of coffee, settle in, and enjoy. It will be worth your while.
***
I wish to speak a word for cliché—cliché as contrasted to the exhausting obsession with originality, with the tedious search for self-definition.
When The Atlantic posthumously published Thoreau's "Walking" back in the early days of the Civil War, there were enough "champions of civilization" out there to give Thoreau's paean to "absolute freedom and wildness" a real edge. Today, it is hard to read Thoreau and Emerson on freedom without recalling about ten billion different ad campaigns. Confronted with the frenetic novelties of our moment, even the prophet of Walden Pond might agree that clichés, ruts, and settled traditions have something fresh to offer in a world in which everyone so uniformly proclaims themselves unique, creative, and new. Who, I wonder, is not?
The origins of cliché come from the early era of printing. "Cliché" was the term for a block of type molded to replicate the original form a printer would set to prepare a page for printing. The cliché allowed printers to use the given type for other projects rather than wait to see if they would need the form again. Such mundane origins become even more so when one learns that the term was derived from the clicking sound of the metal blocks and type involved in the process; clicher is the French past participle of "to click."
It is worth pausing, however, to consider the poor old cliché from a few more angles.
In a largely forgotten novel from the 1960s, All the Little Live Things, Wallace Stegner includes an arresting thought about clichés. His narrator-protagonist Joe Allston writes, after recounting the story of his pitiful childhood, "It all reads like one great cliché. But maybe love and sorrow are always clichés, ambition and selfishness and regret are clichés, death is a cliché. It's only the literary, hot for novelty, who fear cliché, and I am no longer of that tribe."
Allston's mild defense of cliché, used here to refer to those experiences most of us suffer or celebrate over the course of a life, comes from a writer who was in his forties imagining the inner life of a character in his sixties. It is a necessary statement for Allston, who maintains a gruff, unsentimental demeanor throughout the book. He would be at odds with his own sense of self were it to remain unsaid.
But the moment demands that Allston thread a tiny needle as well, because he does not want to signal his distance from the sentimental bourgeoisie in a way that indicates that he is instead a proud member of the avant-garde. He is definitively neither, in his own mind at least: Even if he has the aesthetic sensitivity to enjoy finer registers of beauty and meaning and is enough of an intellectual to have gazed into the abyss and considered all the options without flinching, his heart undoubtedly remains with the bourgeoisie. He can handle their lapses into sentiment with more sympathy than he can handle the cynical snobbery of his era's avant-garde.
Joe's creator, Wallace Stegner, had lived through and observed the wreckage of too many experiments in living to be taken in by foolish novelties masquerading as creative originality. Stegner's father George was a classic western boom-chaser who never stayed in one place long enough to develop any ruts for himself or his family. He chased gold in Alaska, farmed (or "mined," as his son would later say) wheat to feed the armies of Europe during the Great War in Saskatchewan, and was a Prohibition booze-runner in the seedy neighborhoods of Salt Lake City before shooting a prostitute and then himself at a trashy hotel about a mile from the Salt Lake Temple.
Though no artist or intellectual himself, George Stegner shared the avant-garde scorn for the quiet, reliable patterns of daily life that most people live, and was always searching for the secret that the strait-laced, Babbitt-y boobs were too scared, too dumb, or too numb to pursue. Before he killed himself, George failed his long-suffering wife Hilda by fleeing her sick room for California, where she would die in the company of his son Wallace and a kind nurse. Hilda died of breast cancer in a town where she had no neighbors and no friends to lean upon as she walked her tragic path.
So Wallace Stegner had a deep-seated suspicion of anyone who seemed too smitten by the atonal beats that boom so regularly from the Emersonian drum of naïve self-reliance. Whether the avant-garde artists that scorn Joe Allston, outlaw union leaders like Joe Hill (whom he rendered in a 1950 novel), or boom-chasers like his father, always searching for the inside track, he saw the moral failures at the core of the type.
Despite superficial differences, what unites them is a naïveté about just how original they actually are, and a tendency to mistake devotion to greatness for boring old selfishness. Stegner kept at arm's length anyone who would, as Yeats put it, trade the perfection of the life for the perfection of the work. Even if he appreciated the art they might produce from a distance, there seems always to be a sad awareness of the stakes of "The Choice" lurking behind any such appreciation.
I think Stegner is on to something. Let it be said immediately, though, that this praise of cliché, and the praise that follows below, is not an attempt to argue that true clichés do not exist. Surely there are clichés that inhibit thought and block our ears to deeper truths. Surely there are phrases that are lazy shortcuts; we can often choose complacency when courage is what is really demanded. But even if that is true, we should not be too proud to submit to truths that are simple and ordinary. We should not be embarrassed when we find ourselves giving advice in the exact way that our parents gave it. Sometimes, like the great Syrian general Naaman, we need to do as the prophet says and bathe in the Jordan River, rather than demand that we be given the chance to earn our good health through feats of strength or intellectual virtuosity.
Stegner's short meditation on cliché came to mind recently, and surprisingly, as I read David Foster Wallace's Infinite Jest, which turns twenty-nine this year. I had heard his "This is Water" commencement address, which contains its own bewildered praise of cliché—Can these platitudes actually be true!?!, he wonders—before committing to Infinite Jest, but it was still a surprise to see Wallace's passionate and bizarre odes to cliché scattered throughout his opus. It is one thing to hear in a graduation speech Wallace's cool yet accessible older-brother call to submit to the necessity of heeding the cliches. But it is entirely another to read them in a novel that includes 20,584 unique words, 577,608 total words, and nearly one hundred pages of small-font footnotes.
The book is set in a not-too-distant future where Mexico, the U.S., and Canada have merged into the Organization of North American Nations (O.N.A.N!), and in which a character dies of suicide after jerry-rigging a microwave for the purpose of nuking his own head. Not to mention that a central plotline features a Quebecois terrorist group known as Les Assassins des Fauteuils Rollents ("the wheelchair assassins"), who at one point kill off a minor character by shoving a broomstick through his throat until it punctures the lining of his stomach.
In other words, this is not a book filled with normal sentences about normal people written by a normal person seeking the beauty to be found in the ordinary. It includes single sentences like this one, which describes the moment an addict is finally ready to submit to the banalities of Alcoholics Anonymous:
—and then you're in serious trouble, very serious trouble, and you know it, finally, deadly serious trouble, because this Substance you thought was your one true friend, that you gave up all for, gladly, that for so long gave you relief from the pain of the Losses your love of that relief caused, your mother and lover and god and compadre, has finally removed its smily-face mask to reveal centerless eyes and a ravening maw, and canines down to here, it's the Face In The Floor, the grinning root-white face of your worst nightmares, and the face is your own face in the mirror, now, it's you, the Substance has devoured or replaced and become you, and the puke-, drool- and Substance crusted T-shirt you've worn for weeks now gets torn off and you stand there looking and in the root-white chest where your heart (given away to It) should be beating, in its exposed chest's center and center-less eyes is just a lightless hole, more teeth, and a beckoning taloned hand dangling something irresistible, and now you see you've been had, screwed royal, stripped . . . and tossed to the side like a stuffed toy to lie for all time in the posture you land in.
Wallace's praise of cliché comes to the fore in the plotline of the book that is centered on a Boston Alcoholics Anonymous group. These are characters who have failed in every possible way and come to Rock Bottom (in AA lingo). At Rock Bottom, a person is faced with three options: submitting to life in AA, immediate suicide, or drawn-out suicide. One such character, after finally Coming In, says, "'So then at forty-six years of age, I came here to learn to live by cliches . . . To turn my will and life over to the care of cliches. One day at a time. Easy does it. First things first. Courage is fear that has said its prayers. Ask for help. Thy will not mine be done. It works if you work it. Grow or go. Keep coming back."
The book's most noble character, Don Gately, who has himself lived many nightmares before finally Coming In and submitting to AA clichés, wonders at one point, "How do trite things get to be trite? Why is the truth usually not just un- but anti-interesting?" Gately's musing is not snarky. It is filled with sincere awe, as the AA clichés have truly worked for him, despite all the scorn with which he first received them.
When Stegner's Allston praises cliché, there is a weary but loving frustration to it: I have seen too many people ruin their lives by naively and falsely deluding themselves with the belief that they are too unique and talented to rely on the ruts that normal people find necessary, and I do not want to see you make the same mistake. But when Wallace's AA characters praise cliché, there is something else at play.
With "This is Water" murmuring in the background, it is not hard to hear Wallace conversing with his characters. Together they praise cliché with the authority of a Solomon who has earned his clichés through his wildly successful-turned-desperate attempt to experience everything but cliché.
For while Wallace Stegner was wise and clearly intelligent, David Foster Wallace was a once-in-a-generation genius. His book is an amazing feat of creativity and wide-ranging prowess. Wallace's characters come crawling through failure to beg for some clichés to lend stability to their lives. His characters make clichés seem like a luxury good. And in some sense they are. Who finds cliché most demeaning? Those who have inherited or earned stability and time to play around.
Another scene of Stegner's comes to mind, in his book Crossing to Safety. Two young professors are hiking with packhorses in Vermont and stumble upon a hidden waterfall:
And suddenly a misty coolness breathed in our faces, we heard the sounds of water, stereophonic, many-toned, reverberant. The earth gaped before us, and we looked down into a fantastic gulch, shadowed and light-shot, where the stream appeared and vanished and appeared again through grottoes and potholes as slick and twisty as the waterslide at an amusement park. Below us on the right the water burst from the rock and fell ten or fifteen feet into a green pool. Opalescent bubbles streamed along the wall, currents stirred the pool into whorls and upwellings.
The description continues, before one of the characters, Sid, exclaims, "My God, can there be such a place?" The narrator is surprised at the outburst, because he had expected a literary allusion from his friend, who "drips poetry as Pavlov's dog salivated, on cue." But it is the narrator's mind, not Sid's, that is "invaded" by Coleridge. On reflection, the narrator thinks, "We had been programmed in the same system, stuffed like Strasbourg geese with the best that has been known and said in the world during man's long struggle upward from spontaneity to cliché."
I think there is something to be said for keeping this continuum from spontaneity to cliché in mind as we wade through the worlds we inhabit together. What is decadent for some might be a newly earned luxury for others. What is hackneyed to you might be a desperately needed bit of wisdom for me.
So in the end, I ask the reader's pardon. This is not the praise of cliché that I started out to make. It is, rather, a plea for contentment with basic wisdom. And it is condemnation of hucksters who cannot tell the difference between originality and foolishness, or creativity and novelty. There is such a thing as cliché. But let's not, in our attempt to avoid cliché, avoid reality as well.
Matt Stewart teaches humanities at The Ambrose School in Meridian, Idaho. He is the author of The Most Beautiful Place on Earth: Wallace Stegner in California and is an associate editor for Front Porch Republic.
Photo: Bonnie Moreland, NegativeSpace