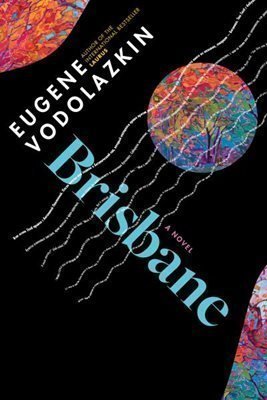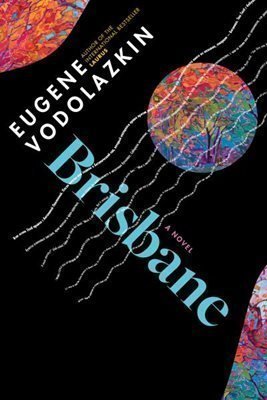 Over the course of these first four months of Anno Domini 2023, I have read through all of the novels of the Russian writer Eugene Vodolazkin. This was not planned, but this is the sort of thing that is bound to happen when one finds an author one enjoys and when there's much grading to put off to later at night. I had started with Laurus. Then followed in quick succession A History of the Island (which I was able to get in Russian!), Solovyov and Larionov, and The Aviator. Finally, this month I read the last one that was left: Brisbane.
I do not normally read this much modern fiction in so little time, and this is already more novels than I had read in all of 2022. But Vodolazkin is superb. In addition, there is something that one gains in reading a single writer in this way, steadily getting to know him through his work. All writing is personal, we know, and a novel cannot help but reflect the heart, mind, and soul of its maker. Vodolazkin's fiction unsurprisingly wrestles with the question that all Russians of his generation face: what was the point of it all?
What was the point of the seventy-odd years of suffering and oppression under Communism? And what is the point of the continued suffering now under the present regime, a suffering that appears so new and old all at once, as old KGB thugs continue in power? But there are traces of hope too in the midst of so much casual misery and cruelty. After seven decades of state-sanctioned and required atheism, Vodolazkin shows in all of his writing a desire for God in the hearts of so many, even as they struggle to understand what to do with this desire.
Vodolazkin had concluded his most recent novel, A History of the Island (officially out in translation next week, and Current will be publishing a review of it this summer!) before the present Russian invasion of Ukraine. But in Brisbane, he reflects on the earlier invasion of 2014, bringing to the fore the questions that invasion had raised, ones that continue right now in a more violent form. These are questions of identity for all Ukrainians, including the novel's protagonist, Gleb, who like Vodolazkin himself grew up in Ukraine, but spent his adult life away from it.
The novel alternates between glimpses from Gleb's past, beginning in his childhood, and his present life. We find out that he is, when the novel opens, a world-famous guitar soloist, whose unique skill at playing classical and contemporary music while humming along has made him an international sensation. But at the age of not quite fifty, he is diagnosed with Parkinson's disease, presaging the end of his musical career.
This is how it's going now. But how did it all start? It began with Gleb's childhood in Kyiv as the only child of a beautiful Russian dreamer mother and a heavy-drinking and musically gifted Ukrainian father. It is from his musician father that Gleb inherited his own musical talent. His parents' marriage did not last long, however, and Gleb grew up mostly under the care of his maternal grandmother, as his mother seemed to disappear regularly.
Gleb's mother had dreamed all her life of moving to Brisbane, and that dream gives the novel its name. Brisbane, of course, may as have been the moon or outer space—getting there under the Soviet regime was just as difficult. And so, Brisbane stood for the dream of what could be—a beautiful name, a symbol of an idyllic place where everything was, well, different. Not like in gray, drab Russia.
But Gleb got out early. While at university in Leningrad, he meets Katya, a German student. They fall in love, get married, and eventually move to her native Germany. It is while there, in 1993, when "the others asked Gleb what defined contemporary Russia, he had no answer… He might have mentioned Russia's vastness, but it was quickly shrinking—and not only due to exotic Asia but also due to his native Ukraine. Ukraine was a part of his homeland in the deepest sense of the word. Abroad, Gleb got the physical sensation that his once united country had fallen to pieces that were now separating beneath him, like in an earthquake, while he stood right over the abyss feeling he might fall in any minute."
It was a gardener who eventually asked a more apt question of Gleb: "You Russians, are you still Romans or already Italians?" The vast empire that was the USSR was swiftly passing away. What would emerge from its ashes? Perhaps only more ashes.
But it is a minor character in the novel, Vera, the musically brilliant but dying teenage daughter of Gleb's love interest from school, who is the key for understanding what I think is both Gleb's and Vodolazkin's own yearning. It is a yearning for God, for faith in something greater—something that the Soviet state was determined to replace with its own grandiosity, but obviously failed. For man-made structures, all the great empires of the world, try as they might, cannot replace the maker of the universe.
In reading the final portions of the novel, as Gleb's health is deteriorating and Vera is slowly dying, I was reminded of a famous song of iconic Russian bard, Bulat Okudzhava, in which he too sings of vera—faith. But faith is a virtue that doesn't appear alone in poetry. Its steady companions, as in Okudzhava's song, are hope and love.
In this song, a dying man imagines the three sisters—faith, hope, and love—standing around his deathbed, his sole comfort at the time he needs them most. As Gleb and Katya mourn the death of Vera, whom they came to see as their own daughter, is this the death of faith for Gleb? For a moment of agonizing despair, it seems that it could be, but hope and love buoy faith even at this time. In their mourning, Gleb and Katya visit a chapel where they had hoped to take Vera, but never did.
As one whose name means Hope, I imagine that this virtue is the one that must win out at the end, supporting faith when faith seems most under threat. But in the ashes of what used to be USSR, there are no guarantees. "I met hope again, a lovely meeting it was," Okudzhava sang in a different song, "she still lives in the same place as always. 'Twas I who was far away." He added love to hope in that song's conclusion, even while leaving out faith.