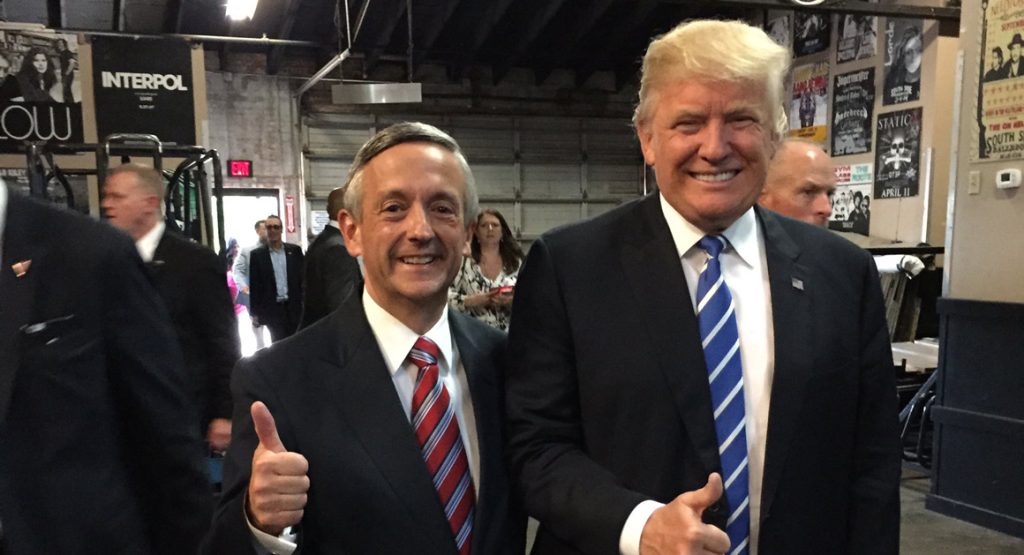 The court evangelicals continue to line-up behind Donald Trump. So far Mike Huckabee, Paula White, Eric Metaxas, Lance Wallnau, Marc Burns, and James Dobson have either formal endorsed Trump or suggested they will support him in the 2024 presidential election. The latest is Robert Jeffress, pastor of the First Baptist Church of Dallas. Jeffress recently appeared at a Trump rally in Waco in which he said, among other things, that Trump was "the most pro-life, the most pro-religious liberty, the most pro-Israel president in the history of our great country." Apparently a second impeachment, the potential of three criminal indictments, affairs with porn stars, the 2020 election fraud claims, and January 6, 2021 have done little to deter folks like Jeffress.
Here is James Oliphant and Nathan Layne at Reuters:
At the moment, an opening exists for another candidate such as Florida Governor Ron DeSantis, Trump's closest rival, to pull some evangelical votes away from the former president, interviews and opinion polls show.
But there are signs that there may not be much time before those voters coalesce behind Trump.
Pastor Robert Jeffress, an influential evangelical who heads a 14,000-member church in Dallas, earlier this year said he was uncommitted in the 2024 Republican primary. But Jeffress told Reuters this week that he is now solidly behind Trump, saying that he has found DeSantis, who has yet to formally announce a presidential bid, to be "lackluster."
"A lot of people really don't know him," Jeffress said. "There is nothing he has done lately to sway evangelicals."
Read the entire piece here.