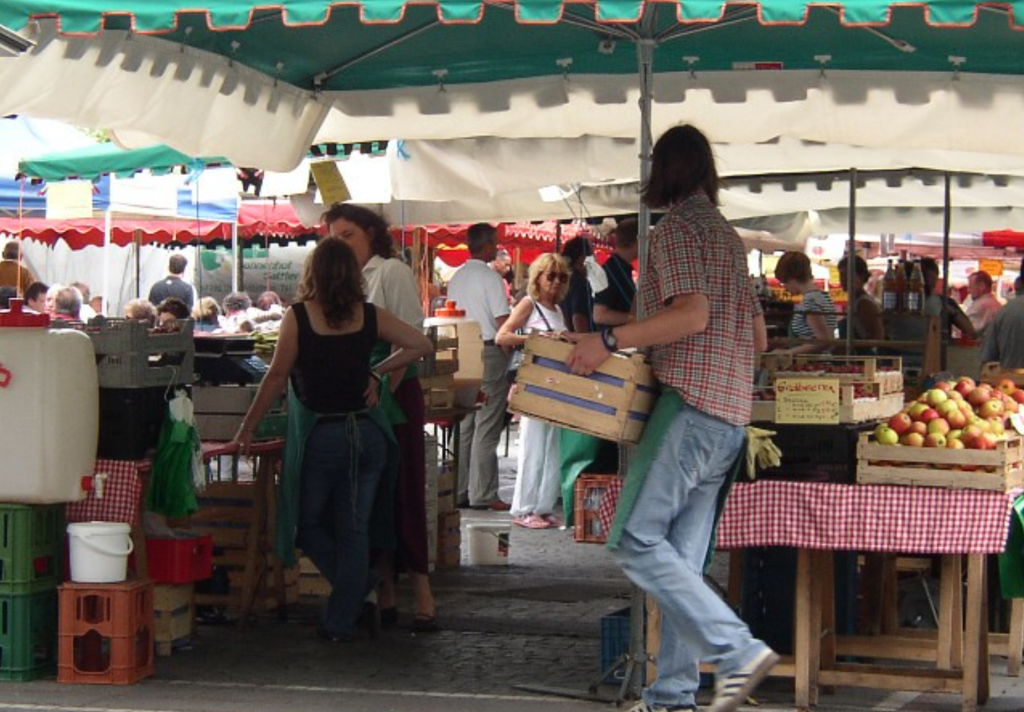 Do you know what song your neighbor would request?
Some Saturdays my husband and I play music at our neighborhood farmers' market. He's on guitar; we're both on vocals; sometimes I'm on tambourine. We only play covers—ranging from OutKast's "Hey Ya!" to Glen Campbell's "Wichita Lineman"—and we keep things casual: No social-media presence, no websites, lots of breaks to banter with the crowd and take requests for more Grateful Dead and Woody Guthrie. We used to run our amp off a boat battery until it started leaking acid on our hands. We keep all our music in a three-ring binder, and we never tell any of our friends when we're playing. The point isn't to perform. The point is just to be part of something.
The market is small, a converted parking lot downtown, and the same vendors come to sell every week. The fisherman and his wife offer scallops and tuna steaks and packets of smoked salmon. The farmers from up north bring frilly lettuces and spring potatoes and small strawberries and an absolute riot of tomatoes. The bakers sell olive bread and chocolate croissants. The lavender guy is named Charlie; the mushroom guy is named Hunter. When we finish playing the vendors place items in our tip basket: bottles of orange juice, bags of lumpy apples, beets and bundles of herbs. A flower farmer who comes from the coast likes to sing a few songs in Spanish with my husband, taking the high harmonies on "Cielito Lindo."
We see the same volunteers and visitors, too: old women pulling their carts of carrots and citrus, parents with toddlers, students from campus carrying canvas sacks. Most of the people who attend the market walk over from the surrounding neighborhoods. We know some of them by face, some by name, some by intimate details that the music draws out: a husband they are grieving, a friend who comes to mind over a melody.
Community exists here, but not the kind that forms out of blood, affinity, or knowledge. The farmer's market isn't a bowling league, a civic organization, or a church, the kinds of clubs and congregations a particular political scientist mourned the loss of more than two decades ago. The farmer's market is not built on shared beliefs or shared stories or shared pastimes, but very simple commonalities. We all appreciate beauty and food and fresh air. We live in the same region.
In her newsletter Culture Study, Anne Helen Petersen often writes about the hard work of community formation, the sacrifices of time and resources required to approach something like solidarity. This winter she set a challenge for her readers: Show up for your neighborhood in a small, inconvenient way. The responses were lovely. Someone made freezer meals for a sick friend, others joined swim clubs and choirs and painting classes. Still others attended committee meetings or had coffee with an acquaintance from their child's school.
Playing music at the market requires this kind of effort. We practice during the week; we get up early on a weekend to pack up our gear (including a new battery that doesn't leak acid, and various stands and cords we've purchased). Sometimes it's rainy or cold and my husband's hands get numb as he picks at the guitar strings. We learn new songs for the people who ask for them.
But our relationship with the market is also commercial, more so than the efforts that resulted from the Culture Study challenge. We get bills and coins and pastries and produce in exchange for the time we spend singing folk songs. The farmers like when we play because it lightens the mood, and when the mood is light, people buy more dahlias and honey and grapefruit. Without the exchange of goods and currency, this gathering falls apart. When a vendor doesn't sell enough, they stop showing up; there are other markets in other towns where they might have more success.
Just because the market is transactional doesn't make it meaningless. In his 1985 essay "Men and Women in Search of Common Ground," Wendell Berry describes marriage as not just a relationship of thoughts and feelings but one of "locality, human circumstance, and duration": We build and maintain homes, establish descendants, become intimate with nature and neighbors. He adds that "in preindustrial country towns and city neighborhoods, the people who needed each other lived close to each other." The utter practicality of sharing responsibilities and provisions and chores, reliance as a means to survival, didn't make their relationships any less important. We gather in the parking lot out of mutual needs—to make money, to eat—and find them satisfied.
Still, Berry's ideal neighborhood relationships involve more than our market community: more conversation, more history, more longevity, more than one or two Saturdays a month. The vendors and volunteers know a bit about our life—what street we live on, what we do for work—but not much. We know something about them, but not much. We ask after illnesses, and farms flooded by the recent rain, and kids who are in school. At noon, when the closing bell rings, we wish the farmers well as they pack their trucks and head elsewhere, to an existence not at all like our life in the city. We get food that's fresher than anything at the grocery store and see our neighbors in one place for longer than anywhere else. But still, we're not exactly enmeshed.
I think that's okay. Or at least good enough. These are the loosest of loose ties, and if they were all you had, they wouldn't be enough. But if you didn't have them at all, that would be a loss, too. In an age as alienated as ours, knowing a neighbor well enough to nod and smile on the next day's walk around the block feels like a victory. It's good to know the song she always requests, and to know the child who wants to play the tambourine, and to know the state of the crabbing this season, and when the figs will be for sale. We know a little bit more than we did about the place and personalities around us, and they know us, a little. We are not meeting many of each other's needs, and we, at least, have other people for that. At the most, we are familiar. But that familiarity isn't nothing. Our setlist mostly stays the same. By the time they know each one of our songs, acquaintance might indeed be a kind of love. 
Kate Lucky is a writer living in the Bay Area. She is an editor at Christianity Today. 
photo credit: Becky McCray