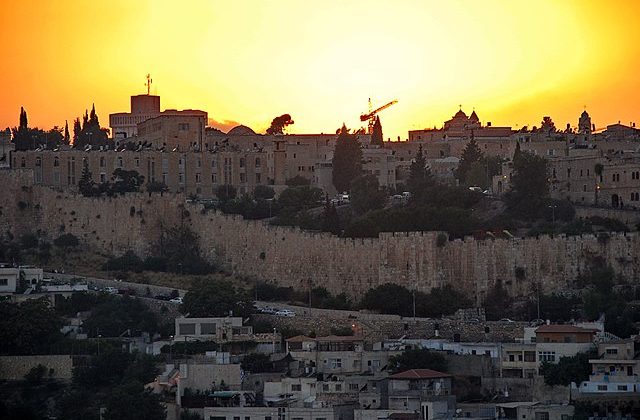 "Your name burns my lips like a Seraph's kiss,
If I forget you, Jerusalem, who are all gold."
So wrote the Israeli song-writer Naomi Shemer in her iconic song "Jerusalem of Gold." Shemer originally composed this for the celebrations in honor of Israel's nineteenth Day of Independence in May 1967. She selected Shuli Nathan to perform it first, and recordings of her performance still elicit goose-bumps.
Shemer's emotional longing for Jerusalem reflects the reality of May 1967, when Jerusalem was "the city that sits in solitude, and in her heart a wall"—a city split between two countries, although mere weeks away from a reunification. But this longing has deep historical and theological roots for both Jews and Christians.
This song, indeed, echoes in its themes Psalm 137, which the exiles from Israel once sang by the rivers of Babylon. That song posed a bitterly poignant question: how can one ever forget Jerusalem? But, at the same time, how can one praise God in exile from the promised land? "There on the poplars we hung our harps" (Ps. 137:2, NIV). And yet, of course, the Psalmist finds a way. Shemer has recovered her ancestors' abandoned harps, and made them into violins in her song's refrain:
"Jerusalem of gold, and of bronze, and of light,
Oh, for all your songs, I am a violin."
Layered into this love song to Jerusalem are the memories of songs of mourning, like Psalm 137. Singing in Babylon through their tears, the exiles were missing so desperately the place that was God's promised dwelling with His people before everything went so terribly wrong.
These distant memories, at the same time, are inseparable in the song from the memories of much more recent loss and suffering—at the time of Shemer's composition, the Holocaust was just over twenty years removed, and the country of Israel still a teenager. This made Jerusalem, along with the rest of Israel, a place of loss, filled with people who had known much sorrow, but who in their own suffering drove out and inflicted much violence upon another people, who too knew much suffering and loss both before and since. The recent events in Israel only highlight this further. There is no question that the history of Jerusalem is heavy.
Further underlying these themes of loss, the song also echoes the longings of pilgrims who traveled to Jerusalem so long ago in the days of the Psalmists, who first composed Psalms of ascent, to be sung while approaching this holy place in order to get one's mind and heart in the right place. And two millennia ago, one among many who made this very ascent and surely sang these very Psalms, first with his parents and later in adulthood, with his disciples, was the incarnate God Himself.
Those exiles who first sang Psalm 137 in Babylon, weeping bitter tears over their longing for Jerusalem, had no idea that their dream of redemption would come true in such a spectacular way a little over half-millennium later. But then, neither could any of those who once made the ascent with Jesus at any time during his lifetime, have imagined who it was that was in their midst. What a strange redemption the events of the week leading up to the crucifixion would have seemed to any of these exiles or pilgrims. And how strange these events seemed to those eyewitnesses who could not grasp the astonishing conclusion to the week.
Despite the prophecies that in retrospect may seem so clear, no human truly imagined that the same God who parted the Red Sea to take His people out of Egypt earlier in their history—the miracle that the Jewish Passover still commemorates—would also willingly choose to be arrested on Thursday and executed in the most gruesome way imaginable on the Friday of the week of Passover. But the tomb will be empty on Sunday.
I am a citizen of Israel and the United States. I grew up in a secular Jewish household in Russia and Israel and came to Christ as an adult. As I wrote recently in trying to explain my conversion, the Holocaust and Russia's horror-filled history are part of my family's story. For my mother, in particular, this reality means that for me to choose Christ was the ultimate betrayal of my Jewish roots.
Theologically, she is correct. To choose Christ does indeed mean to let go of everything else. This does mean a betrayal or, to use a nicer word, renunciation of every other identity. But more than any other time of the year, during the week leading up to Easter, it seems particularly clear that my choosing Christ is not a betrayal of my family's heritage. It is, rather, its fulfillment.
Judaism and Christianity are historically rooted. In the eyes of believers, key events for their faith really did happen. Sometimes, as we think about theology and beliefs in the abstract, it is easy to forget this key truth. But Holy Week centers on the historical events that took place in Jerusalem almost 2,000 years ago. This is, therefore, a time that particularly demands us to notice and feel within our very being the blending of the historical past and the present, the visible and the invisible, sorrows of the past and suffering yet to come, but most of all, promises fulfilled and profound joys that so far have only been foretold, and which we cannot fully imagine.
The events of the cross and the Resurrection foreshadow more cosmic events to come that will revolve around Jerusalem, but it will not be the city we know here on earth.
"We have returned to the water cisterns, to the marketplace, and to the square,
A shofar calls on the Temple Mount in the Old City.
And in the caves within the mountain, a thousand suns shine bright,
And again we will go down to the Dead Sea through Jericho.
Jerusalem of gold, and of bronze, and of light,
Oh, for all your songs, I am a violin."
Our souls long for a Jerusalem that is not here; has never been here. The Resurrection promises that one day, we will see it.