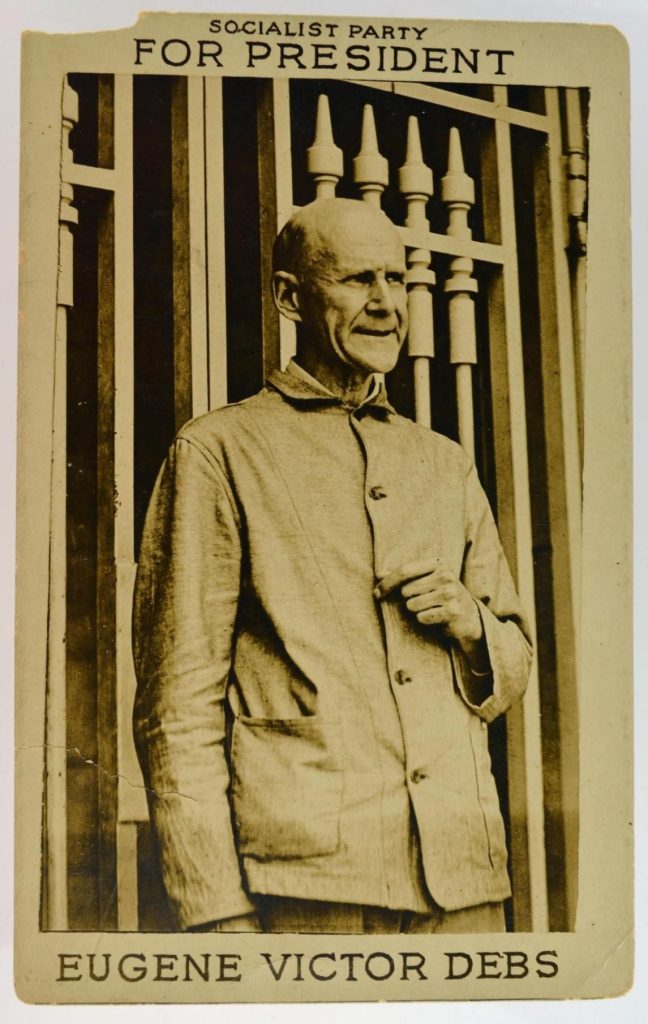 Today someone asked me if Donald Trump could still run for president if he is in jail. I don't know the answer to that question, but I do know that Socialist Party candidate Eugene Debs received over 900,000 votes while serving a ten-year sentence in an Atlanta federal prison for opposing American involvement in World War I. (Warren G. Harding pardoned him in December1921.)
Here is actor Mark Ruffalo reading a portion of the June 16, 1918 speech that got Debs arrested:
Read the entire speech here.
Here is a passage from Nick Salvatore's biography Eugene V. Debs: Citizen and Socialist:
Fully expecting, even anticipating, his arrest, Debs spoke numerous times during the first two weeks of June without attracting the notice of the authorities. On 15 June he arrived in Canton, Ohio to address the state convention of the party…With the help of comrades he eased his way through the cheering crowd of over 1,000 people and laughed along with the as Marguerite Prevey ridiculed the reports that Debs had become a prowar Socialist. When Prevey finished, Debs rose, walked to the front of the wooden bandstand, and faced the crowd...
The moral courage that would accept jail, if necessary, for principle remained the essence of the Socialist belief: "There are many who seek refuge in the popular side of a great question. As a Socialist, I have long since learned to stand alone…When I rise it will be with the ranks, and not from the ranks." Those in the movement who are "weak and cowardly," who lack the fiber to endure "the revolutionary test" will "fall away…disappear as if they had never been." In their place "in this crucial hour" others "are writing their names in fadeless letters in the history of mankind."
"They tell us," Debs reminded his audience, "that we live in a great free republic; that our institutions are democratic; that we are a free and self-governing people. This is too much," he bitterly noted, "even for a joke. But it is not a subject for levity." It was, rather, "an exceedingly serious matter." At stake was the very vitality of the meaning of citizenship. With a war-induced influence broader than ever before, corporate leaders "are today wrapped in the American flag [and] shout their claim from the housetops that they are the only patriots." They "have their magnifying glasses in hand" and scan "the country for evidence of disloyalty, eager to apply the brand of treason to men who dare to even whisper their opposition. Yet Debs found reason to take heart. "Every time they strike at us," he affirmed, "they hit themselves…They help us in spite of themselves. Socialism is a growing idea," he insisted, "it is coming, coming, coming all along the line," and he shared the meaning of that "expanding philosophy" in his own life. "It has given me my ideas and ideals; my principles and convictions," Debs explained as he learned across the crown. "It has taught me how to serve–a lesson to me of priceless value. It has taught me the ecstasy in the handclasp of a comrade…to multiply myself over and over again; to thrill with a fresh born manhood; to feel life truly worth while"; and to embrace "every member of the working class without an exception [as] my comrade, my brother and sister."
"Out hearts," Debs asserted, as the audience cheered wildly, "our hearts are with the Bolsheviki of Russia [who] by their incomparable valor and sacrifice added fresh lustre to the fame of the international movement." Precisely because of this triumph, however, the movement in America would face further persecution, for capitalists as well as Socialists understood that "the truth alone will make people free." In this struggle to influence the consciousness of citizens, the risks were severe but the possible results vast. But in an era of mad, patriotic conformity, it was important to recall again "the minorities who had made the history of the world…We who are here today, are under infinite obligations to them because they suffered, they sacrificed, they went to jail…in their struggle to leave the world better for us than they found it for themselves…The only wan we can discharge that obligation is by doing the best we can for those who are to come after us."…
It was now time to reach through the audience, to those individuals before him and to those who would later read his words, and tough what Debs saw as the core of the Socialist commitment. Talk of inevitability might be encouraging, but Debs knew that the struggle depended upon each individual. "Join the Socialist Party," he proclaimed. "You cannot do your duty by proxy. You have got to do it yourself and do it squarely." Then "you will know what it is to be a real man or woman. You will lose nothing…but you will find something of infinite value, and that something will be yourself. And that is your supreme need," Debs told Americans, "to find yourself–to really know yourself and your purpose in life."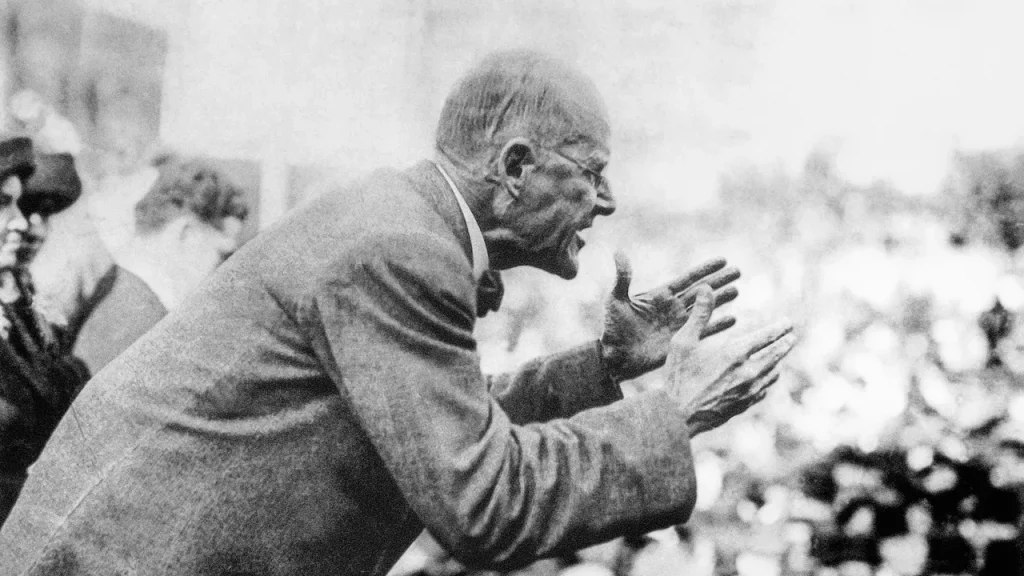 Debs never quite allowed that a majority of his fellow citizens could define that purpose in essentially private ways that excluded others. The meaning of the American tradition, reinterpreted in an era of sharp class warfare, was so real to him that is precluded such a possibility. Since the 1880s, the examples of Thomas Paine, Thomas Jefferson, John Adams, William Lloyd Garrison, and others had served as his essential political guide, and he remained adamant in the belief that if he could see and understand, so could others. His faith, increasingly out-of-step even in his day, appealed to the best in an often sorry history. As he concluded his speech, invoking Abraham Lincoln, defending the IWW, and reaffirming the necessity of industrial unionism, "the forerunner of industrial democracy," to enable workers to control their "own jobs…own labor, and be free men instead of industrial slaves," Debs returned to the message that had structured his entire public career. "Socialists," he quietly explained, have a "duty to build the new nation and the free republic. We need industrial and social builders…We are pledged to do our part. We are inviting–aye challenging you in the name of your own manhood and womanhood to join us and do your part…[to] proclaim the emancipation of the working class and the brotherhood of all mankind."
As the thunderous applause that greeted his speech pealed across Nimisilla Park, the thin, tired Socialist leader and his hoarse yet chanting audience shared an intense religious moment, reflections of which would touch Socialists throughout America. He had said nothing he had not said many times before and had referred to the war but once. But the very ritual of his repetition in the face of the most extensive repression the nation had experience to that time prepared the altar for the sacrifice. The gaunt man with the burning eyes had affirmed the commitment of his comrades by giving himself as best he knew and fulfilled, by his own definition, the obligations of true manliness. In that very act Debs served notice to his country, as he had in 1894, that to resist oppression was at least as much a part of the American tradition as compliance with the dictates of corporate leaders. In the process, he provided Socialists everywhere with the moral encouragement to continue the struggle.
Socialists were not the only members of the crowd that day. The U.S. attorney for northern Ohio, E.S. Wertz, had stenographers recording Debs's words as well…
On Debs's experience in prison check out Ernest Freeburg's Democracy's Prisoner: Eugene Debs, the Great War, and the Right to Dissent.
Here is the Sidney (OH) Daily News from May 8, 1920: