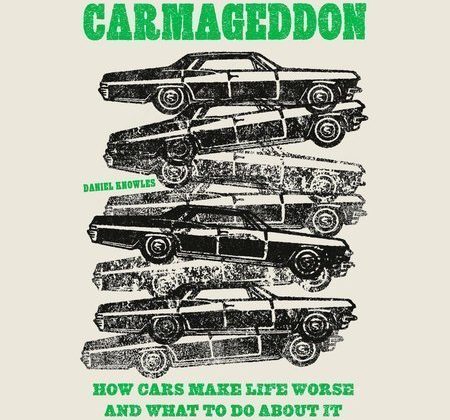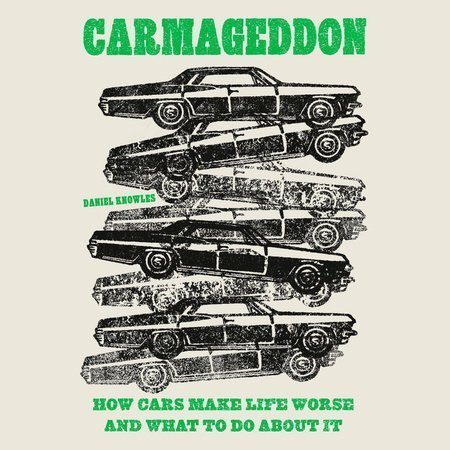 Over at Jacobin, Jacob Sugarman reviews Daniel Knowles's book Carmaggedon: How Cars Make Life Worse and What to Do About It.
Here is a taste:
On February 3, a Norfolk Southern train approximately 150 cars long derailed near the town of East Palestine, Ohio. Twenty of the cars were transporting hazardous chemicals that included butyl acrylate, ethylhexyl acrylate, ethylene glycol monobutyl, and vinyl chloride, which are often used in plastics. To prevent an explosion that might further poison the surrounding environs, the railway conducted what the New York Times has called a "controlled release and burn-off" of some of these chemicals. This in turn created the kind of airborne toxic event that author Don DeLillo explores in his postmodern classic, White Noise. (In a DeLillian twist, much of the novel's recent film adaptation was shot in Northeast Ohio, and several extras in the production hailed from East Palestine.)
The full extent of the damage wrought by the derailment likely won't be known for years, but some of the town's 4,700 residents have already reported headaches, rashes, and other ailments typically associated with chemical exposure. According to the Ohio Department of Natural Resources, more than seven miles of stream have been contaminated. Yet as catastrophic as this disaster has been and may yet prove, it still pales in comparison to the kind of destruction wrought each year by the automobile.
This ubiquitous form of travel accounted for approximately forty-three thousand accident-related deaths in the United States in 2021 alone. What's worse, we have come to accept the physical and environmental harm of cars as something immutable — the unfortunate but inevitable cost of modern life.
Enter reporter Daniel Knowles, whose new book Carmaggedon: How Cars Make Life Worse and What to do About It seeks to shatter this pernicious myth and offer an alternate future in which we're no longer dependent on steel cages for essential transport. Indeed, we may have no choice. Cars account for at least 25 percent of all carbon emissions, as Knowles himself acknowledges. Unless we radically reimagine our cities and their surrounding suburbs, he argues, we are recklessly careening toward climate catastrophe.
"That is why it is so damaging that so much new construction happens in sprawling, car-dependent places," Knowles writes. "We are missing a massive opportunity to give people lives they would like — lives that happen to be far more sustainable, as well as more pleasant — in walkable cities, and instead pushing out to places that are developed entirely around the automobile."
Read the rest here.