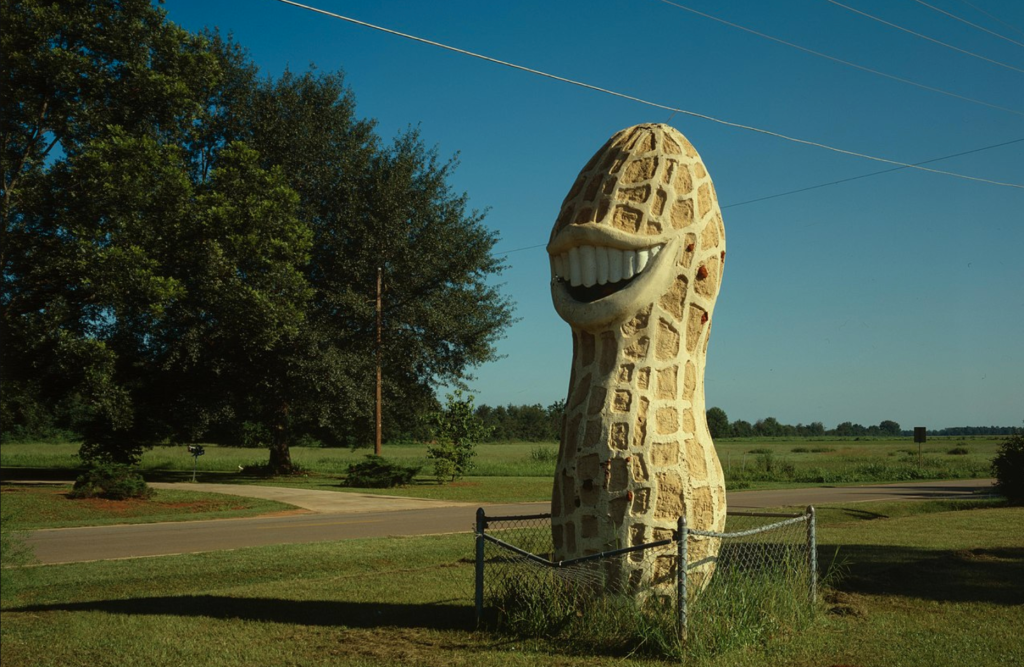 The Carters bear witness to a more excellent way
My arrival in Plains, Georgia—named after the biblical Plains of Dura—was not a happy one. But in retrospect, eight years later, it was a tremendous gift.
I drove in from Charleston only six days after the mass shooting at Emanuel AME church in 2015 that killed nine African American worshippers. I had been in the Addlestone Library that night, four blocks from the shooting, and had walked to my girlfriend's (now wife's) apartment not knowing why a helicopter was flying overhead.
When I arrived in Plains the next week the owner of the boarding house was away. My interactions were limited to a secret service agent, who simply nodded as he came in from a shift, and a talkative Auburn student interning at a sawmill and staying at the house.
The student inferred that I was a runner. He suggested a route that led north of town past Maranatha Baptist Church on state highway 45.
"Don't go south," he advised.
When I asked why, he explained, "That's where the Blacks live. We don't want any trouble."
If I had had an idyllic vision of Plains that set it apart from the challenges elsewhere in the world, my very first conversation in the town shattered it. I disregarded his advice. Tracing the edges of the town by following each main road from the center to the periphery, I saw—by foot—almost all of the tiny community.
The intern was waiting for me when I returned. He had cooked us a spaghetti dinner, and before we ate he led us in prayer. It was the first time I had eaten meat in two years; it had been many more years since I had prayed before dinner. The student was excited to learn that I studied Civil War history and would be working as a seasonal park ranger at Andersonville National Historic Site. "God was on our side," he told me, "but he had to let Stonewall Jackson die so that Lee would lose at Gettysburg, the United States would defeat the Germans in World War II, and Israel would be established." It was all God's plan.
The conversation turned to Jimmy Carter. "I go to his Sunday School!" he exclaimed. "You should come, but you'll see him here, too. The Carters come over for dinner all the time." All of this was news to me. I promised that I would go to Sunday School if my work schedule allowed.
After doing the dishes, I went to my room. At the top of the stairs on the left—on the secret service agent's door—were two metal signs. One stated: "James Earl Carter and Lillian Gordy Carter father and mother of Jimmy Carter 39th President of the United States lived in this apartment during 1924 while Mrs. Carter was expecting the future president." A second label, "The Conception Room," was more to the point.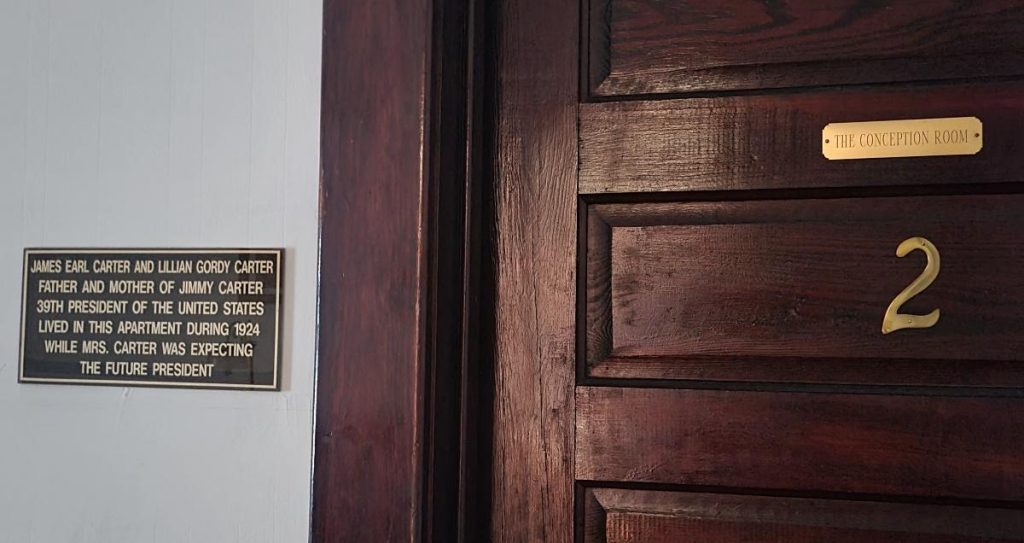 Across the hall, my room had a four-poster bed, a wardrobe, and floral wallpaper that dated from the house's years as a bed and breakfast. Unable to sleep and without an internet connection, I picked up Jimmy Carter's An Hour before Daylight: Memories of a Rural Boyhood (2001) from the bedside table. I devoured it page by page.
There were four paragraphs that I might have written myself. "I never walked a field or along a stream without constantly looking for flint points or pottery fragments," Carter wrote. "Looking for arrowheads has been a lifelong habit, even when I walk in densely populated areas." All day I had looked out at the farm fields thinking about stone tools. I made a mental note to bring up arrowheads if I ever had a chance to talk with the Carters.
That day came sooner than expected. On July 4, as I came home from work, two secret service agents dressed as fishermen stopped me before letting me pass. There was a potluck of hotdogs, barbeque, baked beans, corn on the cob, desserts—and wine. My landlord set me at a small table in the dining room directly across from the Carters.
She had told President Carter about my research on prisons during the war. "I've read a lot about the War between the States," Carter told me. "I think the definitive book on Andersonville is Randolph Stevenson's The Southern Side; or Andersonville Prison." Published in 1876 by a former Confederate surgeon, Stevenson had dedicated his book to the families of the Confederate dead in northern prisons.
It felt like a question posed as a statement—a test—to see how I might respond. "My goal is not to relitigate whose prisons were more wretched," I promised. "I want to know how prisoners used the five senses to navigate and understand captivity. I trust they knew their experiences better than anyone else." It was a careful, diplomatic answer, like one I might give as a park ranger at Andersonville. President Carter seemed satisfied.
I changed the subject to arrowheads. It was my way of showing—hopefully—that I wasn't an out-of-touch PhD who sneered at people who hunted, fished, or picked up rocks. "I've caught myself looking down for arrowheads on a city sidewalk!" Rosalynn Carter admitted. We laughed. We all knew that feeling. We talked about studying landscapes for promising locations. In future dinners I brought in artifacts from some of the same fields the Carters had searched years before.
The seasonal park ranger job brought me to Plains, and a rare tenure-track job in the nearby town of Americus extended my stay. For my first year of teaching I moved across the hall to the "Conception Room," which had a small balcony overlooking downtown Plains. I became more involved in the town and the national park, including serving alongside the Carters on local projects and boards. While in private conversation I have disagreed with the park staff on matters of interpretation, I rarely discussed controversial matters directly with the Carters. My place at the table was tenuous. Caution—and respect—was the price of proximity.
This access let me see the Carters, during some of their last highly active years, not as statues on pedestals but as people with good days and bad days. December 23, 2016 was a good one. I participated in a white elephant gift exchange that evening in the home of my friend Kim Fuller, one of Billy and Sybil Carter's six children. While most of those gathered were part of the Carter family, a handful of us non-family members filled out the small living room. President Carter sat in a large leather chair and wore a SolAmerica jacket, the energy company that had just installed 3852 solar panels in Plains. Rosalynn sat on a couch a few feet away. Amy Carter sat on the floor between her parents.
The white elephant gifts included "funny teeth," a large bag of M&Ms, a hog skull of uncertain provenance, a honey dispenser, home-smoked salmon, and more. When it was President Carter's turn to choose between opening a wrapped present or stealing an opened present, he wasted no time. "Where's that honey dispenser?" he asked with a grin. Rosalynn chose a new package. It was smoked salmon from a park ranger who had recently arrived from Alaska. President Carter seemed as pleased as Rosalynn and gave a thumbs up. When I jotted down a few notes from the party later that night I could not remember whether anyone had dared to steal the honey dispenser from the former president or the smoked salmon from the first lady from Plains.
I have had the chance to see the Carters as an aging couple of almost seventy-seven years, as individuals, and as members of a small community that is surprisingly tolerant of strangers. Yet necessity has often detached my research and writing in public history from my time with the Carters and the people of Plains. This is not because I have a naïve or idyllic view of President Carter or the town. Nor am I cynical. It simply would have threatened a vantage point I had a rare opportunity to occupy. It would have changed the meaning of my presence on those evenings in Plains.
What I can say with confidence from that vantage point is that the public Carters are "real." They have led incredible, often heroic, lives and have lived alongside four generations, making positive impacts on each one. They point the way toward a more just and compassionate future. That is, if we listen.
Evan Kutzler is a public historian and an associate professor of history at Georgia Southwestern State University in Americus, Georgia. He is the author or editor of several books, including Living by Inches: The Smells, Sounds, Tastes, and Feeling of Captivity in Civil War Prisons (University of North Carolina Press, 2019).