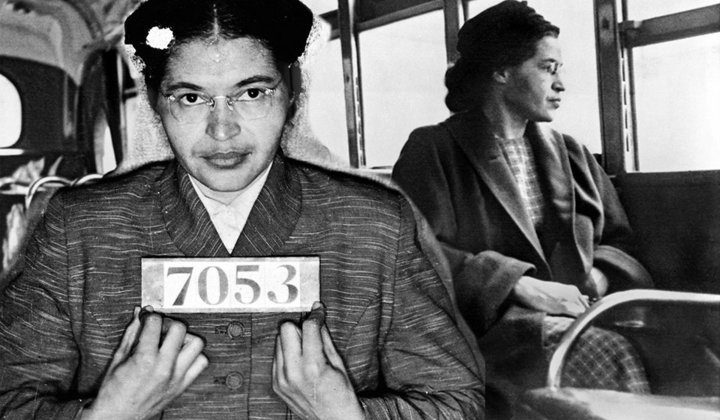 Here is a taste of Sarah Mervosh's piece at The New York Times:
In an attempt to cater to Florida, at least one publisher made significant changes to its materials, walking back or omitting references to race, even in its telling of the Rosa Parks story.
The publisher, Studies Weekly, mostly serves younger students, with a focus on science and social studies, and its curriculum — short lessons in weekly pamphlets — is used in 45,000 schools across the country, according to its website. Its social studies materials are used in Florida elementary schools today.
The New York Times compared three versions of the company's Rosa Parks story, meant for first graders: a current lesson used now in Florida, an initial version created for the state textbook review and a second updated version.
Some of the material was provided by the Florida Freedom to Read Project, a progressive parent group that has fought book ban efforts in the state, and confirmed by The Times.
In the current lesson on Rosa Parks, segregation is clearly explained: "The law said African Americans had to give up their seats on the bus if a white person wanted to sit down."
But in the initial version created for the textbook review, race is mentioned indirectly.
"She was told to move to a different seat because of the color of her skin," the lesson said.
In the updated version, race is not mentioned at all.
"She was told to move to a different seat," the lesson said, without an explanation of segregation.
It's unclear which of the new versions was officially submitted for review. The second version — which doesn't mention race — was available on the publisher's website until last week.
Studies Weekly made similar changes to a fourth-grade lesson about segregation laws that arose after the Civil War.
In the initial version for the textbook review, the text routinely refers to African Americans, explaining how they were affected by the laws. The second version eliminates nearly all direct mentions of race, saying that it was illegal for "men of certain groups" to be unemployed and that "certain groups of people" were prevented from serving on a jury.
With these changes, it is unclear if Studies Weekly is an outlier, or if other publishers may also have curbed their materials.
The Florida Department of Education suggested that Studies Weekly had overreached. Any publisher that "avoids the topic of race when teaching the Civil Rights movement, slavery, segregation, etc. would not be adhering to Florida law," the department said in a statement.
But Studies Weekly said it was trying to follow Florida's standards, including the Stop W.O.K.E. Act.
Read the entire piece here.