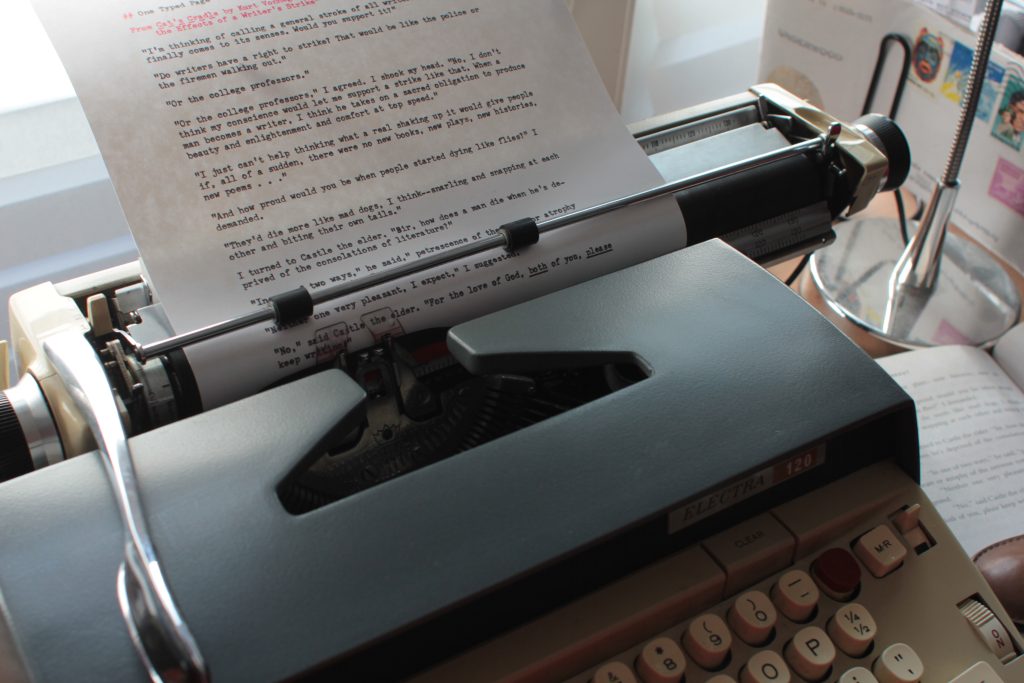 "I'm thinking of calling a general strike of all writers until mankind finally comes to its senses. Would you support it?"
In Book Marks, an occasional feature at Current, we take fresh cuttings from old books (or about old books). They may often be about writing, education, communication, and the life of the mind generally, though we reserve the right to snap a sprig of greenery that simply tickles the fancy.
Why look at old books? Because there's a slat loose in the fence they've got us penned up in, and we can jiggle it free to see better what's going on out there.
With each extended quotation we offer an orienting comment, but that's not where the action is. The question is whether the words of those who have gone before may speak to you.
*
When you visit the Kurt Vonnegut Museum and Library in Indianapolis, which you won't regret, you can get a sense of a man who wrote, wrote, wrote, and then wrote some more: letters to friends and antagonists, notes to self, t-shirt–worthy slogans, some nonfiction, and of course plenty of novels.
There's a full-sized set-up of a portion of his working space, and you can even sit down to a vintage typewriter like his, as you compare your position with the contemporary black-and-white photo of him in that very den. In this space (and photo) there's a table lamp in the form of a rooster, which seems appropriate for a writer who, like Thoreau's chanticleer a century before, kept insistently trying to wake us up.
Vonnegut's sense of the dangers of conventionality—conventional niceness perhaps no less than conventional barbarism—made him the target of anti-obscenity crusaders throughout his career, ironic for a writer so openly committed to decency. The obscenity charges may have faded now, but I don't think he'd be pleased his writing doesn't shock so much anymore; I think he'd point out we've just created some new cultures, but now of transgressiveness, no less conventional than ever. His chanticleer's calling underlay the trippy, genre-bending approach he took to his stories: Gotta keep the reader off balance, gotta get through.
To that end, Vonnegut kept at it, writing, writing, writing. Even his characters agree: no stoppages, no walk-outs.
Hear what they have to say:
"I'm thinking of calling a general strike of all writers until mankind finally comes to its senses. Would you support it?"
"Do writers have a right to strike? That would be like the police or the firemen walking out."
"Or the college professors."
"Or the college professors," I agreed. I shook my head. "No, I don't think my conscience would let me support a strike like that. When a man becomes a writer, I think he takes on a sacred obligation to produce beauty and enlightenment and comfort at top speed."
"I just can't help thinking what a real shaking up it would give people if, all of a sudden, there were no new books, new plays, new histories, new poems . . ."
"And how proud would you be when people started dying like flies?" I demanded.
"They'd die more like mad dogs, I think—snarling and snapping at each other and biting their own tails."
I turned to Castle the elder. "Sir, how does a man die when he's deprived of the consolations of literature?"
"In one of two ways," he said, "petrescence of the heart or atrophy of the nervous system."
"Neither one very pleasant, I expect," I suggested.
"No," said Castle the elder. "For the love of God, both of you, please keep writing!"
—Kurt Vonnegut, Cat's Cradle (Delacorte Press, 1963; repr. Dial Press, 1997), ch. 103, "A Medical Opinion on the Effects of a Writer's Strike"
*
Jon Boyd is keeper of Book Marks at Current. He is associate publisher and academic editorial director at InterVarsity Press, the saxophonist in an improvisational rock band, a user of mechanical typewriters and postage stamps, and (with his wife and daughters) a resident of the City of Chicago.