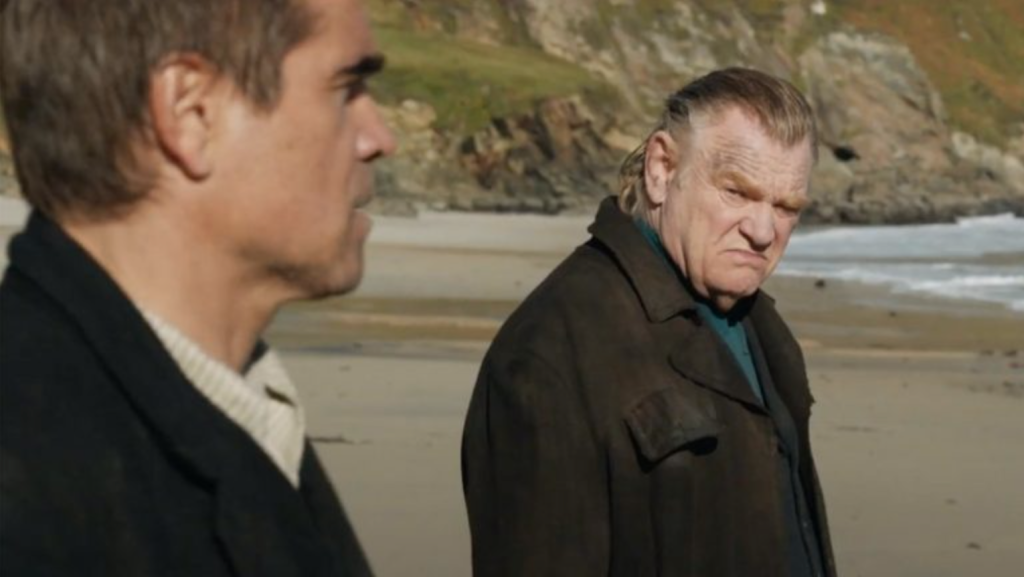 In The Banshees of Inisherin, Hollywood and serious film make their acquaintance once more
March is the cruelest month, at least for the movies. Hollywood cinema was once the single most powerful force in U.S. consumer culture, shaping the hopes and dreams of generations of Americans through much of the twentieth century. The March Oscar season has in recent years been an occasion to lament, decry, or at the very least acknowledge that movies lost their centrality decades ago and now stand at the brink of irrelevance. Yes, a handful of action-adventure blockbusters, particularly those featuring superheroes or cartoon characters, continue to make a handful of producers a lot of money. Still, adult drama and sophisticated comedies seem to have disappeared from mainstream American culture. Films in these genres continue to receive nominations for Best Picture despite being largely unknown to the general movie-going public. The gap between film as art and film as entertainment has become a chasm. One could easily conclude that filmmakers who consider themselves "artists" simply do not like ordinary people.
One of this year's Best Picture nominees, The Banshees of Inisherin, seems to speak to our moment in film history. Written and directed by the Irish-British playwright, Martin McDonagh, the film tells the story of two old friends, Colm Doherty and Pádraic Súilleabháin, living on a remote island off the coast of Ireland during the 1920s, who cease being friends when Colm simply declares to Pádraic, "I just don't like you no more." Pádraic is crushed and confused; he cannot accept that his best friend could simply decide, so abruptly, to end their friendship. The audience can see that they make something of an unlikely pair: Pádraic, a simple, almost dim-witted farmer; Colm a fiddler, the closest thing the remote island of Inisherin has to an artist/intellectual. For most of their lives the general common culture of the island had proved capable of bridging this intellectual gap; Colm, an aging man, has now decided that Pádraic is simply a distraction taking him away from his quest to write a fiddle tune that will gain him artistic immortality and ensure that the name of Colm Doherty will be spoken in the same breath as that of Mozart. 
For his part, Pádraic cannot understand why writing a fiddle tune should interfere with their friendship. He continues to insist that Colm still really likes him. Colm tells Pádraic never to speak to him again and warns him that if he so much as speaks a single word to him he will cut off one of his own fingers. Pádraic cannot believe Colm is serious and continues to talk to him. Colm makes good on his threat, cutting off multiple fingers as the conflict finally winds its way to an irresolute resolution.
Such black comedy has been McDonagh's trademark since he first burst on the Irish theater scene with his 1996 work The Beauty Queen of Leenane. This play, as with many that followed, takes place in a remote village in the west of Ireland. Since the late-nineteenth century, Irish nationalists have looked to the West of Ireland, especially the Irish-Gaelic speaking people of the West, as the gold standard of authentic Irish culture, free from the corruption of all things English. The first great work of modern Irish drama, John Millington Synge's The Playboy of the Western World (1907), takes this mythical West as its setting, yet its peasant characters voice some strikingly untraditional views about Irish social conventions. The hero of the play, Christy Mahon, becomes a local celebrity based on his boast of having killed his father. Synge saw himself as celebrating the earthy vitality of peasant life against the repressive conformity of late-Victorian, middle-class Irish culture; when he debuted his play at Dublin's Abbey Theater in 1907, his middle-class audience responded with a riot.
Irish writers, most notably James Joyce, have been engaged in a love-hate relationship with the Irish people ever since. When conservative Catholic nationalists finally achieved independence from England in the 1920s, they promoted a properly conservative Catholic vision of the West, primarily through a series of peasant autobiographies such as Maurice O'Sullivan's Twenty Years A-Growing (1933) and Tomás O'Crohan's The Islandman (1934). Though these books are far more than exercises in sentimental nostalgia, the sentimental and nostalgic elements present in them rose to the top of the popular understanding of Ireland as a whole. McDonagh's Irish plays have been as much a commentary on this literary tradition as on the West itself.
At the risk of oversimplification, I would judge that most of McDonagh's assessment of this tradition has been negative. A postmodern Synge, he denies himself even the comfort that deep down beneath the surface of Catholic conservatism there still beats some wild, pagan, Celtic fanatic heart. The Banshees of Inisherin finds him in a different voice: that of peacemaker in the century-long civil war between the Irish writer and the Irish people. He retains a critical edge, but in this work he redirects his criticism toward all those "serious" Irish artists who would aspire to make Mozart out of a peat bog. Against the Irish modernist tendency to make of the artist a martyr to the bad taste of middle-class Irish Catholicism, the film accuses and convicts Colm of a great crime against humanity: He is not nice. The film's defining judgment takes place in a scene in which a drunken Pádraic confronts Colm in the local pub:
Pádraic: Colm Doherty, d'you know what you used to be?
Colm: No Pádraic, what did I used to be?
Pádraic: Nice! You used to be nice! . . . And now, d'you know what you are? Not nice!
Colm: Ah well, I suppose niceness just doesn't last then, does it, Padraic? But shall I tell ya something that does last?
Pádraic: What? And don't say something stupid like music . . .
Colm: Music lasts . . . Do you know who we remember for how nice they was in the 17th Century? . . . Absolutely no-one. Yet we all remember the music of the time. Everyone, to a man knows Mozart's name.Pádraic: Well I don't, so there goes that theory. And anyways, we're talking about niceness, not whatsisname! My Mammy, she was nice, I remember her. And my Daddy, he was nice, I remember him. And my sister, she's nice. I'll remember her. Forever I'll remember her.
Pádraic wins this battle (and Siobhan, his "nice" sister, corrects Colm on his dating of Mozart), but the war rages on for the rest of the film. McDonagh never settles for an easy populism. Pádraic and the island's cultural limitations remain plain for all to see. Siobhan, though nice, is educated, bored out of her mind, and eventually leaves to take a job as a librarian on the mainland.
The struggle builds to a final act of violence. Pádraic's beloved donkey has choked to death on one of Colm's severed fingers. In revenge, Pádraic burns down Colm's cottage. The burning evokes the English eviction of Irish peasant farmers, which fueled the mass emigrations responsible for pushing Irish peasants into the modern world. Irish artists furthered this modernizing displacement by trying to push the Irish people out of their peasant and lower-middle class Catholicism into the wider cultural world of cosmopolitan modernity. In the character of Pádraic, McDonagh suggests the sterile isolation of such rootless modernity.
The film ends with Pádraic and Colm talking on the beach, with the gunfire of the Irish Civil War on the mainland in the background. Colm says "I think they're coming to an end of it." Pádraic says "Ah, I'm sure they'll be starting it up again soon enough, aren't you? Some things, there's no moving on from. And I think that's a good thing." Not exactly a Hollywood ending, but a sign that Hollywood, or at least accessible serious film, may have a new beginning yet.
Christopher Shannon is associate professor of history at Christendom College in Front Royal, Virginia. He is the author of several works on U.S. cultural history and American Catholic history, including American Pilgrimage: A Historical Journey Through Catholic Life in a New World (2022), available now from Ignatius Press.