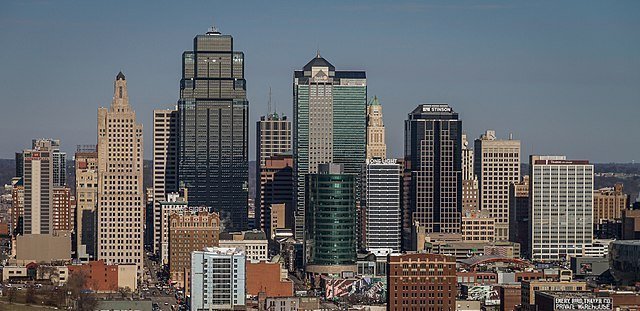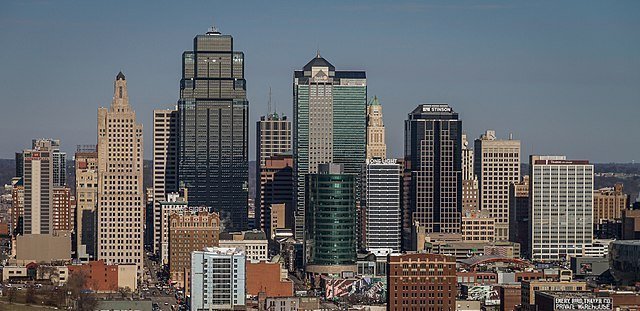 The Kansas City Chiefs just won the 2023 Super Bowl earlier this month. This is a moment in the sun for Kansas City. But it's also a good opportunity for me to bring up a pet theory I have. I think Kansas City sits right at the center of the twentieth-century American Experience. I believe that the significance of many cities has been overlooked because so much attention falls to a few. No one can or should argue that New York or Chicago aren't important, for example, but they are not the only important cities.
The two states that share Kansas City played a significant role in nineteenth century American history and its westward expansion. It's worth noting that the state of Kansas contains the geographic center of the contiguous United States. You can find the plaque just outside Lebanon, Kansas. (If you include Alaska and Hawaii, the center moves to South Dakota.) And, of course, "bleeding Kansas" was a spark that helped fan the flame of the Civil War. John Brown began his raiding there. The other state that shares Kansas City—Missouri—was the "gateway to the west." The Mississippi River is a border of Missouri and home to many of the American tales crafted by Mark Twain. The Pony Express operated between Missouri and California.
But it's really in the twentieth century that Kansas City itself sat at the heart of the American cultural experience. How so? To begin, Kansas City was a textbook example of machine politics. Tom Pendergast built a political machine so thorough and efficient that is has been studied ever since. Most Americans have heard of Tammany Hall, but Kansas City is another place that we can examine the role of machine politics in our past.
Out of that machine actually arose one of our most upright presidents, Harry S. Truman. Truman got his start in Kansas City and was a farmer before he was a politician. He was our last president without a college degree and was a war veteran—two traits shared by a vast number of twentieth century Americans. Harry Truman made the decision to drop the atom bomb on Japan. He desegregated the U.S. military. He launched the "Truman Doctrine." It's hard to imagine our country without those interventions. Truman actually inspired David McCullough to write a biography about him with over 1000 pages.
The twentieth century was dominated by the silver screen. Jean Harlow was from Kansas City. So was Ginger Rogers. Many don't realize that Walt Disney opened his first studio in Kansas City. One cannot imagine early cinema without such figures. The legacy continued from there. The director Robert Altman was from Kansas City. Jason Sudeikis, the star of Ted Lasso, was raised just outside the city. So was Paul Rudd, who is Ant-Man, among other things.
But Kansas City wasn't just a place that people came from, it was a place that people wanted to go. "I'm going to Kansas City, Kansas City here I come" sang Wilbert Harrison in 1959. Why? In his case, "They got some crazy little women there, and I'm going to get me one." How would he get there? "I might take train, I might take a plane, but if I have to walk, I'm going just the same."
It's no wonder that there are songs about Kansas City. It was a hub in twentieth century music and produced some very prominent musicians. Kansas City had its own big band scene that moved the music forward. One of the greatest to emerge from it was Count Basie, a Kansas City native. Kansas City wasn't only home to Basie, it was a place known for the blues. And it was the birthplace of Charlie Parker. Parker had an incredible impact on jazz. You can also listen to his song "K.C. Blues". Ken Burns' Jazz documentary rightly argues that jazz is one of the most American musical genres. Where would jazz be without Kansas City?
Beyond the sounds, the sight of Kansas City itself was inspiring. In the early twentieth century, it was known as the "Paris of the Plains." Strolling its boulevards, seeing its fountains, and admiring its architecture, even today, one is reminded of the confidence and pride of place that twentieth century Americans had. Even in rural states, people designed cities that spoke to ideals and were meant to last. Kansas City is a place filled with ceremonial cornerstones.
Sports have long been a point of pride for Kansas City. The city was home to one of the most important Negro Leagues baseball teams—the Kansas City Monarchs. "Cool Papa" Bell played for them. So did Buck O'Neill. So did Satchel Paige, one of the greatest pitchers of all time. Jackie Robinson even briefly played for the Monarchs before he became a Brooklyn Dodger. Was there a sport more closely tied to the heart of twentieth century America than baseball?
And, of course, you can also taste and see that Kansas City is good. Any American city worth its salt knows smoked meats. Kansas City can more than keep up. Kansas City has a noble barbecue history and its own style. It is home to several famous barbecue institutions, including Arthur Bryant's and Gates and Jack Stack.
Imagine twentieth century American culture without the contributions of Kansas City. Kansas City is as American as barbecue and baseball. It is as American as Ginger Rogers. It is as American as jazz. And it is hard to imagine an America without all the contributions made by Kansas City and its people in those areas.
Kansas City may have just won the Super Bowl, but Kansas City has deserved a bigger spot in our consciousness for some time. The significance of this city, split between two states, is a good reminder that there are many cities and regions that have played a role in shaping our culture. Many are deserving of more attention.