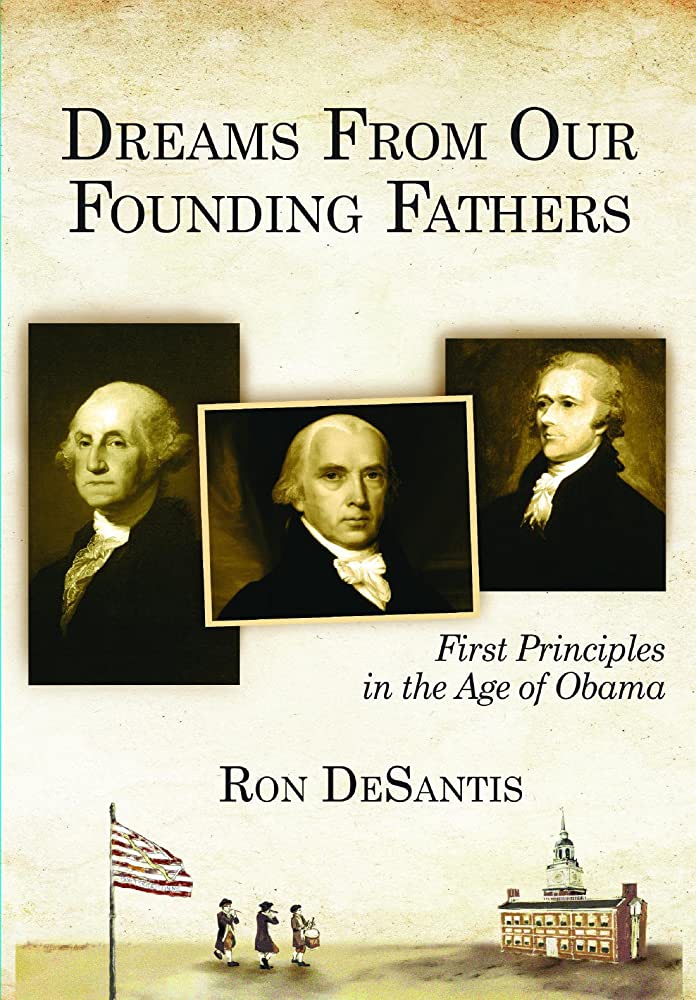 The full title is Dreams From Our Founding Fathers: First Principles in the Age of Obama. Historian David Waldstreicher read it.
Here is a taste of his piece at The Atlantic:
History works for Ron Desantis as an argument. It would be a mistake, though, to think he doesn't care about it deeply or hasn't devoted serious deliberation to his own understanding of the American past. In fact, his biography indicates a great respect for the discipline. DeSantis reportedly received special praise for his performance in an Advanced Placement U.S. history course at Florida's Dunedin High School before he graduated in 1997. He majored in history at Yale during some of the years I taught there. He instructed high-school students in history for a year at the Darlington School, in Georgia, before attending Harvard Law School and joining the U.S. Navy. And get this: Two of his children are named Madison and Mason presumably after James Madison and George Mason, the most intellectually interesting of the Virginians who helped fashion the Constitution.
Former President Donald Trump reveled in his own ignorance and preference not to read at all, much less read history. In his four years in office, most of his statements about the Constitution were bluster about how it allowed him to do anything he wanted. By contrast, DeSantis has an intellectual pedigree and a book from 2011, his first, to prove it. Dreams From Our Founding Fathers is a revealing treatise, lively and polemical. While clearly a direct rebuke to Barack Obama's 1995 coming-of-age memoir, Dreams From My Father, it is also filled with ample quotation from 18th-century writings, footnotes to a smattering of scholarly works, and highly selective use of then-current reportage, tacking back and forth over 26 thematic chapters from Madison and Alexander Hamilton to Obama and the Democrats, the apparent betrayers of the Founders' dreams. The book clarifies how DeSantis's view of history has shaped his politics and explains his fierce reaction to any attempt to discuss the role of racism in America's past.
Published by a very small (some would say vanity) press in Jacksonville, total sales of the book languished in the low hundreds. It clearly got lost in the generic haze of anti-Obama screeds. Shockingly, for a book by a man who is likely running for president, the only way to acquire a physical copy is to buy a used one, which can sell for over $1,000. But Dreams From Our Founding Fathers is actually a remarkably cogent and well-written attempt to undo exactly what Barack Obama had done: write himself into the national imagination as an emblem of historic, yet distinctly American, change. It's because Obama had incorporated American history into his presidential campaign, giving his famous speech on race at the National Constitution Center, that DeSantis has to deny at such length that Obama's Americanism amounted to anything more than a shell game.
And this:
But the most revealing and consequential element of his book is not so much his drawing of a straight line from the founding precedents to the Tea Party movement's dissent over big government. It's rather how his entire reading of American history is enveloped in both unquestioning fealty to the Founders and an insistence that the role of slavery, and race more broadly, in that history does not seriously change anything about how we should understand the birth and development of our country. For Obama and his teachers, the problem of slavery exemplified the need to adapt and improve the Constitution. For DeSantis, would-be reformers who misunderstand the role of slavery in our history are themselves the root of the problem in our politics.
While Desantis admits grudgingly that Obama embodied a major advance in "breaking the presidential color barrier," he insists that even past leaders who promoted necessary change—such as emancipation and civil rights—embraced "conservative change … often explicitly invoking the Founding Fathers." He then selectively quotes Martin Luther King Jr.'s "I Have a Dream" speech about cashing the "promissory note" of the Declaration of Independence, contrasting MLK's words with those of Obama and Thurgood Marshall in their critiques of the Founders' exclusions and imperfections.
To turn Thurgood Marshall, the civil-rights lawyer and Supreme Court justice, into an ideological radical in contrast to MLK takes some doing. Not as much, though, as is required by DeSantis's insistence that Chief Justice Roger Taney's Dred Scott decision of 1857 is the signal example in American history of an activist judge ignoring fealty to the letter of the law and being guided instead by his own racist beliefs. There is a consensus among historians and legal scholars that Dred Scott v. Sandford, which turned on the question of whether a fugitive slave could sue for his freedom after he crossed into a free state, was wrongly decided, because Taney declared that African Americans could not be considered citizens. They had in fact been voting citizens in numerous states. DeSantis wants to distance himself and the Constitution from Taney's obvious and decisive hatefulness. So he doesn't mention that the entire logic of Taney's willful forgetting of statutory laws rested on his insistence that the Founding Fathers never could have meant for there to be any kind of racial equality. In other words, Taney made a politically conservative, notably partisan decision precisely on his interpretation of the Founders' intent. It was originalist to the core: the original originalism, where gut feelings about what the Founders thought and wanted trumped actual state laws. DeSantis can't see, or won't admit, that it is often originalism that is selective with evidence.
Read the entire piece here.