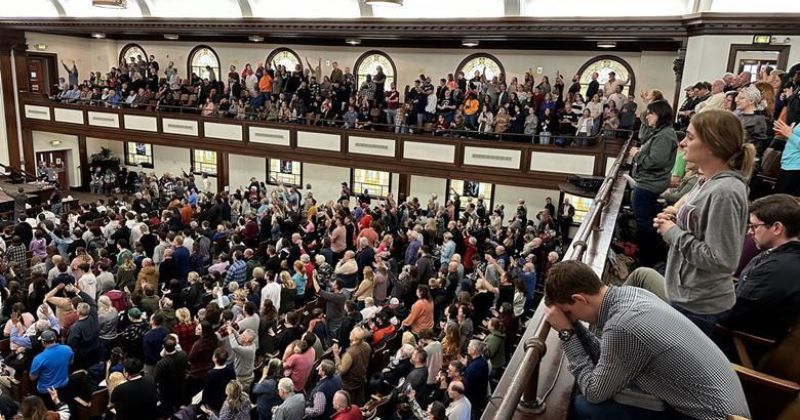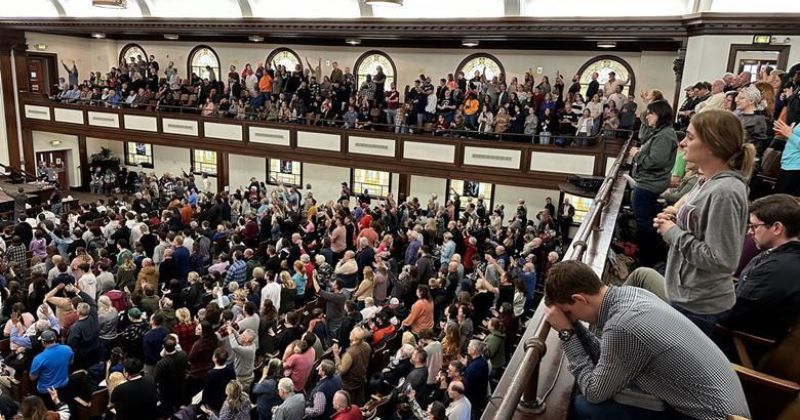 Read all of these posts , including the original post (covering Day 1 to Day 3 of the revival), here.
This is the last night of services at Asbury University. Tonight was the Collegiate Day of Prayer. Asbury was scheduled to host this event well before the revival broke out on February 8, 2023.
Some history. The Collegiate Day of Prayer is apparently 200 years old:
Baylor University students watching the Collegiate Day of Prayer:
Behind the scenes at the Collegiate Day of Prayer:
Daniel Silliman's reporting at Christianity Today. Here is a taste:
An ad hoc revival committee of about seven people gathered in the one quiet space in Hughes—a storage closet. According to several people who were there, they pushed aside a drum kit and keyboard and sat knee to knee. Someone found a dry erase board, and they asked each other, "What are we going to do in the next two hours?"
Then they started thinking slightly longer term: "Will students stay all night? What does that look like? Should we leave the sound system on? Should we let students keep bringing guitars into chapel?"
The group decided to have ministers stay in Hughes and have security watch the building but keep it open. They would let the students stay and pray and sing as long as they wanted.
Other decisions they made in the next few days seem, as the ad hoc committee reflects on them now, almost like they happened by instinct. There was no time for drawn-out discussions. They would meet in the storage closet and make decisions minute by minute. Did they want to put up screens for the lyrics of the worship songs? No. Should ministers who spoke on stage stop to introduce themselves? No. Should they put up signs asking people not to livestream? Yes.
And here is Daniel on how the Asbury leadership tried to protect the event from charismatic preachers and other outsiders who might try to exploit it:
As news of the singing, praying students ripped across social media and "takes" ricocheted around Twitter, TikTok, and Facebook, the team planned and organized, working out the details of how to deal with that tension. So when someone started blowing on a shofar—the curly ram's horn trumpet that some charismatic Christians have turned into a symbol of MAGA politics and spiritual warfare—the chapel staff didn't have a protocol for that exact situation, but they knew what to do. They asked the person to recognize the way God had showed up in the chapel and be faithful to the sweet, humble, peaceful spirit of the outpouring.
They did the same thing, Asbury staff told CT, when someone started praying loudly and aggressively. And again when someone started attempting an exorcism—not arguing about demonology or citing university rules, but invoking the authority of the outpouring itself.
"We want to be true to how the Holy Spirit showed up with our students," said Baldwin, the vice president of student life. "We experienced joy. We experienced love. We experienced peace. There was lots of singing and testimonies. Those became our signposts. This is how, in front of our eyes, we are seeing the Holy Spirit come upon our students, and we want to honor that."
Most people complied, though a few had to be asked to leave. One street preacher came wearing a T-shirt condemning gay sex and a plan, according to staff, to shout at students about perversion. He was escorted off the property. Another person wouldn't stop praying aggressively and was told he had to go outside.
When the chapel staff opened up the microphone again for testimonies, they started vetting them first. As an added precaution, the Asbury team held on to the microphones while people talked.
"Saturday and Sunday, we were asked all day long, 'Can I give a word?' 'Give a word?' 'Give a word?'" Baldwin said. "Well, tell us your word first."
The UK Vineyard Churches:
Testimony from Anna:
Just one out of many encounters this weekend! God is so good!!!!!!!!!
Wow! Only God! Today we heading home from Asbury College. We drove for about thirty minutes before we stopped to eat lunch in a town known as Danville. When we walked in there was an hour wait. We decided to leave but not before I went to the restroom. As we heading out the door the hostess taped me on my shoulder and asked if we would like to sit at the bar. We decided to take the offer because we heard the food was good. I sat next to a young man as my friends sat next to me.
The manager came up to the young man next to me asked him if he went to church this morning. He said yes. Two ladies sat next to him on the other side who were heading home from Asbury as well. I decide to chim in the conversation letting them know we went as well. Once they left God stepped in and opened a door for a conversation to be had with the gentleman next to me.
I asked him about church. He told me he was looking for religion but did not really know how to go about it. He explained he was seeking. I shared my testimony with him and how I became to know Jesus. I shared that it's not about religion but about a RELATIONSHIP. That being a ChrIst follower did not take work. It truly is a relationship like you would have with a friend.
He showed me a penny with a cross carved out in the center. He shared with me everytime he looks at it he feels a pull. He told me how he got it. He has a roommate that is agnostic. His agnostic friend has a friend who attended the revival as a reporter. Someone gave him a penny with the cross cut out. This reporter gave it to the agnostic friend. This gentleman was sitting on the couch when his friend threw the penny at him. He took the penny and placed it in his wallet.
I asked him if he has ever prayed for salvation or if he has ever prayed before? He told me no he did not know how to. He told me his grandparents prayed but he did not know how to do it. I encourage him to go to Asbury to experience it. He agreed that he would like to go.
I decide before leaving to ask if he would like for me to pray a prayer of salvation over him? He said yes. The sweet holy spirit stepped in at that moment. Me and the group walked outside and prayed over this guy. One of the ladies asked him if he would like for us to follow him to Asbury for we knew it would be going on all night. He said he felt bad inconveniencing us but if we were willing he would go.
We got in the car with him following us back to Asbury. We walked him up to the line and got him plugged in with some guys his age. They took him under their wing. He texted us to let us know he got in and thanked us for everything.
I am sitting here in aww of God's goodness. This was an appointment set up by God today! Please be in prayer for Mason. He is a brand new believer. He is worried no one will be there to walk beside him to show him the way. We assured him God will provide a way for him. God is so good!!!! I cried as I said goodbye. God touched me so much through him today. This is just one story out of many that our group experienced this weekend
A glimpse into the revival. Is that kneeler in front of the stage considered an anxious bench?
Ken is not happy about the way celebrity preachers might be exploiting the revival:
I am having some questions and would love some opinions. It appears that this awakening is God led, congregation inspired without a vocational evangelist nor celebrity preacher. I think this is grassroots among His children, seeking a deeper knowledge and walk with God. It must spread by its nature.
However, I am fighting a bit of discouragement and some disgust at pastors getting on the site touting their church or ministry. Asking people to come to their church because the same thing will happen there. Even listing the works and manifestions you will experience. As a pastor for 30 years I know to tread lightly, but I hate to think someone would seek to seek personal advantage.
I'll leave it at that and look forward to responses. My prayer is this movement continues and grows.
From Asbury to the site of the 1801 Cane Ridge revival:
Miz is thankful for the Asbury University staff behind the scenes:
I have enjoyed watching on social media the outpouring of God's Spirit at Asbury University. What an exciting time of worship and repentance and redirection by the Lord! The videos of the crowds both inside the chapel and outside on the grounds are fascinating. I love seeing God's hand at work bringing revival.
However, I have to confess when watching the livestreams on social media, my eyes, and my heart, are continually drawn to the ones that are only seen on the fringes, or not seen at all in the images on our devices. I am compelled to thank and praise the Lord for these most humble servants who are in the background tending to the infrastructure.
The people who setup, cleaned, and supplied all the different restroom facilities including the crews that pumped the portable toilets. The ones who faithfully picked up and emptied load after load of trash. The stockers at the grocery and gas station who struggled to keep items on the shelves and the cashiers who were overwhelmed by customers. The cafeteria employees who were weary of the prep of food and the wiping of tables. The cleaning crews that swept and mopped to keep all the places as safe as possible with so many shoes passing through. The ladies (and gentleman) who prayed over water, coffee and snacks for the masses. The attendants whose arms and legs ached after walking for hours and parking uncountable numbers of cars. The first responders, police, EMS, and volunteer fire, who needed rest, but instead, suited up and responded to yet another call. This list could go on and on. And let's not forget the family members of each of these men and women who were more than a little inconvenienced by this interruption of normalcy in their families.
None of these people are probably seen as spiritual leaders. They're just ordinary people tending to physical things. In the recounting of the life of Christ and the early church, there are named, and unnamed, people who were in the background tending to the physical needs of others. My mind immediately thought of a small boy's lunch and the young lad who provided it. It was an act of the physical, not the spiritual. But he most probably had his life changed significantly that day even though he was not featured like the forgiven and the healed.
My prayers are centered on the people who were not a part of the searching crowd, but were instead, servants to the crowd. I pray the Lord has most surely poured out his grace and strength upon them too and changed their lives in a way that only Jesus can.
Meanwhile, Asbury's men's basketball team is trying to make a run in the National Christian College Athletic Association national tournament:
No celebrities in Wilmore. This is an important part of the current Asbury Revival narrative:
Renee is not happy with Asbury's decision to end the revival on its campus:
I feel grieved in my heart that the manifested presence of God is being treated so cavalier. As if it's assured that His presence will be manifested just as mightily if they change venues or limit His influence among the general public. I understand the difficult position the University is in but I also know that most of us who went to this Asbury Revival have waited a lifetime to experience God in such a mighty and tangible way. I do believe that if we saw Christ hovering above us in the chapel rather than each of us experiencing Him individually in unseen yet profound ways, no one would assume that He would go wherever they choose rather than reverently following Him. Asbury had over 50,000 visitors from all over the world come there to experience God. How many more would have come and left refreshed, renewed and empowered. We are inundated with evil at every turn, yet the focus of the world was on Asbury and the multitude of people who were seeking Christ. Will this revival continue and spread throughout the country and ultimately throughout the world? I pray it does. But a move of God like this rare and unlike any I've ever experienced. My fear is that we will have grieved the Holy Spirit by trying to control and limit what He is doing and it will be decades before we ever see another move of God like this.
Cedarville University students are trying to spread the revival to Michigan State University. Here is a testimony from a Cedarville student.
Great opportunity to market this movie:
The revival is apparently moving from Asbury to a theater near you this weekend:
The preacher whose sermon got the revival rolling came back to preach on Monday:
Charlie Kirk's Turning Point USA's local representative at Asbury University:
More footage from the Asbury campus:
Cardinal Dolan is all in:
An Old Light street preacher:
Classes canceled at the University of Valley Forge:
Driving through Wilmore:
The Atlantic publishes a Northern Seminary professor with a Ph.D from Asbury Theological Seminary. Here is Yoni Appelbaum, The Atlantic ideas editor:
More Craig Keener, Asbury Theological Seminary professor: