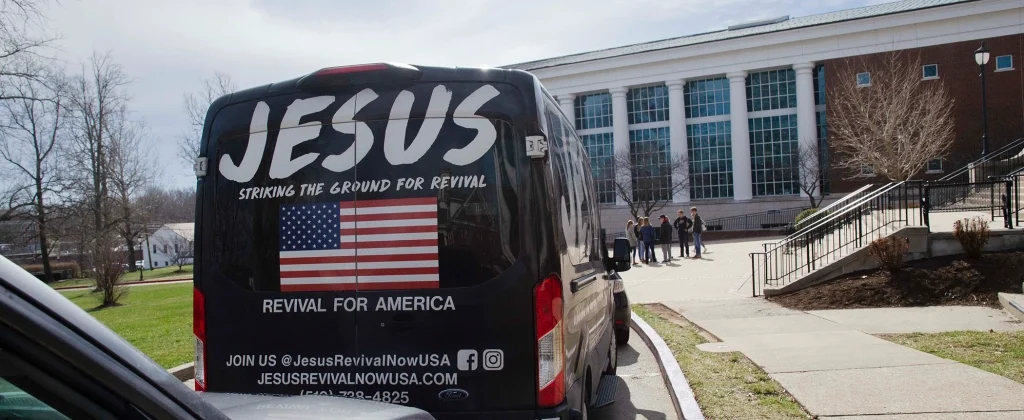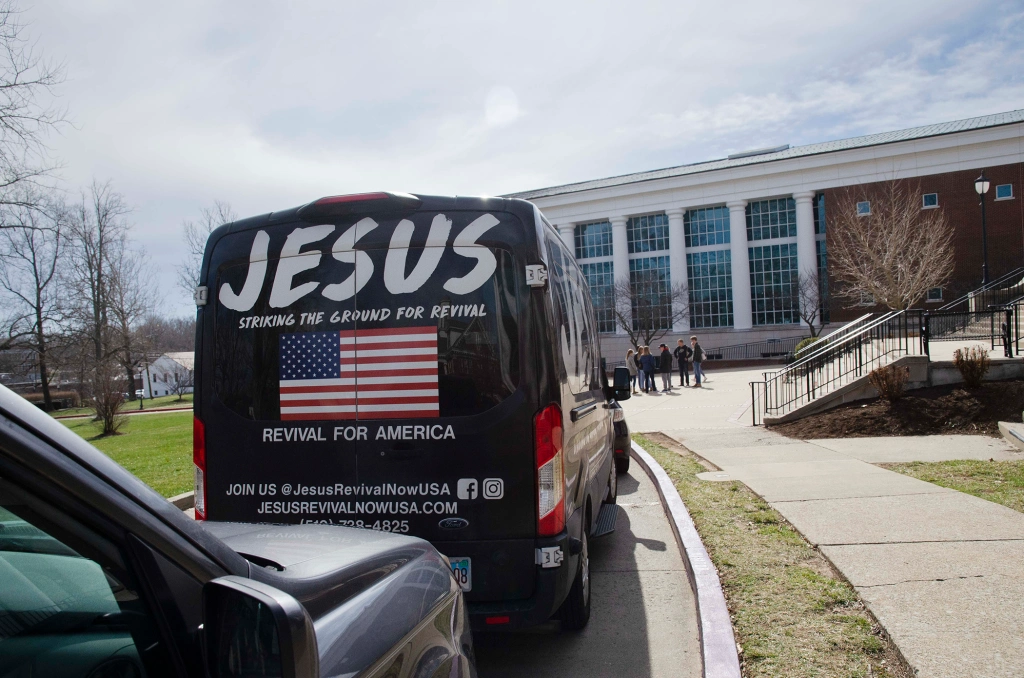 Read all of these posts , including the original post (covering Day 1 to Day 3 of the revival), here.
A photo essay from Asbury University sociologist Lisa Weaver Swartz:
Jennifer posts a pic from Texas A&M: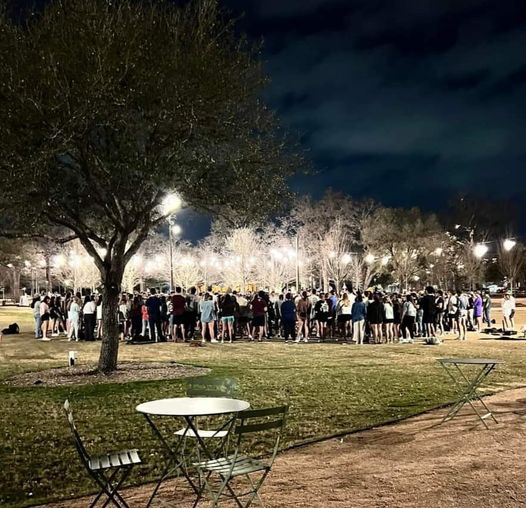 Saturday at Asbury's Revival, my son asked me what it meant to get saved and I offered to go pray with him. He declined.
Tonight, during our Lent/Ash Wednesday Service, my baby asked God into his heart. At 7 years old, my little dude has decided to follow the Lord and what plan God has for him. Ask me how much I have cried years of joy! Do I believe Asbury inspired this? ABSOLUTELY!
The first revival in American history with drone footage:
Jordan, a "certified biblical counselor" and radio host, is not a fan: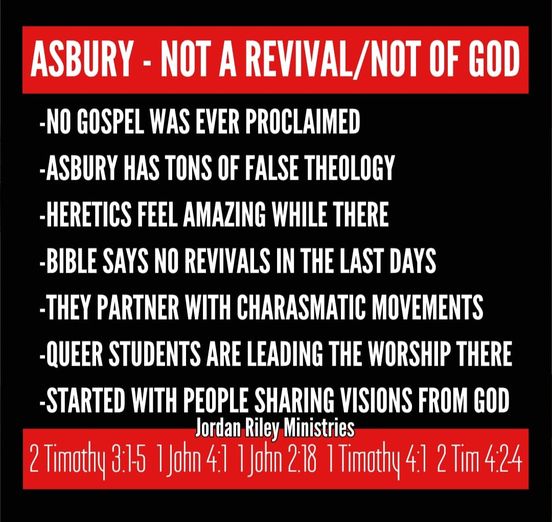 A testimony from Keith:
Asbury: If you know me, you know I love to worship. I love concerts. I love traveling. When I get opportunities to visit something like unique like this, I have to go. Was it, for me, this powerful, life-changing time with the Lord? Yes and no. I know it was for others, and I'm so thankful for that. I feel that for me, while I was there, God reminded me that I can connect with Him anywhere. The same Holy Spirit at Asbury is also at your home, church, car, work, and even walmart.
Saying that, I loved worshipping with everyone. I didn't try and fight my way inside the building, so I just gathered with a group of people outside. There were all types of people gathered together. All races, colors, denominations, and languages gathered together for almost 2 hours to sing praises to the Lord. I loved hearing the little Hispanic lady next to me singing in Spanish and the Aramaic man on my other side translating what was happening to the group watching on the other side of his phone.
We also spent some time reading scripture, and praying for others in the group that needed a extra touch from the Lord. Praying over strangers was a little intimidating at first, but was such a faith booster for me.
My time at Asbury definitely helped refresh my spirit, and I believe the Lord refueled and reminded me of His love for me. I loved seeing so many hungry people on fire for the Lord.
I pray this fire keeps spreading to other colleges, and this generation keeps seeing after Him.
University of Valley Forge, an Assembly of God school in the Philadelphia area:
Kristianna offers a testimony from the University of Valley Forge:
I am a student at the University of Valley Forge in Phoenixville, PA. I honestly didn't expect our 14 hour chapel to go viral on social media. Granted, information may not have been 100% accurate, but for the most part, it is accurate. More than likely, the people who heard it second hand assumed that since some professors cancelled classes, it was sanctioned by the school, which is not the case. Some cancelled, but classes continued on. With that in mind, I implore you to respect the privacy of those involved on our campus. It is so neat to see what the Holy Spirit is doing. And I was so excited to see this come to campus. Yet, it is a deeply personal experience for so many, including myself. So many have been touched, healed, and restored that it is going to be a testament of God's power and presence. Please, in what you say and interact, remember and respect how personal such a public event is for all of us. Some will choose to share their stories. Others will not. That is totally okay.
Not a fan of Asbury University and Seminary:
A testimony from Chance:
Asbury…
This passing weekend, I was privileged to witness a spark lead by MY generation. I witnessed repentance, worship, prayer, and a true, genuine, and innocent cry for the Lord. A generation with more estimated distractions than ever before seen in human history. A generation that has been pulled, picked, and tricked into various false forms of identity and social placement. This generation, over the last week, has been used by God to reach THOUSANDS in a short amount of time. My time in Asbury has been nothing short of an encouragement to my walk in the Lord and has excited me for the next step in God's plan.
What is happening may not be a revival but should not be discredited by any fellow Christian. Wether you are Baptist, Pentecostal, Catholic, Non Denominational, ETC. We were created to edify and praise the Lord . It's why we are here, it is why we were created. To be honest I think we have forgotten that. Being a denomination ISN'T our purpose. Pure religion is a result of being saved. Denomination is a man made elusion. That, I believe was the result of Christians NOT walking in the fruits of the spirit and hence allowed division to take root in the body of Christ. Over two hundred denominations of the same religion exist today. That, quite frankly, is embarrassing. As Christians, as a whole we have lost our witness. When did we get so focused on the genealogies and fables that Paul warned us to steer conversations away from. This weekend, I kneeled and prayed, stood and worshiped, and sought God with nearly ten thousand men, women, and children. I understand critical thought and questions on the legitimacy of the intentions. However, to discredit an act of God based on personal beliefs is the same old argumentative, judgmental, and toxic characteristics we see in modern religion.
Im asking ALL Christians to pray, get on their knees, put aside their selfish flesh, and ask God to work in this nation/generation. We need more Christians that are able to humble themselves and seek the Lord's face and turn from their wicked ways. Then, God can heal our land and save our people.
More pro-revival stuff from pro-Trump court evangelical Jim Garlow:
Chris has a good thought: "I am curious is there anyway to give back to the town of Wilmore? I mean they are being so gracious and understanding of what is going on. Just a thought." Some FB responses to Chris:
What an awesome idea! You hear stories of all the businesses and people that are giving food and water for free it would be great to even get a list of those businesses so that we could support them even from a far if possible. I would love to buy gift certificates to some of the places that donated free food and water just to help support those local businesses.
Donations to the university, seminary, local churches, and local businesses. The churches opened their doors and provided free shuttles. Donate or buy from any or all. Online giving is available for most or all. Come back another time and do the same. As a Wilmore resident, I loved the visitors and what God is doing but I know there was a high financial cost to our small town. Let me know if I need to elaborate, but I think a Google search will suffice.
Remember the Salvation Army as well . They were there tirelessly handing out hot beverages and snacks. They were also instrumental in distributing Chick-fil-A sandwiches for thousands. We have no idea if Chick-fil-A donated these or not , but wow ! That's a extremely generous blessing, and they deserve thanks.
I don't know who or what was passed out but I also thought about donating to the salvation army is great idea for the unfortunate people doesn't have much money could go get them something or donate to a homeless shelters that's also there if they have anything like that. That would be nice idea maybe coats for winter heaters . Or animal shelters.
Donating to our grocery store, IGA, would be the best way. That store does a lot for our community and the owner is the most generous man in town. If you cant donate, just buy your groceries there while you're here.
I have talked about the Asbury Revival in two previous posts. I found it to be genuine. The older people at the college sought to keep it a student/Holy Spirit movement, they served and lived out Acts 2:17- the old dreamed into the vision of the young. The Revival is not winding down at all, but the leadership of Asbury is rightly moving it to other places, "the end goal of revival is discipleship." Yesterday at New Hope we made room to pray at the end of each service and in our student venues. God was on the move. Next Sunday will be a morning of testimony, Word and worship. Lives are being changed, and I and many others will never be the same. For Wilmore, of course, that would come at an inconvenience. Not everyone was happy about the revival. some because their town was busy, and their street became a place for people to park. For 12 days, around 25,000 people came into a town of 6000 and sought "home." There were no fights, no violence, and no arrests. State, county and city police worked to serve and keep safety. No consumerism was allowed- no permits were given to food trucks, existing businesses sold food, and everything else was given away. Not everyone was happy about the revival. Some would complain, some would mock- but they are like the crowd at a dance who mocks the dance but inside long to belong and long to dance but do not know how to begin or have not danced in so long they have forgotten how to move to its rhythm. Of everyone in Wilmore, the person most impacted by the crowds would have been Leonard Fitch. He owns and works the local grocery store. His parking lot was so full no one seeking groceries could park. My brother Harold Rainwater who is the 46-year Mayor of Wilmore, called him to check on him. Harold and his wife have worked nonstop to keep things safe, caring for the city and the "sojourner" seeking a temporary home in Wilmore. Leonard acknowledged the struggle, and Harold asked if the city could help. Leonard said, "Harold, don't change anything; my store is not as important as this revival, this is what I have been praying for." Leviticus 19:33-34 tells us the way we treat the refugee, or the sojourner is seen by God; it's a little ominous, actually. "When a stranger sojourns with you in your land, you shall not do him wrong. You shall treat the stranger who sojourns with you as the native among you, and you shall love him as yourself, for you were strangers in the land of Egypt: I am the LORD your God." Leonard was my first boss, and I am grateful for that. The revival is moving to new places; it was already in Leonard. Not everything I learned from the revival I learned in Hughes; some of it I learned from Leonard.
What in Wilmore Kentucky helps with the homeless people and transient people passing through and etc? It would be nice to donate in areas that can help these people get back on their feet and to get a job and find a purpose in their lives! With the weather breaking now and getting warmer the transient people and homeless people will be moving on from some of the places that they stayed for the winter months! People traveling doesn't seem to think about having any types of bags of bottled water and snacks and etc to hand out to them! You never know as to who's life you are going to impact and or save from a small gesture of love and compassion! Just like Jesus would! PS. I have done a lot of volunteer work over the years with the homeless and I have been there myself at times! So hopefully many will understand my post! Everyone Be Blessed!
Fitches IGA has been owned by a Godly family for two generations. I grew up in Wilmore and even worked at Fitches when in High School and early college years. They have always struggled financially. Have had trouble updating their store. One reason is that they (Leonard) has always given to those in need. We will never know the groceries he has given to families in desperate times. Give a donation to the IGA for maintenance. Believe me it will be given back to the community. We need to keep a grocery in town.
Give to Asbury University. FInd the Designation drop down menu, select Revival Offering and trust the very wise and generous leadership to distribute the funds to individuals, townspeople and institutions. The cost of this unplanned, unbudgeted event has been staggering – a long row of porta-potties, digital road signage, overtime for police, sheriff and highway patrol, outdoor jumbotron and sound system installations, emergency calls for plumbers, overtime for cafeteria, maintenance, cleaning staff, garbage hauling. THANK YOU for even thinking of helping to defray all these costs.
I would do it directly. If a convenience store is giving water away, pay them for some cases, or 100 hot dogs, or whatever. There are so many ways to "bless those who serve".
I'm gonna echo what a lot of people are saying; Fitch's IGA has been blessing our community for decades and their owner, Leonard Fitch, is one of the most genuine and caring human beings you'll ever meet. If you're looking to give back to Wilmore, I'd encourage you to give something to Fitch's, because they never hesitate to give all they have to our small town.
More on the revival at Samford:
Jack Hibbs talks to MAGA pundit Tomi Lahren about the revival and then turns the conversation to Trump who was "attracted to honesty." He believes that young people are gravitating to his message.
Waylun does not think moving the revival from Asbury was a good idea:
Let me start by apologizing beforehand ,because I know I'm about to strike a nerve and I will be attacked, but that's ok.
Ending or shifting the revival to a different location I personally feel was not a very good move , because witnesses described seeing a cloud like form landing on top of Asbury university just before the revival broke out. And I believe that is why the presents of the holy spirit was so thick there and not anywhere else.
For those of you that like to say "God is everywhere" etc (yes) he is indeed everywhere ,but not his anointing. Not every place , building or an individual can be entrusted with the anointing, there is a reason God choose that specific place for impartation
You can't start a fire without a match, you need something to kindle the fire with. People were going to Asbury to seek spiritual impartation to carry it back home with, because that's the place God had chosen to anoint revivalists.
You cant start a revival without spiritual impartation either directly from God or from someone that has been anointed.
This idea of saying start your own revival whereever you are without the anointing is extremely backwards, (you can pray for a revival yes) that's more like saying one can self-deliver from demonic oppression? Thats not how it works, so It doesnt work, many have tried but failed because its not biblical, a house cannot sweep itself ,it needs someone to do it, however, you can avoid trash from getting in.
Even Jesus himself had to be Baptised in Oder to start his ministry, that's how the ball was passed on to him by John physically, (in person) even though he already had supernatural powers, God wanted to shows us the heavenly procedure, that the ball is passed on.
Incidentally ,I believe those that received the anointing at Asbury before it was shut ,they will be able to pass it on to others and let it spread.
One last thing, we need to put our money where our mouth is, because do we even realize how much time is left before hell break loose on this earth? The mark of the beast is upon us and we wont be able to do nothing without the microchip (revelation 13 from verse 14) , 2025 is just around the corner , Instead of letting this fire burn continuously (because it's very much needed right now) people are priorotising earthly things? America is burning, the country is going down (revelation 18), America is under attack, its not gonna get any better, (mathew 24:8) If God could feed thousands of Israelites manna in the desert, what could be impossible for him now that many are complaining about the capacity of this small town? God is the same yesterday, tomorrow and forever.
What's left is only to praise Jesus while we can because we are going to miss this wonderful opportunity very soon ,humans were created to worship God in the first place, the rest is noise
. Let's allow God to pour out his spirit on earth one last time before this nightmare befall us, because we are going to need this power very very soon.
My apologies yet again for this rant, Jesus loves you all.
A Texas A&M student: It's "the closest thing I've ever seen to ACTS."
Baylor:
Inside Higher Ed continues its coverage.
Bari Weiss is covering the revival on her podcast: