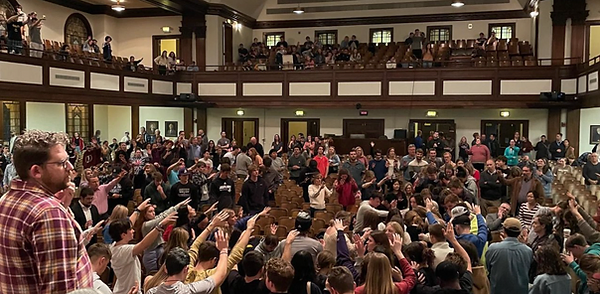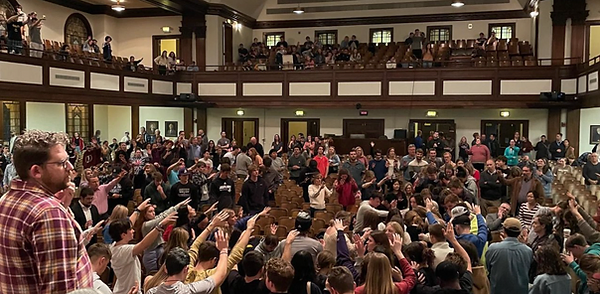 Read all of these posts , including the original post (covering Day 1 to Day 3 of the revival), here.
Asbury's director of strategic communication:
A reminder that Asbury University is an institution of higher education:
The president of Gordon Conwell Theological Seminary weighs in.
Two court evangelicals, Steven Strang of Charisma magazine and Jim Garlow, talk about the revival:
A testimony from a revival ministry:
ASBURY REVIVAL 2023. Why did I go? Why drive the distance, and wait 4+ cold, hungry, thirsty, unexpected hours, to likely never make it in the building? I didn't have a good answer. So I thought. It was simple. God called. Me and thousands upon thousands of others. People of all types, all ages, from all over. With a common purpose. Looking and longing for more than this world has to offer, and knowing Jesus is the key.
To a revival. But it's not a call to a place. It's a call every day to listen and lean in. To his voice, his love, his leading, his peace, his strength. And a pouring out to others. A call to wake up and to speak up. To bring revival into our lives, into our homes, and into a lost world.
I walked away changed. But just like I do each time I step into the acknowledgment of his ever presence. Don't get me wrong, it was different. Where two or more are gathered in his name the presence feels more powerful as the senses are stimulated and awareness is heightened.
From the strangers encountered that became quick friends. To the countless faithful volunteers offering free water, food, coffee, hot chocolate, and all sorts of snacks. The loud, bold, passionate, uncontainable outburst of those overwhelmed with an awakening and the experience. The singing, the praising, the hugs and high-fives. The endless people on foot for hours and hours, huddled together with anticipation to make it into Hughes auditorium. Not one of them knowing quite what to expect, or even caring for that matter how God might show up if they entered. After all His presence was beyond obvious all day long. But they wanted more. And more he always has.
And more we received. The Holy Spirit swept my breath away and welled up my eyes full of tears the immediate moment my feet crossed the threshold of Hughes auditorium. I was in awe…
There is no doubt that God is on the move. Always has been, always will be. And his people are taking notice. The generation of our future is coming together and taking great notice. I saw it. It's genuine, it's uplifting, and encouraging. It's the reminder many needed that he is indeed on the throne. That he indeed, has each of us in his mighty and loving hands. He is the one behind all of this. He is the one, and only, who fills all emptiness. And he is ready for his children, you and me, to run hard to him and catch and fill every single one.
A priest from the Dominican House of Prayer in Washington D.C.:
New Apostolic/Seven Mountain Dominionist/Christian nationalist prophet Dutch Sheets thinks this is the "Third Great Awakening."
I don't think this is true:
A testimony from Vickie:
I left the hospital where i work on Saturday and drove to Wilmore. I am still processing my experience and the things i witnessed and felt at Asbury. When i arrived the line to Hughes was down the street and wrapped around the block so i made my way across the lawn to the screens in front of Hughes Auditorium. As i stood there worshipping I felt the breath of God and the Holy Spirit moving through the wind. His presence filled the entire campus whether inside or outside. As i stood there worshipping and witnessing hundreds worship my eye's were drawn to the tree beside Hughes. The branches formed the shape of a heart. I felt complete peace in the Holy Spirit! I didnt make it any further! I stood in that spot for 3.5hrs. I didnt want to move! I didnt want to ever leave! I am so overwhelmed and humbled. I never thought that i would ever get to experience God in this way on earth
Praise the Father!!
Thank you Father for these students that opened their hearts to prayer and repentance and called upon your name! Father thank you for loving them and us so much that you wanted your presence to be felt so much that this awakening of our hearts and spirits and call to repentance would happen in multitudes. I pray that we as the body of Christ be compelled to share with our families, communities and across the world the fruit of the Spirit that we have experienced here. Father lead us in love to those around us. May we glorify your name Father! Your will be done. Amen.
Good point:
Tom Ascol and Graham Gunden of the conservative Southern Baptist "Founders Network call for discernment:
A testimony from Cody:
While I fly back to Louisiana still in Awe from a simple yes to this Very special and unique outpouring I wanted to share a little of my heart.
So many other testimonies and experiences I would love to share in this spill as well however I want to be moderate of your time.
First off I want highlight a young group from Florida that wasn't asked, paid, or even promoting themselves to worship. They just simply wanted to love and honor the Lord. I know some heard stories of long waits which may be true ( but is so worth every second ) however in the time of waiting this young group gave it their all because of HUNGER. All I kept thinking about is my tears of joy are touching soil that many others tears have falling on from 1700's
Once I entered in and seen the gates that read…HOLINESS UNTO THE LORD. It felt like I was either in a 1920 revival that I read about or Heaven. (The presence was there) .
So many different ethnicity's, races and religion all joined together for one purpose to worship the one true king on the throne. The same scenery we will see in heaven.
I noticed there wasn't any fire tunnels, there wasn't many that fell out in the spirit, there wasn't many miracles that I was able to witness. And Although that's the type of atmosphere I was hoping for and experienced elsewhere I actually encountered something so much more inviting ,authentic, humbling and powerful in ways that eyes have not seen and ears have not heard.
This revival is nothing short of Gods presence. He has found a company of laid down lovers to dwell and rest in a chapel. They didn't want the publicity, the hype or numbers , they wanted every tribe and tongue in complete surrender to Our Lord and Savior. So we worshiped, cried , danced , repented, cried again, laughed , and felt the deepest expressions of joy and the fruits of the Spirit.
All of that to say this. Lord forgive me for ever doubting this upcoming generation which I once called the "tide pod eating generation" After this weekend I have learned that this generation will be the
burning ones after your heart for the 3rd great awakening. My generation and generation before me missed the mark. Some say it was lack of politics, some say lack of Grace, and some say lack of the Fear of the Lord. However this generation is the answer. They found the glory. This very well could be the last hope of the world . This generation is the Ones of ……. HUNGER !
We want more . … The Spirit and the Bride say come Lord Jesus.
The Holy Ghost:
Steven Seamands, a retired professor of Christian doctrine at Asbury Theological Seminary:
Jeremy Story, a member of the Board of Directors of the National Day of Prayer:
I have been at Asbury University doing interviews and broadcasts daily. For almost 3 decades years I have helped catalyze united prayer and mission among college students. Over a year ago we felt called to host the Collegiate Day of Prayer broadcast from Asbury on Thursday of this week. God knew ahead of time His plans. No man/woman planned this.
Here are some observations as you process this historic event.
1. This is genuine. God is touching the lives of tons of students and others across the US.
2. It is Christ centered. All the talk and worship is centered on Jesus.
3. God is using the student and adult leadership at Asbury because they don't get in the way. They have sought to be in the background and remain humble to keep God as the main focus. Although tons of very well known leaders have visited during this time, the Asbury leadership has kept it led by students.
4. The first three days before people started showing up from across the world, God did a deep work of repentance in house among students at Asbury. Most of the local people have seen themselves since then as hosts to the world to share what God is doing with everyone else. They are humbly hosting and serving tens of thousands who have come from across the US to visit their little town.
5. There have been two lines for entry. One is a fast track line for younger people, 25 and under. The other is for everyone else. I have interviewed people in both lines. Yesterday in the youth line I didn't find anyone from Asbury (they are inside hosting). I found students from high schools and colleges across the United States. People have waited for 4 or more hours to get inside or into one of the extension venues around campus.
6. God desires to turn this renewed vision of Himself into practical faith steps that involve risk to bring His kingdom in word and deed to all aspects of our culture. This requires God centered courage (like David, Esther and Joseph) for followers of Christ. It would be a concerning thing if we, as the Church, just absorb this gift personally without taking real life actions as a result.
7. God is moving. Engage in faith with the world around you. God put you here for a reason. Any action you take will require risk or challenge your comfort if you are acting contrary to the general direction of the world. The notion that we can live Christ centered lives and be fully accepted by the world by just blending in isn't biblical.
8. God desires a complete restructuring of what it means to 'do church' and 'be church.' He is seeking a second reformation where the full meaning of the 'priesthood of every believer' is lived out. Every believer should be an active participant in our gatherings. Worship services should allow for everyone to actively participate rather than just a select few from the front. This means small is big. Think millions of groups of 10 to 20 rather than the center of our church expressions being auditoriums of 'audiences.'
If MacArthur and company came to Asbury:
A megachurch pastor who apparently preaches while robed in an American flag invites Asbury worshippers to join his "mega-revival" in Culpepper, Virginia:
𝑾𝑬 𝑨𝑹𝑬 𝑶𝑷𝑬𝑵 𝑭𝑶𝑹 𝑴𝑬𝑮𝑨 𝑹𝑬𝑽𝑰𝑽𝑨𝑳! ! #AsburyRevival seekers are welcome on #MiracleMountain. We are in full blown #REVIVAL with deliverance, miracles, wonders and signs manifesting daily! #AsburyRevival2023 is 𝑵𝑶𝑻 over, it has 𝒔𝒉𝒊𝒇𝒕𝒆𝒅 and we are 𝒘𝒊𝒍𝒍𝒊𝒏𝒈 and 𝒓𝒆𝒂𝒅𝒚 to minister to those who are 𝑯𝑼𝑵𝑮𝑹𝒀 for God. We have the Place, the Presence of God and the Power Of God to minister to you! Come and be blessed!
𝑹𝑬𝑽𝑰𝑽𝑨𝑳 𝑹𝑰𝑽𝑬𝑹
𝑴𝑰𝑹𝑨𝑪𝑳𝑬 𝑴𝑶𝑼𝑵𝑻𝑨𝑰𝑵
16473 𝑪𝒓𝒐𝒘𝒆𝒍𝒍 𝑳𝒏.
𝑪𝒖𝒍𝒑𝒆𝒑𝒑𝒆𝒓 𝑽𝑨.
22701.
And this:
At Revival River, I have 70 acres waiting for #MEGAREVIVAL. On just one piece of our ground on #MiracleMountain, I can get 44 444 standing under a big top shelter. 22 222 seated in a #MEGAREVIVAL! We have the parking and grounds to receive those hungry for #MEGAREVIVAL! I say YES LORD! Send the #MEGA_MULTITUDES, we will NOT shut down a mighty move of God, we will make room for #MEGAMORE! 2023 is #MEGAREVIVAL and we are allready hosting The Father Of Glory, The King Of Glory and The Spirit Of Glory. We welcome the Angel of The LORD and His Power along with the angels of miracles, wonders, signs, healing and deliverance to traffic from heaven to earth on #MiracleMountain with Supernatural Impartation for life and ministry. We welcome the Living Creatures, Flames Of Fire and Ministering Spirits from Almighty God to stand on #MiracleMountain and manifest #MEGAREVIVAL. We welcome the Horses and Chariots Of Fire, The Angel Of His Presence and The Seven Spirits Of God to take up residence on #MiracleMountain and grant us #MEGAREVIVAL that remains. Oh, LORD, do it again! We give you all we have so you can pour out your glory upon us! Jesus Christ Of Nazareth, stretch forth your hand over #MiracleMountain. Manifest #MEGAREVIVAL!
The end times:
The "God of toxic positivity?":