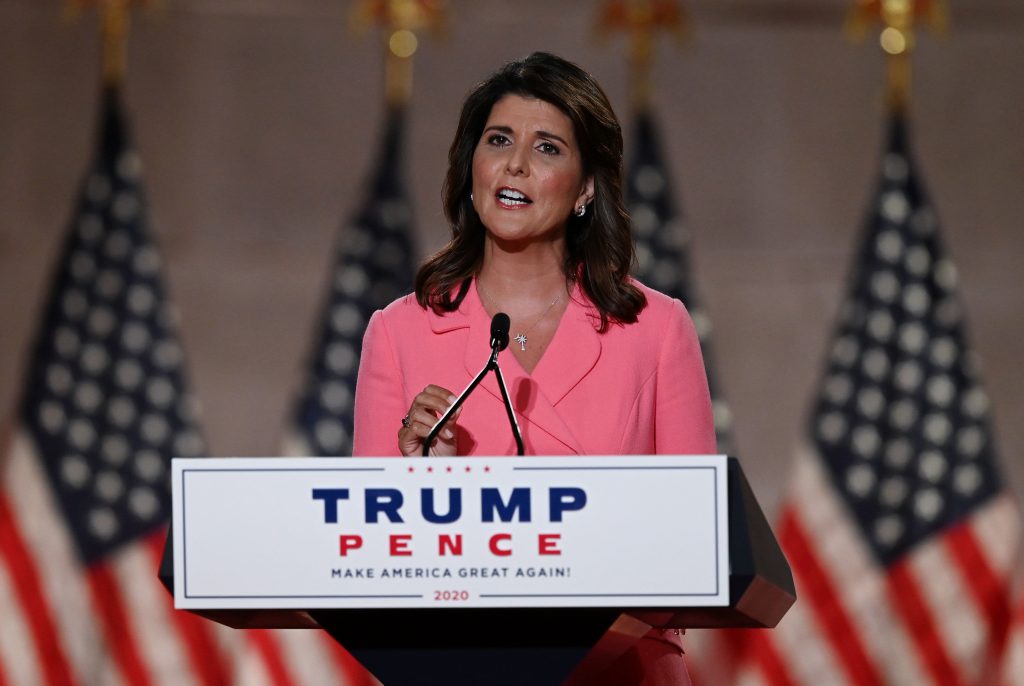 If she is not, she certainly wants to appeal to conservatives Christians. We've already discussed her decision to have John Hagee pray at her announcement rally.
And we included these videos in today's evangelical roundup. They are part of an interview with David Brody of the Christian Broadcasting Network:
Here is Khuati Y. Joshi at Religion News Service:
Religion, and her conversion to Christianity, has made Haley suspect in the eyes of both Christians and non-Christians. The first time she ran for the South Carolina Legislature, she identified both with her parents' Sikh religion and with the Methodist faith of her husband. As she grew in political stature, however, her campaign faced more and more questions that sounded something like this: "OK, she's talking about God, but which God?"
The language on her campaign website was revised, with a reference to "almighty God" changed to make specific reference to Jesus Christ. At one point, she added a section to her website titled "Is Nikki a Christian?" The answer, of course, was yes. For many South Carolina voters who needed reassurance that their candidate would represent them, that meant praying to and believing in a Christian God.
Once she was in the Legislature, her conservative colleagues' skepticism could be cruel. According to a 2021 Politico Magazine profile, "Some of her Republican colleagues would try to provoke her with jokes about alien gods; others would force uncomfortable discussions about religion." Jake Knotts, a veteran GOP lawmaker, said: "Everybody knew she wasn't a real Christian. Everyone knew she converted for political purposes. Her whole career has been stair-climbing, and becoming a Methodist was just one of those stairs."
Haley has also faced questions and criticism about her conversion to Christianity from South Asian Americans and other racial minority groups. She is seen by some as a racial and religious "sell-out."
In a political culture where "flip-flopping" is a derisive term, religious conversion can look like the ultimate flip-flop: a disloyalty not just to a political position or party but to God.
These criticisms ignore the complexity of being a second-generation Indian American, or of being a racial and religious minority in the United States.
By her own account, Haley continues to visit her gurdwara with family from time to time, and she has resisted the opportunity to criticize her parents' faith when interviewed about her own. She and her husband gave their children Punjabi first names.
Haley is not the first person to fall in love with someone of another faith and convert. There are couples across the United States and the world who have made that decision, whether so they could marry in a particular church, commit to raising their children in a particular faith or simply please pious relatives.
Haley married a white Christian man and became a Methodist. I married a white Christian man and remained a Hindu. So what?
We can never know what's in someone's heart. So I'm not interested in saying her conversion was sincere or insincere. Haley's life shows us what religion is for many people in the U.S.: beautiful, rich, textured — and complicated.
However, while we can't judge what is in people's hearts, we must take note of the choices they make. Haley's decision to invite televangelist John Hagee — who has demonized Islam and described Adolf Hitler alternately as an antisemitic Catholic and a "genocidal half-breed Jew" — to deliver the invocation at her campaign launch is worrisome.
It shows that, if elected, she will assert her Christianity through policy. Whether that's to prove her Christian bona fides or because she genuinely believes that the law should be used to enforce the dominant religion's purported code of conduct is of no moment to those who will suffer as a result.
Read the rest here.
Haley's faith, of course, should be irrelevant. But she is running for the nomination of a party dominated by the Christian Right. If she gets traction during the primary season don't be surprised if her GOP brings up her Sikh background. Remember in 2015-2016 when Trump criticized Ben Carson's 7th Day Adventism? Remember what the GOP and the Christian Right did to Barack Obama?