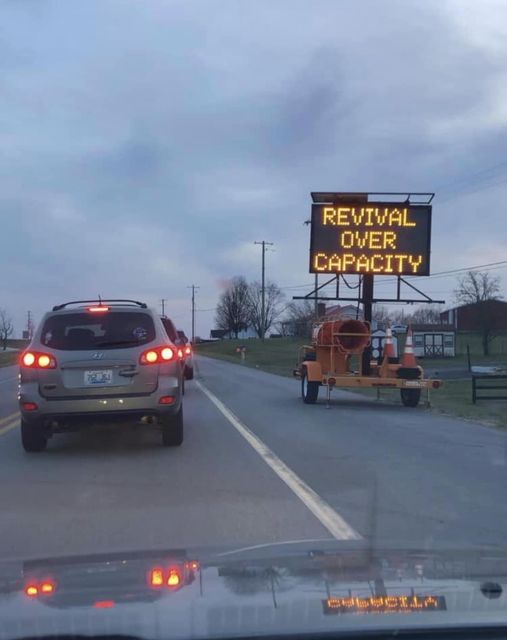 Read all of these posts , including the original post (covering Day 1 to Day 3 of the revival), here.
Asbury University president Kevin Brown announces the new schedule change:
Asbury University's director of communication:
The local NBC affiliate in Lexington, Kentucky published a piece this morning on the "end" of the Asbury Revival. (It is not ending, it is just moving off campus). Here are some of the FB responses to that piece:
God Will Frown upon those who reject His Spirit…God will find Somewhere Else to Move.
First thing I thought was how can anyone attempt to stop what God has started for any reason.
Yeah..they are telling the Public to Go Away because it is Affecting the Academics. Last Public Service is Tonight at the University and Wednesday at the College. Then it is Over 
I Pray it Continues. Men Can't Stop what God Started.
They aren't rejecting God. I trust that they have prayerfully considered all angles of this. Revival and renewal are not just some emotional experience at a specific location. It is something that takes place in the hearts and minds of those who follow Jesus. Even with the upper room in Acts 2, there came a point where the Apostles had to go out. Once you have spectators who are coming in to town and giving themselves tours of the student dorms, it has to be moved off campus. What Dr Brown humbly said is it's time for the services to move into the local churches and more importantly, in our hearts.
We opened our home to some students from out of state, and they were so grateful for the hospitality shown to them by Asbury and Wilmore. I'm proud of our little town!
The devil is hard at work! Everyone keep your faith and praise god wherever you are! This just goes to show god shows up and the devil is right there behind trying to stop gods God's people!
With so few roadways into and out of Wilmore, those of us who know the terrain of the area have been wondering how common food supplies and household needs have been able to make their way into your town. Most outsiders are not aware of the fact that the steep bluffs of the river basin block off access to much of the geographical area near Wilmore.
It seems that Southland Christian would be an obvious solution to the overflow. They should step up and continue it. Plenty of parking, large auditorium, etc. I wonder if they have discussed this
I just don't want man to stop what God has started. I pray that the people continue to flood to Asbury or wherever God decides to let His glory rest & that this does not end until GOD says.
The devil is hard at work trying to stop God's movement!
Woe unto those college officials and town residents who are putting a stop to this revival and placing limits and restrictions on it. You don't quench the Spirit of God.
No one is quenching the spirit of your god, BUT other people's safety is at risk. First responders are struggling to get through crowds, LE is vastly outnumbered. It's not that hard to just go to a different location. Your God would command you to not put your wants and desires over the health and safety of others. You are supposed to serve the community not dominate it.
I know Jesus. I doubt He instructed total strangers to enter the student dorms uninvited. There have been many who visited Wilmore to worship, pray and ask for prayer which is awesome and that is something that they should be able to continue doing in their local churches. Dr Brown humbly asked that the local churches open their doors and their hearts for this to continue. There has been nothing but humility, repentance and worship by the students, faculty and administration. The Holy Spirit doesn't reside in a building on a college campus. He resides in our hearts. True revival is not an event in a specific location. It's something people see in our daily lives.
If it's a true move of God it's not scheduled period.
Very sad that people are trying to stop the move of God lord move in this.
Hmmm, no barking loud speakers? No loud music all day?
All these out of towners are probably somewhat overwhelming to a "tiny town" but you cannot deny the economic boost to the community these people have provided.
Imagine if a mosque had something like this.
Let God determine when it ends. They don't have to be in that building. God can work with the people at any place. Keep on keeping on for God.
Yes, I realize how small Wilmore is. Yes, I realize some people may be inconvenienced by the crowds. BUT God chose Wilmore for revival, for the outpouring of His Spirit so who is man to shut it down or move it? Just because the calendar or the time is outside the norm doesn't mean you just shut and lock the doors. Revival in any place is a blessing, a life altering event.
So the powers that be are going to cancel the revival because of the inconveniences it presents? That's rich.
It doesn't seem right to end this someone said like Woodstock this is a Jesus stock
Imagine facing God after complaining that he inconvenienced your grocery shopping and it was time for him to leave smh 
It's not a hardship to shop in Nicholasville. I'm pretty sure everyone who lives in Wilmore, including me, shops at Walmart or Kroger and neither of those stores are in Wilmore.
These people only care about themselves and the show they can put on.
Bring out the snakes!
Look at all the money it's bring to these town. With all little towns needing something like these. Yes it's a pain to move an get places but it does help small businesses. An they need it.
This guy is upset about the end of the Asbury Revival and Joe Biden's economy. Watch:
A visitor reflects on his experience, via FB:
So, we finally made our way to Asbury last night. There are a lot of takeaways and I think I'll start with the superficial and grow from there.
SUPERFICIAL:
. It's a beautiful little campus and it was very welcoming. There we're so many people that the state police had to redirect traffic to a nearby neighborhood for additional parking. They brought in lots of portajohns and even some of those big portable toilet trailers. The line to get into the main chapel was too long for me to estimate, but they had a live broadcast to a small megatron in the lawn and live broadcasts in two additional chapels across the street. We joined the worship in loft of the Estes Chapel. (Thanks to Mandy's encouragement
) During our time there we got to hear from a couple staff members about what's happening, how it started and what's next. The first guy asked how many people were from out of state and I think about 75% of the people in our chapel raised their hands. Then he asked for all those under 25 to stand up and it was almost 50%! Amazing that God is touching this young generation who needs it so much!
IN THE BEGINNING:
: What started this? On Wednesday, February 8, a group of students decided to stay in the chapel and worship after the 10 AM prayer service. A young man in their group opened his heart with a confession and then Our Amazing God Opened Heaven. It started with worship and repentance.
LOVING:
: There we're people from all walks of life there. Nothing that made us different mattered because of the ONE we have in common. Regardless of race, gender, age, nationality, ability, political belief, religious denomination, social standing or favorite sin, we all worshiped in love together. They served free hotdogs, chips and water to everyone without even a place to give a donation. They literally wanted NOTHING in return. They asked for no live streaming to prevent this from being just a social experiment. They wanted this to only be a place of worship. They even turned away the news media. They literally want NO PUBLICLY for this. They only want to allow people to draw closer to God. Because they are a university, they are giving special treatment to people 25 and under. I can appreciate that.
SPIRITUAL:
: I felt my own conviction and how unworthy I was to be in His presence. God has made that a holy ground. I spent more time talking to God than I did singing. It felt like there was nothing more than a curtain between us. I think if I were living more like we are called to do my curtain would have been thinner, but one thing is for sure…You leave there differently than you came.
"Holy, Holy, Holy":
Warnings about the revival from the charismatic prophet who prophesied a Trump victory in 2020.
This Southern Baptist is glad Asbury told Tucker Carlson not to come to Wilmore:
He experienced the 1970 Asbury revival as a student at Asbury Theological Seminary. Now he is back. A moving interview:
A Christian radio host from St. Paul, Minnesota via FB:
Hi. It's Lisa Barry. Let's talk about Asbury. Is it revival? Some say it's hype, others say it's legit, and a few say singing without serving the poor, is not authentic. I'd like to throw my thoughts into this pool of public opinion.
First of all I say, "Yay!" Any time people are moved to self-reflection, humility, singing worship songs to God, it's amazing! What's happening at Asbury feels tremendous for everyone there! This experience is making them experience God like an earthquake of peace. It's something intangible, soulful and so powerful. It feels awesome! And some will want to stay in that space forever. They want to keep that feeling going.
The disciples had a similar experience when Jesus took Peter James and John up the mountain. And right there, in broad daylight, Jesus allowed them to experience something amazing. His presence was illuminated, and incredibly beautiful. In fact, even Moses and Elijah showed up. Holy butterflies Batman! The disciples must have almost fainted at the site. It was something they'd never experienced before. I imagine such a strong pull to look away from the bright light but and even stronger pull to stay, eyes glued to this magnificent whatever!
Peter, James and John wasted no time in trying to figure out how to make this a spiritual attraction. Surely, if people saw this, they'd be convinced that Jesus is the real deal! Tours! Yes, we'll have throngs of people coming up the mountain! Someone needs to put a schedule together of appearances! Wow!
But Jesus said the worst thing they could have imagined. He said, "Don't say anything to anyone about this!" At least until after he rose from the dead. Can you imagine how their faces fell limp at that command? But, but, Jesus! This would convince even the biggest skeptics! It's a slam-dunk Jesus!!
No. Not a word. Not yet.
Let's be honest. Feeling close to God is a RUSH! There's nothing quite like it! When you experience it, you want to bottle it, savor it, live in it forever! The disciples did and so do the people at Asbury.
But the RUSH is only the beginning. And rushes aren't sustainable. A rush is like the the beginning of a match, dragged across the black strip. It erupts into a hissing fireball! That's what revival is like. It's intense, energizing, spiritual and other-worldly! But the fireball is not sustainable. Eventually it mellows to a quiet flame. Only THEN, is it ready to do the job it was created to do…light something else! Then it dies out.
What Asbury is experiencing is the awe and wonder of the striking of the match. It feels great. It's intense! It's good and it's meant to be experienced and shared. Once the flame is caught, each one should carry their light into the darkness. That's what revival is intended to do. It's a match and each one is responsible for what they do with their flame.
Do you want to go there and experience it? Great! Have at it! Catch the fire. You'll have even more fun carrying that flame into the darkness. In fact we all are supposed to do that, revival or not. The revival part just makes it a little easier and it's fun, and it's powerful.
Just be sure to not keep it to yourself. You are the light of the world. Go light something.
Asbury Theological Seminary professor Craig Keener:
Keener answers the critics:
Samuel Rodriguez: "The time has come":
Young people waiting in line to get in:
Mike compares Asbury to Woodstock:
I'm old enough to remember Woodstock, the ultimate expression of the turbulent 60s. I was a grad student at Yale, struggling through a crash summer course in French. Attending a rock concert was the furthest thing from my clogged mind. However, some of my classmates were there, and they came back with glowing reports of the wild craziness of Woodstock, the shucking of all restraint and inhibition. It represented to them the ultimate freedom: the freedom to take what you want—sex, drugs, or whatever–with no shame or regret. It was the ultimate rebellion, and they reveled in it.
Tonight, I joined a different kind of concert: the revival at Asbury University, two blocks from my home in Wilmore, Kentucky. My quiet street was lined with parked cars on both sides as far as I could see, cars from Nebraska and Pennsylvania and Oklahoma. Their occupants had driven from those distant places to experience what's happening on the Asbury campus. We've had visitors staying in our home from Kansas, Ohio, and Indiana who didn't want to miss what they felt would be an historic event.
I walked up past the sports fields among joyful pilgrims, some of whom were pushing strollers or leading toddlers by the hand. Groups of students wearing their schools' sweatshirts sang as they walked, even before they could hear what the crowd on the semicircle was singing. As we walked along, I asked them where they'd come from and what they expected to see. One young woman said, "We just want a touch from God."
Yes, there were some similarities to Woodstock: the euphoria of a spontaneous crowd event, the camaraderie of fellow gatherers, and impromptu chorus of voices singing familiar songs. Long lines of people waiting to get close to the "platform" where the main event was taking place, in this case Hughes Auditorium. But there were stark contrasts: hands raised in praise to God instead of fists clenched in protest. Worship songs instead of strident and angry chants. Scripture readings instead of manifestos. Most refreshing was the focus on concern for the needs of others instead of crass self-indulgence.
I took my place among the thousands gathered on Asbury's front campus, happy to be a participant in what I believe to the front wave of a spiritual awakening. Woodstock embodied a disruptive rebellion against the complacent comfort of post-war American culture. Perhaps the Asbury Revival will signify the beginning of a deliverance from the emptiness of a generation who has come to believe they are smarter than God. May it be so.'
Mike Cosper, the host and producer of the Christianity Today podcast on Mars Hill and Mark Driscoll, took a trip to Wilmore:
The revival makes it to Inside Higher Ed:
Jennifer's experience:
Asbury personal experience. We stood in line for 7 hours in the cold. My back was in severe pain and I was becoming miserable toward the end. I wanted to get out of line and go to a different sanctuary, but Jody wouldn't let me quit. That reminded me of our walk with Jesus. Sometimes we feel we can not go another step and we want to give up…. We NEED other believers to encourage us when we get weary… we also need to be encouragers to other believers. When we got into the main sanctuary I was in awe of the youth. They are on fire and they are overflowing with joy. They are praising the lord in truth and in spirit. It's not for show… it's real. I saw an army of sold out
believers being raised up for the last days (my impression). I obviously don't know what God's plans are. People were dancing and throwing their hands up like you would see at a concert…. Hallelujah for that! It's awesome to see people excited for God and not a celebrity or a sporting event.
UNITY. the unity was incredible…. The unity was beautiful. Everyone was kind. We saw a need and we met it. I gave a bald guy a hat… a lady gave me a blanket. Many people fed us for free. This was common among everyone there. Selflessness… it was contagious.
Personally I was disappointed at first because I didn't get this overwhelming feeling I thought I would get from the Holy Spirit. Then the spirit spoke to me and told me that praise was for him… not so I would get a fuzzy feeling. (That was a revelation for me, and I asked forgiveness for being self seeking in my worship) God gave me several other revelations while I was there. One was my marriage and my children, and my loved ones in general. I looked down at my husband that drove me there and stayed in line with me for 7 hours, pushed me to not give up, and never complained. I wanted to go and he was willing to go along with me. I take him for granted far too often, and god let me know. I also felt the need to repent for being selfish in my relationships and taking my loved ones for granted.
In closing I would say this… am I glad I went, most definitely. It was a blessing in many ways. I also know that god is not limited to a room or a place. God is where we seek him. Seek and you shall find… knock and the door shall be opened.
One more experience I'd like to share from Asbury. When we arrived I was so excited to be there. It was still Sunny out so it wasn't cold yet…it was comfortable. We couldn't see how long the line was to the sanctuary because we were in line around the street. It was still Sunny out so it wasn't cold yet…it was comfortable. We couldn't see how long the line was to the sanctuary because we were in line around the street. Then it got dark…. We were no longer comfortable… we were freezing. We started to become restless and fatigued. Every once in a while the line would take a big movement forward and we'd feel Relief that we were getting closer. we'd sit in the same spot for what seemed like 30 minutes to an hour. We were starting to physically hurt. (Standing and not moving gets painful after a while) Then we turned a corner and saw heat lamps! They were stationed about every 20 Feet. You'd get a little time of warmth then back to the cold… but we kept our eyes on those heat lamps. The heat lamps helped keep our spirits up. Then we were in the complete cold again. No heat lamps… bitter wet cold. This is when I started talking myself out of line. Defeat always starts in the mind. I told Jody I was going to the sanctuary across the street for a bit and I did. (I knew there was no way he was making it in anytime soon) I sat in the sanctuary for a bit but I felt guilty that he was holding the line. I text him to just come where I was and get out of line. He firmly text back "I'm not getting out of this line" so I decided to get back in line with him. I was hunched over in pain… my whole body was shaking from the cold. I was VERY UNCOMFORTABLE.
Here's the part that made me want to share this message. A lady walked by with tears in her eyes and said to a group of us "don't give up… it's worth it." As soon as she said that a speaker inside the sanctuary encouraged the people inside to leave if they felt they had gotten what they came for. He said the people outside had been waiting for up to 7-8 hours. I saw a new set of doors open and people come flooding out. we starting gaining momentum forward. Finally we were ushered in to the sanctuary where we were met with a room full of the spirit… people full of the spirit… a room of freedom and love. Waiting in line at asbury was a complete sermon spoken to me. The beginning of the line represented when we first get saved. It's so exciting…The middle of the line represented the journey… the heat lamps represented the "god moments". The cold represented the dark moments. The sanctuary represented heaven. "Don't give up…. It's worth it"
20,000 last night:
A report concerning Western Michigan:
This church in downtown Kalamazoo (Kzoo), MI sent a group of students to Asbury. On Thursday, they returned to Kzoo and have been in the Prayer Room since Thursday. Today, they led the service. The adults stood back, ensuring it was carefully done. But it was hands off and allow them to minister.
I get it now, why Asbury is focusing on the 18-25 year olds and high schoolers. They are the next chosen generation. And while our existing churches are dying out, the next generation will be changing what we think of as normal church services.
But as they danced in joy and worshipped God, it was apparent that God loved this and inhabits their praise. In between songs various youth got up and shared scripture and what God is laying on their hearts.
And on my way out, I was told it has reached Cornerstone, and Grand Rapids First, and Spring Arbor.
The preacher whose sermon started the Asbury Revival "totally whiffed":
Unverified:
Southwestern Baptist Theological Seminary in Fort Worth, TX:
Report passed along by Steve Deace, a popular Trump-supporting Blaze TV (Glenn Beck) talk show host and 2020 election denier:
This is a first-hand testimony from my good friend Tony Liston who went for himself to see what is taking place at Asbury University in Wilmore, KY. This is shared with his permission. Here is his statement:
Travis and I drove down to Asbury, 507 miles one way. We left around 1 PM Friday, got in there around 10-ish PM and headed back home round midnight, arriving back to my house around 6:30 AM. The line on campus to get into the main building was thousands of feet long (at 10PM!), and five or six people wide, and people were waiting patiently, listening to the public address speakers placed around the grounds, and watching on a big projector screen between a couple buildings. The main chapel holds 1700, and they were intentionally emptying it every couple of hours so new people could get in. It was about 30-degrees (so just comfortable for us, but pretty cold for the locals). There was most definitely a spirit of unity and wonder. While this thing was clearly organized, it was not orchestrated. It was very organic, and only what organization was necessary for safety was really going on.
Everyone was well-mannered, and there was a strong police presence that was clearly focused on being helpful rather than on keeping the peace. There were people holding hands and praying for each other. There were dozens of groups scattered around outside in prayer. Some standing. Some on their knees. Some prostrate on the ground. None of it disruptive or distracting. The campus atmosphere was one of quiet, joyful anticipation.
We went to McKenna Chapel, which was the smallest of the venues open, and the only one without a long line. There were several hundred people there in that chapel, in the hallways, and in the common spaces. They were piping in the video and audio from the main chapel where the services were taking place. We observed people fully engaged in singing and praying to the Lord as a congregation. People were praying for others. Tears were flowing. The steps at the front of the chapel were filled with people on their knees quietly calling out to God. People were confessing their sins to each other. Asking people nearby to pray for them – and then allowing them to do so. People were ending prayers with smiles and soft laughter and meaningful hugs.
There were no loud, attention-seeking people. There was no hint of that here. There was simply the soft and humble confession of sin and the repentance of that sin and calling out to God to know Him more deeply. Humility was the theme. Holiness was the focus. They were asking God to forgive their old denomination for straying from a commitment to holiness, and they were confessing their own personal part in the wandering away. They were asking for God to reinvigorate their commitment to truth and a way of life that reflected biblical principles.
I love seeing this new generation of believers doing something that us older believers have forgotten. They still remembered the joy of finding grace. In this potential skeptic's mind, there is no question this thing is the real deal, and their prayers should remind us to seek revival ourselves by returning to our first love as well. I cried softly as I watched their desperation for God, and I became aware that my own relationship with God has somehow become more of an employer/employee relationship than a love relation. Will this event become a national thing – another Great Awakening? I don't know. But I know it awakened me, and what I do with it will determine where it goes from here in my sphere of influence.
Could what is happening in Asbury Park, New Jersey be taking place because of the Asbury-Wilmore revival? Just a thought: