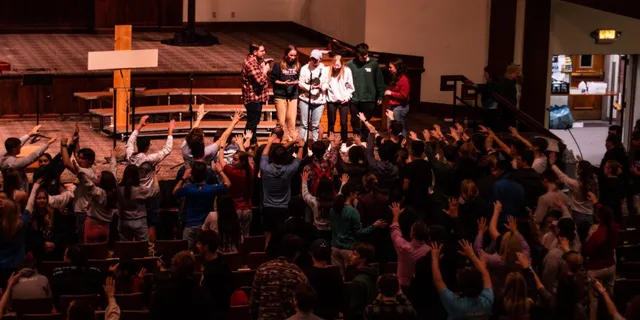 Read all of these posts , including the original post (covering Day 1 to Day 3 of the revival), here.
Asbury President Kevin Brown. Live streaming will begin. He also addresses claims that Asbury is trying to end the revival.
Here is the Live Stream. And here.
Anne Graham Lotz weighs-in.
Jack Graham, Trump court evangelical and pastor of Prestonwood Baptist Church:
Thomas Kidd provides some historical context at The Gospel Coalition.
Shane Claiborne and Tony Campolo are taking heat from this organization.
Here are some very interesting comments from about Asbury University's decision to move the revival off campus. They are made in response to a local news story about the revival. Some Christians are upset they are moving off campus. Locals are upset about the traffic in Wilmore. Via FB:
I pray churches and generations Gen X and Millennials take over and carry this out in churches all over! I was saddened to hear about it being over there, but Gods still working in our hearts if we allow it.. he will spread it!
We're college students and we have to live and function here. It's been overwhelming for all of us here. Just because evening services stop doesn't mean the spirit isn't still moving. God exists outside of Wilmore as well. Anyone can worship where they are at. It doesn't have to be here.
Please let this run as long as it will. Do Not stop it.
IGA is struggling really bad, and for the past week… everyone at the revival has been taking all his parking places.
A student: This isn't about making money for the small businesses here. Those who keep saying "Shop local" make it sound like this is some tourist attraction… which many have certainly been behaving like.
And why is there a cut off day ? If he is doing this let it keep going!!!
So now the university wants to put God on a time limit. So sad let God continue to guide you folks. Let his POWER REIGN!!!
They aren't restricting God. God is much bigger than what has happened the past couple weeks. They are giving Wilmore, a very small town with very good people who have been very patient, their town back and they're giving the students, who are Christians and who have been amazing in leading, their campus back. We don't have to make a pilgrimage to Wilmore to love Jesus or live for Him. He goes with us everywhere if we allow Him to.
They're not putting Him on a time limit. Awakening/revival will continue, just not necessarily on Asbury's campus.
An Asbury Seminary student: When you say this, you sound really entitled to our home, campuses, time, and resources.
This is not an "occupy" type of movement. This is an awakening that needs to be shared with the world. Asbury recognizes that God is not confined to a campus or a small town. If they continue to host this spiritual movement indefinitely, it will become just a prolonged worship service for those who are already Christians. Jesus told us to go and make disciples, not to just stay put with those who are like us.
It's one thing if they are coming and not destroying our community and disturbing the people who live here. This has caused it extremely difficult for the people who are living here in wilmore our town is to small for this event and we are people who believe in God but we also shouldn't be putting our businesses in jeopardy because whats going to happen when our businesses have to close thier doors and all these people leave our town.
You live in a very small town that centers around a Christian college not to mention it's not very Christian for you to tell other Christians they aren't allowed to worship in your town.
Then your town is very small and all you "Christians" come from all over you disrupt the community. You block streets, driveways, parking lots etc! We sit in traffic for long periods of time just trying to get home! This has gotten way out of hand. Please just go home already so we can get back to our normal lives!
No one is saying that your not allowed to worship but when it comes to coming into the town and disturbing the people that live here that is a big deal and have you seen where people are parking they are destroying the land that once was extremely beautiful that's not ok are those people going to pay for that no. We the community are going to have to go behind everyone else and pick up the pieces when all these tourists decide to leave and go back to thier normal life's. Trust me I'm not the only one that lives in this town that is unhappy with this situation how would you all feel if we were to go to your hometowns and destroy it or disturb it.
Hopefully the students and faculty can keep it going. Response: OMG. You're the reason this country has to put directions on shampoo. You just don't get it do you. I pity you!
Why stop something God is doing in the first place??
I would be concerned that EMS couldn't navigate through the traffic if there were a medical emergency unrelated to the Asbury revival.
Listen I've Got A Disability Myself But That Didn't Stop Me From Attending The Asbury Revival, The Only Thing That You've Got To Fear Is Fear It's Self And That Fear Comes From The Enemy Which Is The Devil Himself, Do You All Not Understand That Out Off All The People That Attend The Revival That God Already Had EMT'S And Doctor's There , But I Will Definitely Tell You This On The Final Judgment Day There Will Be Know Excuses Before Almighty God Because God Plainly Told Us One's That Believes In His Son Jesus Christ Will Have Heard His Message!!!!
I pray we have this in Florence South Carolina soon Keep it up Kentucky don't let the word of our God be shut down our world is so corrupted we need this everywhere in the world.
These people complaining better watch what they say. This is worshipping God. Never ever try too stop God and his people.
So much for separation of church and state. Response: So taking the time and resources to stand and direct traffic for a tax exempt business is redundant. Asbury should be held accountable for that dime.
Even the mega-southland church employs their own safety "officers".
Can't believe they are shutting it down. Seems as though they thinking material things are more important than worshipping God!
Yeah the heck with all of the people in Wilmore and Jessamine county that have to travel the roads and make it to the store and to work.
You can worship a rock for all I care. Just don't throw it at anyone. GET OUT!
It is causing public safety issues and preventing residents of the town from getting to work, doctors appointments, groceries etc. there has to be consideration for all residents and not just university or seminary affiliated community members. There are plenty of non Religious members of the community here in Wilmore who do not care about this revival and should not have to deal with thousands of people invading their space and causing major chaos and disruption.
This makes my heart so happy. Response: You are happy they are shutting down a move of God ? Lord have mercy on your soul .
The devil is trying to close down gods house.
Wilmore resident here… we can't even park to get into the dollar store or IGA. It usually takes me less than 5 minutes to get from the "Y" on 68 to my house. The last couple days it's taken close to 15 due to the traffic jam. The Bible says to spread the word. Nows the perfect time to go and spread it 
To be a bunch of Christians, there's an awful lot of judging to the non-religious folk in this comment section. 
I just think it's a bunch of silliness to be honest. The whole execution of the revival was and is poorly done. People can have their beliefs and opinions, I'm not putting that down at all, but there comes a point when it begins to interfere and interrupt others lives. That's just my two cents though.
Why is this the last night? God is not done! They are stopping what God is not done with!
How can you tell someone thats seeking Jesus sorry but you have to have a pass to get in I enjoyed going I went 3 times it was real now its real sad it got ended like this
All of these train derailments and disasters started happening after this revival started. Idk what y'all are doing but you should probably stop.
Didn't Jesus feed the 5,000 with 2 fish and 5 loaves? Twice even! To God be the glory! He started this let Him decide when it's finished!
All I've seen are a bunch of preachers and church member flocking there to have their names associated with it in some manner. That's not what Jesus would do. He didn't act to be recognized and it's sad that's what it all turned into.
"And when you pray, do not be like the hypocrites, for they love to pray standing in the synagogues and on the street corners to be seen by others. Truly I tell you, they have received their reward in full. 6 But when you pray, go into your room, close the door and pray to your Father, who is unseen. Then your Father, who sees what is done in secret, will reward you. 7 And when you pray, do not keep on babbling like pagans, for they think they will be heard because of their many words. 8 Do not be like them, for your Father knows what you need before you ask him.
Welcome to the Revival: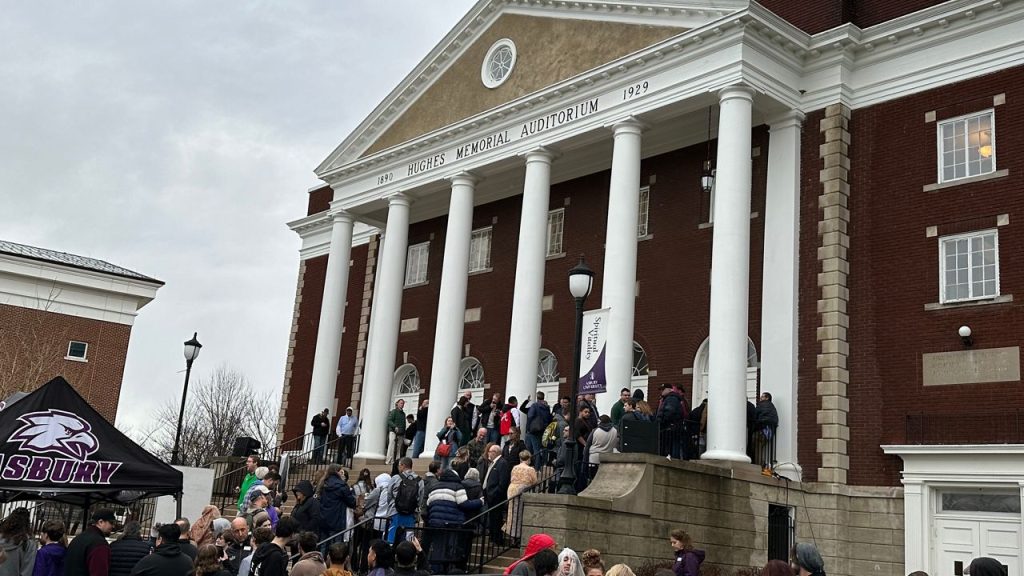 Dallas Jenkins, creator of "The Chosen", via FB:
Thoughts from my cousin Joy, a very measured and brilliant woman who visited Asbury…these thoughts match my experience at a similar revival when I was a college student. Conservative evangelicals can have revivals, too.
"I didn't observe any attempts at miraculous healings or deliverances. That's not the focus there although there are rumors that some people are being healed without drama or attention right where they sit. I can neither confirm nor deny, but it would be in keeping with the tone of what I observed.
There's a video or two online of an apparent encounter with a demon. Again it wasn't the focus to do anything but sing, pray, give brief testimonies, read, scripture. No one was going around working up demon confrontations, but if a demon was there I would think it would be extremely unhappy. Many attendees were ministry leaders themselves so it isn't surprising that someone nearby knew what to do when something appeared to manifest.
There's a lot of honesty, humility, repentance in the testimonies. Not the breast-beating kind but just welcome release from unforgiveness, godless habits and addictions, dysphoria, apostasy. These releases are where the supernatural work of God is most evident.
From my perspective the content and tone was lovely and scriptural. No one was falling over or being hysterical or drawing attention to themselves. I couldn't tell who was in charge, and since the worship leaders are retired after two hours there's no human focal point. Leading music in that setting necessarily involves leading emotions but the leaders I observed seemed to be responding to the room as much as leading it. It felt sincere and organic and not manipulative. Nothing spoken by anyone felt manipulative either. There wasn't much speaking anyway other than brief testimonies and readings and prayer.
I wonder if God might work with people in the same way anywhere that much worship and humility is happening. Or maybe God is inspiring something unique. He did say he would pour out his spirit in the last days so maybe something more is happening.
Random unspiritual observations:
One should read the schedule on the website before showing up at 2 AM. Probably before showing up at all at this point.
Sunburns can happen in the winter.
Critics should start their own revivals and do it right.
If Sonic is the only food place open at 3 AM, it's a sign from God that you should fast."
The Wilmore water tower:
Johnny and Elizabeth are asking there 97,000 FB followers to comment if there community's have experienced the revival.
So we are excited to know about Asbury College and the move of the Holy Spirit there. Please put in the comment section below other places you are aware of that are experiencing some similar level of Holy Spirit visitation. I have heard that it is now showing up internationally as well and love that! Put either video clips or pics of these other places if you have it. Also any other good report connected to all this… As I read earlier in the year out of Psalms 65, "the river of God has plenty of water".
I know this is unverified, but here are all the places listed so far: Jackson Georgia High School; Cedarville University; Ohio Christian University; Lee University; Bethel Church-Austin; Park Hill Church-Missouri; Indiana Wesleyan University; The Gate Church-Charlotte, NC; Kingsway Church, Birmingham; Kingdom Life Church, Waterville, ME; University of Kentucky; Eastern Kentucky University; Kentucky Christian College; Christ for the Nations Institute, Dallas; Snohomish, WA; Texas A&M University; Victory Church, Tulsa; Oral Roberts University; Brandon, Mississippi; Samford University; Zion Apostolic Church, Winnipeg, Canada; Spring Arbor College; Cornerstone University; The Rock Church, Castle Rock, CO; Leadville, CO; Oxford, NC; The Ramp Church, Hamilton, AL; Becoming Church, Decatur, AL; Stronghold Church, Sand Springs, OK; Harvest Church, Temple, TX; Radiant Church, Kalamazoo, MI; Victory City Church, Joliet, IL; Concordia, MO; University of Michigan; Missoula, MT; Pensacola, FL; Belmont University; Victory Christian Fellowship, Somerset, KY; The Collective Church, Tigard, OR; Northern Kentucky University; Oak Park Church of God, Oak Park, GA; Restoration Church, Alpharetta, GA; Covenant of Hope Church; Bainbridge, GA; Oak Park Church, Mobile, AL; New Life Church, Mirimar Beach, FL; Fresh Start Assembly of God, Peoria, AZ; Jesus Image Church, Orlando, FL; Greenwich, CT; Fire Church, Sunshine Coast, Australia; The Belonging Church, Nashville, TN; We Are One Activation Center, Brandon, MO; Return Church, Clarksville, IN; City Reach Church, Wittier, CA.
No definitions needed:
Thoughts from retired Louisville, KY megachurch pastor Bob Russell.
An Old School Baptist Old Light: