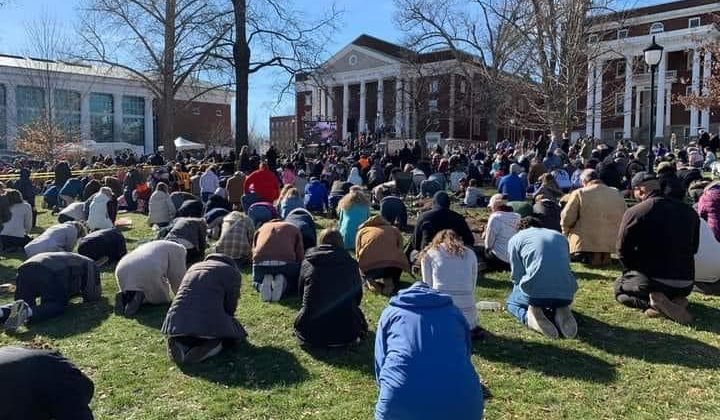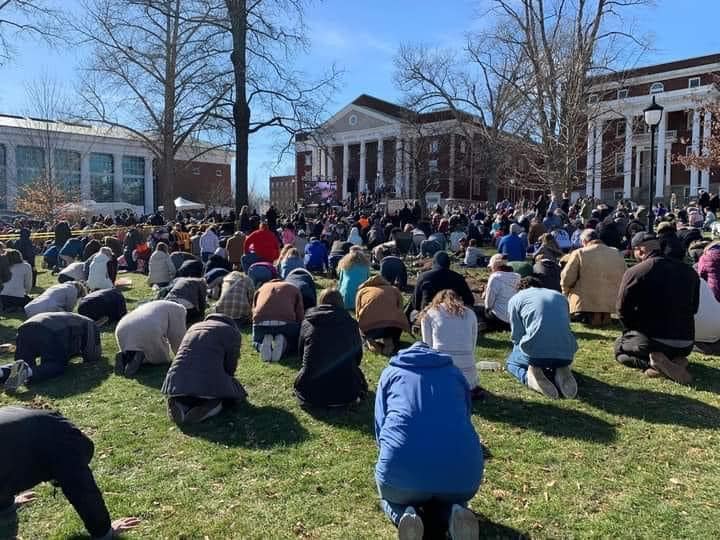 Read all of these posts , including the original post (covering Day 1 to Day 3 of the revival), here.
The revival is moving off the campus of Asbury College at the end of this week (Friday) due to concerns about crowds.
Asbury college is working with the city of Wilmore to address the town's ability to host so many people.
There are more people in town than the number of available bathrooms.
Local restaurants and hotels are trying to keep up.
This week only people under the age of 25 will be permitted to the venues campus.
There are twice as many visitors in Wilmore today as residents.
Former Arkansas governor and presidential candidate Mike Huckabee on Facebook:
Here's a story that's getting little attention from the mainstream media, but you should definitely know about it. It started last week with a worship service at Asbury University in Wilmore, Kentucky, that turned into a spontaneous revival meeting, and it just…didn't end. As of Friday, it had entered its 10th straight day with thousands of people from all over the country and around the world waiting in a half-mile line to get in, and those inside experiencing the Holy Spirit saying they just don't want to go. Now, similar revivals are breaking out on other campuses. As the story asks, "Is this the beginning of a national spiritual awakening?" Let's all pray so, and how appropriate that it should be arising from our college campuses. Some of them have spent years trying to banish God from their premises. What a great message to them from God that their attempts to evict Him are futile.
Theobros on Asbury Revival with a response from Tom:
An Old Light theobro subtweet:
And this:
"All Revival Traffic." Via FB:
Interesting observation:
Progressive Lutheran pastor Nadia Bolz-Weber weighs-in. A taste:
I actually wonder if exhaustion from culture wars, purity codes and the idolatry of ideology on all sides have led these young people to seek revival in the simplicity of constant prayer and singing in the first place. Yet it feels like the YouTube comments and think pieces ABOUT the revival are smearing it all back onto them. I've often felt uncomfortable with praise and worship music due to lack of familiarity, an aversion to things that feel like performance in church, my own cynicism and need to feel in control, and memories of church camp and the spiritual manipulation of being whipped into an emotional state when I was young, away from home, sleep deprived and in need of acceptance. But there is something in my soul which longs for what I am seeing on these live-streams. Or what I feel I am seeing. So rather than make big stroke proclamations about what the Asbury Revival is or is not, I'm trying to just pay attention to what longing inside of me is being drawn up in buckets each time I tune in.
Asbury Communications office:
A testimony from Susan:
I have been dreaming of revival for several years. God has placed on my heart a need for revival in our country. I have been praying for a revival of individuals, (people being saved and committing their lives to Christ) I have been praying to see marriages revived, families restored…communities, states, our country and all the world all on fallen knees, repenting and wanting to live for Christ. It has been an ache in my heart…
Last year I joined with a group of 12 people who also decided they want to see revival happen starting in our little community here in Western Pennsylvania. We have been planning a festival called "Faith, Family and Freedom Festival" which will occur on Sept. 7th 2023. We want to hear testimonies of people whose lives have been radically changed by encounters with Jesus Christ. We want young people and families and especially men to come and hear the gospel and to start a powerful movement of God that we hope and pray will spread throughout the world! We have been meeting, planning, praying, and even using our own money to fund this revival. (I will make more information available as soon as we are ready to publicly announce it)
When I heard about what is happening in Kentucky, I needed to Go. I don't have many things left on my Life's "bucket list". God has truly given me the desires of my heart and made just about every dream I've ever had, come true. I had two prayers still unfilled. One is to see revival come and the other is between me and God!
Asbury University is 6 1/2 hours away from New Wilmington, Pa and I was afraid to drive through the city of Cincinnati myself. So I hinted around to family and friends…but nobody seemed to want to make the trip.. And then my husband called and said, "I don't have to work tomorrow." And I said… "I don't have any tours tomorrow." I'm getting choked up just reliving this.. And I timidly (expecting him to say no) said, "Can we go?" and he said, "Yes" Oh my goodness.. Joe is so good to me, and he loves me so very much. This was my dream…not his. He was going to have to drive 13 hours in one day. We knew we couldn't stay there more than 6 hours…we both had to work today. (I have a meeting at 9:00 am this morning and a tour at 10:00 am and he has to work).That is love.
So we left yesterday morning at 6:00 am. We arrived in Wilmore a little after noon. The parking lots were completely full except the very last spot in furthest from the Auditorium. (We didn't care. We were too excited) We saw license plates from Indiana, Texas, North Carolina, West Virginia, Canada.. truly from all over!! It was raining but that didn't stop people from coming. We didn't know where to go, we just started walking. Immediately a young woman said, "Are you looking for the auditorium?" We smiled and told her we were and she pointed us in the direction. There were people lined up the entire walkway in front of the auditorium. In the rain. They university had sent up tents all along the sidewalk so people could stay as dry as possible. Another young woman said to us, "If you don't want to wait in line to get in, you could go across the street to the chapel. There is also another building they are meeting in too." We decided to go to the chapel.
It was almost full as well. We found a pew near the back and sat down. I instantly started crying. Tears streaming down my cheeks. Friends the Holy Spirit was indeed at Asbury and in that room. I felt Him so strongly. I felt Christ's Holiness but most of all I felt His LOVE. The room was filled with PURE LOVE. We started worshipping and praising God. I was on my knees, sometimes standing, sometimes clapping, but most of the time my head was just bowed and I was crying and praising God..and asking for healing..healing for friends.. who asked me to pray for them and their loved ones..for my kids…healing for this country..for..myself..my husband..for our land..and forgiveness and repentance..oh … I was in the presence of God. In that room were people of all ages. They were young and old and black and white and hispanic and asian… Some were standing and others sitting and others at the alter… There were children dancing and elders smiling…young people were dancing and jumping.. I saw a mom with a baby on her back and holding another in her arms.. I saw people saved..giving their lives to Christ. I heard testimonies of how Christ has changed peoples lives. I heard messages but mostly it was a quiet worship of God. We were inside the chapel for five hours and they went by so quickly. I would have stayed all day, several days, if I could have….
Senior Day!:
Here is Mark Driscoll.
The revival spreads to Minnesota after youth evangelist Nick Hall visits Asbury:
Today's reading in the devotional Our Daily Bread (via Nick Hall)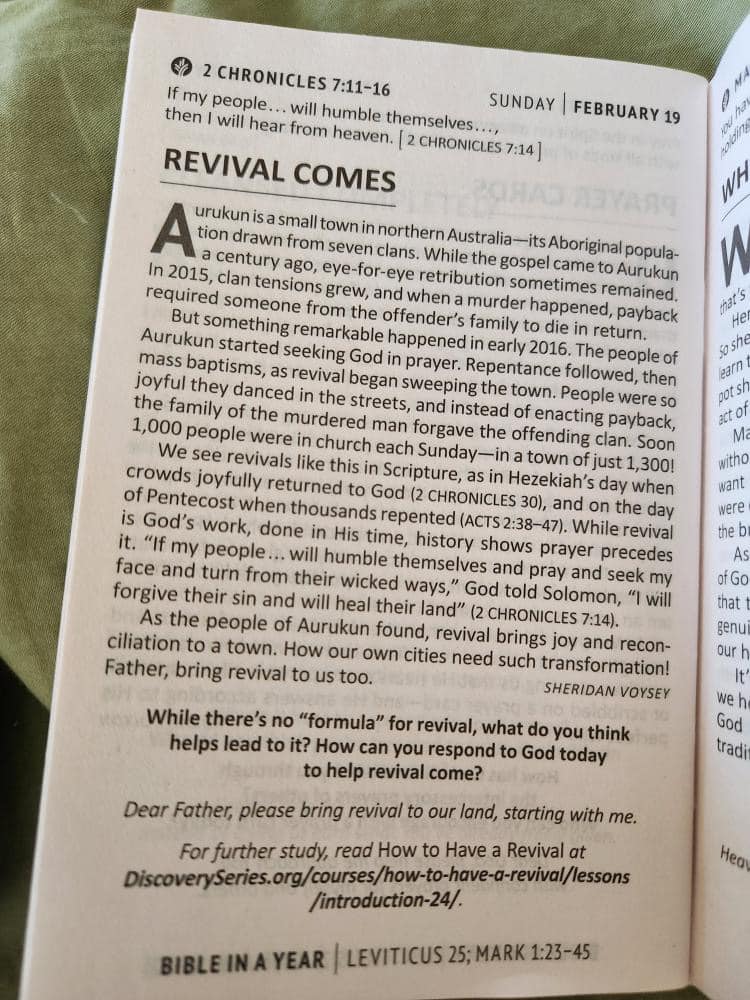 An Asbury University alum via Facebook:
I am an Asbury University alumnus and former employee. I have seen several posts about the administration of Asbury University ending the "revival" that they started. First, the university did not plan and start a revival. The regular chapel service nearly two weeks ago did not end… and an outpouring of the Holy Spirit ignited. Second, the Holy Spirit is not limited to time or space… it does not matter where you are, you can be in the presence of the Holy Spirit because the Spirit is within you. Third, Asbury University and Wilmore, Kentucky are very small. The university continues to have classes, the town continues to operate and conduct daily business… the administration is closing Hughes chapel so that this outpouring can pour outward to other areas where there is more space. Fourth and perhaps most importantly…. This outpouring of the Spirit is not about Asbury University… and is not unique or limited to Hughes chapel. The Holy Spirit is within all believers… wherever believers are, there is also the Spirit…. You (every believer) can experience revival in any place, at any time by simply allowing the Holy Spirit to spread from you to all who are around you.
A dream:
Savanna is getting "spiritually angry":
To those of you who are bashing Asbury for trying to get regular classes back in session. I have refrained from posting but im getting very spiritually ANGRY and God is now taking over. When we went on Saturday, my mother, my dad, my brother, and my 67 year old Grandmother stood outside and waited for 5 hours to get inside to get inside for 2 hours or less and take our lit torches home. We felt the need to leave earlier than our carnal minds had planned. God is MOVING and hes gonna continue to move whether its at Asbury, or any other continent! When the revival is over, its over and we HAVE to be honest with ourselves and let God do what hes gonna do. For all of you NAYSAYERS. You need to REPENT and ask God to bring Revival where YOU reside because our father is Omnipresent and he will do what hes gonna do without anyones instruction. If that revival is gonna continue, Not even the gates of Hell can stop it! Shame on you and anyone else that has put God in a box. I encourage you to bring revival to YOUR town and stop with this nonsense. AMEN! And AMEN!
Denny is concerned:
The New York Post is on the beat.
Brett doesn't seem to understand why Asbury University should care for their students:
He wants a verse:
An economic view of the revival:
Asbury Theological Seminary professor Craig Keener.
More on Catholics at the revival.
A small glimpse:
Tom Paine lives!:
Update from Samford University: