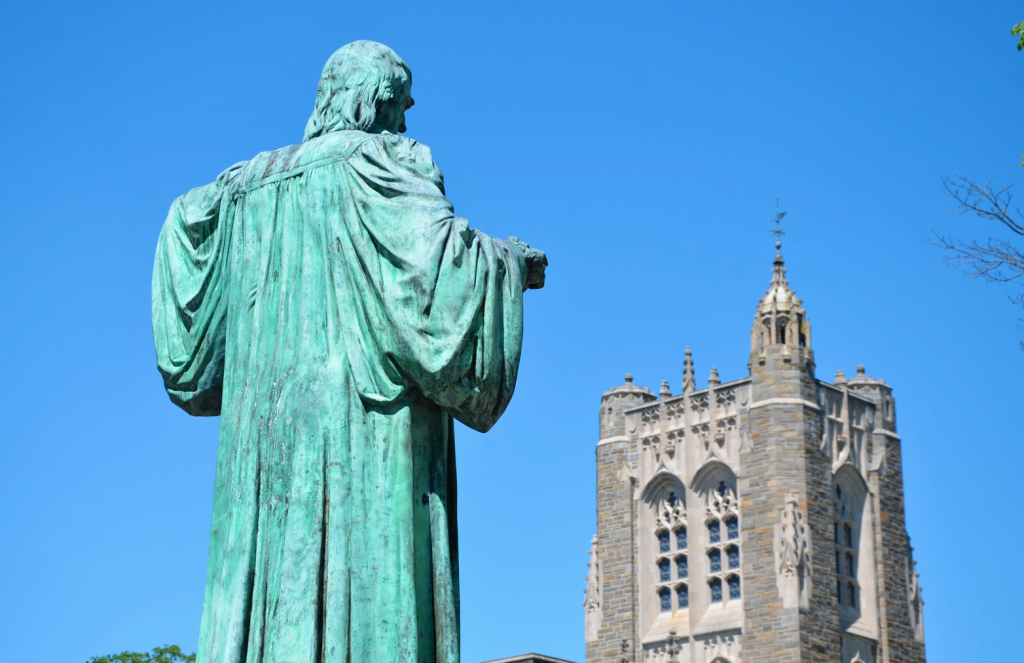 Appealing to the past for present purposes risks misleading us about the present—and the past as well
As a kid I once wrecked a piece of furniture. Standing before all 5' 2" of my mom's Irish American fury, I pleaded that she listen to my story. I hoped that a story about the ruination of her prized vase, the circumstances explaining the vandalism, would get me out of trouble. Did my mom respond, "Oh, NOW everything makes sense. Now, run along"? Of course not.
Many of us by instinct conceive of the circumstances crafted into a story as an explanation of what happened. And historians agree: Context is everything. But historians disagree over which set of past circumstances best explains an event, a life. Two prominent Christian intellectuals from different backgrounds have recently offered historical circumstances as helpful guides for understanding contemporary civic controversies. The Rev. Tish Harrison Warren warns against misleading historical analogies in serving arguments about court cases addressing human sexuality. Dr. Kevin DeYoung invites us to consider the usefulness of historical context for contemporary quarrels over memorials and statues. Each suggests going equipped with historical knowledge into the roiling conversations surrounding America's slave past.
The Rev. Harrison Warren, in her typically gentle manner, discourages readers from inaccurate historical analogies, in this case turning to American racism for perspective on LGBTQ liberties and rights. Less than two centuries ago, she tells us, the heinous, weaponized use of scripture to defend enslaving African Americans was a form of bigotry, completely unlike the long, principled tradition of Christian criticism of same-sex relations. Yet we can't lift past Christians off the hook so easily.
Scripture offers no express condemnation of slavery, at best encouraging those in bondage to obey masters and enjoining masters to kindness. Only in the last couple of centuries can we find churches marshalling Scripture to support robust social and political liberation. The late Eugene Genovese argued that the South's "formidable array of honest and learned theologians," encouraging "capable town and country preachers," enabled congregants to accept slavery "in no small part because their preachers made out a much better scriptural case than the abolitionists did." Three centuries earlier, the Church's relationships with indigenous peoples they called "savages" wasn't any more encouraging. (See Whitforth, The Curse of Ham in the Early-Modern Era: The Bible and Justifications for Slavery, and Kidd, The Forging of Races: Race and Scripture in the Protestant Atlantic World, 1600-2000.)
So this current advice on analogies suffers from too little historical context. Yet a fuller version of the past can, as it turns out, be beside the point. Princeton University now faces a controversy over the campus statue of a leading former president, John Witherspoon (1723-1794). This Scottish pastor, theological controversialist, teacher, and revolutionary had ambiguous convictions about slavery and the slave trade. And he himself owned two enslaved people.
Dr. DeYoung, a Presbyterian pastor and theologian, defends the statue of the only clerical signer of The Declaration of Independence. Summarizing Witherspoon's life, pastorate, and time in America as president of the College of New Jersey (now Princeton), DeYoung claims that the Presbyterian minister's tireless, even costly commitment to the American cause should inspire our forbearance with this patriot. DeYoung is surely correct that earlier Americans and Europeans, like Witherspoon, had views about liberty, Christianity, and slavery that we now conclude, with good reason, suffered from severe inconsistencies.
Witherspoon's inconsistencies (some of which DeYoung outlines) include defending abolition in principle but not in fact; remaining ambiguous about the trade in people already enslaved; and encouraging the humane treatment and education of freed Blacks, while apparently supporting the 3/5 Compromise and resisting abolition in New Jersey. Scholars are just now correcting what historian Sir Tom Devine has called a massive historical amnesia about Scotland's role in slavery. Witherspoon was a pastor in the region near Glasgow for more than two decades. Surely he knew the role slavery played in colonial tobacco and sugar production enriching Glaswegian merchants. Even after moving to the colony of New Jersey in 1768 Witherspoon had to have been familiar with other Presbyterian ministers who in the same colony published attacks on both the slave trade and slavery itself. Witherspoon's limited opposition to slavery pushed back little against the viciousness of the trade in America, or against planation life.
I'm suggesting, however, that all this may be beside the point. Like DeYoung, I'm a historian of Enlightenment Scotland and the eighteenth-century Atlantic world. Like both Harrison-Warren and DeYoung, I'm distraught over the role the Christian church played in past enslavement and racism. Therefore, it bothers me to suggest that the kind of rich historical context Harrison-Warren recommends, and DeYoung offers, may not help us. But alas, I suspect it does not. Unlike most Jim Crow era Confederate monuments and Civil War-era brandishing of the Confederate flag, the Princeton statue is hardly twenty years old. It says far more about ongoing Scottish-American, Paisley-Princeton bonds than anything else.
Yet the more pressing matter is DeYoung's assertion that a civil society requires such statues of its founding heroes. Why?
Any defense DeYoung offers should account for what a monument means to a diverse body of citizens. What will DeYoung explain about Witherspoon to the African American students passing the statue in its honorific spot between Princeton's chapel and East Pyne Hall? The compassionate civil society DeYoung would surely defend must offer hospitality to a broad range of citizens' opinions. It's entirely reasonable therefore to entertain a less prominent, less venerable location for this monument to Princeton's Enlightenment president.
On a more personal note, I find it odd that DeYoung appears to be more sympathetic to the legacy of a long-deceased and, as he admits, controversial and flawed figure than he seems toward his contemporary opponents on topics such as the ordination of women, universal salvation, and other theological and moral matters. It also seems appropriate to recall that two centuries ago the Rev Harrison Warren's fellow Anglicans would have turned to the language of that which is "natural" and "unnatural" to deny her a place in the pulpit and refuse the sacraments from her hands. I celebrate the Rev. Harrison-Warren's ordination. But turning to analogies from the "historical Christian church" is much more fraught than her column suggests.
In our present conundrums, we can't help but to seek guidance and insight from the past. However, our own contexts change, and with them our questions about the past. I recall my complacency about buying the products of overseas child labor. I recall that the Christian church enjoyed a long tradition of leaning on scriptural authority to resist not only the ordination of women but political and labor reform. Attempts at historical analogies, appealing to historical context to memorialize people from 300 years ago, becomes a mess. Modern historical scholarship, for good or ill, depends on the claim that the past finally isn't like the present, particularly one as confusing and diverse as ours. If we do take the past on its own terms, a past that by our lights is likely strange, modesty should encourage us to think twice—or three times!—before draping our own affairs with its mantle.
Mike Kugler teaches history at Northwestern College in Orange City, IA. He is the editor/author of Into the Jungle! A Boy's Comic Strip History of World War II (University Press of Mississippi, forthcoming). He is also an ordained Episcopal priest in the diocese of Iowa.