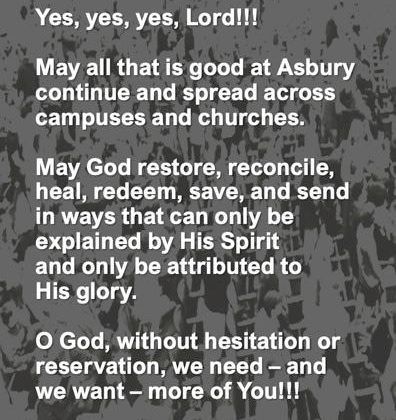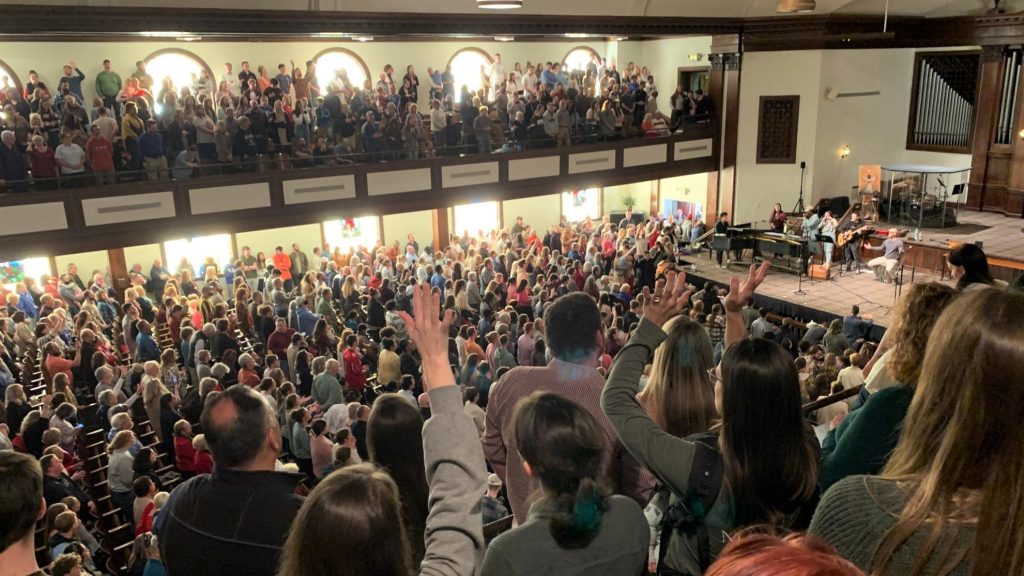 Read all of these posts , including the original post (covering Day 1 to Day 3 of the revival), here.
There is now a Wikipedia page.
The latest message from the Asbury University president. The revival meetings will no longer take place at Asbury University beginning February 24.
Mike Pence:
Was Tucker turned away?:
Ken Ham's Answers in Genesis is covering the revival.
Christian recording artist Steve Camp:
More Steve Camp:
Steve Bannon is covering the revival:
Video of Wilmore. This guy wants to take things online with a group of "leaders":
Interesting question:
Max Lucado:
An "idolatry revival?":
Greg Laurie could not have asked for a better time for his movie "Jesus Revolution" to release. Here his take on the revival. And this:
Day three at Samford University
Cristiano and his Burmese friends are waiting in line to get in:
More Christian Broadcasting Network coverage
This is from D.C.-area megachurch pastor David Platt: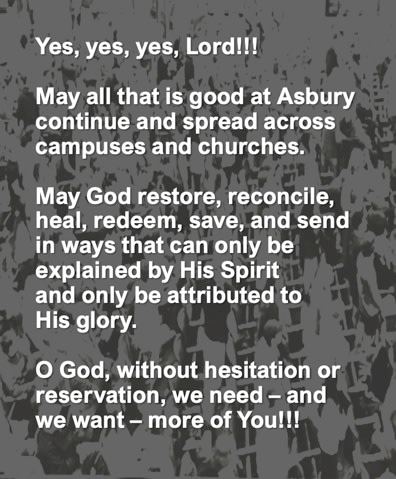 Rod Dreher of the American Conservative is trying to make sense of it all
Dane Ortlund with a Gospel Coalition-ish response:
Zeke, an Asbury student, with another update:
A local church in Wilmore near Asbury's campus is open for prayer:
A professor from Huntington College in Huntington, IN and an Asbury philosophy professor are trying to figure it out: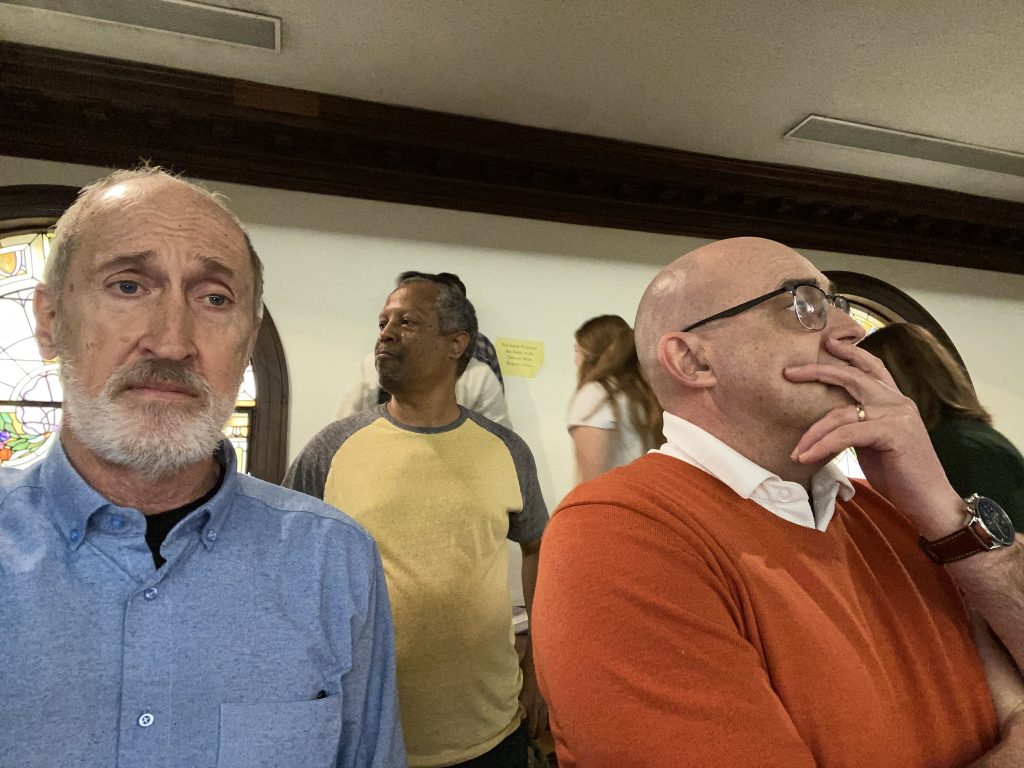 And their take:
Analysis of the Asbury Revival through the Lens of the Theological Quadrilateral: Scripture, Reason, Tradition and Experience
Here I am at Asbury with the bishop Todd Fetters and our Faculty Philosophy professor, Tedla Woldyehannis trying to figure this out.
Scripture: John 16:13, Acts 2, 8, 10, Galatians 3:2-3 …. Okay, okay this seems to square with the Bible.
Tradition: This happened in the 1740s with the First Great Awakening in America, led by preachers such as Jonathan Edward and George Whitfield. Later, in the early 1800s a Second Great Awakening took place in America, led by preachers such as Charles Finney, Billy Sunday, Francis Asbury and Lyman Beecher. This contributed to Abolition movement and the establishment of Christian colleges across America. … Okay, this seems to check the box.
Experience: How can I explain my experience to you? How can you understand my intuitive, extrasensory encounter with God? You had to be there. This also corresponds to the experiences of others who were there with me. …. Hmm. …. Okay, this passes the test.
Reason: Is there any logical reason why revival broke out at this time at Asbury? This was not preplanned or orchestrated by ministers, professors or anyone else. There was no famous speaker that started the revival. There still is no organization for what is happening in Kentucky. People are coming from across the country to be a part of this. Conclusion: God does not follow our plans. Who knows the mind of God? "The wind blows wherever it pleases. You hear its sound, but you cannot tell where it comes from or where it is going. So it is with everyone born of the Spirit." John 3:8]
Speaking of Huntington–here is a busload of students on their way to Wilmore: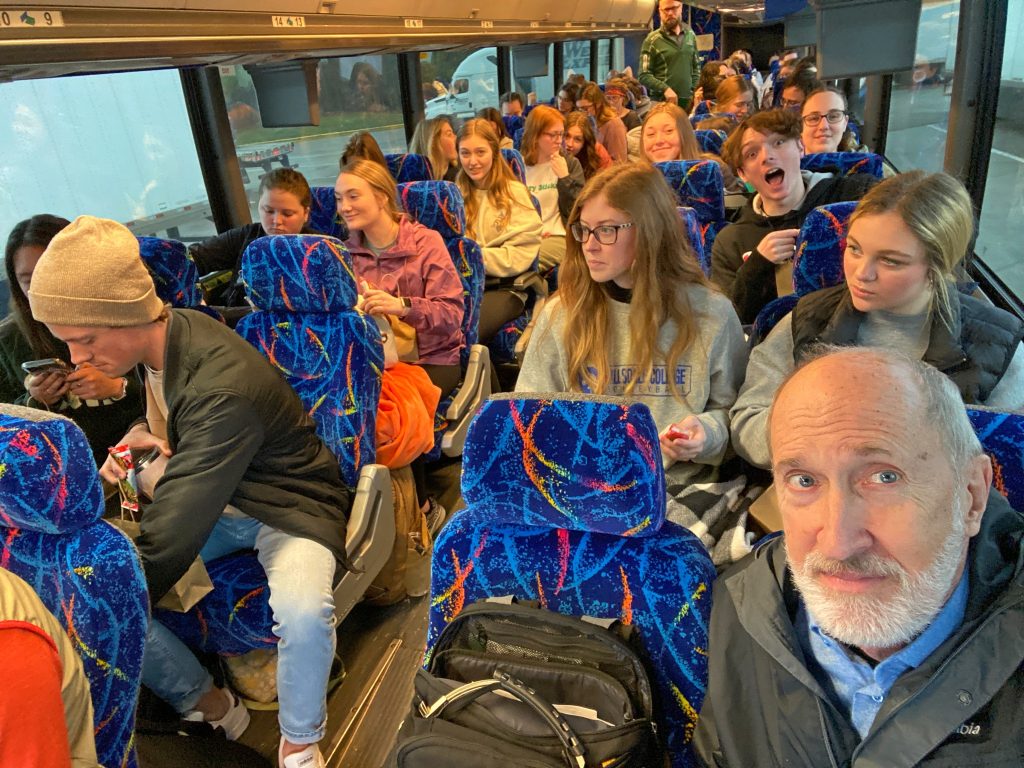 As Wesley put it, "strangely warmed" hearts:
Charisma Magazine, the magazine of the New Apostolic Reformation, reports on the spread to Cedarville University and Samford University.
Evangelist Nick Hall talks to Fox News.
Asbury University student body president:
Defenders of the revival dealing with criticism.
Catholics are participating.