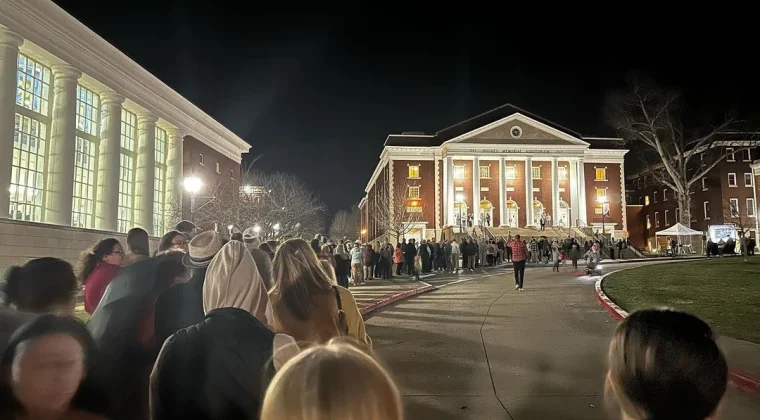 Read all of these posts , including the original post (covering Day 1 to Day 3 of the revival), here.
Today's schedule: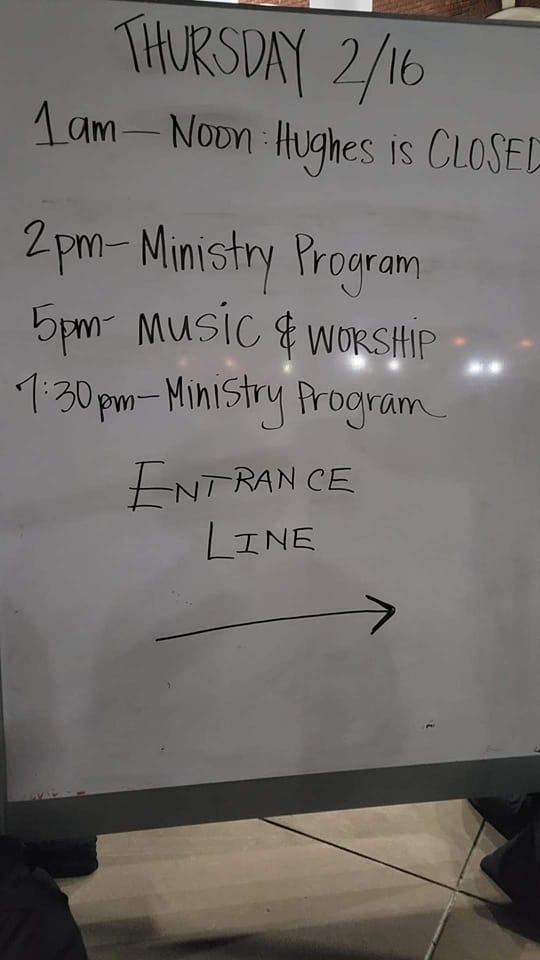 How revivals spread–my feature today at CURRENT.
An evangelist named Martin Luther says it's worth the drive to Wilmore:
From yesterday afternoon. This guy is taking folks on a walk around the campus. Looks like a beautiful day for a revival:
A request for a live stream, via FB: "Please Pastor's in charge, please broadcast a live stream of the Revival. The Holy Spirit will-not change because of a live broadcast. Please i need this Revival bad. I have no way of making it to Kentucky. Please find it in your hearts for a live stream."
The Route 75 Revival:
A report of a prophecy, via FB:
2 years ago almost to the day… I was driving through town right through the center of the University, and noticed an Asian man standing in front of the chapel alone praying with his hands raised to the sky.
I was on my way and running late to speak at a small youth conference at our church… but the Holy Spirit nudged me to turn around and go speak to him.
I turned around and pulled the car over across from the Estes Chapel. I walked up to him and he was still in prayer..as he noticed me he walked up and we greeted each other. I asked him what he was praying about…
He proceeded to tell that he is from Mongolia…he left his country…his family…all that he knew because God spoke to Him and commanded him to come to the US…come to Asbury University specifically and pray for the faculty and student body. He said God showed him an extraordinary revival breaking out among the youth of America and that it was going to start in Asbury.
It warmed my heart and I shared the message of revival with the youth that night and encouraged them to prepare and break up the fallow ground of our hearts.
Since then…everytime when we are on the way to morning Sunday service… we drive right through the heart of Asbury …and I wondered when will it come?… 
It is so encouraging that God has men and women…All Over The World!! That if he needs an intercessor He will raise him or her up and send them across the globe if needed to fulfill his purposes and prepare the way for the coming of the Lord. That is why we must pray for the encouragement and fruitfulness of all the saints everywhere.
Demonic deliverance?:
The Asbury Revival came up:
A long Old Light critique, via FB:
More red flags concerning the Asbury "revival"…
1) Some people aren't concerned about the fact that false teachers are promoting the Asbury "revival" and urge others to listen to testimonies from the event. Here is one such testimony… The following information is from this article (https://tinyurl.com/2p8pnaff), published Feb. 13, 2023: Jason Vickers, a Professor at Asbury Theological Seminar, posted on his Facebook page about what he experienced when visiting the chapel at Asbury (University) last week. Just to note, Asbury Theological Seminary is a Christian Wesleyan seminary in the historical Methodist tradition located in Wilmore, Kentucky. It is the largest seminary of the Wesleyan-Holiness movement. In 1940, Asbury Seminary separated from the college in order to satisfy accreditation requirements. Because of the proximity of the two schools (across the street), similar name, and common theological heritage, many people confuse the relationship between the college and the seminary. While they are separate institutions, the schools maintain a collegial relationship that benefits both communities. Jason Vickers' comments concerning his experiences at the Asbury "revival":
"When it comes to the manifestation of God's presence, I am no skeptic. Quite the contrary. I am a straight up Believer that, across space and time, in the most unpredictable of ways, the holiness of God becomes palpable – the enveloping darkness atop Sinai; Isaiah's woe is me; THE LIGHT ENGULFING ST. SYMEON IN HIS STUDY; LAUGHTER IN TORONTO."
"I had been seated in the auditorium for less than ten minutes when I came to, by which I mean to say when I suddenly found myself having conscious thoughts about my surroundings and about what I was experiencing. THE BEST WAY I KNOW TO PUT THIS IS TO SAY THAT IT WAS AS THOUGH IN JUST A FEW SHORT MINUTES, I HAD COMPLETELY ZONED OUT." (Emphasis mine)
Here is some information about the concerns I have emphasized above:
*Vickers' positive mention of St. Symeon who was a Byzantine monk and mystic. He lived from 949-1022. This link (https://tinyurl.com/h3x6nats) provides the following information about St. Symeon: Through his spiritual experiences and writings Symeon prepared the way for Hesychast mysticism, a 14th-century Eastern movement in contemplative prayer. Oriented early toward monastic contemplation, Symeon became abbot of the monastery of St. Mamas, near Constantinople, about 980. He wrote "Hymns of the Divine Loves," describing his spiritual experiences. Its central theme is the conviction that, by applying the classical methods of mental prayer, one experiences a contemplative "vision of light," a symbolic term denoting the intuitional illumination that the mystic realizes in his encounter with the Divine Unknown. Symeon emphasized that such experience is attainable by all who earnestly immerse themselves in the life of prayer and is essential to interpreting sacred Scriptures.
*Vickers' positive mention of laughter in Toronto. Except that hallmarks of the Toronto revival that were attributed to the Holy Spirit are as follows: 1) being slain in the spirit 2) shaking and trembling, twitching and convulsive bodily movements 3) uncontrollable laughter (also called 'holy laughter') 4) actions that mimicked drunkenness, and 5) animal sounds. These unbiblical practices were recognized as legitimate by those in the NAR and they are still prevalent in the charismatic world today. *Vickers said he "had completely zoned out." Nowhere in God's word are we encouraged to "zone out." Rather, we are given such instructions as, "Be sober, be vigilant; because your adversary the devil, as a roaring lion, walketh about, seeking whom he may devour" (1 Pet. 5:8). As is obvious, it is quite concerning for a professor at Asbury Theological Seminary, which has a common theological heritage with Asbury University, to make such statements.
2) This link (https://tinyurl.com/2p9aj8dy) concerns the FLEX program at Asbury University. FLEX stands for Faith, Learning & Experience. This "program provides rich opportunities for growth as you belong to a community, become more like Jesus, and are set apart as the hands and feet of Christ in the world. The FLEX program includes the MWF 10 a.m. Hughes Chapels."
The schedule at this link shows that one of their "rich opportunities for growth" involves contemplative prayer. For example:
Jan. 17 – Pause: Silence, Reflection & Contemplative Prayer – 11 a.m., Bennett-Bernard
This link (http://www.thenarrowpath.co.uk/mysticismcontemplative… – with Tammy Cheetham) provides information about the dangers of contemplative prayer.
A big thank you to Laura Diaz for the Asbury University link.
3) According to this link (https://tinyurl.com/566wsczx), and the photo shown below, Asbury University supports The Chosen. From a post on Nov. 7, 2022: "The Asbury Alumni Office is excited to host a viewing of The Chosen at Cinemark Fayette Mall in Lexington! Join us for the premiere of Season 3 on Friday, November 18 at 7 pm. Tickets can be purchased using the link below. Limited tickets available. Snag yours today!" A big thank you to Kim Hibbert for the heads-up about Asbury University's promotion of The Chosen.
4) Many have noted that Contemporary Christian music is the music of choice for the "revival." And, here are two examples of such…
In this post (https://www.facebook.com/sean.feucht/videos/1892436527793124/) Sean Feucht shares a news report by Tucker Carlson of Fox News about the Asbury "revival." Two of the songs playing in the clip are Hillsong's "What a Beautiful Name It Is" and Brandon Lake's "Gratitude." And, we can't miss the words "Spiritual Awakening" plastered across the screen of Carlson's news segment, either…
Dear brethren, please continue to exercise discernment concerning the Asbury "revival."
What should Lutherans make of the revival?:
What say ye Liberty University fans?:
More from MAGA prophet Dutch Sheets. Free chili dogs!
The "prophet" Jeremiah Johnson," via FB:
PROPHETIC WARNING: VISITING THE ASBURY REVIVAL
Dear Saints,
I am loving and also deeply troubled by much of the commentary surrounding the Asbury Revival that is circulating online. Please don't misunderstand. My prayerful concerns are not in regards to what is actually happening there but rather the responses and perspectives that I am seeing posted online daily from people who are visiting there…Let me give you some examples…
"This is real revival because there are no famous preachers here…"
"This is a real move of God because there is no popular worship team here…"
"This is a real move of God because it's so peaceful and there are no crazy manifestations here…"
Notice that in all of this online rhetoric and commentary from those visiting there that they in their minds have now determined what "real revival" is by their 24 hour visitation experience rather than humbly considering revival history and wise counsel. The truth is that all throughout revival history, you have VARIETY and DIVERSITY. It's what makes it so stunning and beautiful. At the Asbury revival, there are no famous preachers and worship leaders. In the Second Great Awakening, there was a famous preacher named Charles Finney that God used to convert hundreds of thousands to Christ. Is there a need to claim one revival is more legitimate than the other because one was led by someone famous and the other was not? NO! In some revivals there have been wild manifestations and miracles like at Asuza Street and the Latter Rain. At Cane Ridge and Hebrides however the conviction of sin and fear of the Lord shut down local bars and put people prostrate for days! Is there any need to compare one to another and claim that we are now revival experts? NO!
As I have sought the counsel of the Lord since the Asbury revival began, He has not instructed me at all to pray a hedge of protection against those outside who will try to criticize and accuse this legitimate move of God. Prophetically, I even feel really good about the leadership there at the college who is facilitating it. However, God has directed me to pray specifically for all those who have and will visit. That in attending, they will simply receive, worship, repent, and then go back to their cities and ask God how HE wants to move there. And do not be surprised if it looks nothing like you just experienced at Asbury. Please hear a loving Holy Spirit warning
If there is a true assignment of the devil at Asbury- I am sounding the alarm right now. It will not come from those facilitating it or the evil accusations that will come against it. The true plans of the enemy will come from those visiting, leaving, and then believing that they now have a revival formula that they can use to accuse other moves of God in the past, present, or future that look nothing like Asbury.
Should we visit Asbury if you can? Absolutely! But in visiting, may we come away knowing less than we did when we first walked in.
Sports journalist Jason Whitlock does revivalism on the side:
A commentary on the sermon that sparked the revival, via FB:
Earlier this week, I started hearing about a revival taking place at Asbury University in Kentucky. Admittedly, I started forming an opinion about it without even finding anything else out about it.
This morning I listened to the message in the video below, that sparked this revival. At first, it sounded as if it was just another religious call for people to try harder to love others. I thought to myself that this is just another attempt to get people to jump on the hamster wheel of self effort. In the last few minutes of the message, the speaker told the people, that they could not do what he had just told them. He told them something that I have been saying all along. He told them that they could not love others until they had experienced God's love for themselves. I imagine many of them had never even heard this. It seemed to have stirred up a longing within them to experience the love of God, that had been missing in their life. He encouraged them to experience God's love, and take that experience with them wherever they go in life.
Ever since this message was preached, just a few weeks ago, people have been coming to that Chapel each day, praying and worshiping God the best way they know how. It doesn't seem to be being led by man, but by the stirring of the Holy Spirit within their hearts to taste God's goodness.
It has already spread to other colleges as well. This does not seem to be one of those man-made revivals that can only happen in one place. It is happening among the young people all around this country.
I have high hopes that this is more than just a revival that is only a series of meetings, that will eventually fizzle out. I hope it will begin to spread beyond the universities, into the public schools, into nursing homes, amongst our Armed Forces, in small businesses and giant corporations. I hope it isn't going to be limited to just certain places and certain times. I hope it bears good fruit that remains. After all, this revival is not being founded upon a certain doctrine, and it doesn't seem to be being led by one person or even a small group of people. It seems to be focused upon experiencing God's unconditional love for all people, so that it can be shared with others.
Let me encourage you today. You don't have to be a certain age, or go to a certain place, in order to experience God's love for you. God lives within you. You don't need to go any farther than where you are now in order for you to experience God's love. God's love can transform your life. You can experience His love right now, and share it wherever you go. OUR LOVING FATHER, thank you for making your love real to us, right where we are. May we be able to tangibly experience your unconditional love for us as we realize that we don't have to do anything to make you love us. Open the eyes of our hearts so that we may begin to comprehend your love for us, and for the whole world.
This guy is still defending his tweet (see previous installments of this series):
James Robison's outlet weighs-in.
More prophecies. (Niel Peterson via FB):
Prophetic Urgent Vision!
The Asbury revival is drawing us. Many people are being drawn to visit Asbury University to see what the Lord is doing. But you're not being drawn to a location you're being drawn into His presence. When I was at Asbury on Monday I made a comment while filming a livestream, see video below. I asked what did Noah have to do with drawing the animals to the ark? The answer is nothing, the Holy Spirit was drawing them because judgement was coming on the earth.
On my way home from church last night I saw a vision of people being drawn into the Ark and not animals. The Ark is Jesus, our safety. If we are being drawn into the Ark that means sudden and massive judgement is coming on the earth. Pleas don't ignore His drawing that you may find safety and refuge in the Ark (presence) of the Lord. Time is standing still for a great harvest!
Someone from the world of evangelical women's ministry, via FB:
I don't know what's happening with the revivals at Asbury and Lee Universities. These revivals have been going on for days. I know some are incredibly excited and some are criticizing.
In the episodes I've seen of The Chosen (I'm not caught up) I've found the show to draw my heart closer to Jesus. Some are criticizing this show too.
The Bible tells us to test everything and hold on to the good (1 Thess 5:21)… if things are in opposition to scripture let's refute those things specifically and with scripture, and especially in this age of quick tweets and posts- let's don't criticize without including the biblical basis for our criticism.
But let's also hold on to the good—I believe these revivals and The Chosen are drawing people to Christ. Are they being done with complete theological accuracy and integrity? I don't know.
In mulling all this over the past few days, I thought of this instruction from Paul in Philippians- "Some indeed preach Christ from envy and rivalry, but others from good will. The latter do it out of love, knowing that I am put here for the defense of the gospel. The former proclaim Christ out of selfish ambition, not sincerely but thinking to afflict me in my imprisonment. What then? Only that in every way, whether in pretense or in truth, Christ is proclaimed, and in that I rejoice." (Phil 1:15-18)
Let's rejoice that Christ is proclaimed! Let's join the conversations and be prepared to give an answer for the hope we have and let's make disciples who make disciples. Let's look at these movements as spring boards to dive deeper in discussion with those who may be new believers or just curious about the faith. If we have biblically-based legitimate concerns about content or message let's, in love, talk through that pointing to the specific scriptures as we do.
Let's meet others where they are and go from there— The Apostle Paul said "Though I am free and belong to no one, I have made myself a slave to everyone, to win as many as possible. To the Jews I became like a Jew, to win the Jews. To those under the law I became like one under the law (though I myself am not under the law), so as to win those under the law. To those not having the law I became like one not having the law (though I am not free from God's law but am under Christ's law), so as to win those not having the law. To the weak I became weak, to win the weak. I have become all things to all people so that by all possible means I might save some. I do all this for the sake of the gospel, that I may share in its blessings. (1 Cor 9:19-23)
Oh friends, in these hard days, let's take every opportunity to make disciples. Let's point others to the One and Only Perfect Savior -Christ the Lord! And let's PRAY for revival to sweep our land!
This MAGA Republican ran for a U.S. Senate in Oklahoma:
Another testimony, via FB:
My wife says this so well. Asbury has to be Experienced to Truly understand. Be cautious of all the opinions of people/leaders who have not been or don't intend to come. This is a Taste and See Outpouring!!!
We went to Asbury. If you know my evangelist husband…you know we had to go. If you know him, you know that his heart is to get teams together and knock on all 1,500 doors in that small town to make sure they know to go to Hughes Auditorium…and then to go to the neighboring towns and do the same. We took a carload of Bibles and our expectant hearts. I'm back with the kids (commitments and school, but we wanted them to at least be in the atmosphere), but he's still there.
It was sweet…moving…even powerful for those who allow it to be. The worship is steady, but far from being dramatized to produce an emotional response. Yet, the altars remain full. The speakers are compassionate and direct – without yelling or telling exaggerated stories. The altars: full. When we stand and simply make space for The Lord and expect Him to move, He will. Are there moments of excitement? Yes, of course! Are there people who are being moved to repentance? Yes, and it's beautiful. It it a peaceful atmosphere to be in? It is! Is revival happening? I'm not sure that I can say…there's certainly an awakening happening that is impacting The University and all of the surrounding towns. If it's not revival just yet, it certainly could be the springboard for revival.
Me…being who I am… also observed the logistical burden that is having people flood into your small town…into your campus…into your auditorium. Round the clock ushers inside and outside…security…people standing on the sidewalk with bullhorns making trouble…stores that are running low on many items…a line everywhere you go…I bet the university could use a donation of toilet paper and paper towels
It seems to be a burden that everyone is happy to carry…but a burden nonetheless.
As you pray for Asbury – I'd encourage you to pray for the outpouring of the Holy Spirit, but also to pray for supernatural energy for those serving. Many have stepped up to serve. Pray for the local businesses…they have cars in their lots and people in their restrooms and an unprecedented spike in demand in the middle of a recession…pray for Christians to blow their minds and lead them to Christ and pray for their wisdom and patience. What's happening is beautiful. I'm not saying this is a theological certainty, but my observation is that it takes people to facilitate this experience the same way it took people to carry the ark of the covenant in ancient times. It's certainly not exactly the same, but I pray blessings on all of those who are being vessels for The Lord (in Asbury, but really…everywhere).
A Christian speaker and apologist named Richard Blackaby weighs in.
It looks like Glenn Beck is commenting:
WORLD magazine is reporting on the revival.
Calvinist Old Lightism here. And here:
Shane can't win. The LGBTQ community is on his case for endorsing the revival. The Christian Right is on his case for endorsing the revival. Perhaps Shane is in the right place after all:
An Asbury Theological Seminar professor and Asbury University father:
A well-respected sociologist of religion:
Make room for students:
A connection to the Ohio train wreck?:
Will the revival affect Asbury's accreditation?
Charlie asks a question:
What would Wesley and Asbury say? (Not sure I agree with this guy):