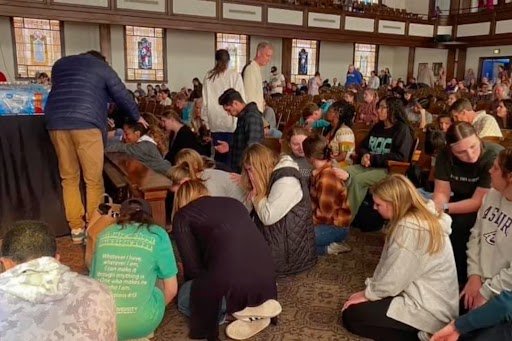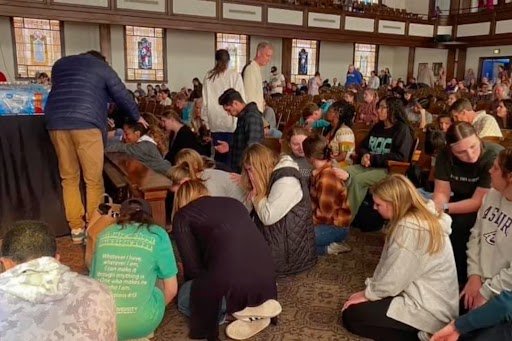 Read all of these posts , including the original post (covering Day 1 to Day 3 of the revival), here.
Insiders tell me that they heard from a student who did not recognize anyone in Hughes Auditorium tonight.
What happens when the dust settles? The Managing Editor of the The Asbury Collegian reflects.
Tucker Carlson is covering it. He talks to the student body president. Tucker, surprisingly, does not politicize this. A few Asbury insiders tell me tonight that they were happy with the way the interview and coverage turned out.
Asbury representatives give an update to the Coalition for Christian Colleges and Universities:
Ed Stetzer weighs-in:
The Babylon Bee weighs-in with the title: "Report: Asbury University Revival Started Night Before Huge Group Project Was Due."
Shane stays in the mix:
A visitor from Cleveland, Ohio via Facebook:
After being at Asbury Monday night and all day on Tuesday, here's my perspective for what it is worth to those who may be interested in hearing my perspective. Over the past 7 years I've been to many so called "revival" meetings. Asbury was a completely and entirely different experience than anything I have experienced before. There are no big name leaders who are spearheading this. All of the speakers as well as those leading the praise and worship are just the college faculty and students. It isn't hype and emotionalism, God is truly moving. Hearts are being moved to repentance, believers are being deeply refreshed and impacted, and the way that the presence of the Lord is tangibly at Asbury is hard to describe. Influential Christian leaders are beginning to come, but the influential Christian leaders who are coming are not being publicly honored and acknowledged, the attention and honor is remaining on Jesus. What's happening at Asbury is reverential unto the Lord, it's pure, and it's void of common unhealthy hyper charismatic excesses.
Thank you Lord.
My testimony from being at Asbury is that I was so deeply refreshed, encouraged, and filled with hope for the body of Christ. Moreover, I experienced deep healing in my soul while I was there. There are so many false claims and false promises of revival in this day and age, but to experience the true outpouring that is taking place in Asbury was so healing and life changing for me. There's no way to know when another move of God may happen like this again, so if you're able to make it there, I highly encourage it.
Here's a few more ways to attempt to describe what is happening at Asbury: An outpouring of God's holy love, conviction of sin, purifying, and refreshing. Moreover, in my view, one of the most incredible and hope giving things about what is happening at Asbury is the amount of young people who are being drawn by the Lord. There are so many young people from generation Z that are showing up and leading the charge in this move of God. I have contented in faith and spent a great deal of time praying for God to move amongst generation Z, so this means so much to me. I thank God for what is happening at Asbury and my life has been forever transformed by what God is doing there. My prayer is that it is continued to be stewarded well by the faculty staff and students and that it continues to grow, develop, and spread into a full blown revival in this country and globally. The staff and students at Asbury really need our prayers. They are going above and beyond to serve the vast amount of people who are coming.
Trump court evangelical Jack Graham:
A visitor from Atlanta:
MAGA worship leader Sean Feucht endorses the revival. But do the Asbury revival leaders endorse him?:
The 700 Club with Pat's son Gordon Robertson:
Public repentance:
Temporary closing of the chapel:
Here is more Biblicist Old Lightism.
Worshipers enter this morning:
Nick Jones:
Bethel Church is not involved:
A video compilation:
Daffodils:
People are taking their kids out of school:
NBC reports on the TikTok angle.
An update on Lee University:
A report on disability access to the revival:
More on Lee University in Cleveland, TN here.
Long lines continue:
Can you really "make sense" of a revival?:
An Episcopal priest wants to go:
Another crowd shot:
An Asbury Theological Seminary Ph.D student:
This guy–Kyle Howard–is still going:
And he let's the world know which revivals are legit and which are not. His take on the First Great Awakening shows little to no historical knowledge:
A response to Howard:
Here is the entire tweet:
As a black woman I wholeheartedly disagree with this take. The racial majority of the University itself is predominantly white, and the same thing goes for the city of Wilmore itself. I wasn't going to say anything but I've been following this revival since it started and I'm really disappointed to hear and see that people are letting their racial trauma and negative projections get the best of them; specifically because this is about our God. Not us. Any true Christian disregards race and to say this insinuates that all of these people have some sort of prejudice, when it's very apparent to see that they just love Jesus which is why they've been there for days. Let's try to be hopeful and positive until we have a legitimate reason not to. The country is in spiritual shambles so we should be thankful that God's Spirit is even moving in this way. He's choosing to give us grace and that in itself should be celebrated. This is an answered prayer for me and so many others and I just heard that it spread to Tennessee. Galatians 3:26-28 For in Christ Jesus you are all sons of God, through faith. For as many of you as were baptized into Christ have put on Christ. There is neither Jew nor Greek, there is neither slave nor free, there is no male and female, for you are all one in Christ Jesus.
Louisiana congressman Mike Johnson is covering it on his podcast. Listen here.
A potential outcome:
Fleming Rutledge:
Jim Garlow also said the 2020 election was stolen:
Maybe the revival will be still going on when this guy arrives on campus:
An Asbury Theological Seminary professor: "The road doesn't end in Wilmore":
Could an Asbury-type revival happen in a Southern Baptist Church?
A leader in the Evangelical Presbyterian Church:
Family Research Council:
A testimony from a Bardstown, KY resident, via FB:
Jared and I traveled to Asbury tonight and what a cool experience. The line was so long that we didn't even get to go inside, but we worshipped with the music playing and stood with hundreds outside on the lawn.
We've been talking in the car on the way home about what's happening. And while I am no theologian, I think this all boils down to authenticity and intentionality with letting the spirit lead. Not some over spiritualized, super constructed event- but humans who don't care about schedules, to do lists, the time, sound or even care of what is taking place in the "real world"- aka life outside of these walls where these functions are taking place.
There's a quote that I love by Heidi Baker that reads: "God is not looking for extraordinary exceptionally gifted people. Just laid down lovers of Jesus who will carry His glory with transparency and not take it for themselves."
That's where revival starts. And I think for so long we have had this idea that revival has to be a manufactured days long event to revive the church body- when in reality- it's just flawed humans who are looking for something deeper, coming together- regardless of walks of life, schedules, religion- and just worshipping.
I believe this new generation sees authenticity for what it's worth. I believe they have been taught The Word, they know The Word, but they are looking for something deeper than just surface level religious teachings. And I believe that it why these revivals are starting with younger generations at college campuses.
Be willing to let go of schedules. Be willing to let go of religion. Be willing to be authentic. Be willing to be intentional. Be willing to be open. Then that's where revival will happen. Even if it's just within you
Video coverage from the Word Broadcasting Network:
It was only a matter of time. Here are the Tea Party Patriots.
The GOD TV folks see a dove-shaped cloud over Wilmore.