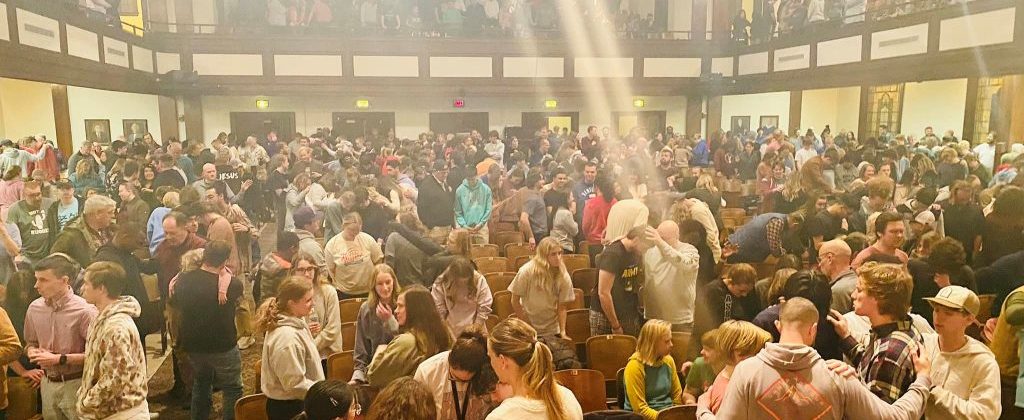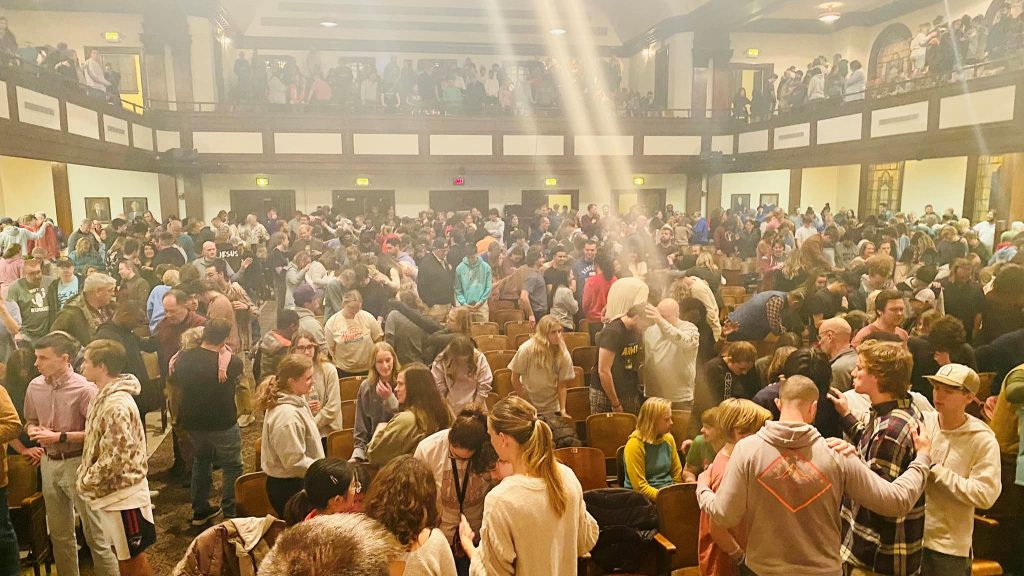 Read all of these posts , including the original post (covering Day 1 to Day 3 of the revival), here.
No playbook:
Agnus Dei:
Another testimony via FB
I can type what God is doing and what I experienced but it will never top what God is truly doing. What is happening at Asbury is nothing like I have ever experienced, got to be apart of, sit in, however you want to say it or address it-but it is very real and God is moving and doing something. Last night Tuesday February 14, 2023 God had his hand on protecting our journey down from a nasty accident with a semi-car after missing an exit on accident. Arrived at the Chapel at Asbury University favor on finding a close parking spot at 9pm to a long line a-little stressed if we would get in or how that would work, a nasty storm was brewing and workers or however you say it-encouraged people to take cover. The moment the words were spoken "I trust you God" the storm quit and when it began to sprinkle, they began to let people in, which in turn we got in quickly. Walking in the sanctuary the presence of God was so thick and so strong-heavy is a good way to put it. It sounded like a choir of Angels singing to Jesus, no matter who was on the stage/leading/around it always sounded the same, a pure pure song lifted up to the Lord Jesus. God is so faithful and I even got to see and experience his favor in this chapel in ways that were miracles in themselves. I met a new sister Gina who prayed over me, I got to personally meet in person one of amazing women who creates my flags, the presence of God was strong the moment we hugged on the stairs leading into the chapel and that's just getting started
, I even got to meet a fellow revivalist YouTuber out of Ohio I watch on YouTube, a new brother who I didn't get his name but nailed everything he said when he prayer with me and had a word of knowledge.
I was there until 2am this morning Wednesday February 15, 2023 and I am still in awe, I have no words to describe it. I will and want to say a few things; many will not understand what is going on and what God is doing right now, it's one thing to not understand but being critical, judgmental, living in false religious narratives is is not solving anything but trying to discourage people and lead them astray. People are hungry for Jesus-not chasing "the platform, the money, the title, the big names"
WE WANT JESUS!
Please if you are able to get to Asbury University I highly encourage you to make it there-you will not be disappointed, you will not want to leave. I truly will not ever forget it. I am blessed to have been there. God is moving do not miss out, revival is here and it is now. Jump In-the water is just fine!
Some are connecting the revival to Barna research about Gen Z:
Reports of healings, "prophetic utterances" and a new site at Asbury Theological Seminary:
Everyone's on board at North Greenville University:
This observer (via FB) wants to know if anyone is getting baptized: "I love to hear about people getting filled with Holy Ghost and speaking in tongues but is anyone getting baptized in Jesus name? Acts 2:38 Repent be baptized in the name of Jesus Christ for the remission of sins, and ye shall receive the gift of the Holy Ghost. I love to hear about this."
Pontification abounds:
Radio host Janet Mefferd:
Concerning special times scheduled for the young only at Asbury, from a 70 year old Jesus Freak:
Asbury spiritually owns the city. They are like a giant hospital with different wings. Giving the young students a special time and place is not counterproductive…..rather it is like having a pediatric part of the hospital and a psychiatric wing and a geriatric one. This is called leadership. It is not divisive any more than Jesus' organization of the hungry masses into groups and then having the apostles feed them. There will be plenty of leftovers! People my age who lived the JESUS GENERATION were lopped off by age too. Campus Crusade asked all the YOUNG Jesus People to come to Dallas for one week of worship and training in evangelism. This was Explo 72'! It was a HIGHLY organized event that eventually shook the entire USA. Not 800, not 8,000…but 80,000 young people came. We were on the cover of LIFE magazine. Serious commitments were made there to finish preaching the gospel to the ends of the earth. Asbury is not Jerusalem. It is a prototypical move of God that is jumping to other places. This proto-revival is teaching by example. So, temporary separation of saints by needs is simply a Holy Ghost triage. Those who are just coming to SEE the power of God need to enter INTO that power by being sensitive to God ordained leadership. There was an Azusa already. There was an Explo 72 for the 80,000 Jesus People. Let Asbury be what God has ordained Asbury to be.
A "so-called" revival. You don't need to listen to the entire thing to guess where this is going:
Before and after:
No room in the chapels last night: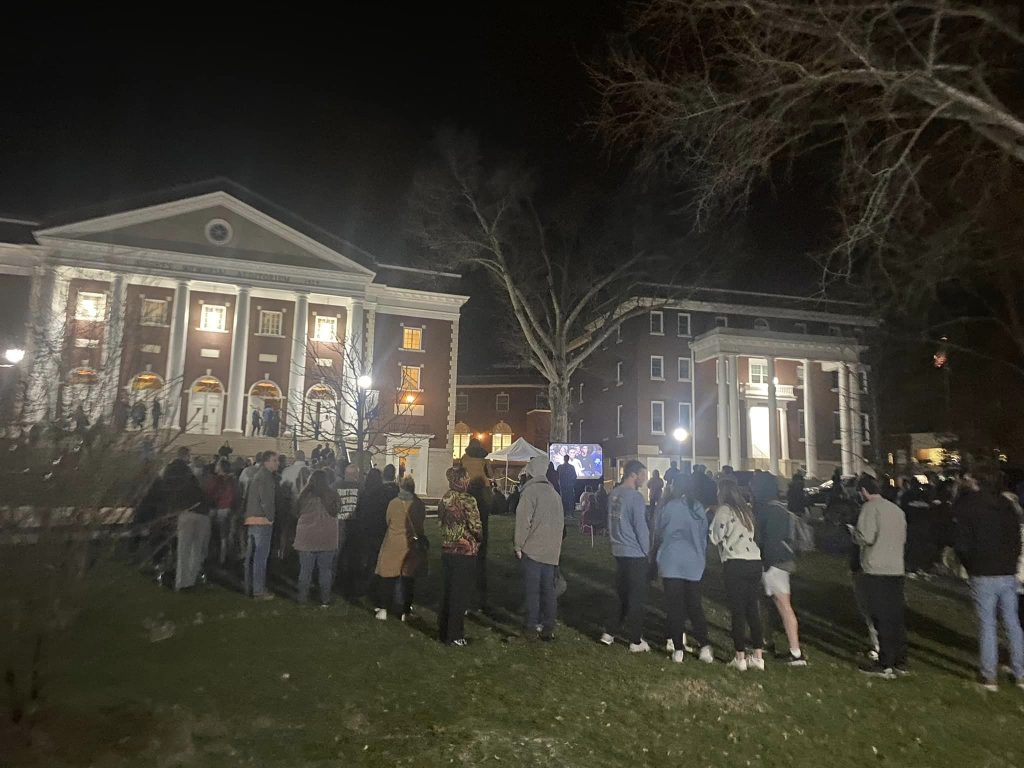 A homeschooling family from Indiana is making the trip (via FB):
Homeschool family from Indiana, hubby got the day off so we could come, we grabbed the extra Bibles we have at the house and boxes of candy to pass out. Does anyone know if the campus needs help with cases of water or anything? I would imagine the local stores are probably getting pretty bare. We could stock of up on some stuff before getting much further south. Anyone know of anyone who would be able to answer this question?
Criticism from a former student:
On criticism:
Seven Mountain Dominionist and MAGA evangelical Lance Wallnau on "spiritual hitchhikers":
Another testimony:
A "digital creator," via FB:
What I love about genuine revival is it reveals the fact how bad the church needed it. Because now social media is filled with pastors posting about revival, that almost never posted anything about it in the past. I believe there's now a revival of awareness for genuine revival in the churches all across our nation
People from the Asbury revival are saying they don't want programs, or time limits on church services anymore
Once you experience genuine revival you won't be satisfied with crumbs anymore. You won't be satisfied with rain showers anymore. You want the full outpouring of the Holy Spirit. You are not satisfied with half anointed preaching. You want the full fledged coal off the altar on the lips of the preacher.
Asbury revival proves to the American church that God doesn't need all the fancy things. The American churches have made the flesh comfortable with all the lights, concerts for worship, and all the little gadgets. There's a deep cry now for God and God alone. That's our only desire
Revival reveals to the churches that it has been far to interested in things …over just Jesus Himself and His Glory
Satanic subversion?:
Louisiana congressman Mike Johnson weighs-in, via FB: "Is revival coming to America? The testimonies of people present at the Asbury University revival this week are profound."
Madness:
No more livestreaming. This is from an organization called "Kentucky Revival Ministries":
Good evening church family. Out of respect for the university, I will not be live streaming the Asbury University revival moving forward. They are requesting all visitors not to broadcast and livestream for the reason of keeping this environment pure. They are NOT trying to restrict people from what is happening, but attempting to keep this pure. I did not understand this at first, but I do now. Not everyone will respect this; but I will.
After speaking to an official, it makes sense. I respect it. But please know that none of this was for my own glory. God took these livestreams and casted them to the world. It is a beautiful thing! I am so happy you got to be a part of this with me. However, none of this was for "likes" "shares" and "follows." This was purely to allow others to experience the room. However, I have deleted all streams from this page and humbly ask that you do the same.
I hope you understand. I am turning off comments, please just try to understand it. Asbury is a beautiful school and allowing a beautiful moment. Let's respect this together. Keep praying for the students who are diligently serving the Lord.
A teacher at a Christian college:
Where is the Holy Post?
Money is being thrown. This comes from a visiting pastor from North Carolina via FB:
What I understood as I was listening to the live stream, was a young man from Brazil giving His testimony . He had graduated from Asbury in September and felt God's leading him back to his country to minister. He was working to earn his way back and said he trusted God to provide. Next thing you know a man from the balcony above him stood up and said here ," God wants you to have this!" And the man dropped down money. That started an avalanche of giving with people from all over the chapel coming up and laying money on the stage! The young man was beside himself and kept backing up saying "wait give it to God!" These people wanted him to understand this was God's provision for him to help get back to Brazil to minister to his people ! It was amazing! There was a basket full of money! people were rejoicing!"
Watch:
An official in the Wesleyan Church is going (via FB):
For personal reasons, I felt prompted to go to the revival spark at Asbury University on Monday. I went to Seminary there, so I have a lot of wonderful God moments there, including my calling to church planting. I really don't have words to describe the unique work that God is doing there, but I didn't want to leave, which, to be honest, is uncharacteristic of me. It's like a magnet on the soul… This is my story, this is my song, praising my Savior, all the day long!
Reports of the revival have reached the meeting of the Council for Christian Colleges & University conference in Florida. Via FB:
It's been a heart-warming, spirit-filled and encouraging beginning to the 2023 #CCCUMulti 1 Conference in Miramar Beach, FL. We were fortunate to hear colleagues from Asbury University share about the revival that has been taking place on their campus, which started with just a few students choosing to stay and pray at the end of a normal chapel service last Wednesday, "and then God showed up." These are just a few of the photos that Asbury shared with our group this evening. A lasting reminder that was shared being, "When God interrupts you have to take note & listen. Students are experiencing a true transformation & a true freedom." We pray more come to know and experience the grace of God at Asbury and that it spreads to many more campuses.
An Anglican bishop:
Arkansas pastor Bill Elliff continues his reflections.
On social media influencers:
Christian speaker Brandon Bauumgarten believes the script was flipped. Several folks commenting on the revival invoke Sam Smith's performance at The Grammys. Via FB:
"I don't know much about God. But it looks like the Devil is winning."
I came across this statement the other night when someone was commenting on Sam Smith's Grammy Performance of his song Unholy. I didn't watch the Grammys this year, but what the world saw was the singer dressed up as the devil and his dancing crew playing along. The performance involved devil worshipping and blatantly glorified Satan. This is a calculated attempt to create a rise out of people and sell more music through the controversy. Hence the comment I mentioned above. The rest of the night and for the next couple of days, the news was talking about the performance. It was stealing headlines, social media statuses, and dominating lots of conversation. Some might have thought the Devil was winning. The narrative had been set, the mood had been made, and the script had already been written.
But just a couple days later. The Script was about to be Flipped.
Suddenly, we are hearing reports of an extended chapel service happening on a college campus called Asbury University. Some are skeptical, some wonder if it is truly authentic or just another meeting. Some are just naturally curious.
But it continued. Soon, reports of salvation decisions start coming through. The genuine outpouring of God's presence becomes known. I saw one post about the revival saying, "The altar had never once been empty since the beginning." Praise the Lord for this report! May it be the beginning of another Great Awakening.
Now the revival is spreading to other college campuses and God is flipping the script! My prayer is that the sincere desire for revival spreads to our homes and families where parents commit to disciple their kids. Where kids commit to honor their parents. Where the appetite of the church longs for more than a meal at a restaurant after church, but for an even greater interaction with the Holy Spirit.
Isn't this storyline familiar? Everyone thought that the devil had stolen the show on Calvary, but just a couple days later. My friends, just a couple days later! JESUS AROSE FROM THE DEAD AND GOD FLIPPED THE SCRIPT!
Jesus is still reviving hearts today. Asbury is evidence of that. But remember, you don't have to be in Kentucky to experience the flipping of your life's script. You don't have to attend Asbury to experience revival. Tonight, I encourage you to bend your knee, bow your head, and cry out to God for a deeper interaction of His presence in your life. God still rekindles, He still revives, and He still resurrects life today. Let the Revival Begin In You in Jesus Name and Let Him Flip Your Script!
Even when the world thinks the Devil is winning, just remember: God has already WON!
Another testimony from an observer:
Report from a Bridgeport, Connecticut pastor, via FB:
I just got back from Asbury and here are my thoughts.
When I heard from my wife what was happening at Asbury, I had to go. So, I went to see what God was doing for myself. I have seen/heard a number of mixed reviews about the move of God there so here are my main takeaways:
1. I arrived at 12:45pm on Monday after driving all night. The auditorium seats nearly 1500 and there were few seats available. It was an old well kept sanctuary rich in history and one thing was for certain, God was there. His presence was real and tangible. The room was packed and over the next few hours hundreds would come and go. They weren't there for a celebrity preacher, a YT prophet or deliverance minister which are all the rage these days. They were there because they had heard what I did, God was on the move at Asbury again (Asbury is historically a place of numerous outpourings).
2. The hunger in the room was immense. It was organic and not forced at all. It was genuine and contagious to a degree. People were there simply because they were hungry and the word of God tells us in Matthew 5:6 "Blessed are those who hunger and thirst for righteousness, for they shall be satisfied." You don't go to church on a Monday afternoon unless there is a hunger in you! The hunger was real and tangible. It was beautiful and they were pursuing the promise of being satisfied.
3. The worship wasn't the best. The preaching wasn't the best but the issue for some will be that they have valued style over substance in both categories for years. We are living in a generation where worship has been so commercialized that a true move of the Spirit will likely not use the compromised commercial artists of our day nor will it use self centered worshippers. Similarly we have to leave our preferences at the door of a real move of God. They weren't the best, but it was the pure. It was holy and set apart for the Lord. It wasn't about how good they sang, how much exposure they were getting or anything else. It was SIMPLY for Jesus! I don't think they were concerned with anything else but worshipping God. They weren't trying to level up, get better or do worship for their own sake. That's something we need more of in our worship. Worship in many instances across our country has turned into idolization of artists or even self and this I saw at Asbury was all about Jesus. Similarly many preachers today are well known by the church but not by God. They spend little time in prayer or the word and it is so evident. These people were different and it showed!
4. There were repeated calls for intercession, prayer, repentance and for putting away your devices and distractions. I didn't dare pull out my phone to record because what was happening was real and holy and I didn't want to reduce it to a video clip of 1500 people singing in unison. I think this part for me is huge. Richard (one of the men who went with me) said it best: "Repentance and prayer isn't enough for some these days to call it revival." This wasn't a "power fest" that some think about when they think about revival. This was marked by hunger, repentance, reconciliation and adoration of Jesus. A restoration of order was taking place in the life of these young people and it was beautiful.
5. The people running it from the altar were among some of the most humble and honoring people I have ever seen on a platform. They dared not label it a revival but said maybe its an outpouring, renewal or visitation. They called it several things but not revival. They themselves did not want to be quick to judge it and coin it. They took the posture that whatever it was, they wanted to steward it, not limit it and put Jesus first and they did this extremely well. No we shouldn't be quick to call it a revival because we need to see the fruit of it. Yet, whatever it is, God is in it and it is powerful! They knew their assignment!
6. Prior to getting there I warned my 3 companions that these events attract crazy people and to be forewarned that this might as well. Yet, there was none of that! NONE. There was no random prophets trying to get their quota of personal prophecies in, there were no deliverance ministers making the usual scenes, there were no backyard preachers trying to network, there seemed to be no one there for that type of "spooky" christianity. The people there were sincerely there for Jesus. In some of these events like this you can barely walk 5 feet without getting prophesied over but this was not such an event. There was ORDER among the congregation. There was PEACE and people were there for themselves and Jesus and thats it. That alone was astounding to me. Maybe I went too early on, but I was joyful that this behavior was not present and that Jesus was the center of attention. There were some videos made and posted on social media that came to my attention and I don't want to be too harsh but it seemed like clout chasing. There is always bound to be dirt and divinity in these moves of God.
7. They had times of testimony and it was powerful to see and hear what God had already been doing in just the few days since it started. Some of the testimonies were amazing and people had traveled from all over America to be there.
8. As the night service came, well over 2000 people would be in attendance. The main sanctuary filled up then spilled onto the stairs where speakers were set up. They packed out 2 additional sanctuaries across the street and both were of considerable size. Jesus was the only attraction. Not a worship team, not a preacher, just Jesus! That is a move of God and if it's not, the church of Jesus Christ is doomed.
What God is doing at Asbury is real, tangible and something we should all desire to spread into our own churches and congregations. We desperately need a move of God in America. This nation is morally bankrupt and evil is growing daily. We are seemingly spirally towards revival or judgement and I believe with all my heart that the Lord is giving the church of Jesus Christ a chance for revival in America in the coming months. This revival is not a promise we can confess or claim and just think it will come. We must contend for it! We must seek after it! We must do our part that we might see this nation won back to the Lord.
If you do not see the signs of the times and the proverbial writing on the wall, look no further than the recent events in our nation. International tensions are at an all time high and the division in America is deepening daily. Sinfulness is abounding in our culture and the church corporately is at its weakest point it has ever been in American history. We need Jesus, we need a revival, we need a move of God for the sake of our nation and our children like never before.
We need whats happening at Asbury and that hunger to spread to every college campus, church and believer and then on to America as a whole. Do it Lord Jesus.
Another student testimony.
Washington Post religion reporter Michelle Boorstein:
Christian Broadcasting Network shows up.
Meanwhile, in Asbury Park, NJ 😉 :
Funny:
Normally a cynical critic of evangelicalism:
Here is the aforementioned guy in action:
Not THE John Piper:
Katelyn Beaty answers some critics of the revival:
More of this "coincidence" stuff:
A report of healing:
This member of the Asbury University soccer team canceled his Valentine's Day date: