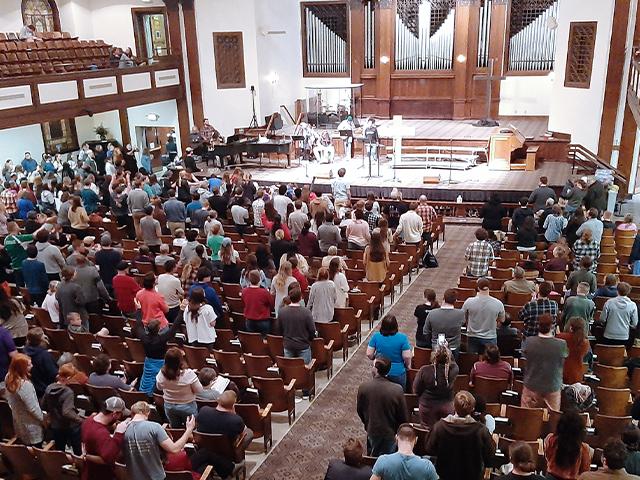 Read all of these posts , including the original post (covering Day 1 to Day 3 of the revival), here.
An Asbury alum and insider sends this:
Some changes in campus to help keep students safe and valued today. 3-4 overflow venues opened (2 chapels at the Seminary and Wilmore UMC). Special hours for those 25 and under only (Gen Z focus) to be allowed into Hughes. Lots and lots of traffic. Wilmore is on the road to nowhere quite literally. There are 3 ways in to town and one road dead ends. Traffic resembles Field of Dreams. People also now outside in front with large screens.
Today's schedule: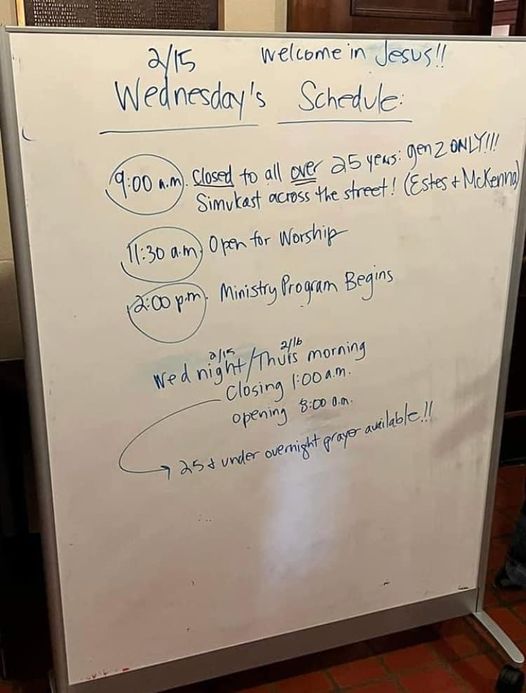 The independent Baptist critiques of the revival are rolling-in:
Light:
A seizure. An attendee describes what happened at Facebook:
Today while at Asbury University there was a "medical emergency". As I looked I saw a young lady shaking having a seizure. Someone from the crowd yelled, LET'S PRAY. Immediately the Holy Spirit showed me that it was a demon. I said it out loud and the lady next to me (as seen in video) began casting it out boldly! The moment she said I CAST IT OUT, a large scream came from the young lady. afterwards is where this video comes in.
The danger: Revival breaks past barriers of denomination and when the glory comes, demons manifest and you've got to know how to identify and cast it out or else, you'll be calling 911 and waiting for them to pull up.
The beauty of this revival is, Asbury is for sure in for a ride. Because of the national attention, the hungry ones are showing up, and so will witches and warlocks. Be ready! We can either accept the gifts of the Spirit, or shut them down. I pray we accept to go higher.
Watch:
Fair point:
Joy wants to go:
The local ABC station links the revival to shootings at Michigan State.
Tom Buck is no fan of Todd Bentley:
A local pastor:
Alright, let's talk #asburyrevival. I don't live too far away so our church staff went there today and we stayed for about two hours. If you've read some other people's reports, I'm not going to tell you anything new. Let's answer the first question everyone is asking first. Is it legit? Is it real? In terms of revival, all we can say is we will see. In terms of it being a movement of genuine worship, yeah, it's legit! It was a sweet time of worshipping with others who love the Lord. I was struck by the humility of the atmosphere and those seeking to help facilitate the gathering. Jesus was constantly pointed to and our need for him was constantly reiterated. There was a time where people could confess sins and their forgiveness by the blood of Christ was affirmed. Scripture was read. People prayed for one another. It was not chaotic, but there was passion. A mix of both hymns and contemporary songs were sung. There were times of quiet singing. There were times where the singing thundered. People clapped and shouted at times, but many times they didn't. There was a gentle peace there and I'm truly glad I got to be a part of it. On the flip side, if you can't go, then I pray you won't feel like you're missing out. You can experience authentic worship in your car with you and God. You can know He's with you and speaking every time you open your Bible. I pray Asbury will spark a new Great Awakening. I hope America will repent. I pray God will save like we've never seen and I pray this will spread. I hope you'll pray that too.

A finance professor at Asbury University via FB:
I had the privilege of volunteering at the revival today! I got to talk to sooo many people! People who flew in from NY, NJ, CO, CA (some on private jets and most on commercial), those that drove all night from different parts of FL, GA, AL, TN and from at least 50 towns and cities I have never heard of before. One thing they all had in common is that they did not want to leave but were so grateful to experience the revival and renewal. It is such a beautiful experience. The crowd has gotten so large that there are now three large overflow areas. There are two chapels on the seminary side of campus that are simulcasting what's going on at Asbury University's (Hughes Chapel) and then a Methodist church that is also simulcasting. Despite that there are large numbers of people waiting outside of the Hughes Chapel as they don't want the simulcast…they want to be in the live chapel. The picture below shows when the lines started forming. As I leave Asbury I usually pass very few cars (only a couple)coming the other way. Today there was a line of cars coming into town. Lots of busses expected to arrive this evening. It's just incredible to think that this is going on in our backyard!! There are TikTok videos of the revival with over 6,000,000 views (as of this morning)! It is spreading like crazy!
If you are in the area (or not!) I hope you can make it! You will feel God's presence! It is truly incredible!
Additional parking:
Report from Lee University in Cleveland, TN:
I just spent the last four or five hours in Lee University's chapel with hundreds of students and people from the community who are hungry for God. There was corporate prayer, repentance, exhorting words, testimonies, worship, and scripture read. The Spirit of the Lord was moving as people were weeping at the altar and crying out. The Lord was speaking to me while I was there that you don't need to travel for revival. Revival lives within. You carry it with you everywhere you go. Because you carry Him. We are the carriers of His presence and because of that we can walk daily in revival! In our schools, families, neighborhoods, churches, workplace, and wherever you may go. We have the power and authority of the living God within us. We carry freedom and life. We carry purpose and hope. We carry deliverance and the way of salvation. We are the carriers of His Spirit! It just takes a heart that is willing. Willing to pray, willing to get out of your comfort zone, willing to love like He loves.
I want to encourage you today to live in the fullness of all that He has called you to; to be bold in Him. To not hold or shrink back. To not be afraid. Walk in His Spirit and watch revival break out in your life!
Around 10:30 last night:
A Lexington real estate agent:
#AsburyRevival day three for me. Twelve hours total. Now that I've gotten a better lay of the land, here's a more detailed review:
•Subpar sound system.
•Century old lighting.
•Uncomfortable wooden chairs with no legroom.
•No compelling videos.
•No screens to show the words to the songs.
•Same songs over and over and over again.
•No fog machines.
•No lasers.
•No celebrity speakers.
•No well-known anyone, for that matter.
•Super ugly carpet.
•Complete lack of programming and planning.
•Thousands of people traveling from all over the world, driving through the night on a whim, desperate and thirsty to drink from the well of authenticity, unconditional love, forgiveness, healing, and truth.
Imagine how successful this shindig would be with some cushy seats and a decent light show. The line to get in would be longer for sure. Maybe next time.
Apparently the signing is not cringeworthy:
Church of God pastor from Oak Lawn, IL via FB:
My compadres and I arrived at Hughes Memorial Auditorium, Asbury University, at 8:15 am today, Tuesday. Our second day at a revival service that has been happening for almost one week, non-stop. (Chris and Len now prefer to be referred to as "compadres." I know it's weird but I don't question it anymore.)
There were probably 300 people, or so, present when we arrived. I suspect that number had more than doubled by the time we left, 2 hours later. In an auditorium that seats around 1,500 people it feels like a small crowd. (Except when everyone is singing.)
The morning time was, for the most part, quiet and reverent. In the first few moments we were there I was struck by how ordinary and unspectacular this was. If you were trying to create a special event–I have been to many impressive Christian events–it is very unlikely this is what you would create. But there is a God factor that defies human planning and tactics. I smile when I think about that reality.
"For my thoughts are not your thoughts, neither are your ways my ways, declares the Lord. For as the heavens are higher than the earth, so are my ways higher than your ways and my thoughts than your thoughts."
Isaiah 55:8-9
In our morning time at the revival space, at times, it felt like I was having a quiet, private devotional time with the Lord except it was happening with many others who were having a private devotional time, too. That's not a great description of it but it's the best I can do for now.
Once again, I had a strong sense of Christian community with those who were gathered. We love Jesus. We were all present together at this time, in this place—a divine appointment—because of Jesus. I felt great compassion for this auditorium populated with strangers who also happen to be my brothers and sisters in Christ.
We are one in Christ. (At least, we're supposed to be. Right?)
During our morning time I noticed my mind had a tendency to wander. (Okay, that's not the first time I noticed this tendency.) But when I became aware of it the Holy Spirit would gently bring my mind back to the Lord Jesus.
As I watched some people praying at the altar the realization hit me that some of them were specifically coming before God in brokenness and pain. I am grateful our Lord cares about those who are broken and hurting.
"He heals the brokenhearted and binds up their wounds." Psalm 147:3
Take heart! There will be a day when the Almighty will put everything right.
It was time for us to get going and I found, once again, I did not want to leave. But life outside the revival service continues.
This thought occurred to me: Will revival continue and expand in such a way that it has significant impact on our society? Is that where this is going?
Of course, I do not know the answer to that question. But I think it's good to be prayerful and hopeful.
It seems reasonable to expect a spirit of joy and hope would be part of revival. Right? As we drive home, I am joyful and I am hopeful.
God is in control…and that's how it should be.
Camp meetings all over Kentucky. Sounds like Cane Ridge in 1801 (But that only lasted a week).
The basement of Hughes chapel:
Another testimonial from a participant.
Portable video screens:
A visit from Dayton, Ohio
I got a chance to leave work early and drive to Wilmore from Dayton,OH, and WOW! How glorious! Here are my notes for the message that was preached at 4:00.
Does anyone know the name of the man who preached it? We need a revival with Depth God has given us the numbers. He has filled stadiums. The Church today needs to grow more and more in depth. How do we do this? With real authentic friendships. John Wesley called it bands as in like rings. Friendship forms us and is what God uses to sustain us. This is bedrock for sustaining our faith. How is it with your soul? What are your struggles and successes How is God speaking into your life? Do you have any sin to confess? We are sick with our secrets. Is there anything that you would rather not tell me. We need to pray dor our churches to be utterly bound up with love. Love that binds up and burst out Pray for a spirit of adoption in Gen Z. That they would be adopted by God.
Lining up:
Does "The Chosen" have something to do with this?
How to donate money:
If anyone wants to donate money for the ASBURY UNIVERSITY REVIVAL I found it on their website for donations and you can specify Revival. This will help keep bottled water, snacks, Kleenex, etc.. whatever is needed. Maybe some churches will take up special offerings tomorrow night for all the revivals breaking out. God will provide.
Blessings to all!!
Revival humor:
Is the revival "miraculous"? This person does not think so:
I do not see anything miraculous about the Asbury Revival or any other emotional God-gathering of the sort. Marathon sessions of singing, testimonials, crying, praying, and reading Scripture may certainly have merit, but calling them miraculous is a stretch. It would be miraculous, however, if everyone, or even some of the attendees went home and simplified their materialistic lifestyles, made it their mission to adopt a nearby human in need, or made peace with all the troublesome relationships in their lives. Want to see a miracle? Reach out and ask forgiveness from your neighbor, your friend, or your sister. Don't go to her and tell her you forgive her. That's condescending and it often backfires. Tell her specifically how you harmed her (this will take some serious reflection) and ask her to forgive you. Authentic forgiveness is a true miracle.
"Therefore, if you are offering your gift at the altar and there remember that your brother or sister has something against you, leave your gift there in front of the altar. First go and be reconciled to them; then come and offer your gift." – Matthew 5:23,24,
Calling Elon Musk, Jordan Peterson and conservative historian Larry Schweikart:
A lot of testimonials in this video:
Charlie Kirk jumps in. Make America Great Again!:
A Lee University graduate:
The lead singer of the Christian band Skillet talks to Dr. Michael Brown. Culture warriors both.
A pastor and biology teacher from Blacksburg, South Carolina:
This was taken as I walked out of Asbury University's Hughes chapel this morning just before 11am. Very early Sunday morning I felt God prompting me to go. My faith has been weak. I prayed for faith. God tested my faith (at least 10 times in 48hrs). God renewed and multipled my faith.
I arrived on campus Sunday around 9pm. I was underwhelmed all waving but stayed and waited in the chapel until 12:30 or so. The next morning, at the alter of surrender, I became overwhelmed and was able to listen. God spoke to my heart and I wrote feverishly all that I could to hang on to the treasures he was giving. It was a momentous day for me. Monday night the building was beyond max capacity, so was the overflow at Estes chapel. Folks were sitting on the steps and on the lawn because there were no seats. The singing came in waves that roared. Prayer continual. At specific times someone would deliver a message then singing and prayer resumed.
No one there is asking to be made famous. No one is looking for attention. The unified cry of the awakened heart is "glory to God for He alone is worthy!"
Only a couple people knew I was driving the 6hrs to Kentucky (every hour was needed and precious). Someone who knew asked me "how was it?" I told him "I went up the mountain thinking I was a man and came down knowing I was a child." (Thank you Father for this precious gift.)
To those considering searching out the presence of God at one of the outpourings now happening across the country, go and see. Turn aside to see this great sight while the bush is still burning.
Here are some of my reflections:
1. God is real and He is working!
2. All our hope is in Jesus Christ alone (He has done it! It is finished!)
3. Surrender to God is freedom. From Him and to Him are all things. He alone deserves the glory.
4. Without faith we can not please God.
5. We are so distracted from reality by the "real world." We need to put life on "do not disturb" and humble ourselves before God.
6. The fear of man is a snare. Jesus Christ is my Lord. There is no place for fear and fear is no excuse to disobey when the Spirit prompts me to move.
7. Working/living in the flesh or by it's power will always leave you dry, cold, and fruitless.
8. The blood of Christ purchases us entirely, no rentals.
9. Revival transcends distance, class, education, race, generations, and preferences (including non-essential doctrine). Revival happens when people are so hungry for God they forget about themselves.
10. Sacrifice is necessary to free our hearts from the world. I sat with people from NJ, KS, and OK that drove 10+ hrs to "come and see". One family I met with 3 young sons under 8 were from NY and drove 12 hours to be in God's presence.
11. God loves us. He loves me. I love him and serve him gladly.
Oh God awaken us to your glory that we live in awe of you daily. Crush the lies, habits, and desires that bind us to this temporary world and teach us to live for eternity and the Eternal God to whom be glory now and forever. Amen
Asbury wins!:
A special education teacher from Liberty, Kentucky:
IT ONLY TAKES A SPARK
…Karrell Land Wilkerson joined me for a spiritual revival journey to Asbury University in Wilmore, KY this afternoon. The spontaneous "revival" began last Wednesday morning after a message reportedly about love was shared during chapel. Now, even after seven days, the excitement shows no signs of waning.
During our time in worship, we joined in praise, prayer, witnessed testimonials, and received challenges as we were reminded, "Unlike Vagas, what happens in Wilmore is meant to spread throughout the world."
Oklahoma, Pennsylvania, Ohio, Tennessee, …people had come from states away as you can see from my short video clip. With the Hughes Auditorium sanctuary full and a line awaiting entrance, we saw no sign of the praise diminishing anytime soon. In fact, if we understood correctly, with the aid of live-streaming there are now three other simultaneous venues on campus.
I feel blessed and excited to have witnessed and been a part of such an extraordinary event! Now to the question I find myself pondering…Whatcha going to do with it?
Dwight McKissic is headed to Asbury:
The Worldwide Pentecostal Fellowship on the revival as the "Third Great Awakening":
An exchange:
They are still going at Lee University in Cleveland, Tennessee
Robert Coleman's grandson:
This guy is pretty upset about what is happening at Asbury. He breaks down and cries. Most of his critique is the praise music and what he believes is a failure to preach the Bible.
Complicated:
The folks at Asbury are on the lookout for Christian nationalists: