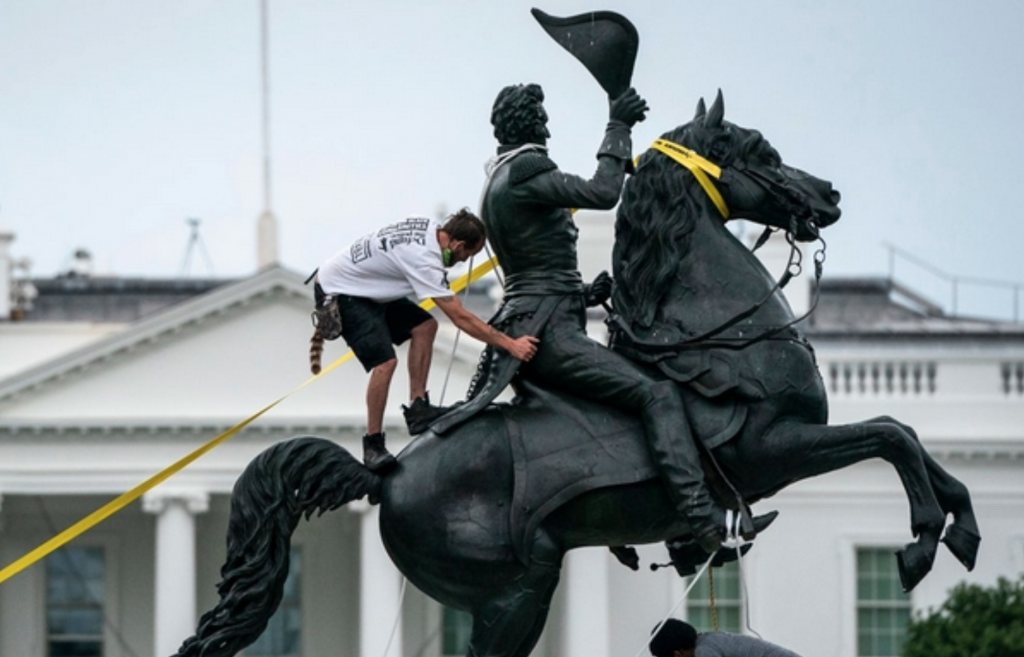 Unintended consequences threaten ongoing harm
Smashing Statues: The Rise and Fall of America's Public Monuments by Erin L. Thompson. Norton, 2022. 288 pp., $15.95 (paperback)
America's founding promise of justice and equality for all has long coexisted with public art that promotes racially exclusive visions. But it's been a tumultuous relationship. In her new book, Erin Thompson, a professor of art crime in the John Jay College of Criminal Justice at the City University of New York, offers a window into this fascinating history.
Anchored in ongoing protests to remove symbols of racial injustice, Smashing Statues is uncompromising in prose and urgent in tone. "If you're reading this and thinking that monuments aren't important to you, you're wrong," Thompson writes. "Unless we are rich enough to pay for a monument and powerful enough to put it in a public space, American monuments were built to show us our place within national hierarchies of power." For students, lay audiences, and newcomers to the conversation, this book is an accessible primer for the long history of monument raising—and razing—in the United States, even if it does not offer a clear path toward resolution.
Thompson divides monument removal into two categories. The most common reason a monument comes down is that it no longer serves the interests of the powerful. This can be generational or it might come after a sudden swing in political power. "Those who come into power erase the art of those who have fallen from power," she writes. "Hence the destruction of Catholic art by newly legitimized Protestants during the Reformation, the smashing of aristocratic art during the French Revolution, and the toppling of Communist-era monuments after 1989." Put another way: When monuments remain, it is because they are still relevant to those in power—or to those, at least, who do not undermine their rule.
Destruction also comes from below, though determining what is top-down and what is bottom-up may only be clear in retrospect. Communities that do not have the power to make structural change may still be strong enough to efface symbols of power. In our recent years of political gridlock and continuing inequality, problematic statues have become lightning rods for competing visions of this country's past, present, and future. Long-term conversations about retaining problematic monuments with additional contextualization have largely given way to all-or-nothing solutions. And while most monuments under public scrutiny are racially offensive to African American or Indigenous communities, the defacement of the Emmett Till historical marker or the desecration of Native American cultural sites is a reminder that the urge to tear down is not limited to one community or one political ideology.
Thompson draws on the American Revolution to remind readers that razing statues has deep roots in the United States. Calls for change in 2015 or 2020 are continuations, not aberrations, of this country's past. Thompson may be overstating the point, however, when she argues that the destruction of statues, monuments, and the symbols of colonial hierarchy came long before the creation of new symbols.
Colonists built liberty poles for years before tearing down the leaden statue of King George III in New York City. They also built monuments to the revolution within the first decade after the Treaty of Paris. These destructive and creative actions overlapped in the American Revolution and foreshadowed later discussions about what symbols should replace those monuments that no longer represent—or should represent—our country's values.
If the American Revolution offers examples of top-down and bottom-up monument removal, Horatio Greenough's public art from the early national period reveals how the powerful remove monuments at their own whim. Greenough's "Washington" (1841) aroused complaint when the bare-nippled first president appeared looking more like a Greek god or a Roman emperor than a citizen of a modern republic. The statue was removed from the Capitol rotunda two years later.
Depicting the shooting and death of an American Indian, Greenough's "The Rescue" (1851) stood on the east façade of the U.S. Capitol for more than a century. It was removed for repair, held in limbo for years, broken, and then moved to permanent storage. It was not Native American activists who caused the removal. Rather, the violent imagery that white Americans accepted as part of their national identity in one generation made their great-grandchildren uncomfortable. Thompson concludes that the statue "showed the settlers themselves in ways increasingly unpalatable to their descendants, who no longer wanted to think of themselves as cold-bloodedly exterminating their inferiors."
Thompson turns to Civil war monuments and Lost Cause memory but focuses on this as a national, not merely a regional, issue. In the South, the ubiquitous Confederate statues emerged alongside oppressive voting laws. For Thompson, these statues—many showing common soldiers standing at attention—had more to do with controlling white working-class men than Black men. It was a lesson for future generations not to find common economic cause across racial lines.
Northern monuments, too, embedded white supremacist motives and ideas into Civil War monuments through the erasure and trivialization of African American participation. The Brattleboro, Vermont, monument not only depicted a kneeling African American begging for freedom, it also excluded the Black enlistees from its total number of soldiers. Thompson compares this erasure to the murder of surrendering Black soldiers at Fort Pillow, Tennessee. "[Nathan Bedford] Forrest denied that Black men could be soldiers and ordered them shot down like dogs," she writes. "When they pretend that Black men never served, Union monuments quietly agree." In a similar mixing, Thompson reminds readers that the artist and Klansman who started work on Stone Mountain went on to sculpt the national memorial of Mount Rushmore.
If the first half of Smashing Statues focuses on a series of eighteenth, nineteenth, and twentieth century monument controversies, the second half shifts abruptly to the present conflict. This is unfortunate. It separates the roots from the branches, leaving it to readers to imagine the trunk that connects the two parts of the history. There is little mention, for instance, of how problematic statues survived the (quite lengthy) Civil Rights era. Still, Thompson covers a variety of recent monument controversies with great attention to the work of activists and the various legal and bureaucratic impediments to monument removal.
The outcomes of protests at a Columbus statue in St. Paul, Minnesota, and a Confederate monument in Birmingham, Alabama, exemplify the range of grassroot actions and government reactions. For years, Mike Forcia petitioned for the removal of the Columbus statue without any official consideration from the state government. "When there is no process, people lose hope that their voices will be heard," Thompson argues. "Understanding and reconciliation can happen in many ways—but when authorities refuse to listen to calls for removal, some people will think they have no choice but to topple a monument."
County attorneys spared Forcia serious charges in exchange for coordinating a community conversation for which he had advocated in the first place. Thompson concludes that the prosecutor needed "to abandon the American criminal justice system in favor of a restorative-justice process based on Indigenous models" to find a just outcome. In Birmingham, when the mayor and city council took steps toward removing a Confederate monument, state lawmakers used the framework of historic preservation law to stop him. Few monuments have been permanently removed since 2015.
There once was a compromise position, often coming from academic and public historians, urging the contextualization or relocation of problematic monuments. Thompson makes it clear that this option, if it was ever a serious one, has become untenable. North Carolina laws require relocated monuments to be "somewhere equally prominent" and, when compared to the state house or a public square, there are no alternatives. The draconian Alabama laws treat contextual signage as a form of vandalism.
This shift comes from a different direction as well. Thompson is right that underfunded museums, public or private, can never be "a national attic for storing away our racist past." Even if museums could take in all problematic public art, the monuments would still be dangerous. Putting a racist monument in a white-controlled museum reinforces the message that white people control this country.
Thompson argues that Americans deserve a clear process for removing monuments from public spaces, but she rejects the idea that it needs to be a democratic one. After all, these statues went up without a democratic process. Perhaps another reason Thompson does not want to commit to a democratic process is that American federalism muddies authority. Consider the removal of the Confederate monument in Birmingham. "I wish the biggest hero of the story of the Birmingham monument was Frank Matthews, the man who asked the city council to remove it in 2017," Thompson reflects. "When Matthews spoke, the mayor decided it was time to act. That should have been it." The problem arose when elected state officials, including the attorney general, passed laws protecting local monuments from both citizens and local governments.
Thompson does not distinguish between legitimate and illegitimate democratic processes. Thompson argues that "we need to discuss them democratically, without the interference of laws that nail monuments to their pedestals or policies that mire reconsiderations in Kafkaesque bureaucracy." Beyond appeals to dialogue, debate, and democracy, Smashing Statues implies that a legitimate process is whichever one leads to the removal of problematic monuments. And why not? When comparing a Confederate statue to a sexually abusive priest, anything short of immediate removal is cruelty. "Not a single child deserves to be molested," Thompson says, "and not a single child deserves to grow up looking at a piece of stone or metal that tries to convince them they are not equal to other Americans." Such rhetoric is as uncompromising as bad history chiseled in stone or state laws that attach exorbitant fines on monument toppling.
The un-democratic theme of Smashing Statues, if brought into the daylight, might be welcomed for its transparency. It seems that Thompson obscures this subtext to make the book sound more moderate. "A group of protestors hitching a monument to the back of a pickup truck under the cover of darkness might seem violent, irrational, and undemocratic," Thompson reasons, "unless you understand the absence of any peaceful legal route to remove a monument that an entire community despises."
The legal and bureaucratic roadblocks cataloged in Smashing Statues make clandestine strategies understandable. Having a good reason for vigilantism, nevertheless, does not make the action peaceful or democratic. And scholars should beware of approving violent or undemocratic actions. Darkness is not a great leveler. It empowers both the weak and the strong. There are more people out there than those frustrated with social justice reform and who might destroy things in the middle of the night.
In 2012 and 2013, when I took classes to the South Carolina State House to discuss problematic monuments, I never imagined the Confederate flag would come down in my lifetime. Good riddance. Thompson is right that removing monuments does not erase history. Unfortunately, removing symbols—unless done as part of regime change—does little to change the present or the future. It also does not safeguard access to studying the past.
A decade later, with many problematic monuments still standing, it is the arts and the humanities that seem to be pulled from their pedestals in the form of university austerity and renewed scrutiny from state legislators. An HCBU forty miles south of me has announced that it will cut B.A. programs in history and other core disciplines in the Arts and Sciences. Forty miles north of me, another HBCU is cutting its history program. Established programs hang by threads.
Confederate monuments outliving nearby humanities programs does not point to a more just or compassionate future. It is a reminder that people and institutions with the power to retain monuments in the wake of protests also have the power to tear down the platforms of their presumed critics. It is, finally, a cautious reminder that the people who start revolutions are not always the people who finish them.
Evan Kutzler is a public historian and an associate professor of history at Georgia Southwestern State University in Americus, Georgia. He is the author or editor of several books, including Living by Inches: The Smells, Sounds, Tastes, and Feeling of Captivity in Civil War Prisons (University of North Carolina Press, 2019).